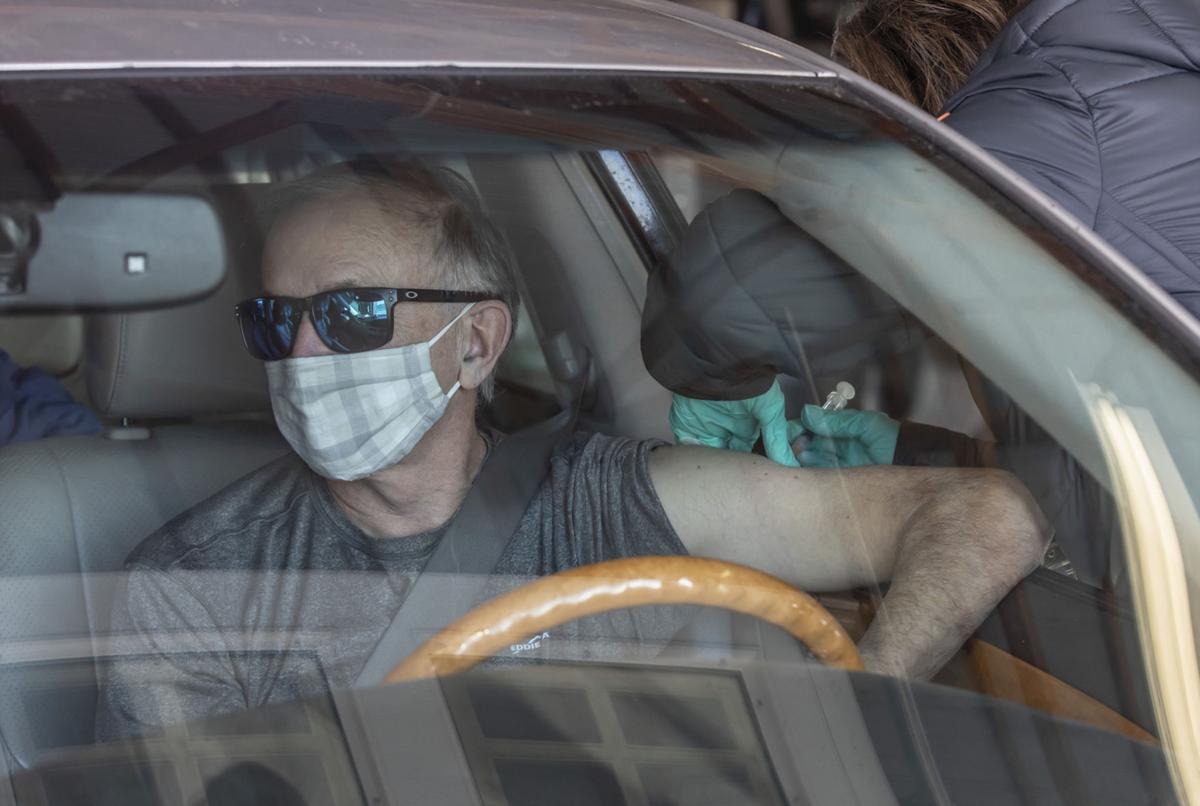 The outlook for vaccination in Central Illinois is a positive one -- when the supplies finally get here.
CNN's newest survey says two-thirds of Americans (66%) say they will try to get vaccinated now that multiple COVID-19 vaccines are approved and beginning to be made available to the public. That's up from about half in October (51%), before any vaccines had been approved for use.
That's anecdotally affirmed in Central Illinois, where distributors are flooded with phone calls the second the word gets out. In Decatur last week, the Macon County Health Department's phone system was frozen by people calling to try to acquire an immunization While those unsuccessful are disappointed, they're also people who have made up their minds about wanting one.
The frustration boils from the bottom up. Local and state governments have already found their coffers lightened by the economic impact of the pandemic. Yet those already overworked governments were handed some vaccines -- not close to what was needed -- and no directive on how they should be distributed. The way the vaccines must be handled is sensitive as well. Once opened, the vaccine must be used in a short amount of time. . .
So states and localities have been left on their own, although the promise of more specific and helpful distribution and instruction has been floated from the Biden administration.
Experts say between 70% and 90% of a population needs to be vaccinated in order to achieve "herd immunity." Similar efforts have previously banished or dramatically reduced such previous killers and incapacitors as polio, measles, mumps, tetanus, diphtheria, hepatitis and more. The anti-vaccination movement, which has roots as far back as the 1770s, has expanded in recent years. The first spike can be traced to a British doctor who published a study indicating a link between vaccinations and autism.
The study was debunked several times, it was retracted by its publishing body, and the doctor was ultimately banned from practice in England. But buoyed by some celebrities and other people blaring on social media, a scare campaign has been directed against any COVID-19 vaccine from the moment plans to develop one were announced.
Now, there are some people who cannot be vaccinated, due to a lack of access or potential medical issues. For example, obviously no tests yet exist that show the effects of the virus on an unborn child. Women in that position will want to have plenty of information about their options.
But there are also people convinced by social media or a friend or their own reading that vaccinations are awful ideas, and in the case of COVID-19, potentially a fate worse than death.
We've seen that kind of contrarianism for a year in dealing with social distancing and mask issues. It's difficult to convince a person who believes it that a tracker of some computer-age sort will be floating in their system if they're vaccinated.
This follows such conspiracies as the polio vaccine and fluoridation of water. Too many of us are being selective about what facts we're choosing to believe, and the anti-vaccination horde has a pile of facts they've chosen to believe.
Following the developments of the pandemic have been one thing. Criticizing health officials for conflicting messaging is only fair if those officials are outliers in presently accepted standards.
If you've ever watched a story develop live on television, you can understand how accepted facts change as more information comes in. The battle to be first can result in misinformation being broadcast, but responsible journalists will quickly correct what they're reporting. You can choose to hold them to the standard of the original statement. But efforts have been made to refine the position. You're clutching to belief without all of the information.
As time rolls on, we have more information. There are more specific descriptions of side effects and other issues.
Being aware of those issues is important. Equally important, however, is the need to actually receive the vaccine when you're able.