MOWEAQUA – The journey began last summer with two Central A&M friends attempting to walk a 10-mile trek from Moweaqua to Assumption. They rarely made it more than a couple of miles, but, as many know, the journey isn't always determined by the distance.
During the short trips, William "Mikey" Mars would discuss with Nathan Gulley the many subjects important to teenage boys. "We talked about video games, movies we watched, experiences at school," Mikey said.
The walk usually lasted about an hour due to time constraints and other responsibilities. They would often start by walking along the railroad tracks. Nathan worked at the Moweaqua Meat Packing Plant next to the tracks, so the boys felt the business was a good starting point. "We like walking, so let's see if we can walk to Macon," Mikey said. "We never did."
They only made it to the church north of town. On other trips, they would get tired, then stop by the local grocery store for food. The two friends never made it to their destinations together.
On Sept. 17, Nathan, 17, was killed in a motorcycle accident with another Central A&M student, Isaiah Tuppince. Mikey's friend, Nathan, was buried in a nearby cemetery a few days later. It was there he decided to start the trip again.
Mikey's solo walk started at Nathan's grave at 7 a.m. on Sept. 25, the Sunday after the funeral. He hadn't gotten far and decided to take a break just a few blocks later at the local grocery store to get doughnuts. "I needed food," he said.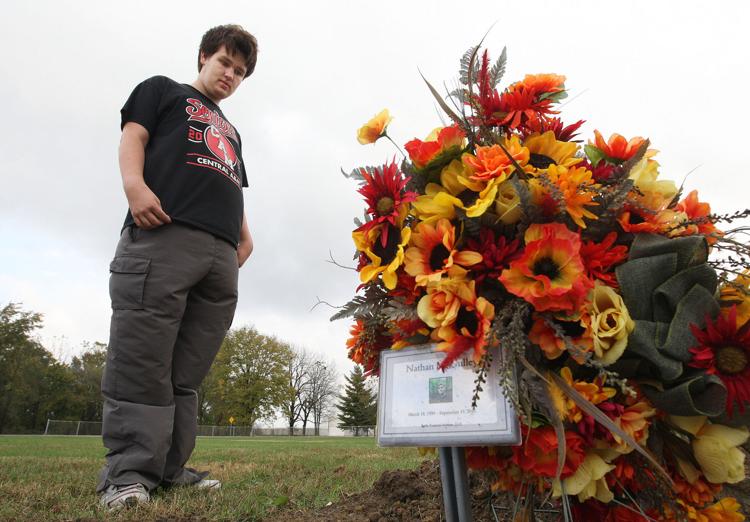 He started out again walking along the railroad tracks toward his destination. From time to time Mikey would stop to rest and read portions of a book Nathan had given him, a 2004 textbook published by the U.S. Army about war surgery.
Mikey, 18, began in the morning arriving at his destination three and a half hours later.
You have free articles remaining.
Instead of walking to the shortest distance on north edge of Assumption, Mikey continued to the middle school on the other side of town. "It's where we first met," he said.
The boys had been friends since they both met in middle school band five years earlier. Mikey played the baritone as an eighth grader, while Nathan played the trombone in seventh grade. The preceding year, Mikey had accidentally circled the wrong choice as an elective. "I sucked horribly." he said. "But it was a happy accident."
Their friendship developed as most do as teenagers, often hanging out at each others' homes and playing games. After Nathan got his drivers license, the two would venture out of Moweaqua ending up at a Steak 'n Shake.
As he grew older, Nathan's interests moved to cars, although Mikey never had a connection. "I was no good at that," he said. "I learned that cars are incredibly complex."
Mikey misses his friend, but has a few regrets. "Sometimes it felt like I was taking advantage of him," Mikey said. "Whenever we go out on our walks, if we only went a half-hour, he'd take me to the store and we would get some ice cream."
His solo walk was meant to bring closure for Mikey and the loss of his friend. He believes other friends may have helped the process. "It's like he was with me for the first part and I had other friends waiting for me in the last part," he said.
Mikey's ride back to Moweaqua come from another friend, Morgan Brown. He told her his plans a few days before he started out. She knew Nathan meant a great deal to Mikey, but she had some concerns. "I told him 'You can do this, but stay safe'," she said.
On the trip home, Morgan saw how the trip proved helpful for her friend. "For him to complete it was uplifting," she said.
Mikey continues to honor his friend daily. His mother Vicki Mars said her son often visits his friend. "He goes to Nathan's grave everyday, just to talk," she said.