DECATUR — During a stroll, run or ride through Fairview Park, people can quench their thirst at a little piece of history.
Dr. Stephen Huss and his childhood friend John Huff spent their youth playing in the westside park during the 1950s, often stopping at the stone water fountains for a break. "I remember having to get up there to get a drink of water," Huff said about the functional pieces of sculpture.
As time and the elements took their toll on the fountains, they eventually withered away.
However, one has recently been rescued decades after its first use.
Huss said he remembered the fountains' various locations, including one near the iron bridge at Stevens Creek. "But I thought they were all gone," he said.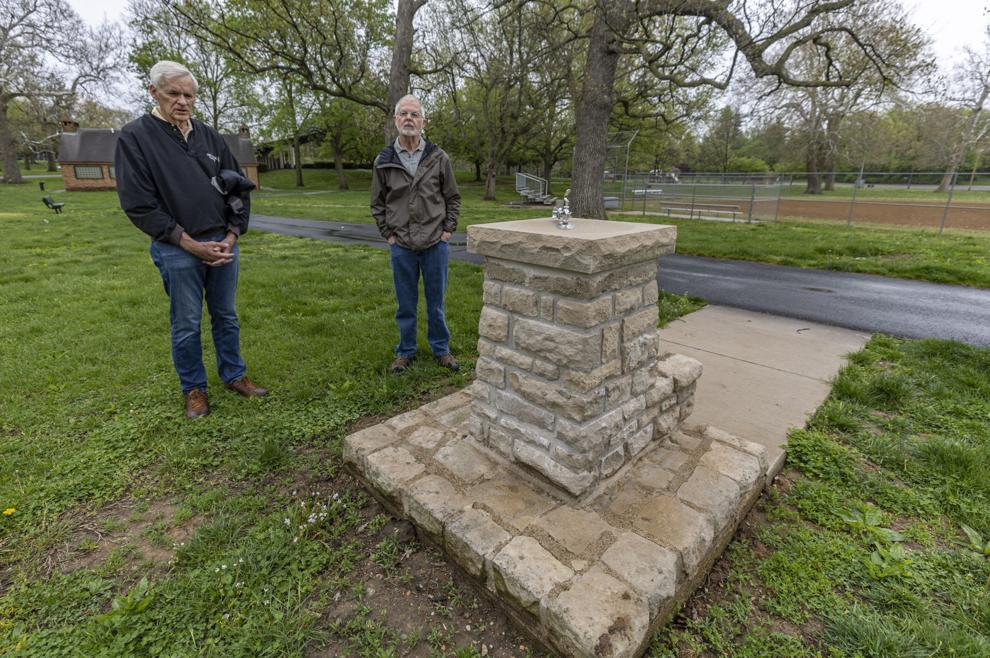 While taking a walk a few years ago, Huss began looking for remnants of the stone fountains. "I knew it was there as a kid," he said. "I found it tipped sideways with trees six-inches in diameter that had grown all over it."
Now standing along the path west of Fairview Park's main pavilion and bathrooms, the lone water fountain is back to work after decades of decay.
The fountain's history doesn't stop in Decatur. It once played an important role in the survival of the country.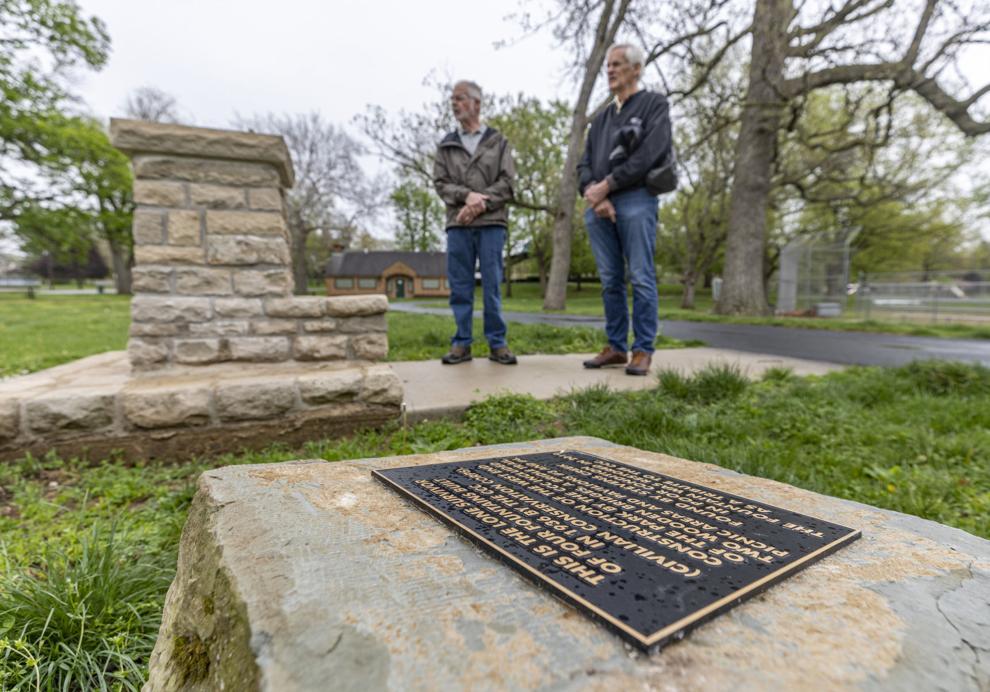 The Civilian Conservation Corps was established by President Franklin D. Roosevelt in 1933 as a way to provide employment to men during the Great Depression. Their jobs were to restore and build parks through environmental conservation projects. "These were people who were pretty destitute. A lot of them were (malnourished) and poorly clothed," Huss said. "It was to do things all around America to control erosion, to build parks."
"And to provide some employment," Huff said.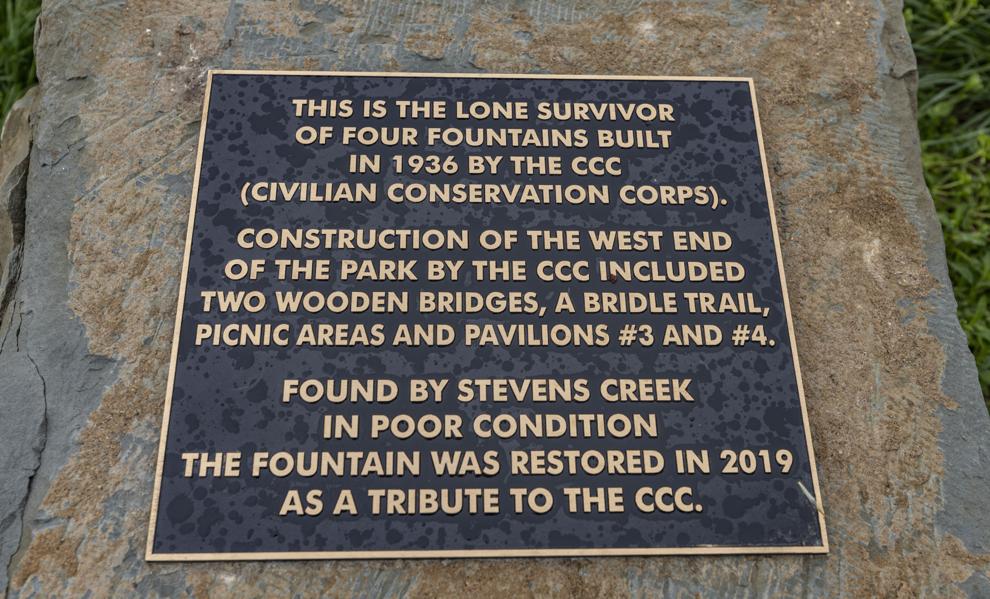 Decatur housed several CCC men at local camps. The programs provided pavilions, bridges, trails, picnic areas and the four drinking fountains in Fairview Park. After some revamping, one of fountains is now prominently displayed along the Fairview Park walking path.
"They created great places of recreation for people of our country," Huss said about the CCC program.
The CCC disbanded when World War II sent the men off to war.
Huss researched historical information regarding the park and learned about the CCC and its connection in Decatur. He was able to find a map showing the fountains. "And one of them was exactly where I had just found this thing in the brush," he said. "You could tell it had never been moved because it still had this pipe valve next to it that was buried deeply underground, but it was a Mueller valve, made here."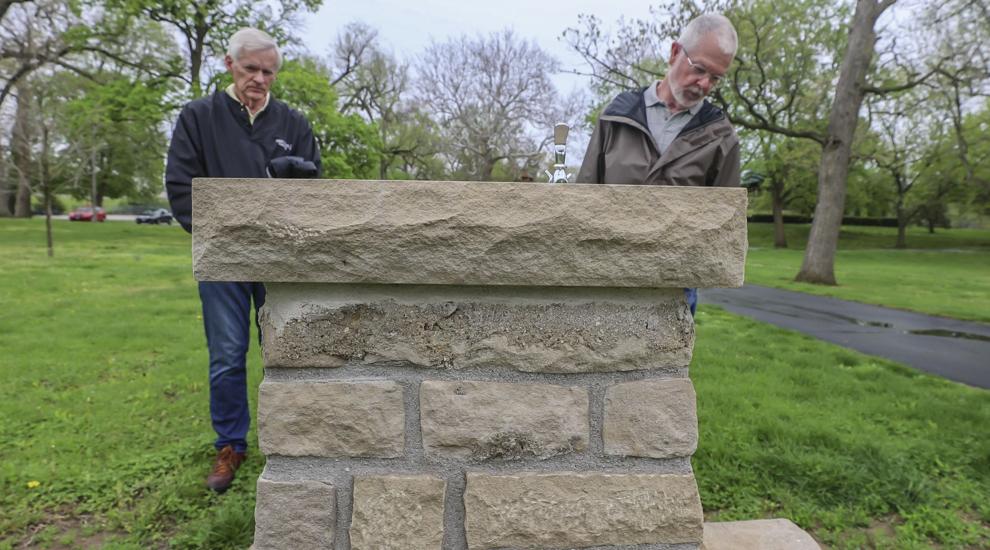 Huss convinced his friend Huff to assist in bringing the fountain back to life. The duo contacted the Decatur Park District for assistance. The park crew was able to lift the fountain and set it up in its original location. "But it was nonfunctional," Huss said.
Public pieces can be vulnerable, especially when hidden and unusable.
"It had been vandalized. People had broken parts of it," Huff said. "We thought if we were going to save it, we better hurry up and save it, or something was going to completely destroy it."
The other fountains, assumed to be long gone, were originally placed in more easily accessible areas, according to the friends. "This one was uniquely located by the creek," Huss said. "It was like a place you would never think there would be a fountain."
The updated fountain was restored with a new basin and plumbing. "The top was in about three or four pieces. They were trying to piece it together," Huff said about the original sink. "They did a nice job, but it really didn't look very good."
The process of refurbishing the stone water fountain took approximately six months in 2019 and cost nearly $7,000. Funding was provided by private donations and the Decatur Park District. Some of the work was provided by volunteers.
The new location provides easy access to the public as well as the water department. "This is a more active part of the park," Huss said. "We just wanted people to see it."
When summer time draws near, the fountain will be turned on for all to use. "It was ready last year," Huff said.
---
7 of Decatur's most historic homes
Contact Donnette Beckett at (217) 421-6983. Follow her on Twitter: @donnettebHR