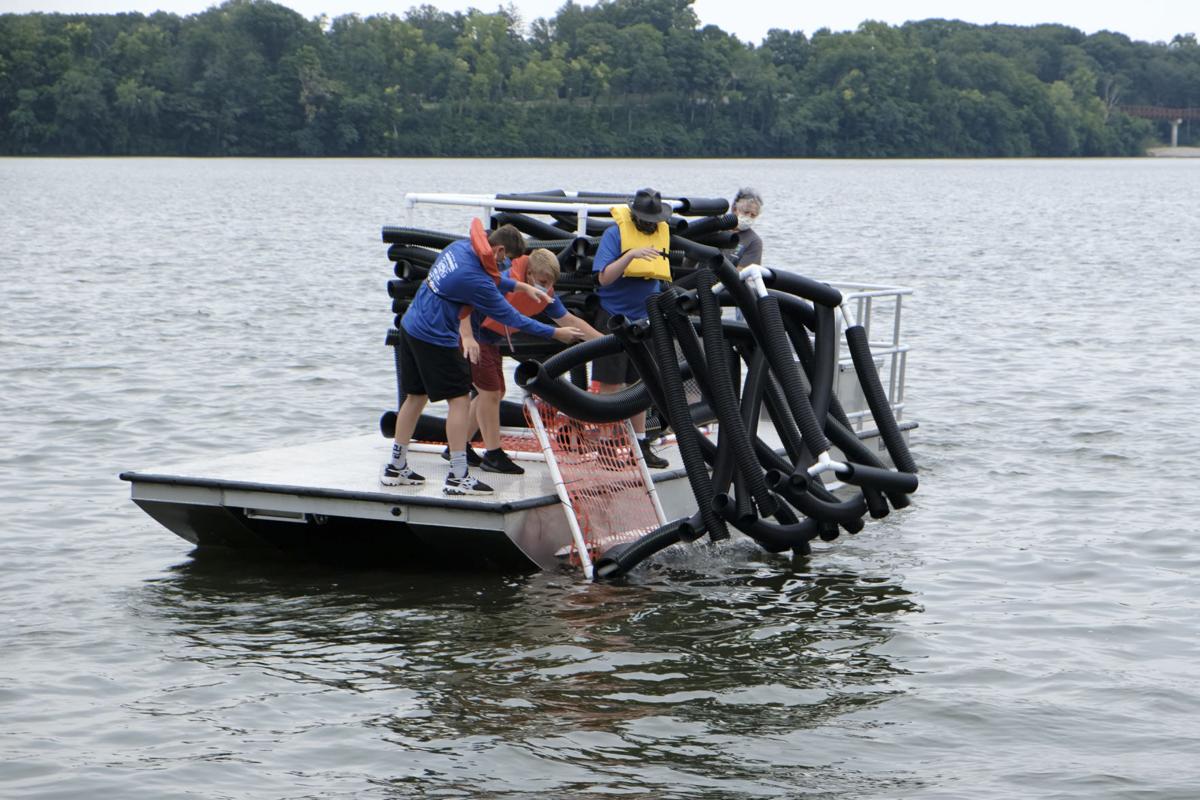 DECATUR — Fish in Lake Decatur have someone looking out for them.
Eli Crockett, a 16-year-old Mount Zion Boy Scout, created a fish habitat for his Eagle Scout project.
The 5-foot-square cubes, called Shelbyville Cubes, include coiled tubing with snow fencing at the base and gravel for weight.
Eli created the project based on the fish habitats located throughout Lake Shelbyville. With the assistance of other scout members from Mount Zion Troop 43, he made 10 cubes. On Wednesday, the scouts placed them at various locations in Lake Decatur.
Helping to add more habitat in the recently dredged lake was important to Eli.
"I'm an aquarium keeper myself," he said. "I know how delicate the balance of the ecosystems are."
Eli was the project manager, which included researching the project and studying who will assist him, how it will be paid for, how it will be designed and carried out. One of the people Eli interviewed was Joe Nihiser.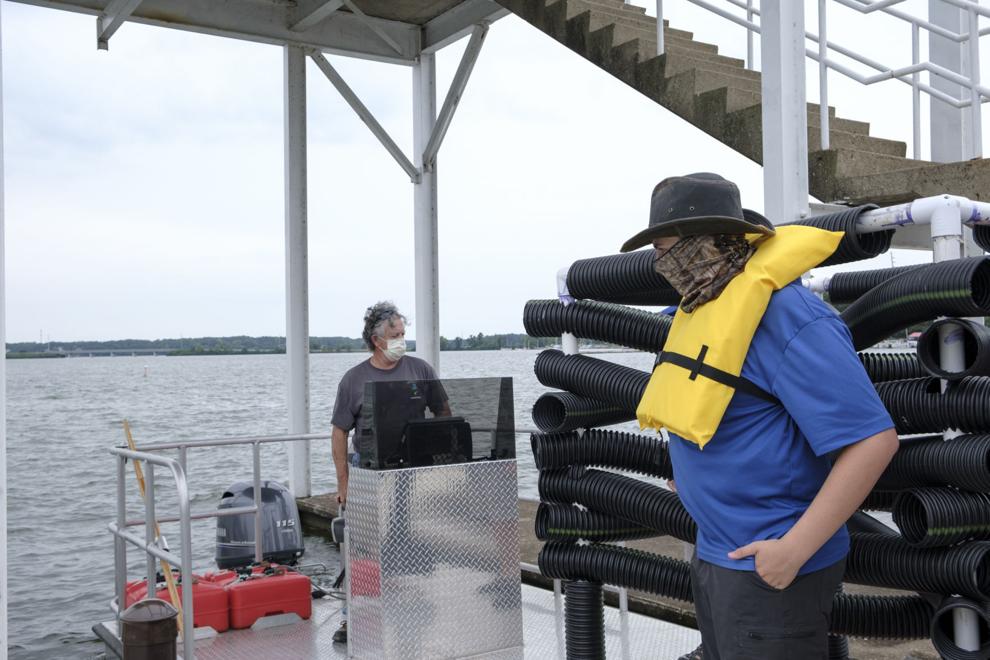 Nihiser is the lake maintenance supervisor. He said he appreciated the new addition to the lake.
"Anytime we can put structure back into Lake Decatur to give the fish a place to hide and grow in size, to keep away from other big fish, it helps us establish a good fishery," he said. "Building habitats like this, that last a long time, is very beneficial."
The homemade habitats will survive the elements and can be moved to desired locations. The lake had approximately 110 similar habitats before Eli added 10 more on Wednesday.
Assistant scoutmaster of Troop 43, Tim Lee, assisted Eli in preparing the fish habitats. Three fish habitat tubes were placed in the lake at a time.
"They usually become pretty good fishing spots in the future," Lee said.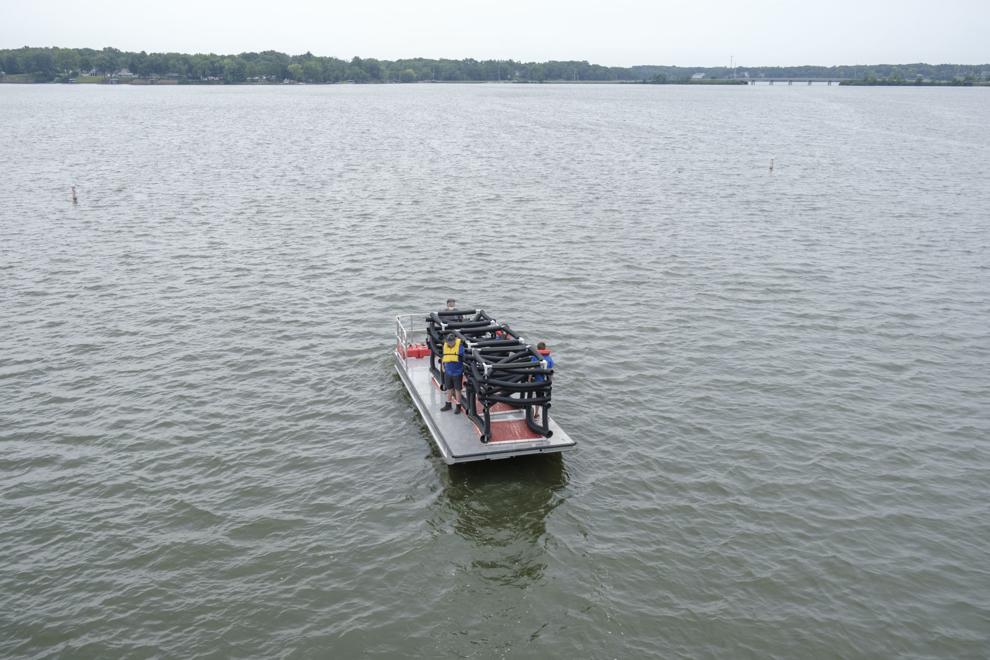 Funding was necessary to create the fish habitats, each costing approximately $200. Local retail stores donated financially. Chips Marine in Sullivan assisted Eli in creating the habitats, as well.
"They build a lot of these for Lake Shelbyville," Eli said. "It was a great help. I learned a lot from them."
"With all of the development, there's not as much introduction of woody habitat or cover for fish," he said. "An old lake like Decatur doesn't have a lot of physical, course substrate that fish like to hang around like these cubes."
Shelbyville Cubes are designed to stay off the bottom of the lake, yet stay stable. "That makes them tremendously more effective," Mounce said. "We're providing habitat and some locations for fishermen to catch fish. "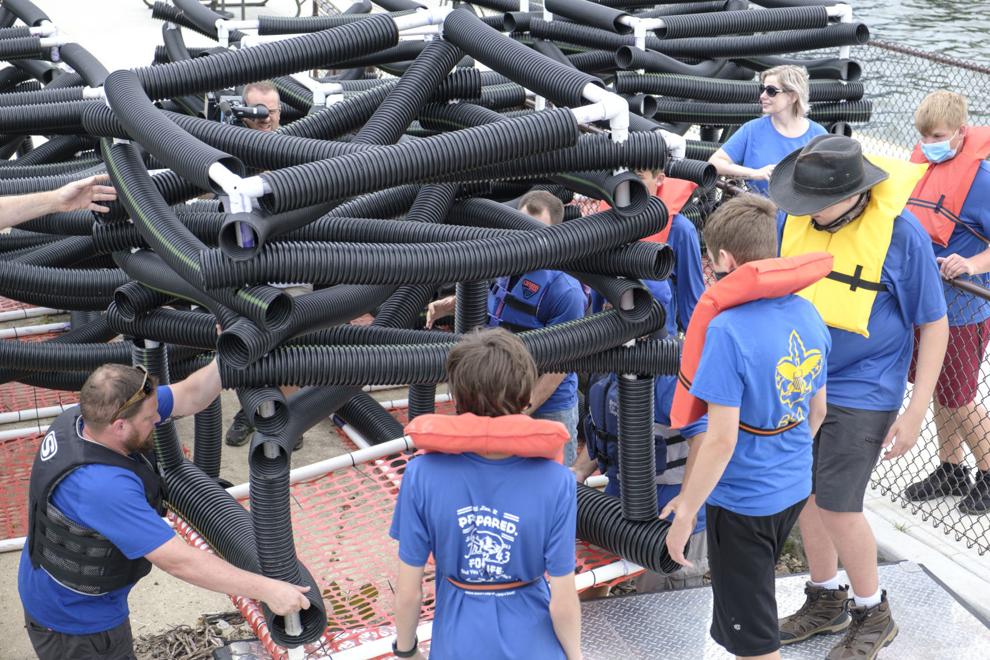 Eli's fish habitats are expected to last a long time. "They look like they are very well constructed," Mounce said.
According to Joanna Lowe, owner of Mike's Tackle World in Decatur, business is better this season. She credits the extra fish, as well as the pandemic. "A lot of guys have been going fishing for fun and food," she said. "They are taking their families and having a good time."
Lowe said she has had customers from Chicago and other states, including Indiana, Missouri and Michigan. "They were catching some big fish in Decatur," she said. "This year has been awesome."
Although the fishing has been good this year, Lowe said the lake has always been in need of better habitats. "We do need a place for the fish to go hide and congregate," she said. "It would be 100 percent better."
Fishing is an activity that brings others into the city, Lowe said.
"It brings in a lot of revenue into Decatur," she said.
The lake recently hosted a crappie tournament with 32 teams from five states. "That is a great sign that people are excited about our lake again," Hammel said.
Future crappie tournaments are scheduled for the next two years.
The extra fish provides more reward. "That makes it much nicer for everyone to be able to enjoy the water outside," Hammel said.
Eli created the Shelbyville Cube project to earn the Hornaday Badge, in recognition of those contributing to natural resource conservation and environmental protection.
Eli's mother, Betsy Crockett, isn't surprised by the focus he has on creating such an elaborate project. "When he was a baby, he wouldn't watch cartoons," she said. "He watched 'Blue Planet'."
Future plans are to continue studying biology and science. "Scouts have really helped him," his mother said.