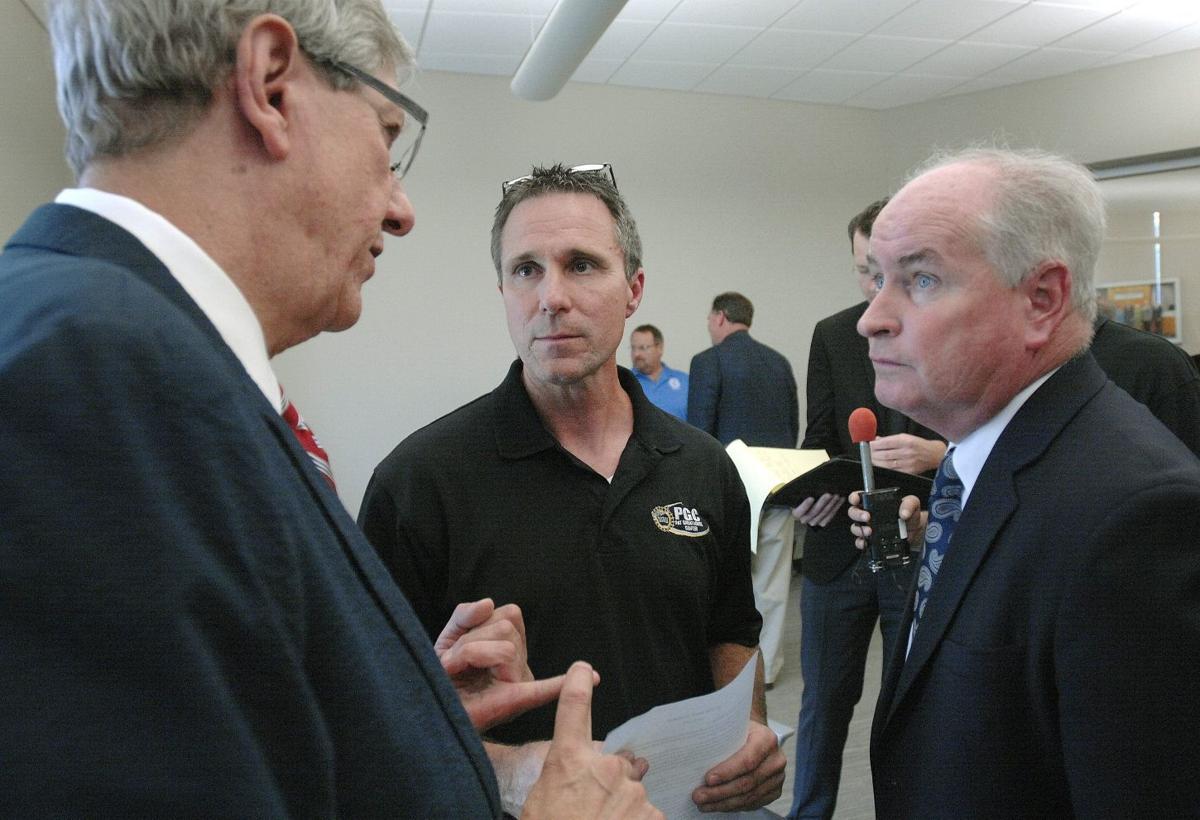 NORMAL — Citing a decline in exports of the Normal-built Outlander Sport to Russia, Mitsubishi Motors will end U.S. production but hopes to find a buyer for the local plant, the company announced Friday.
Almost 1,200 workers will be affected, with the first departures expected in November.
"This is a shock to all of us," said Kyle Young, vice president of United Auto Workers Local 2488, which represents about 950 of the plant's workers. "We're floored; we don't have a clue what will happen. We're all very stunned."
Normal Mayor Chris Koos said the announcement "came pretty quickly."
Workers at the plant built 69,178 Outlander Sports last year, with more than half exported to other countries. At its peak in the early 2000s, the plant produced as many as six models and built more than 220,000 cars annually.
---
---
As McLean County's fifth-largest employer, MMNA contributes about $120 million annually to the local economy in taxes, salaries and benefits, according to the company. That impending loss already has local and state officials working to find another tenant for the facility.
"We've already talked to the governor's office and the Department of Commerce and Economic Opportunity and it's all hands on deck to refill that building," said Kyle Ham, executive director of the Bloomington-Normal Economic Development Council.
Because the buildings were designed for an auto manufacturer, Ham said that will be the priority for a new tenant but added "we also will think outside the box" and look at other possibilities.
The local plant is assessed for tax purposes at $7.47 million and paid $640,541 in local taxes in 2014.
In a joint statement, Koos, Bloomington Mayor Tari Renner and McLean County Board Chairman Matt Sorensen said, "We all agree that we need to embrace this decision by Mitsubishi as a new opportunity for our community and to aggressively engage key local, state and federal leaders to help us develop an aggressive strategy to find a new owner for the local Mitsubishi facility."
Koos said company officials told him the reason for the decision was tied to a decline in Russian sales of the Outlander Sport, which has been built at the plant since 2012.
Mitsubishi had high hopes for the new model. It had received concessions from union workers to keep the plant open, eliminated production of four vehicles and completed a $100 million retooling of the plant to build the affordable, five-passenger crossover SUV.
Now state and federal legislators "all have pledged full support to find a new company to occupy" the Normal facility, the local leaders said during a Friday afternoon press conference.
State Rep. Dan Brady, R-Bloomington, said he believes a comparable automobile manufacturer can fill the space. The state has been approached by others from "time to time," he said.
"The wheels are in motion," he said, adding Mitsubishi received state and local incentives so those could be on the table again to attract another business.
State Sen. Bill Brady, R-Bloomington, said there is "no question another company could come in and maximize the space. This facility is not at capacity."
The plant is 30 years old, Koos said, but it recently underwent improvement and is among the most technologically advanced in the world.
The closure could also trickle down to Twin City businesses with ties to the automaker.
"We'll be fine," said Bill Norton, sales manager at O'Brien Mitsubishi of Normal, 1601 Fort Jesse Road. He referred all other questions to General Manager Ryan Gremore, who was unavailable.
Vuteq USA Inc., Illinois Division, 2222 W. College Ave., manufactures glass components and door panels, according to Pantagraph files. Bloomington-Normal Seating Co., 2031 Warehouse Road, produces car seat assemblies.
---
The business news you need
With a weekly newsletter looking back at local history.