Imboden Creek Health Services
About Imboden Creek Health Services
Welcome to Imboden Creek Health Services!




Imboden Creek Health Services is a privately owned community that offers seniors the opportunity to establish a secure lifestyle. For Imboden Creek residents, their community remains constant. The way we designed our facility to provide the right assistance for seniors as their needs change. The Imboden Creek Campus is comprised of:

☼ Imboden Creek Villas for Independent Living

☼ Imboden Creek Gardens for Assisted Living

☼ Imboden Creek Living Center for Long Term Care

Here at Imboden Creek, many enjoy the carefree independence of their private condominium where they are relieved of the responsibilities of owning their own home. Others benefit from the peace-of-mind of knowing someone is there to assist them with day-to-day tasks, while enjoying endless activities and a space of their own. All while others receive true individualized, compassionate care from skilled professionals who cater to their personal needs.




Click below to:


☼ View Our Campus

☼ View Therapy Services

☼ Meet Our Staff

☼ Read Our Success Stories

☼ Join Our Team

☼ Contact Us
In 1983, we founded Living Centers, Inc. out of our acceptance that we have a responsibility to care for our elders. It is our commitment to continually advance the ideas and services we offer to better assist mankind in caring for itself.

When Imboden Creek began, the Living Center was the very beginning of our story. The name Living Center embodies the spirit of the entire campus of today. Imboden Creek is a place where community are surrounded by true caring in the heart of each employee within an environment where our residents live and flourish.

Today, what once was our desire has become a reality. Imboden Creek is a dynamic community of life offering a continuum of care for those in their elder years. We encourage you to visit Imboden Creek and see for yourself the positive atmosphere and quality lifestyle that our residents enjoy. We know that once you've come to Imboden Creek you'll notice that the only thing missing… is you.
Be sure to visit or give us a call today at 217-422-7150 for more information! You can also view or website and Facebook page.

We may be a little different than most, but we urge you to come see why that is better!


Is this your business?
Promote your business through our innovative Marketplace system! It's free to sign up!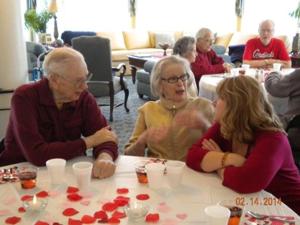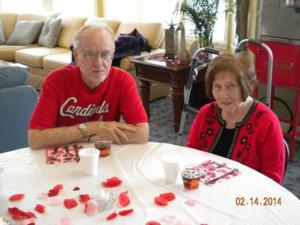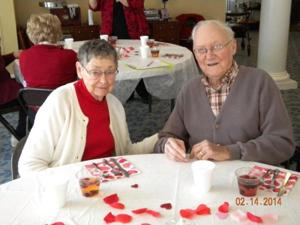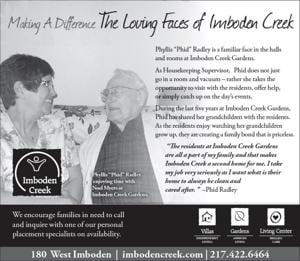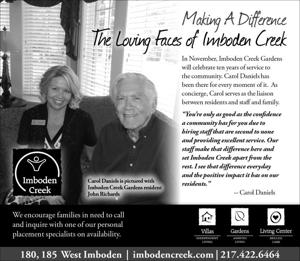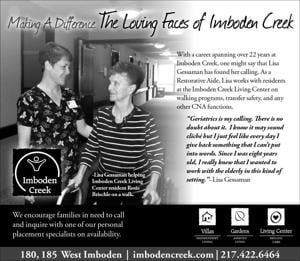 Visit us at http://www.imbodencreek.com/
Virgil Coffman celebrates his birthday at Imboden Creek Health Services