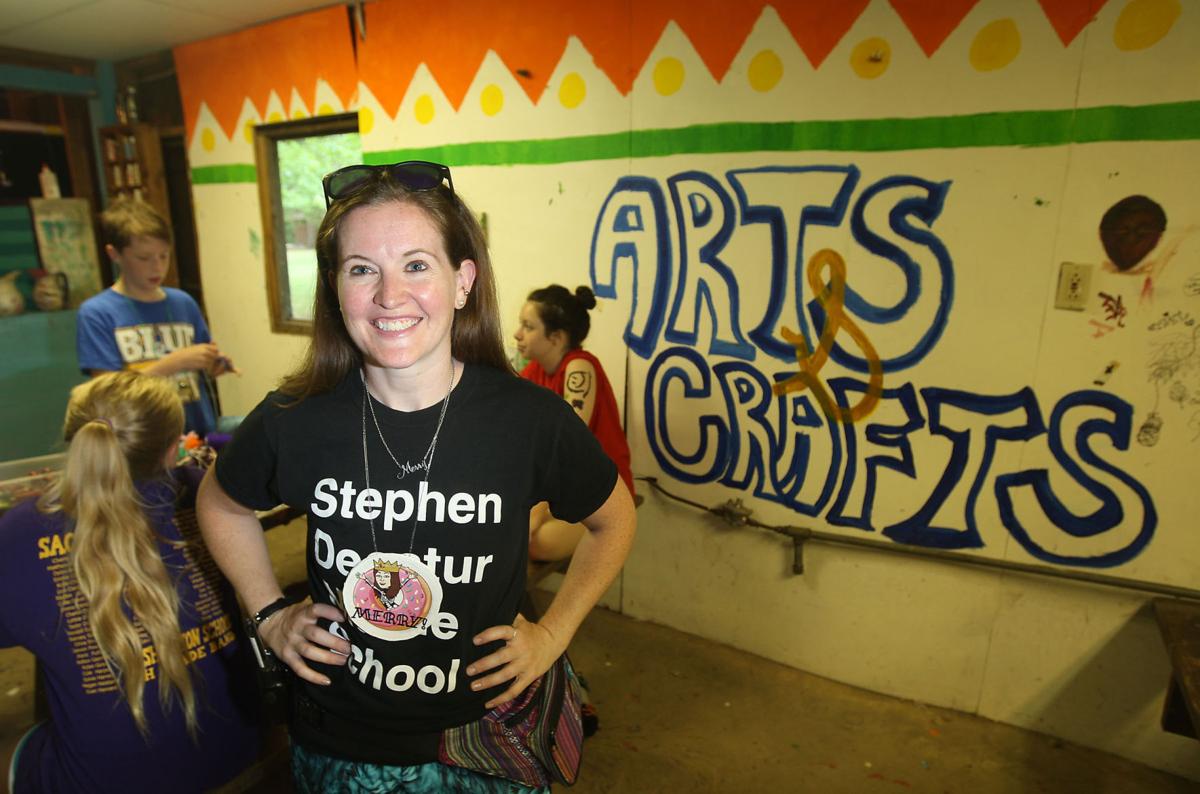 Family: Outside of my large extended family, I've got my dog, a blue pitbull named Fortinbras (Fort for short). He came from the Macon County Animal Shelter. I don't have children, but I do have a "little" through Big Brothers Big Sisters. It's been a rewarding experience and I encourage everyone to consider getting involved with BBBS.
Current position/responsibilities: My full-time job is with DPS61. I just finished up my 9th school year. I currently teach art to 7th & 8th graders at Stephen Decatur Middle School. I teach art and one section of African-American art history. I just finished up my Master's degree in art education and my capstone project focused on this topic, as it's been a passion of mine since my undergraduate studies at SIU-Carbondale. This past year I was also able to start a Saturday Studio program. We met about once a month this past spring at SDMS – middle school students with a special interest in art came in on select Saturdays to explore methods and media not covered during the regular school day. Large class sizes and a packed schedule make this difficult, so this was my solution.I'm excited to see this program grow in the new few years. It isn't part of my job description so it's more like a pet project of mine. I also coach cross-country and sponsor our student council. It's not a student government but a volunteer corps that organizes and participates in community service projects. For example, we visit a local assisted living facility regularly and lead art activities with the Memory Unit.
In addition to my job as an art teacher, I also work part time for the DAAC teaching classes. I also teach private lessons to a few local families, which has been a fun new adventure as well.
Last, but not least, I also work for the 4H Memorial Camp (Allerton Park) in Monticello.
What do you like best about what you do? Every day is different. I rarely sit at a desk unless it's among my students. They keep me on my toes, but I truly enjoy working on art alongside them. There are great days and there are really rough days, but even on the difficult days I feel incredibly lucky to get to share my love and passion for art with kids. I imagine they roll their eyes when I start lecturing about various life lessons, but I truly want to see them succeed. They like to give me a hard time, "Lank, you're doing too much!" I suppose they're right, but I am OK with that.
What do you like best about working or living in the community? Decatur is a gem. Truly. We have a great small city with amazing local restaurants, a fantastic arts council, a remarkable symphony orchestra, beautiful parks, affordable housing, an awesome lakefront and friendly, welcoming people. I live close to Nelson Park and I love being a quick walk away from the lake. After I bought my home here a few years ago, I bought two kayaks and enjoy inviting my family and friends to take them out on the lake with me. I belong to the local Y and see my students (and former students) there regularly. Decatur isn't a small town, but it has that small-town feel, with more diversity and opportunity than one might observe elsewhere.
What should the community be doing to attract more young people to live and work in the Decatur area? I think we have some real movers and shakers who are working tirelessly on our community's image. Grow Decatur and the Education Coalition of Macon County are top-notch organizations trying to showcase what Decatur has to offer and make it a better place. The Decatur City Limitless movement is great, too. I cringe when I read posts on social media or overhear strangers spewing negativity about Decatur, claiming its dirty or there's nothing to do. Dirty? Pick up litter, clean up your yard and encourage others to follow your lead. Bored? Pick up a Thrive. There are literally hundreds of things to do every month in the Decatur area. Set a positive example. Don't allow the misery of others to seep into all that's great here.
Who is the person who has had the biggest influence on you and why? It is impossible to focus on one person. I have a great family. My parents have always had high expectations of my siblings and I, and I think that has pushed me to be a positive example for others, and to maintain a high work ethic in all that I do. They raised my siblings and me to be loving, accepting people, and I wouldn't be where I am today without their continued support.
I also look up to my 4H Camp boss, Curt Sinclair. I refer to him as Summer Dad since I've known him since I was 8. Curt works hard, and does an amazing job hiring a diverse, talented staff, & managing hundreds of campers. There is no job too small for Curt, and I think that sets a great example for anyone around him. He doesn't look for recognition in what he does, which is why I have to give him credit for my own success.
I also look up to my students. We have incredible kids in our community. We have so many kids who deal with really tough situations- high poverty, incarcerated parents, homelessness, foster care… the list is endless. They work hard and persevere through these issues. They inspire me every day. They remind me how insignificant my occasional bad day is. There's no need for us to stress or worry about the future - believe me, they will impress us all.
My "I'd rather be …" bumper sticker would read: "I'd rather be reading." I love to read. It's a great escape and I feel less guilty when I binge read than when I binge watch full seasons of TV shows.
What is your favorite stress reliever? It's a cross between reading, working on my art and hitting the weight room.
What is your favorite movie? "Mallrats." I'm a big Kevin Smith fan.
What is your favorite phone app? Snapchat. I love the first-person narratives of major events like the MET Gala and NBA Finals.
Quote to live by: "When in doubt, go to the library." – Hermonie Granger (Harry Potter)
If you were a fictional character, which one would you be? Why? Meg Murry from the book "A Wrinkle in Time" by Madeleine L'engle. She's awkward, weird, and smart, and goes on unbelievable adventures in this book and the others in the series. The Murry family is big and full of nerdy, fun kids which reminds me a lot of the Lankers.