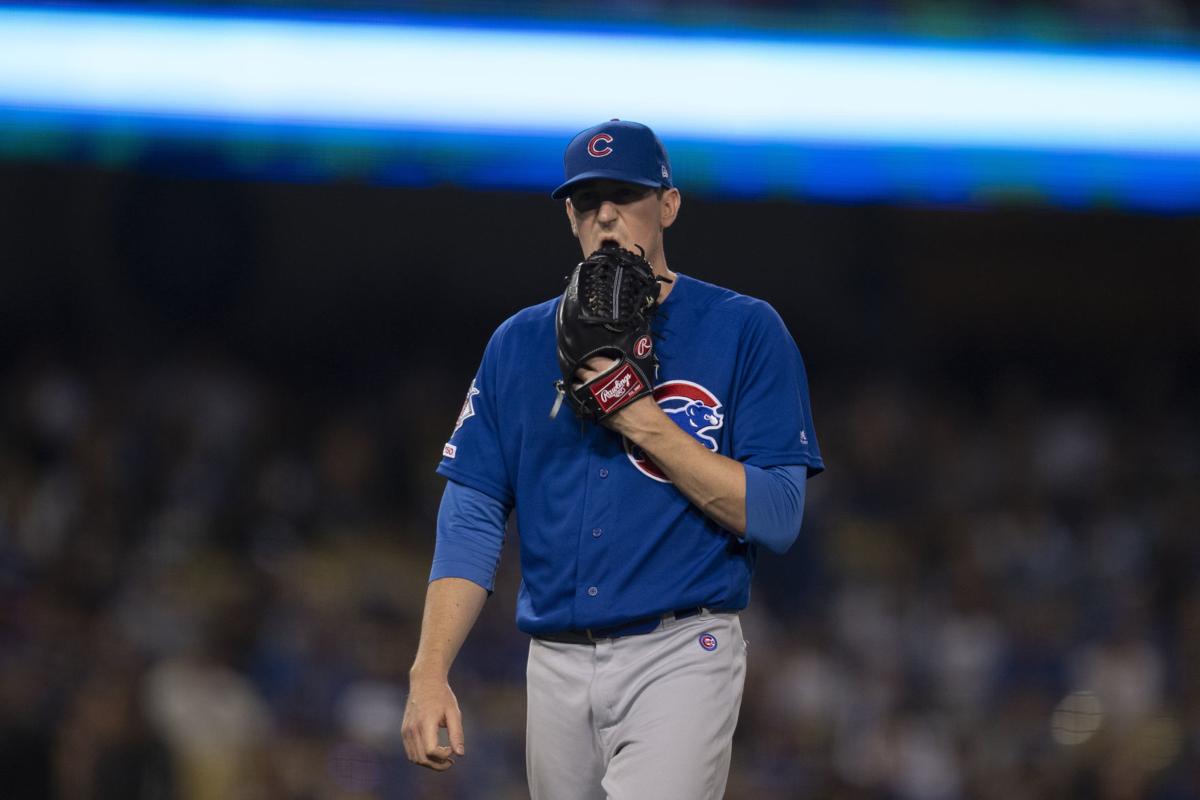 Possessing more job security than some of his more heralded Cubs teammates didn't satisfy Kyle Hendricks this winter.
After dealing with leg fatigue and a bout of right shoulder tendinitis last season, the fitness-minded Hendricks changed trainers and embarked on a strengthening program.
"I noticed there was a deficiency and I needed to address it," Hendricks said Thursday.
Hendricks is essential to the success of a franchise that could overturn its roster within two seasons. Starters Jon Lester, Jose Quintana and Tyler Chatwood -- the leader for the fifth spot in the rotation -- could become free agents after this season.
Hendricks, 30, could have joined them but agreed last March to a four-year, $55.5 million extension that starts this season and includes a vesting option for $16 million in 2024.
The contract put Hendricks' mind at ease while the futures of sluggers Kris Bryant, Javier Baez and Kyle Schwarber -- whom are eligible for free agency after 2021 -- are uncertain to varying degrees.
"Everybody is on their own plan and how they handle all that," Hendricks said. "For me, it started to get away from the love and joy of the game, in a way. And I didn't mind it completely. But after signing the deal, I've noticed it has brought me back into just playing for the competition. ... It was probably the best decision I could have made.
"I can't say I'm working harder, but my focus is way different. You see what's going on. You feel for your teammates, and you want everything to work out for the best. But for me, it worked out great, and I can focus on the pure competition, the love of the game and just playing baseball."
Changing his preparation has heightened Hendricks' focus. Even in an era of specialization, Hendricks now believes he possesses the strength to start 32 games and pitch 200 innings -- the latter feat achieved by only five National League pitchers last season.
"I didn't like the trend I was going in (the last) two years," Hendricks said.
Hendricks worked out last winter under the supervision of Eric Cressey, who oversees the Yankees' training department and came with endorsements from former Cubs relievers Steve Cishek and Brandon Kintzler.
Hendricks said he remains a devotee of yoga. But he felt more mechanical than athletic last season, and he allowed nine runs on 14 hits in his last two starts.
At the end of the season, coaches Tommy Hottovy and Mike Borzello and the training staff examined videos of Hendricks before he flew to Florida to work under Cressey, who has trained Max Scherzer, Noah Syndergaard and Corey Kluber, among others.
"Lots of new school stuff," Hendricks said of his routine. "A lot more movement stuff and becoming more athletic. So not just stuff in the weight room to let me go pitch, but movement stuff. I feel better moving on the mound. My whole mechanics flow better and not get so pushy with it."
Hendricks made 30 starts but threw only 177 innings -- 22 innings shy of his career high in 2018.
Hendricks, like several of his teammates, is looking to make a deep run in the playoffs after watching from home last season.
"You learn a lot by going through the adversities," he said. "We've had a lot of that. Every year you go through something, but the last couple years definitely have been tough, especially coming down to the end.
"Things are changing. That's good. You need to change the way you've been doing things if you want the results to change."
About three hours after Thursday's workout ended, Cubs manager David Ross embarked on a personal workout when he noticed Hendricks entered the batting cage with a bat.
"He's a guy you don't have to worry about," Ross said. "He's going to get his work in. It fits right in with most of the guys."
---