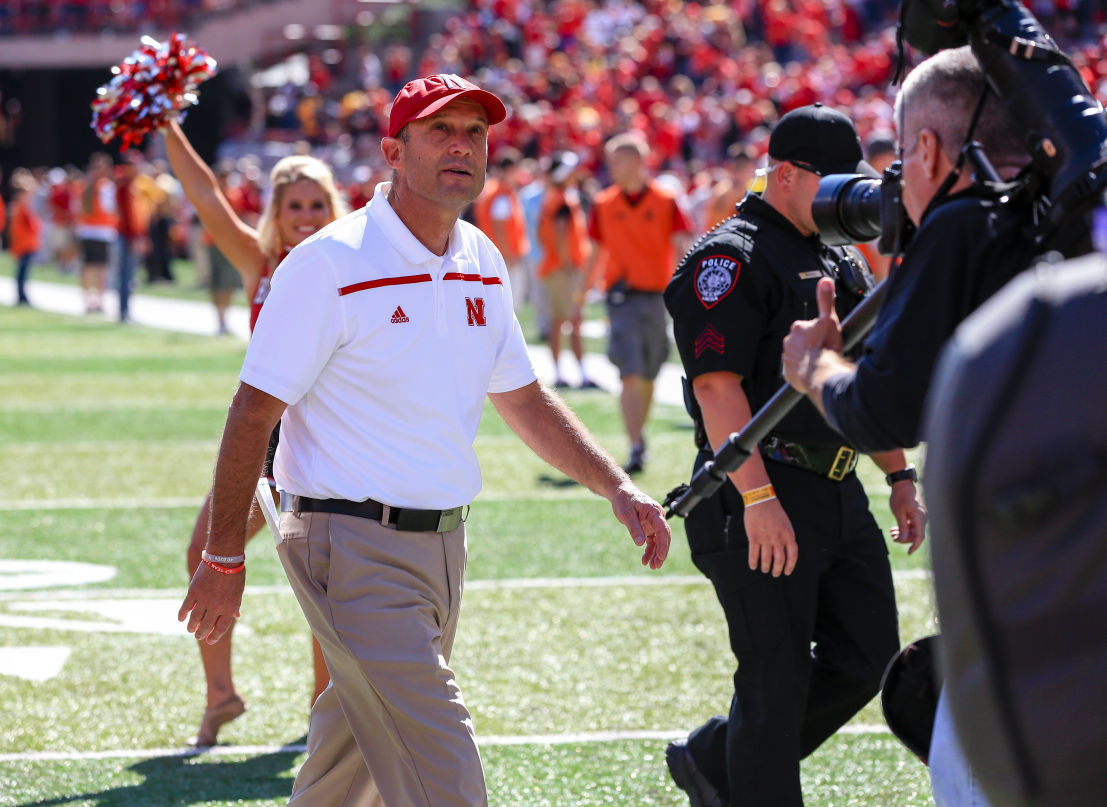 CHAMPAIGN – Nebraska coach Mike Riley said he has watched tape showing his team's breakdowns in the secondary and was so shocked he stopped to ask a rhetorical question:
"What's going on here?" Riley said. "We have to work with our players, because when things are going south, don't lose your minds on that one deal. Sometimes it looks like it's falling apart."
Nebraska rolled up more than 600 yards in offense last week against South Alabama, a figure that would make any coach smile. But if Riley isn't grinning it's because he knows that through four weeks, no FBS team in America is giving up more than the 379.5 passing yards per game Nebraska has surrendered.
He figures something has to change today against Illinois, a team that likes to throw the ball and will no doubt be looking to exploit Nebraska's shaky secondary.
"We are examining all possible things schematically," Riley said. "We look to see if we're getting enough pressure and getting some curveballs in coverage."
Illinois' passing attack hasn't been operating at peak efficiency. Each week interim head coach Bill Cubit has pointed to a number of dropped passes, nine of them two weeks ago, five last week. He lamented the absence of healthy tight ends and talked about the difficulty that creates in developing a game plan and creating pass protection.
But this week's Illini injury report does not include starting tight end Tyler White, which means he has been cleared from a concussion and should give quarterback Wes Lunt another weapon and a goal-line security blanket.
"He is absolutely a key guy for us," Lunt said.
Nebraska has had no trouble moving the ball on offense. Quarterback Tommy Armstrong Jr. has been a potent pass-run threat who already has the attention of the Illini defense and safety Clayton Fejedelem, a one-time walk-on who transferred from St. Xavier University, an NAIA school. Fejedelem has become one of the team's most reliable tacklers and play-makers.
You have free articles remaining.
"He gives us high energy," Cubit said. "He's physical, a really dedicated player. He gives us a lot back there and you don't appreciate him until you watch. That's when you see his physical toughness.
"The (players) picked him as a team captain for this week so that tells you something about his character."
Fejedelem leads the Illini with 38 tackles and has broken up three passes. He's acutely aware of Armstrong and his responsibility to keep him from shredding the Illini defense on the move.
"They are a high-powered offense with great athletes," Fejedelem said. "They have solid receivers, they always bring a good running back and Tommy can attack you through the air and with his feet."
But unlike last season, when Nebraska whipped Illinois 45-14 in the Big Ten opener in Lincoln, Neb., Fejedelem believes this is a defense better prepared for the challenge.
"We're way above where we were in the past," he said.
Nebraska is 2-2 after a tough non-conference schedule. And the Huskers' coaches have challenged that secondary to step up after giving up 379 yards passing to Brigham Young, 313 to South Alabama, 379 to Miami and 447 to Southern Mississippi.
Those are big totals and Lunt has been exhorting his teammates to equal or exceed them.
"The biggest thing is that one play can change a game," Lunt said. "A dropped ball or a pass that wasn't where it needed to be, those things can change games. We just have to put plays together. That's all it is for us, a matter of putting it together."
If each team decides to throw the ball, weather could be a factor. The forecast calls for winds increasing to 45 miles an hour by the late afternoon.