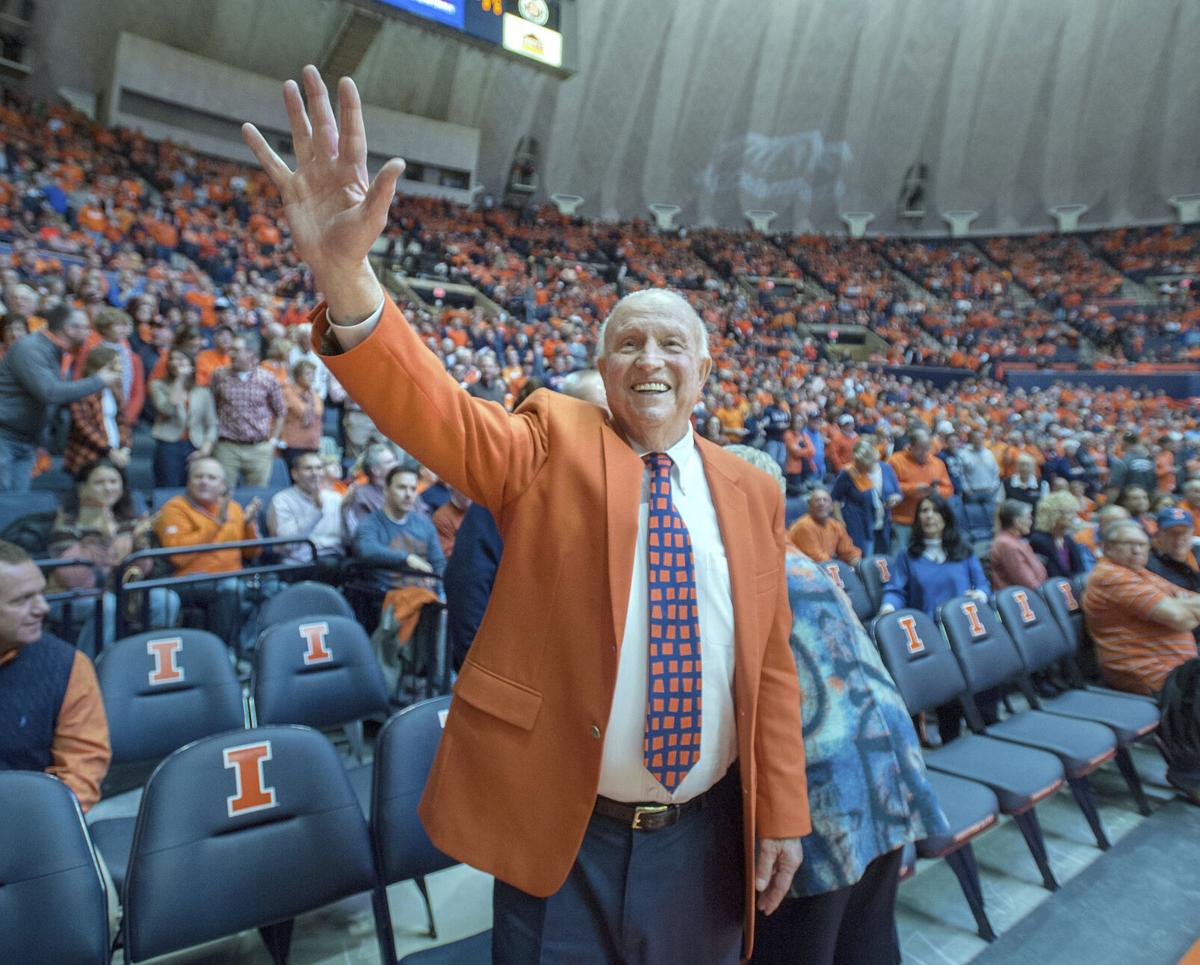 "He is remembered not only for his team's success on the court, but also for his personal grace and sense of humor."

The @B1GMBBall community has lost a legend. Lou Henson - the winningest head coach in @IlliniMBB history - passed away at the age of 88. pic.twitter.com/A5GQgoNpAP

— Big Ten Network (@BigTenNetwork) July 29, 2020
It didn't matter if you were a student reporter at the school newspaper or a guy covering the University of Illinois basketball beat for a daily newspaper. Lou Henson treated you the same way.
I know. I had the honor of interacting with Henson in both roles.
The legendary Illini coach passed away Saturday and was buried Wednesday morning. The news of his death at age 88 was released following the private ceremony in Champaign. Henson's wife, Mary, and daughters didn't want a crowd which would have flocked to send him off because of the pandemic.
Henson was gracious with his time to both fans and the media. His Oklahoma drawl made him unique in the Midwest. Sure, Henson knew how to "coach-speak" with the best of them and never divulged any secrets that the opposition might use to its advantage.
---
---
The media didn't really care. He wasn't rude or abrasive with us, even if he didn't particularly like the question. Being civil to those just doing their job was his nature, unlike the guy he famously scolded in the state school to the east (more on that later).
Henson put Illinois basketball back on the map when he took over as coach in 1976. The program was in a total mess. The Illini couldn't recruit players from the talent-rich Chicago area. They were near the bottom of the Big Ten.
That would soon change when a guy coaching his alma mater, New Mexico State, came to the cornfields.
Henson and his staff, led first by Tony Yates and later Jimmy Collins, broke into Chicago and began a pipeline of recruits down Interstate 57 to Champaign-Urbana. In five short years, the Illini were nationally relevant again. They went to the NCAA Tournament in 1981 for the first time in 18 years and were a powerhouse in the Big Ten and nation throughout the 1980s.
The crowning moment was winning the Midwest Regional in Minneapolis in 1989 and advancing to The Final Four with a captivating squad ESPN's Dick Vitale labeled "The Flying Illini."
The only shame was Illinois couldn't finish off winning the national title. They had beaten Michigan twice in the regular season, running the Wolverines off the court in Ann Arbor only weeks earlier. But in the national semifinal rematch the Illini played like a team that thought they were going to win just by stepping on the court and lost on a last-second long rebound basket.
Fans blamed Henson for not getting the team fired up in Seattle. Are you kidding? That shouldn't be a coach's requirement in The Final Four. It was an unfair assessment of Henson, who many thought never got the most out of his best Illini teams. That was so wrong, but Henson never worried about that.
You don't win 779 career games, get two courts named after you and be inducted into the National Collegiate Basketball Hall of Fame without knowing what you're doing. Henson's teams played great defense and physically didn't back down to anyone. That never changed in his 21 years in Champaign-Urbana.
When I was the sports editor at The Daily Illini in the 1980-81 season, I covered the team led by Eddie Johnson and Derek Harper. On a swing trip to Michigan State and Ohio State, I flew with the team and got to observe Henson and the players in a more close-up setting. It was all business and no coddling. That wasn't Henson's style. The players understood that. The Illini won both games.
I took over the Illini beat at The Pantagraph in 1988. After setting up a meeting with Henson at his office in the Assembly Hall, I got over there and was told by his secretary he was in a meeting that was going to last a while. So I headed back to Bloomington and was in the office about five minutes when Henson called.
"Jim, I'm so sorry about that," he said. "Can you come over tomorrow and we can go to lunch?"
That happened the next day. Henson took me to a Chinese restaurant in Champaign, and I thought I was dining with a king. The owner came out and greeted us while those in the restaurant gawked at the coach and some reporter. Henson said hello to everyone and signed autographs.
It was a great afternoon for one of us.
Covering "The "Flying Illini" that season, Henson's approach never changed. Kenny Battle, Nick Anderson, Kendall Gill, Stephen Bardo and Lowell Hamilton were interchangeable parts, along with Marcus Liberty and Larry Smith off the bench. They were special and without a doubt the best Illinois team I ever covered (sorry, 2004-05 Illini).
The Illini went on probation following the 1990 season because of recruiting violations involving Deon Thomas, who still came to Illinois. Henson coached that team up to 21 victories before the regular-season finale against Indiana.
Henson and Hoosier coach Bob Knight had opposite personalities, but they were friendly rivals. That is, until Henson and the Illini started to become a threat. Then Knight wasn't quite so chummy, especially after Anderson's 40-foot buzzer-beater shocked the Hoosiers at Bloomington in 1989.
That led to the 1990 finale at Assembly Hall.
Indiana pulled away late. During the final seconds, Knight walked off the court and mockingly waved to the crowd. There was no postgame handshake.
Henson was fuming. There were harsh words and screaming outside the locker rooms. Larry Smith later said Henson, who never swore, was "saying words I didn't know Coach knew."
Knight came first to the postgame news conference. He was in true Knight belittling form, basically poking fun at Henson for believing all Illinois recruits should go to Illinois. Then it was Henson's turn, and he let Knight have it right between the eyes.
Henson called Knight "a classic bully who rules by intimidation." The words coming from Henson's lips were so unlike anything he ever said in a public setting that it caught reporters totally off guard.
Truth be told, most of us wanted to stand up and applaud because of how Knight treated the media.
Evidently, Henson and Knight made their peace later. So be it. Henson had the Illini back in the NCAA Tournament in 1993 with Thomas as the star. Towards the end of the 1995-96 season, recruiting began to suffer with opposing coaches using Henson's age against the Illini.
Henson decided to retire, but a year later New Mexico State called him back to Las Cruces to get them out of a jam. Henson stayed there, working for $1 per year, until retiring for good in 2005 because of non-Hodgkin's lymphoma.
A couple years ago, Henson came to Redbird Arena for a game. He was introduced during a timeout and given a nice ovation by Illinois State fans. Although he battled serious health issues for 15 years, Henson's sunny disposition never changed.
---
PHOTOS: Remembering Lou Henson's time with the Illini 🏀
Be the first to know
Get local news delivered to your inbox!