NORMAL — At times, the anticipation feels like it could kill Aaron Ahart. 
The wait for the arrival of Ahart's latest sportscards or memorabilia acquisition can test even the most calm collector. 
"Getting it here is one thing; but the shipping, when you have a high dollar amount item floating through the mail, that anticipation gets to be something," Ahart said. "It really depends on how much it is. You get anxious and I am just like a kid on Christmas opening up that next big piece."
Ahart, from Normal, has made quite a name for himself in the collecting community with some of those "big pieces." Ahart appeared on the season premiere of the long-running History Channel show "Pawn Stars" in October, bringing along his favorite collection item: a mouth guard made personally for Los Angeles Lakers superstar LeBron James when he was playing at St. Vincent–St. Mary High School in Akron, Ohio. 
To call Ahart a massive fan of James would be an understatement. Ahart named his son Akron James Ahart in the three-time NBA champion's honor and his shoulder sports a 'Chosen One' tattoo of the NBA star. That tattoo was featured on a segment of ESPN's "SportsNation" program, which led an auction house representative to approach him about the mouth guard.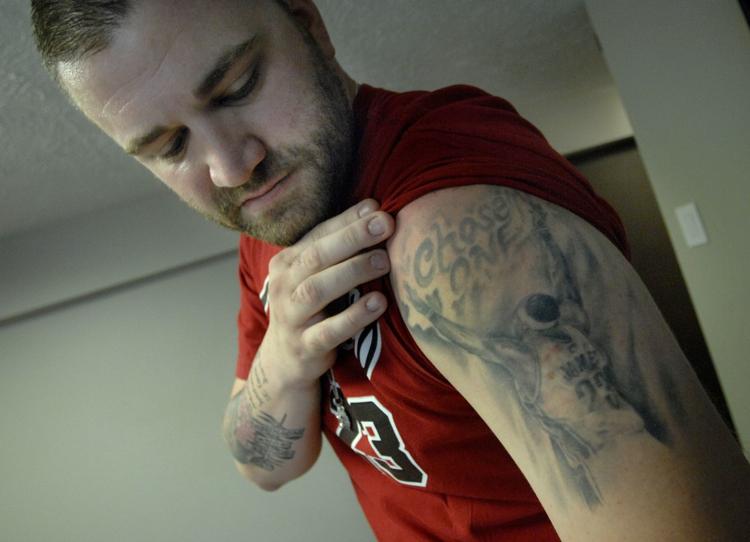 "I saw and I knew I was going to win it," Ahart said. "The mouthpiece was made by Adidas and James wore it his junior and senior years (of high school). There is just one and I took it to Akron to show LeBron (as part of the SportsNation show). I probably would have given it to him if he had asked me for it."
On "Pawn Stars", Ahart's piece was independently verified as authentic and Ahart was offered $4,500 for it by show co-host Austin "Chumlee" Russell. Ahart's price was $12,000 and so the item came home to Normal.
"I've loved (Pawn Stars) since it came out and I was so excited to be on it. I think they kind of knew that I didn't want to sell it. When the producers contacted me originally, I let them know that I wasn't going to sell it for a small amount," he said.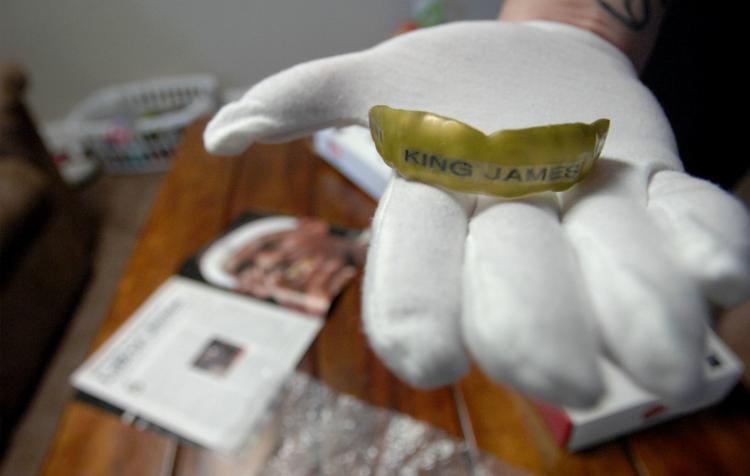 Soon after the episode aired, Ahart received a larger offer that tempted him to part ways with the guard but he had second thoughts. 
"About a week after it aired, I sold it to an entrepreneur in New York. He was going to pay me $19,000 for it and I packaged it up and it was the first and only time I have done this," he said. "I went to FedEx and had it ready to go but I walked back out and refunded his money. He was so upset but I just couldn't sell it.
"I bought it going on 13 years ago and it's not my most valuable piece but I just love it. It is one thing I will never sell. I will give it to my kids someday. There are somethings that have a value that is more than the monetary value. I get attached to things pretty easily and I will have it forever."
Ahart's collecting origins begin with his father, but when he scored a big deal on a Kevin Durant rookie basketball card, it opened his eyes to the potential of the sports card market. 
"Like every collecting story you have heard, my dad got me into it," Ahart said. "About 10 years ago, I bought a pack of cards called Exquisite for $800 and pulled out a Kevin Durant rookie card that I sold for $24,000 and that is what got me into the selling side. That's why I'm so proud of (my collecting). My family was poor and I have done this from the bottom. Everything I have is from hard work."
Ahart's latest news-making pickup is an oddity from Chicago Bulls legend Michael Jordan's past: a handwritten 20-page love letter Jordan wrote to actress Amy Hunter in 1989. Jordan memorabilia and trading cards have exploded in value since the airing of ESPN's "The Last Dance" documentary series about the Bulls' final championship run in 1997-98.
A key for Ahart is to have patience and to buy and sell at just the right time. 
"When the coronavirus hit, the memorabilia market took a huge hit at first," Ahart said. "It was scary and I wasn't sure it would come back and now just a few weeks later, it has completely reversed. I have never seen it like this before. I think people are bored and they want to start collecting with their kids and want to start investing for themselves. It is through the roof right now."
Ahart started collecting with basketball and baseball cards but has moved into presidential memorabilia, recently acquiring a document signed by President Abraham Lincoln and Secretary of State William Seward. For his next big piece, Ahart is looking for a piece of rock and roll iconography as well as a LeBron item he has been in search of for years. 
"I want something used by Kurt Cobain," he said. "I have always been a huge fan of Nirvana. For sports, I'm looking for a game-dated pair of LeBron's shoes. I want them attributed to a certain game and they are almost impossible to get. People will get them, put them in their safe and you don't have a chance at it. I've seen one pair in my life."
It would be easy for Ahart to always focus on the financials of his hobby, but he recommends new collectors follow their heart first. 
"Don't put a money value on everything," Ahart said. "Enjoy the hobby first and enjoy what you have and that it is unique. If you want to make money later, the money will come. It is a hobby for a reason so if you are trying to get into it to get rich and get all the money in the world, that's not what it is about. Put your focus on what you like and just have fun with it."
---
Photos: Aaron Ahart takes collecting to Las Vegas and back
Contact Matthew Flaten at (217) 421-6968. Follow him on Twitter: @MattFlaten
Be the first to know
Get local news delivered to your inbox!