Long before any of Justin and Aja Bozarth's three children wake for Saturday cartoons, the couple has already been up for hours — glued in front of the TV. Even after a late Friday night, there's no time for sleeping in. There is game film to watch.
Justin Bozarth is the boys basketball coach at Tuscola. His wife, Aja, formerly coached volleyball at Tuscola.
"What the public will never understand is that behind every coach is an even better spouse," he said.
Spouses of coaches often are a hidden, key ingredient to a team's success. In a profession in which travel is frequent and pressure is intense, these husbands and wives play a critical off-field role — that of consultant, confidant, caregiver and booster. It takes a unique mix of supportive skills.
Josh Jostes has been coaching at Maroa-Forsyth since 2000. He and his wife, Heidi, have been married 20 years, have three kids and were high school sweethearts. The routine of the football season isn't new to either of them. They've learned how to plan around the Illinois High School Association schedule and, in particular, the postseason, where his football team makes deep runs nearly every season.
Her birthday falls in September, right in the middle of the season. Celebrations are moved to accommodate the season. But she wants a payoff.
"I always tell him at the beginning of the year: If we're going to do this we might as well go all the way," Heidi Jostes said. "I have high expectations that we make a big run. Otherwise, I tell him that I could coach nine weeks. I'm hard on him."
For spouses, the role is varied. Heidi Jostes' range from working on scrapbooks for the seniors each year, to organizing meals, to running the spiritwear store, to breaking down the game with her husband — all while maintaining her own full-time job.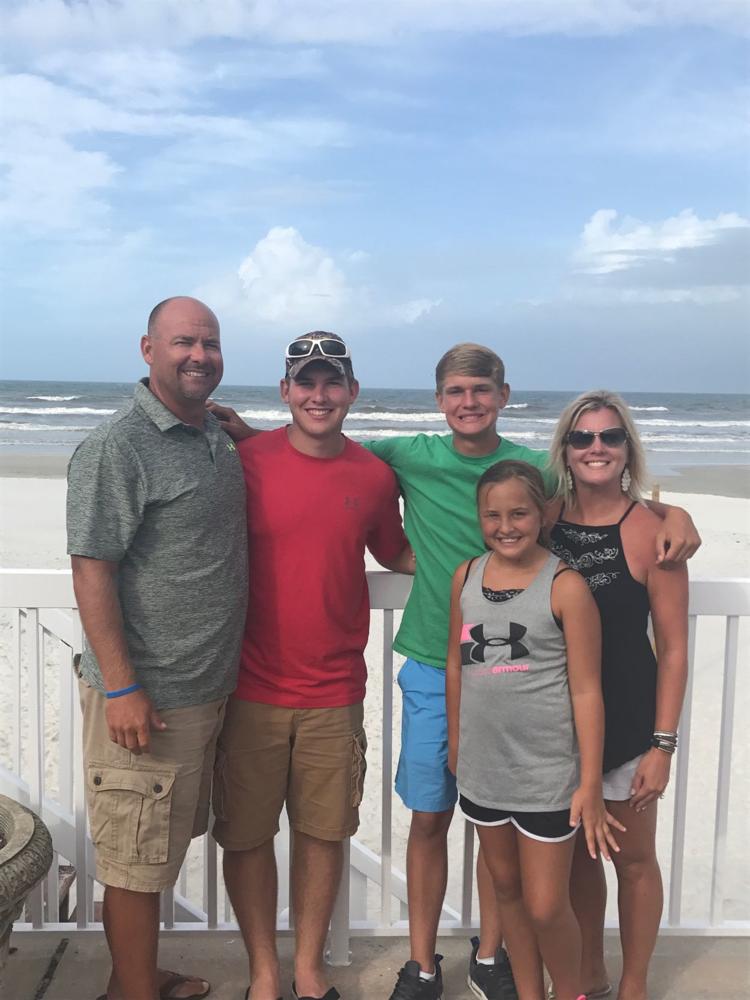 She's also fiercely protective of her husband to fans scrutinizing him during games.
"People are really pretty good about not saying a whole lot in front of me," she said. "Sometimes I'll throw somebody a look. People know me enough to know not to say much to me. I'm nervous and I'm stressed. I don't want to hear somebody giving their input. I didn't realize there are so many Division I coaches in the stands."
But for all the stress of football, and nerves that come with the territory, there's a reward that those not married to a coach can't fathom. Heidi Jostes gets a new family every year.
Those kids grow up to get married and have kids of their own. It's bittersweet, she said.
"We watch these kids start in flag football, then JFL, then high school — they're kind of your kids in a way," she said. "And we've made good friends with their parents, too."
A quick change
When Ashley VanEtten married husband Erik in March 2014, she was an assistant coach at Metamora High School outside Peoria. But by November, when the basketball season started, she had accepted her new job as St. Teresa girls basketball head coach.
For as long as they have known each other, she's had a passion for coaching. In addition to the arduous hours coaching requires, she had a near hour-long drive from Normal to Decatur when she first took over the Bulldogs. The two have since purchased a house in Colfax, an even longer drive.
But his support never wavered. 
"He always knew coaching was a big part of my life and what I wanted to do, and he was on board," she said. "I don't think he was quite ready for my coaching job to be so far from home, but so far we've made it work."
On Feb. 12, their son, Ezekiel, will be 14 months old. He has been as much a fixture around the St. Teresa program as she has.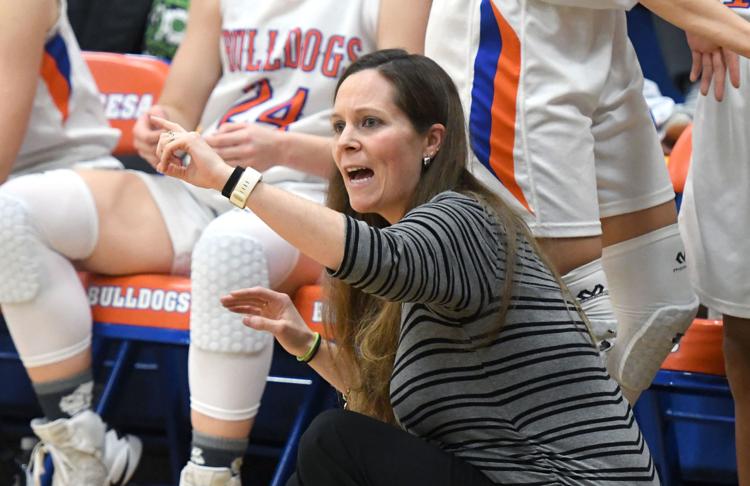 During the day, she stays home with Ezekiel until roughly 12:45 p.m., then the two head to Decatur for a 3 p.m. practice. During practices, a student keeps an eye on Ezekiel while she works.
On game days, Erik VanEtten hustles to the games after his day job working in information technology for the city of Normal to watch his wife coach and spend time with their son.
She never demands her husband be in attendance, but every time she looks to the stands, there he is with Ezekiel — and at times his 10 1/2 year old son Ian from another relationship.
"Even now I tell him if he can't come or doesn't want to come, I can find someone to watch Ezekiel during the games," Ashley VanEtten said. "He's always like, 'Nope, I'm coming.' It's a great support knowing that he's going to be there.
"It takes a lot of weight off my shoulders just knowing there is somebody there. Even though he's not a big-time basketball guy — he was a swimmer at North Central College — it's nice to have him there to see the games."
Driving is a common theme among these husbands and wives. Rob and Renea Smith used to drive from Assumption to Decatur to pick up equipment for his baseball team. The trips doubled as dates in the early stages of their relationship more than 20 year ago. They would pick up equipment and take in a movie.
As it turns out, after more than 1,000 games, and 26 years of marriage, she still finds herself on road trips and in the stands, either watching Rob coach or her children, Jameson and Lexee, play.
Some things never change.
Earlier this season, Rob Smith, boys basketball coach at Central A&M, woke up and decided he wanted to scout Central Illinois Conference rival Clinton during its shootout.
They hopped in the car and traveled to Clinton for basketball and dinner. She's never asked her husband to stay away from his passion. She's always been right there next to him.
"My memories are of the team I was coaching playing in state tournament and my newborn daughter being at the games," he said. "She's been there the whole time. The most amazing thing to me is not once has she said, 'Really, can you be home? Can you not do this?'"
For as long as she can remember, going back to when they started dating in high school, he has been a coach — save for a few years. When things get hard, there's a sign in the kitchen that acts as a reminder of how to keep going. It says, "Embrace the chaos."
You have free articles remaining.
"I don't really know anything different," she said. "I've enjoyed every step of the way."
Coaches records are judged by wins and losses. But that's not always what defines a coach, and that's especially not how Renea Smith defines her husband.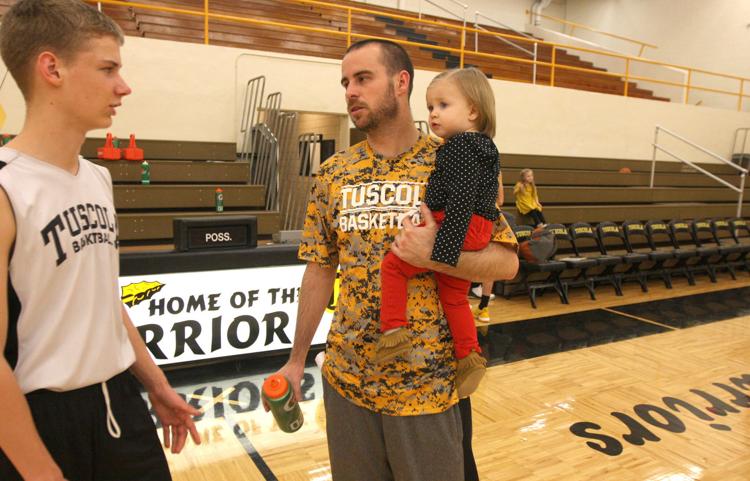 The wins are fun, and she vividly remembers the back-to-back state finals run that he made in 1999 and 2000 when he was a baseball coach at Teutopolis. But there are also little moments over the years that stick out to her that go beyond the box score. She calls it character building.
"I see those kids who struggle and just want to be part of the team," she said. "They come to all the practices. It's when Rob's able to get those kids in and they get a chance to play on the floor and maybe score, those are the moments to me that it's, 'Oh, this is well worth it.'"
In other cases, the challenges of a coach sometimes extend far beyond the field.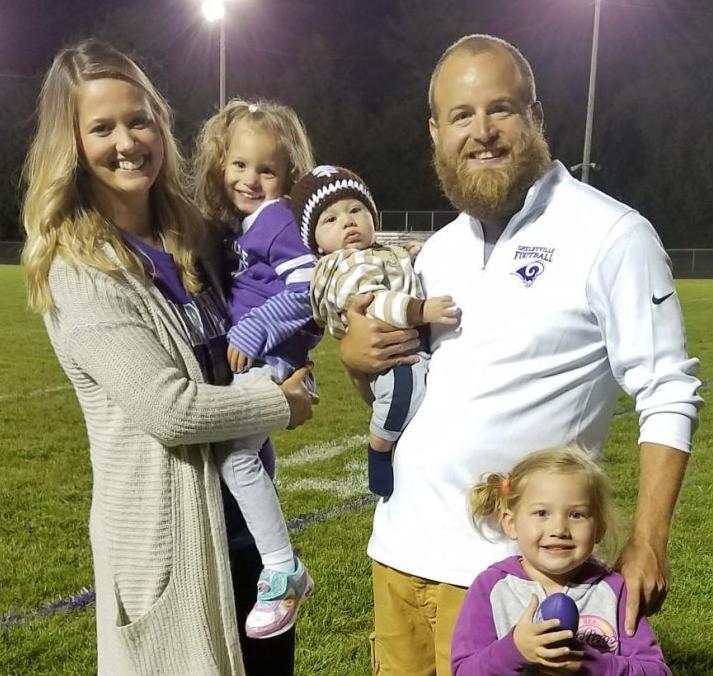 It's been an unpredictable, up-and-down 14 months for the Duckett family. There's been plenty of success on the field — two straight Class 2A semifinal appearances by his Shelbyville High School football team. The challenges have come off the field.
Three weeks after last season's semifinal loss at Maroa-Forsyth, the Ducketts, Bill and his wife Jennifer — pregnant with their third child — learned that their 4-year-old daughter Piper had been diagnosed with Type 1 diabetes and celiac disease.
Piper now had to follow a restricted diet and be given four shots a day, every day, forever.
The husband and wife have learned to balance the duties of monitoring Piper's food and blood sugar.
Piper, who is now in kindergarten, is learning more about diabetes and things are slowly getting easier with the help of technology. An alert is sent to their phones when Piper's blood sugar gets low.
But he questioned himself and his job when Piper was first diagnosed.
"I wondered if I would be doing the right thing by spending so much time away and working the extra hours that are needed with football," Bill Duckett said. "(Jennifer) was always supportive of everything that went along with the job from morning and evening weights, to 7-on-7s, and then practices, film work, and games once the season arrived."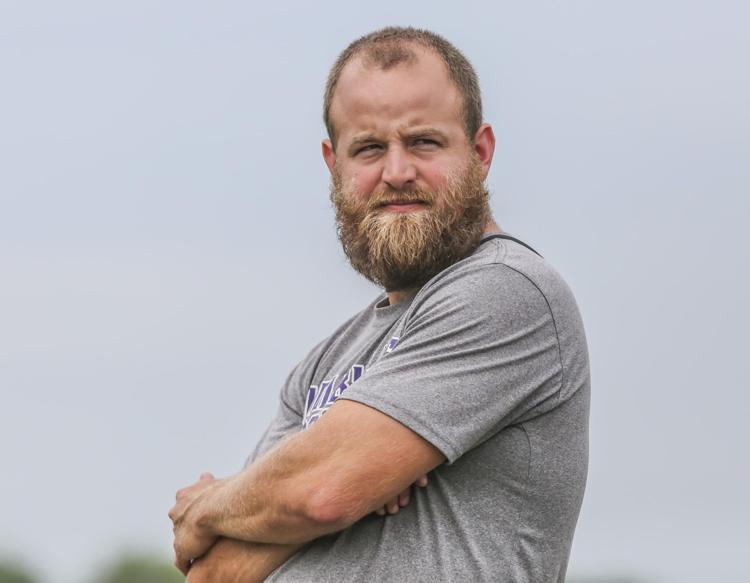 Jennifer Duckett said she never considered asking him to step away from the job. She's also involved with the program, as is the case with many spouses of coaches.
"It just comes so easily for me, I guess, to support him and want to see him happy," said Jennifer Duckett, who runs the team's social media accounts. "I try to get involved by decorating the town whenever we make the playoffs and try to organize those kind of things. It's worth it for me when I'm sitting in the bleachers and he turns around and gives me a smile.
"We acknowledge one another and I know he appreciates me being there. He supports me in anything I want to do."
In April, their son Mack was born to go along with Piper and their 3-year-old daughter Parker.
But then came an unexpected emergency. On Oct. 1 — right in the middle of football season — Bill Duckett was rushed to a Champaign hospital after suffering a stroke at 34 years old. He spent eight days there.
Every minute he was there, so was his wife. She fielded the influx of calls and texts and helped him fill in a day's worth of memories he had lost.
"I remember none of that day and it kills me to think of the worry she had to be going through at that point," Bill Duckett said.
Then something happened — tangible evidence that coaching really did matter beyond wins and losses.
As his health started coming around, Rams football players and coaches began pouring in.
"It just showed how much he really does have an impact on their lives and how we've become family with all of them," Jennifer Duckett said. "Seeing the look on his face was priceless as they came in. It meant a lot to him. It was very heartwarming."
Cheering them on
Justin and Aja Bozarth have a date night that most couples their age would dread. Save the candlelit dinners and fancy restaurants. They bond over brown-bagged popcorn in an east-central Illinois gym. There's not much romantic about it, but it's basketball, and it's quality time.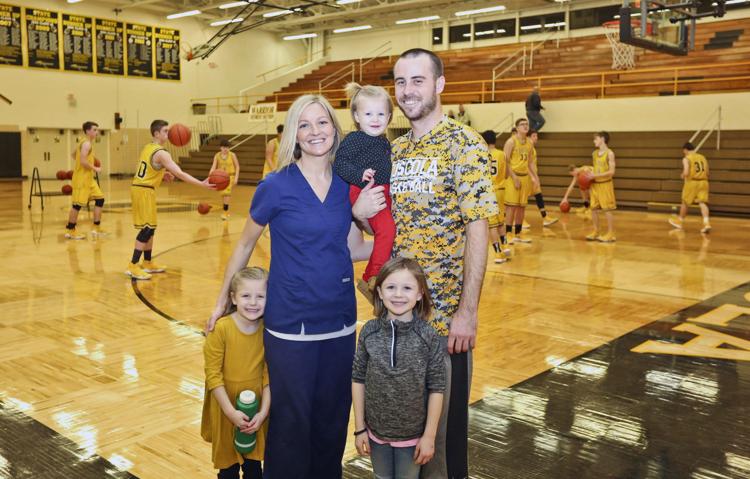 "I don't know that date nights are very common among parents with three small children," she said. "Once our kids go to bed and we talk and when he gets home from games, we make the most of quality time, since the quantity isn't there during the basketball season.
"Keeping our lines of communication open is probably our best bet. The best times are when the five of us are together."
Aja Bozarth, who played volleyball at Eastern Illinois University and is now an emergency room nurse, also grew up around basketball and sports, and she had stints as the Tuscola varsity volleyball coach.
"I don't know if it makes it easier, but there's a more understanding and the level of understanding is easier," Justin Bozarth said.
"She knows what it takes as a varsity coach and the time commitment, from that understanding standpoint. Yeah, she gets it."
Those in the coaching lifestyle know exactly how spouses lean on each other.
"Until you are a spouse and live in the coaches' realm, it's hard to grasp on-court commitment and behind the scenes. To be the spouse and the balancing act of making sure everything else is organized," Justin Bozarth said. "It is, especially in this day in age, every coach is trying to put in the work to outwork the next guy. We all are tireless workers when it comes to the sport. The spouses are the ones who have to pick up everything else."
"I would probably say that if the root of your relationship is love and cheering one another on and you know that is their passion, then to go along with the ride," Aja Bozarth said, "because many wonderful things come out of it."