DECATUR — The news came suddenly and spread across Decatur's bowling community like lightning.
Pla-Mor Lanes, a centerpiece of the Decatur bowling community since it opened in 1963, announced in January that it was closed indefinitely.
At one time, Decatur sported five bustling bowling centers during the sport's heyday in the 1980s but now, with the closing of Pla-Mor Lanes in January, it's down to one — Spare Time Lanes.
A sharp downturn in the number of league bowlers has led to a drop in revenue for bowling alleys in Decatur and nationwide. U.S. Census data shows the number of bowling alleys in the U.S. fell to 3,976 from 5,400, or by about 26 percent, from 1998 to 2013.
Yet, bowling remains a popular recreational activity nationwide, and Spare Time owner Gary Haines said bowling centers that adjust with current trends and focus on growing youth interest in the sport can thrive.
"We will survive," Haines said. "Bowling is not going away."
Shrinking base
Pla-Mor's closing was a painful jolt to the Decatur bowling community.
"I was very surprised in how sudden it was," Decatur Bowling Hall of Fame member Gene Vincent said. "I knew back when it started (financially) hurting about four or five years ago, but many of us tried to keep it going and start up leagues again. We didn't get any notice, and we found out after it happened."
Pla-Mor was the latest casualty of the declining popularity of league bowling and much of Decatur's bowling history has gone the way of the bulldozer.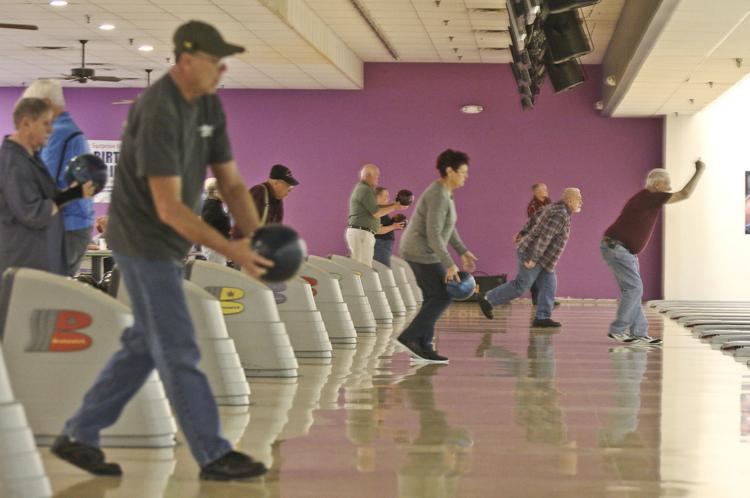 "Decatur doesn't have the league base to support two centers like it once had in the '70s and '80s when the centers were built," Haines said. "There's just not enough people to sustain that many centers any longer."
Stop by the Taco Bell on East Pershing Road for lunch or the CVS Pharmacy near West Eldorado Street and it's easy to forget those locations once held bowling alleys. Eldo Bowl was built in 1950 and shuttered in 2006 while Pershing Bowl closed in 1998.
Ten-pin bowling became a working class sport in the 1920s, gaining widespread popularity from the 1940s through the 1960s. 
While league bowling participation has shrunk, bowling as a sport remains the most popular sport in which people actually participate. According to Bowlers Journal Magazine, 67 million Americans throw a ball down a lane at least once a year.
But casual bowlers — those not in a league — will bowl typically once or twice a year. For many years, bowling alleys depended on league membership as the bread and butter of bowling alleys' financial strength.
Rob Baser, Decatur Bowling Hall of Fame member and Eisenhower girls bowling coach, estimated current league memberships in Decatur are down 85 percent from the bowling heyday of the 1980s. 
"Around 1980 there were about 6,000 people in bowling leagues in Decatur, and now between men and women we are down to about 1,000 and that is mostly through attrition," he said. 
Haines, who purchased Spare Time in 1998, said the decline in factory jobs was a major hit to league numbers.
The decline of blue-collar jobs in the U.S. is well-documented, according to the Center for Economic and Policy Research, a Washington-based think tank. In 1970, blue-collar jobs were 31.2 percent of total non-farm employment. By 2016, their share had fallen to 13.6 percent of total employment. Decatur has seen those trends as well.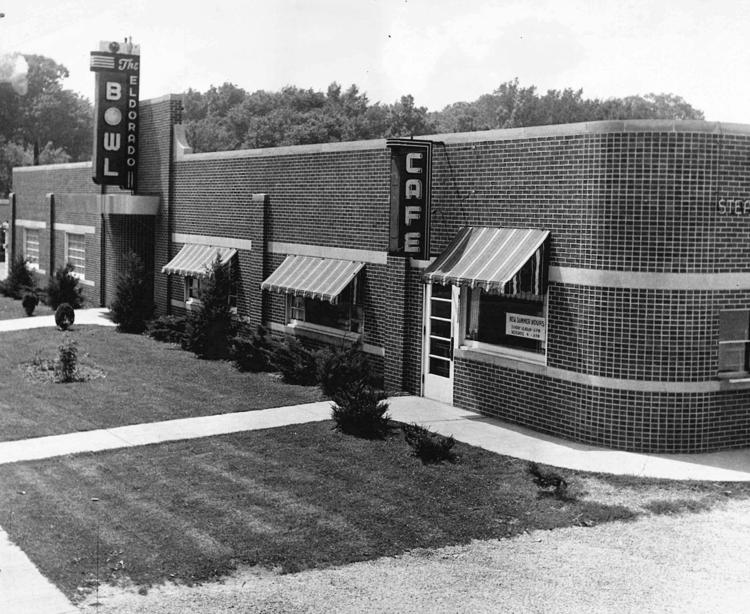 "When I grew up, bowling was at its zenith," Haines said. "We had three shifts stacked on top of each other, and there was a line to get a lane and they were building centers as fast as they could.
"It was boom time, but most of the leagues were factory leagues. Once they started changing shifts around and laying people off, that gradually led to the decline."
Still some 'Codgers'
Every Wednesday afternoon, senior bowlers fill the lanes at Spare Time for league play. One team, the Codgers, are made up of five bowlers who have been throwing together for 12 years.
Bruce Pinkston, 67, is the self described "young pup" of the group. He joins Alex Klunick, 90; Rich Risiely, 86; Dick Merrifield, 80; and Dave Bryne, 71, for weekly games.
Each has decades of experience bowling. Risiely and Merrifield started out as pinsetters — Risiely at Vandalia and Merrifield at Pana — as kids.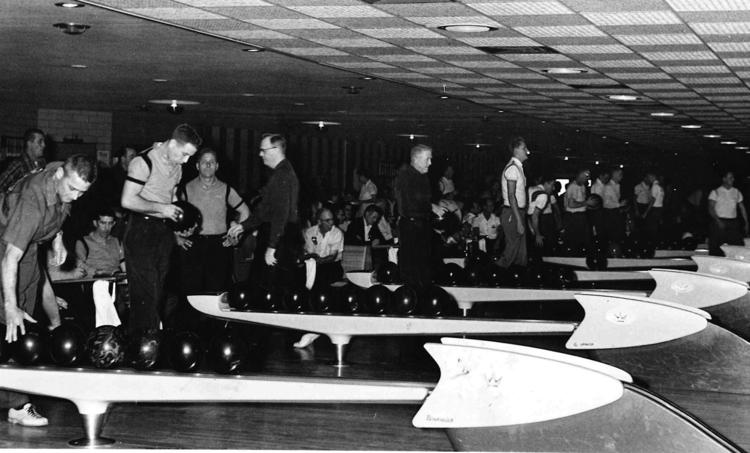 "I started when I was 15, and I had to lie about my age. I was supposed to be 16, and so (the owner) had to let me go and I went back again when I was 16," Merrifield said. "I used to bowl almost every night of the week all over. I would bowl in Sullivan, Nokomis and Centralia. All over. Now I come up from Pana every week. I love bowling with my friends."
For Bryne, the reasons behind the decline in bowling is obvious.
"We all know, kids have got the electronic games now. Bowling and playing golf were basically our video games," he said. "It started in the 1980s when they started to get Nintendo and all of that and so it changed bowling just like there aren't as many people fishing and playing golf now."
The closure of Pla-Mor was an example of how Decatur has changed in recent years. According to the Census Bureau, the city of Decatur had 94,081 people in 1980. In 2018, the Census Bureau estimated 72,174.
"In Decatur I think it is the population loss. People don't realize we have lost 25,000 people out of this town," Bryne said. "I have worked at just about every factory here in Decatur, and we've lost a lot of industry and so sometimes money is tight. Some people can't afford it and the older people have to decide between medicine and food, so they don't have the spare money to bowl."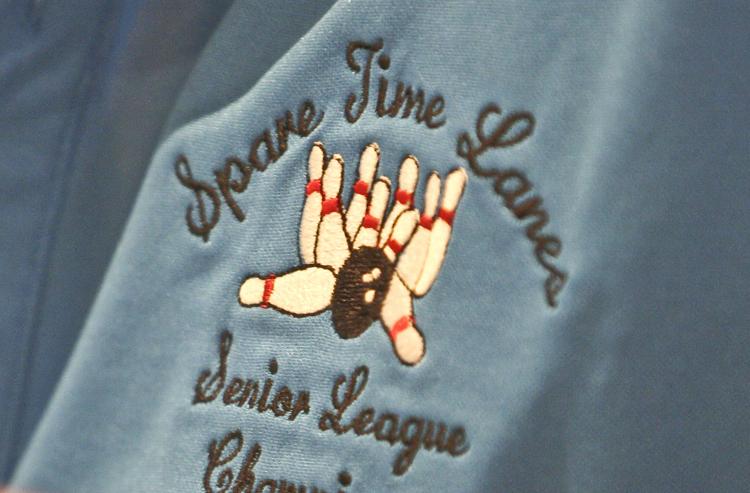 Finding new bowlers
Haines estimated 85 percent of bowlers used to be league participants, but that number will eventually flip to 80 percent non-league bowlers. Shrinking league membership has forced forced Spare Time to look for other revenue streams, mainly corporate parties, special events and birthday parties.
"That's where we need to grow because bowling parties are a great activity for kids," Haines said. "There are also social functions where they do motivational events for companies."
A big part of Haines' focus is getting young people into the bowling alley, and that means trying to connect with bowlers in new ways.
With all of Pla-Mor's youth and league bowlers finding a home at Spare Time, Haines said he hopes the increased traffic will allow for upgrades to the center, including an upgraded scoring system tailored toward younger bowlers. 
"It will all be geared to Facebook and social networking," Haines said. "With the new software, you could connect it with your phone and put your picture up on the screens and share your scores live.
"That's not geared for the league bowler, that's geared for the casual bowler, and that's where it is headed."  
Another area of growth for youth bowling is through high schools and colleges. Because there are so few bowlers, there are a surplus of college scholarships available for those who excel at the sport in high school.
Boys and girls high school programs both have seen growth nationally and statewide since participation numbers started being tracked by the National Federation of State High School Association in 2006, with a 41 percent growth in the number of bowling programs.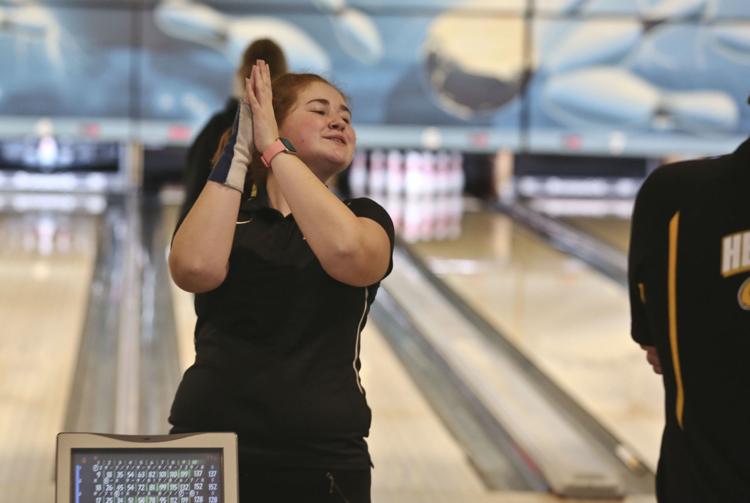 "The popular sports are the footballs and basketball, but people don't think about bowling but there are all kinds of bowling scholarships for boys and girls out there," MacArthur girls bowling coach Jill Heick said. "The reaction is usually, 'I can go to college and bowl?' and the answer is, 'Yes, you can.' They are out there, and I get half a dozen emails a year from schools in Illinois, Missouri, Iowa asking if I have any girls that are interested in bowling in college."
Baser's daughter, Haley O'Neil, attended Robert Morris University with a bowling scholarship. In his role as Eisenhower's coach, Baser has been in contact with Lincoln College, which is beginning men's and women's bowling programs in the 2019-20 academic year with scholarships available.   
"Bowling is a rising sport in the NAIA and has become very popular among high schools as an IHSA-sponsored sport, so we felt it was a good fit for our department and school," Lincoln College athletics director Mark Perdue said in a statement announcing the programs.
Durbin, though, said it's not always easy to get her friends interested in joining the bowling team.
"We try to recruit new team members, but people are more like, 'It's bowling, it's not really for me,'" Durbin said. "Once you get into learning the sport, it's a lot of fun."
Haines said getting bowlers in young is important because, even if they leave the sport after high school, they'll come back when they have children of their own.
"People have a family, get a job and hopefully they come back in about 20 years to bowl again," Haines said. "We'll still be here."
---
From the archives: Spare some time for these 10 photos of bowling in Decatur
Contact Matthew Flaten at (217) 421-6968. Follow him on Twitter: @MattFlaten
Be the first to know
Get local news delivered to your inbox!