The Bears have a chance to extend their winning streak to three Thursday night when the Cowboys visit Soldier Field. It won't be easy. The Cowboys come to town holding an identical 6-6 record. But they also have the chess pieces on both sides of the ball to make this an uncomfortable matchup for Matt Nagy's team. For the Bears to climb over .500, here are three keys to the game.
1. Handle the pressure.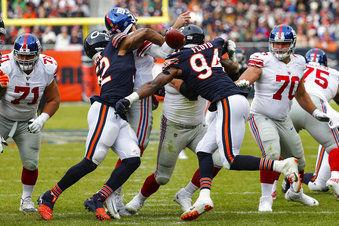 Pregame analysis: If the Bears offense has any prayer of replicating the success it had on Thanksgiving, it starts with controlling the Cowboys defensive line. Under coordinator Rod Marinelli, the Cowboys have found ways to consistently create pressure with a four-man rush. Robert Quinn leads the team with 9\u00bd sacks. Fellow defensive end Demarcus Lawrence has 30 sacks over the last three seasons. Bears offensive coordinator Mark Helrich has labeled the Cowboys' front four as "elite, elite, elite." "Every O-line gets beat by these guys," Helfrich said. "Every quarterback gets sacked by these guys and gets hit by these guys. You have to weather that storm." The Bears will have to be sound in pass protection all night. Quarterback Mitch Trubisky will have to be poised under duress, climbing the pocket to make throws downfield and taking off to run when necessary. It will be a much greater challenge this week for Trubisky to stay sharp with his timing and rhythm. Can he handle all that comes at him?
You have free articles remaining.
2. Stay dialed in on third down.
Pregame analysis: No team in the NFL has been as successful on third down this season as the Cowboys. Under coordinator Kellen Moore, the Cowboys convert a league-high 49% of their third-down chances. A big part has been an ability to stay in third-and-manageable, with 41% of their third downs coming with 4 yards or fewer to go. Defensively, meanwhile, Marinelli's unit ranks No. 3 on third down with opponents converting only 32.5% of their chances. Said Nagy: "They definitely put pressure on you." The Bears were 5-for-10 on third down last week against the Lions, with two huge gains on third down on their game-winning 90-yard touchdown drive. For the season, though, the Bears' 31.4% third-down-conversion rate on offense ranks in the bottom five.
3. Disrupt Dak Prescott. Make the big plays count.
Pregame analysis: Cowboys quarterback Dak Prescott is having a solid season and comes to Chicago as the NFL leader in passing yardage with 3,788. Prescott's 23 touchdown passes rank tied for third behind Russell Wilson (26) and Lamar Jackson (25). And he has been sacked only 16 times. He has the Bears' respect. "He's great in the pocket," defensive coordinator Chuck Pagano said. "He's great outside the pocket. He can make all the throws. So it's going to take all 11 (defenders) hitting on all cylinders." Still, Prescott can be forced into mistakes. He has turned the ball over at least once in nine of 12 games. The Bears defense needs to get itself a takeaway or two, and the offense then needs to capitalize.