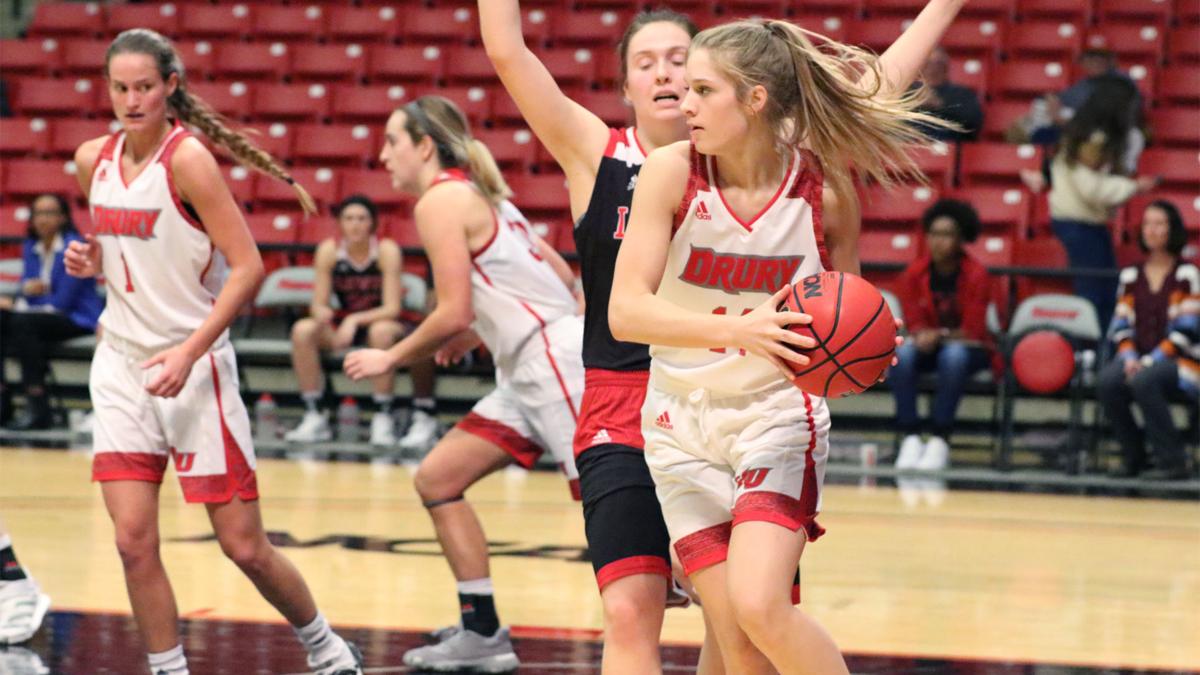 BETHANY — After Paige Robinson helped Drury University reach the Final Four last season, she knew the Panthers had a chance to do the same her sophomore year.
Drury, an NCAA Division II school in Springfield, went 35-1 last year, and was 32-0 this season and the No. 1 team in the country heading into the Midwest Regional tournament, which was scheduled to begin March 13.
But Robinson, a 2018 Okaw Valley graduate, and Drury didn't get a chance to compete in the tournament when the coronavirus pandemic forced the cancellation of the rest of the postseason.
"We had everyone returning," Robinson said. "So we knew we could have a really good season like last year. We took every game one at a time and lived for the moment. Unfortunately, our season got cut short."
The team had practiced March 9-12, then on the 13th they got the news.
"Since we were hosting the Midwest Regional, all teams had the court for 55 minutes of practice," Robinson said. "We were in the middle of some drills and (athletic director Corey Bray) started walking to the middle of the court. I told the girl next to me, 'Our season is over.' I just had the feeling inside of me that it was over.
"We finished the drill and coach (Molly Miller) called us together at the half-court line and made the announcement. I was glad our coach told us instead of finding out on social media. It definitely hurts and I don't think it has sunk in yet. It is what had to be done. We were balling our eyes out. It hit us like a truck."
Drury was on spring break last week and it has been extended a week. Classes are scheduled to resume online only from March 30 through April 17th before the school of 3,160 students, will make a decision for the rest of the semester. 
As for being No. 1 all year, Robinson said, "We enjoy he pressure. It was pretty fun being No.1 all season. We had a lot of close non-conference games and that is what made us better this season. We always rose to the challenge and ended up being undefeated. It is awesome to say you ended up with zero losses."
Robinson, last year's freshman of the year in the GLVC, averaged 14.8 points, 2.7 rebounds, 2.6 assists, 1.5 steals and 0.5 blocked shots, while shooting 44 percent from the field, 34 percent from three-point range and 83 percent from the free throw line. 
"My season didn't start off how I wanted it to," Robinson said. "I started in a shooting slump and had the flu for a while at the beginning of the season. It took me while to get back after that. Mid-January is when I started playing well and by March I felt like I was a different player. My all-around game improved. There was not one specific category, although my coaches tell me my defense has improved."
The team hung out together last Thursday before they had to leave campus on Friday. 
"We keep in contact quite a bunch," Robinson said. "Even though we are miles apart now we are still a closely knit group."
The Panthers do lose three seniors from the team, including Hailey Diestelkamp — the Midwest Region Player of the Year as selected by the Division II Conference Commissioners Association.
"My coach has been in contact with me talking about next year and what has to done for us to be successful next year" Robinson said. "Right now I am living in the moment. I can't really work out. I think it is good we (coach Miller and Robinson) are building relationships now."
Okaw Valley coach Brad Ackers attended several of Drury's games. 
"It is awesome to see how much support I have had from back home," Robinson said. "It makes me feel so good as a player. The communities of Bethany and Findlay are all so supportive, as is Okaw Valley, and those that follow me in games online. It really helps to have that support system."
As for what she takes from this season, Robinson said, "I think it might sound cheesy, but it is to play every game like it is your last. You never know when something like this or a career-ending injury will happen. Go out and play like it is your last game."
---
The latest on coronavirus and Central Illinois
Contact Mike Monahan at (217)-238-6854. Follow him on Twitter: @monahanmikejgtc
Concerned about COVID-19?
Sign up now to get the most recent coronavirus headlines and other important local and national news sent to your email inbox daily.