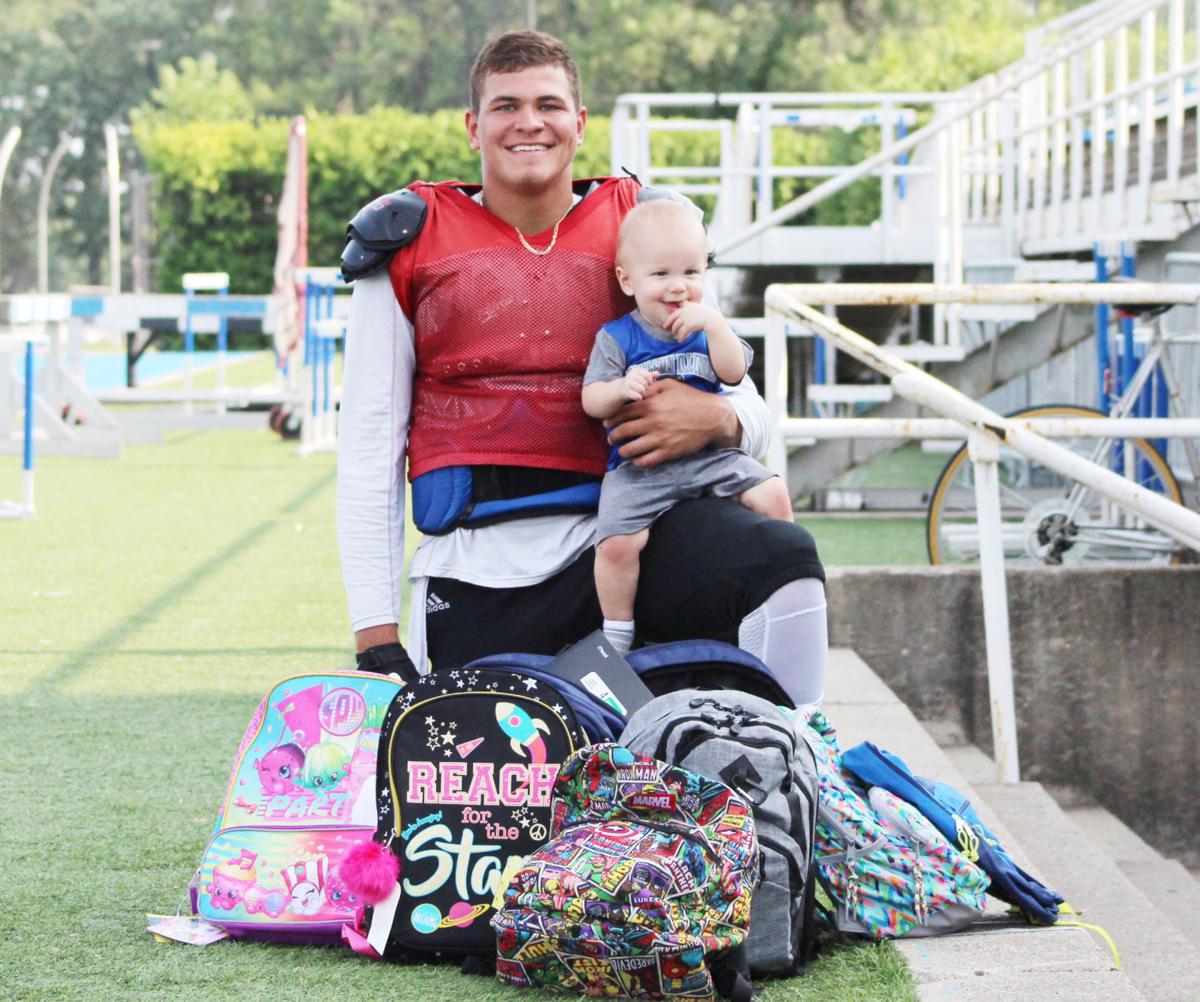 CHARLESTON — For the second time, Eastern Illinois University quarterback Scotty Gilkey Jr. is giving back to Charleston.
This past winter, Gilkey Jr. headed up a toy drive right before Christmas. The response was overwhelming, resulting in a car full of donated toys.
Now Gilkey Jr., who is in the middle of camp for the upcoming season, has turned his attention to the upcoming school year. Back in late July, Gilkey Jr. posted on Twitter that he is starting a backpack drive. The goal is to have backpacks full of school supplies donated to him or the EIU athletic department. The backpacks and school supplies will go to children who need them in the area.
For Gilkey Jr., giving back to the community is something he grew up doing.
"I've done this since I was younger. My family back home, growing up, if someone was in need of help, we helped them out," said Gilkey Jr., who grew up in Oklahoma. "That's what we did here. There are a lot of kids who go to school unprepared, whether it's because they don't care or because their parents can't afford it. I want to make sure they get everything they need to better their education and that's what really matters when it comes down to it."
So far there's been a good response to Gilkey Jr.'s backpack drive.
"We've ended up with a good amount. We definitely have a ton of supplies. Right now we could use more backpacks because we have so many supplies, but I think we will be OK," Gilkey Jr. said. "If we don't reach our limit, I think we will get close. We thought about school supplies, but then we thought to get backpacks, too, so they are 100 percent ready to go and are not missing this or that. It makes it easier on their parents and less stressful in their household if they need it."
You have free articles remaining.
EIU coach Kim Dameron said while the team does have to do community service projects, it's been great to see Gilkey Jr. take the initiative.
"He's a kid that is community-minded, and it's the second time he's done something that's benefited kids," Dameron said. "It's great to have kids that want to give back, and he's been blessed in his life. He's talented and he's got a son of his own. I just think sometimes kids all they think of themselves and he's not one that does that."
Gilkey Jr. and his girlfriend, Taylor Hensley, are still accepting backpack donations along with the EIU athletic department.
"They can drop it off at the (Athletic Department) office or at the football stadium with us, whatever they want to do with it. They can also contact me or Taylor," Gilkey Jr. said. "We are still taking in supplies and backpacks and what we need more of is backpacks."
Gilkey Jr.'s Twitter handle is @lilgilk and Hensley's is @TaylorRae96. Gilkey Jr. said social media is the reason why the backpack drive, and also the toy drive this past winter, have been so successful.
"It's gone really well. We had a lot of people donate, which is awesome, whether it was backpacks or dropping off supplies," Gilkey Jr. said. "It blew up on Twitter again and that's what helped. Thank God for social media because I think we have people donating from all over and mailing in supplies and doing whatever they can do."
The community also responded to Gilkey Jr.'s toy drive this past winter.
"It was huge. I had toys spilling out of my car and I almost didn't have enough room in my car," Gilkey Jr. said. "It ended up being great, and I was told I helped hundreds of kids and that's what I wanted. I was blessed to hear that just knowing I helped out a lot of families."
Contact Justin Rust at (217) 238-6856. Follow him on Twitter: @JustinRust