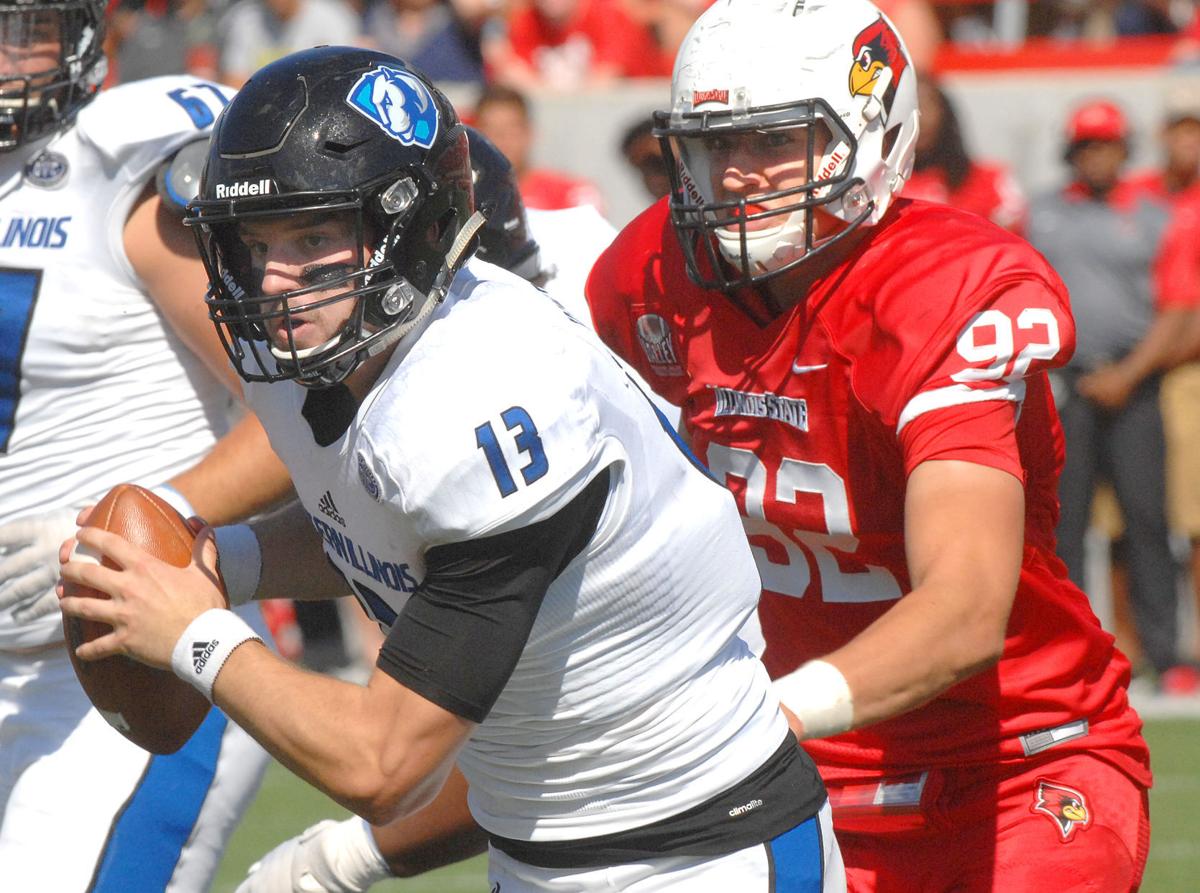 CHARLESTON — After Eastern Illinois University's first game against Western Illinois last season, it was evident Mitch Kimble had the necessary skills to be a quality starting quarterback at the FCS level. Even though WIU won the game, Kimble passed for 323 yards, completed 18 of his 29 attempts and threw two touchdowns, becoming only the third quarterback in the program's history to pass for 300 or more yard in their EIU debut.
While Kimble only threw for 150 yards the next week, he connected on three touchdown passes, including the game winner to Devin Church with 56 seconds left as EIU pulled off the upset against Miami (of Ohio), an FBS team.
Coming into the season, it wasn't a foregone conclusion by any means that Kimble was the starting quarterback. He spent the previous year recovering from back surgery and entered preseason camp in a battle with former EIU quarterback Austin Green for the starting job, which Kimble eventually won late into camp.
Two starts into his EIU career, he already had a 300-yard game and a win over an FBS opponent. But by the fourth game of the season, Kimble was on the bench, not because of his performance but because of a concussion he suffered in the over fifth-ranked Illinois State.
It was the first of a few injuries that limited Kimble throughout the season. Kimble wound up missing four games last season and left early in another game. EIU's offense was considerably different without the Syracuse transfer on the field.
This season, Kimble hopes to avoid the injuries that caused him to miss time last season, but he's also trying not to think about getting injured while he's out on the field.
"I just try and take it one day at a time and when the season rolls around, just take it one game at a time," Kimble said. "Hopefully with having a whole offseason, putting on weight, I will be able to stay healthy."
EIU head coach Kim Dameron said Kimble is more than prepared for the upcoming season.
"We can't worry about (injuries), we just have to go play and let him play because he's the guy that's going to make us go and we have to embrace that," Dameron said. "You can't worry about injuries or anything like that because if you do, we won't get him ready and we have to get him ready."
The biggest thing Kimble felt he needed to do was to get stronger. The Jerseyville native stayed in Charleston over the summer and not only worked on his craft, but was in the weight room in order to be physically stronger for the season. While it's a simple solution, it wasn't something he was able to do last summer. He was still rehabbing from his back surgery, which kept him out for all of the 2015 season when he transferred to EIU.
You have free articles remaining.
"I'm doing everything I can to prevent it. Bigger, stronger, faster," Kimble said. "This year is huge having an entire offseason. I put on some weight and I feel like I am in the best shape I've been in a long time. I feel faster and I can throw the ball better. So far, I just have to stay healthy. I basically focused on football this summer."
When he was healthy, Kimble had some of the best stats in the Ohio Valley Conference among quarterbacks. He finished the season with 1,414 yards and completed 112 of his 190 passes for a 58.9 completion percentage. He threw 13 touchdowns to only five interceptions. The 202 yards a game he averaged would've been good for fourth best in the league and his 138.78 passer efficiency would've been the second best in the OVC, behind Tennessee State's Ronald Butler. (Former EIU quarterback Jared Pilson had a quarterback efficiency of 218.8 but only attempted 14 passes).
Dameron thinks he sees a better version of Kimble already during fall camp.
"I would like to think (he was one of the top quarterbacks). We have a lot of good quarterbacks in the OVC," Dameron said. "He's our guy and we believe in him and the thing that he does, he makes great decisions. Physically he's much stronger, his arm strength is better, he's quicker. Just everything is better because of the ability for him to have a true offseason."
Kimble didn't just use the offseason to get stronger. Despite solid numbers when he was healthy, Kimble worked on the little things in order to be better under center this season.
"Last year with the competition, Austin and I split reps. Now I am taking all of the first team reps and really getting comfortable with the offense and really getting comfortable with my reads," Kimble said. "I think that's the biggest thing I've been working on. I think it's really helped getting those reps. It's a big-time confidence booster."
The OVC only releases one preseason team and UT Martin's Troy Cooke was named the Preseason All-OVC quarterback. College Sports Madness released their All-OVC team and even though he missed four games, Kimble was named to the All-OVC preseason second team on that list.
But Kimble doesn't care where he ranks in the quarterback hierarchy in the OVC. He only cares about where EIU is in the OVC standings.
"All I care about is winning football games, I will do whatever I can," Kimble said. "Hopefully I will have a good game every game, but I just want to come out and play as hard as I can to help us win football games."
Even though a lot of the weapons Kimble has around him are new or inexperienced coming into the season, he still feels like the offense has enough fire firepower and he has enough playmakers around him for the offense to perform at a high level.
"I think we will be very explosive and I am excited about the new guys that we have," Kimble said. "They are still learning, but they have a lot of potential. Once they know what they are doing every play, it's going to be really fun to watch."