LINCOLN, Neb. — Lovie Smith touted this Illinois football team at every turn for months. He believes in the talent on the roster and the experience that talent has accumulated over the last four years.
The first three weeks of the season weren't the opening act that Smith, Illinois' head coach, envisioned. The Illini were winless after three weeks and looked to be spiraling fast. There were injuries, and also two positive COVID-19 tests that wiped out key players for two weeks and quarterback Brandon Peters for three weeks.
Most of those players returned in a win against Rutgers last week and the Illini had no COVID concerns to deal with on Saturday in Nebraska. For the first time since Week 1 — a loss at Wisconsin — the Illini were at nearly-full strength, save for a few injuries. It showed in a big way. Illinois had balance on offense, forced turnovers on defense, played physically and throttled Nebraska 41-23 for its second win in a row.
"We, on the inside, of course knew once we got guys back, we continued to work hard, we eventually would have a true indicator of what we felt like we could be with this football team," Smith said. "Just keep pushing, as much as anything."
At the heart of the offense was Peters, who was in his first game back after testing positive for COVID-19 on Oct. 29. He won the starting quarterback job out of training camp for a reason and looked every bit like the former four-star recruit and top-rated player in Indiana when he came out of high school. He was 18-of-25 passing for 205 yards and a touchdown. He also rushed for a touchdown in the third quarter.
"This week during practice, I thought I had a good week of preparation," Peters said. "Mentally I thought I was locked in and focused. I was in tune to what the defense was doing. When I got out there, I didn't try to force things, I just took what the defense gave me."
Peters was buoyed by potent rushing attack led by Chase Brown (110 yards and two touchdowns) and Mike Epstein (113 yards and a touchdown), who ran behind an offensive line that played its best game of the season. Illinois (2-3) was without stalwart right tackle Alex Palczewski, who left last week's game with an injury. Danville native Julian Pearl started in his place.
"They're both excellent running backs," Smith said. "We're a running football team. We make the statement that we get off the bus running the ball. In order for that to happen, our offensive line and everybody who blocks — receivers and of course tight ends too — they take pride in that. When you can get your running game going like that, it's tough on the defense"
More than anything, there was finally balance in the offense. It rolled up 490 yards, rushing for 285 yards and throwing for 205 against Nebraska (1-3). 
And true to Smith's philosophy, Illinois had five takeaways: three interceptions and two fumble recoveries, including one on the very first offensive play for Nebraska that led to a three-yard touchdown run from Chase Brown less than two minutes into the game to set the tone.
"Winning is always a great feeling," Peters said. "The turning point was getting that turnover real early in the game. That gave us a lot of momentum moving forward. From that point on, we didn't stop. You've got to give a lot of props to the defense as well. They forced turnovers, gave us good field position and all around we just played a really, really solid game."
Jake Hansen, Tarique Barnes and Tony Adams had an interception, Hansen recovered a fumble on the first play of the game when Nebraska quarterback Luke McCaffrey threw the ball backwards and Khalan Tolson had a forced fumble and fumble recovery. 
Illinois scored 28 first-half points behind a pair of rushing touchdowns from Brown, a 28-yard strike from Peters to Josh Imatorbhebhe and a one-yard plunge from Epstein. The Illini only piled it on in the second half with a pair of chip-shot field goals from James McCourt — last week's hero after a game-winning field goal — and a quarterback sneak from Peters.
For the second straight year, Illinois started 0-3 in Big Ten play, which is magnified considering this is a Big Ten-only schedule. Smith and the players have remained confident in this team and now have two wins in a row to show for it, the latter a convincing win.
"Each player trusting themselves and knows, yeah, we're going through a tough time but we're going to get over the edge, there's light at the end of the tunnel," Epstein said. "Once we break through and we see a little bit of light, we want all the sunlight. We want to keep going, keep building and that's two in a row for us. We want to keep stacking them."
Saturday's win snapped a lot of streaks. It was Illinois' first win in Lincoln since 1924 when Red Grange was the star on the field and it was the first time Illinois has won consecutive Big Ten road games since 2007 with wins at Minnesota and at No. 1 Ohio State.
Illinois clicked in all phases from the offense's offensive outburst to the five takeaways to the special teams that came with a 14-yard first-down run by punter Blake Hayes as the cherry on top of a well-rounded day. In fact, it might have been the finest day in Smith's five-year tenure.
 "It would have to be right up there for sure of total team win, absolutely," Smith said.
---
🏈 32 historical Illini photos
Looking up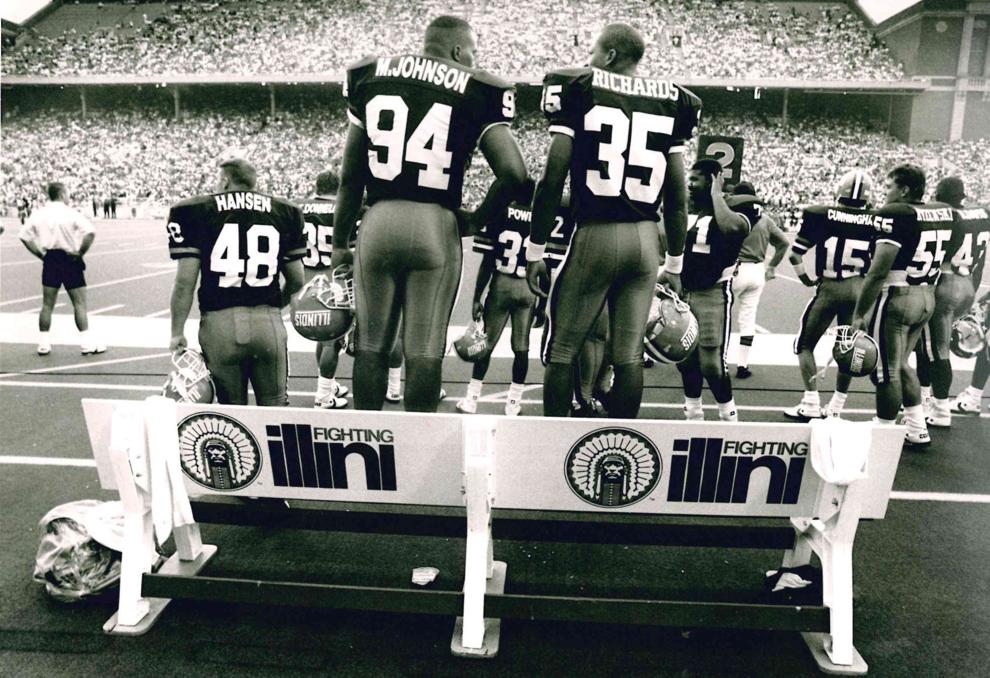 Good Block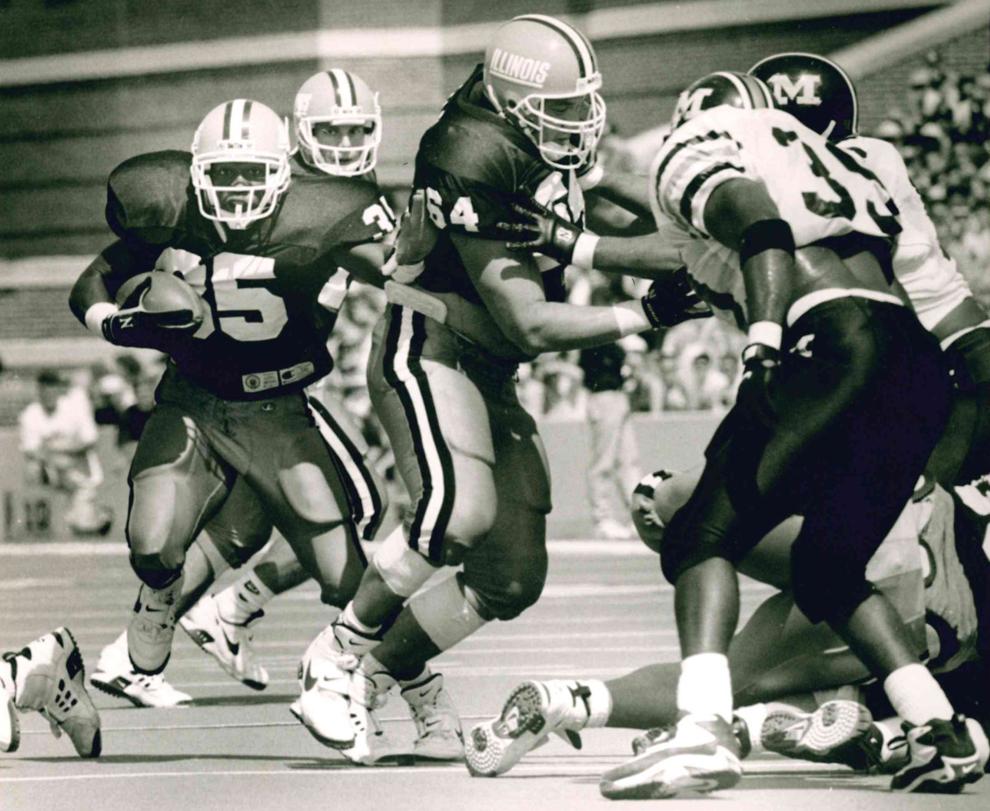 Taking a Dive
On the loose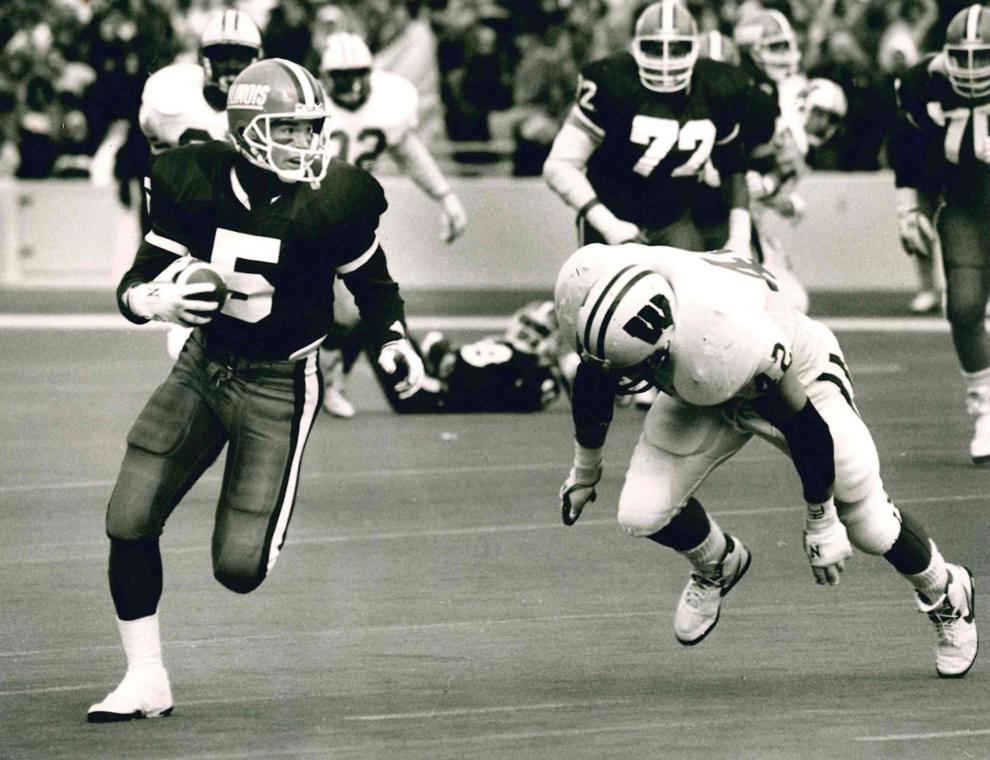 University of Illinois Football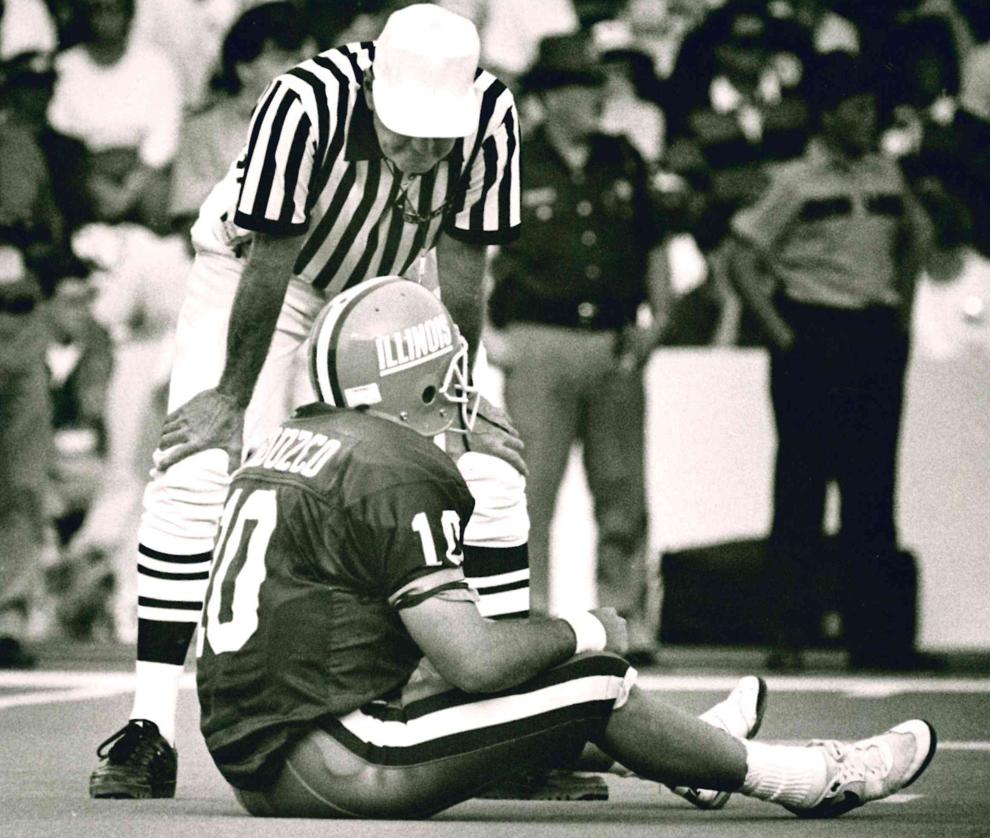 Coming at ya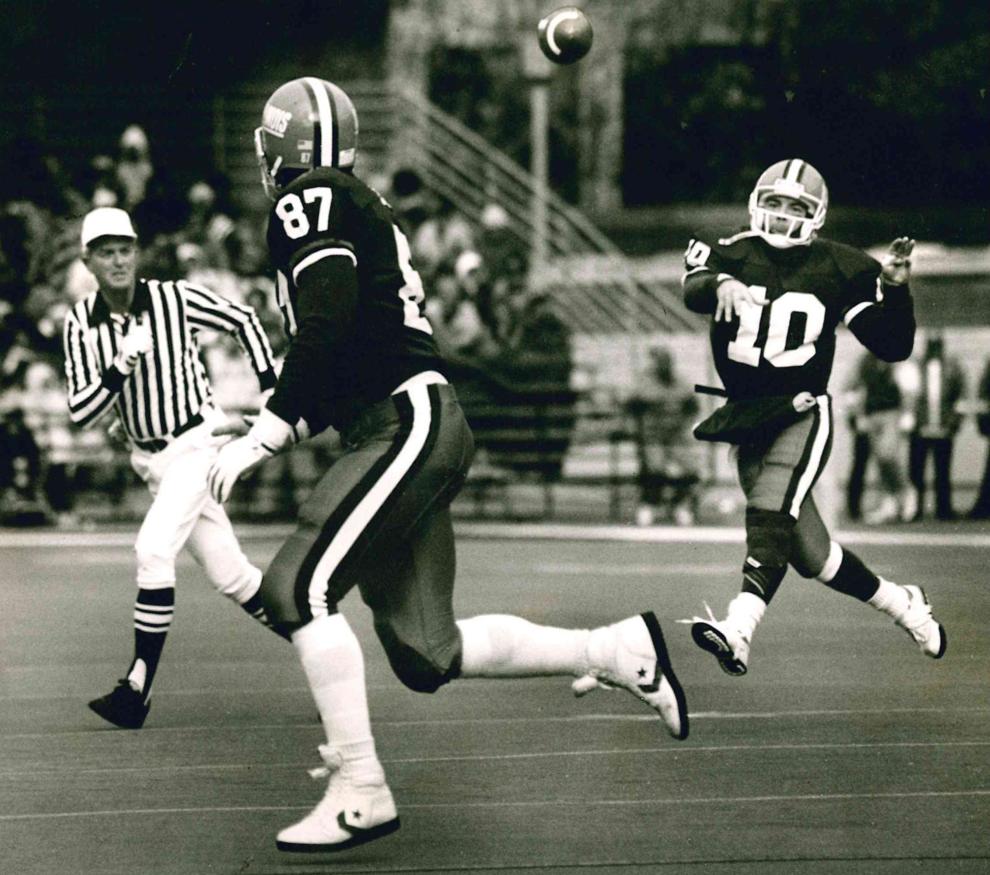 To run
Joyous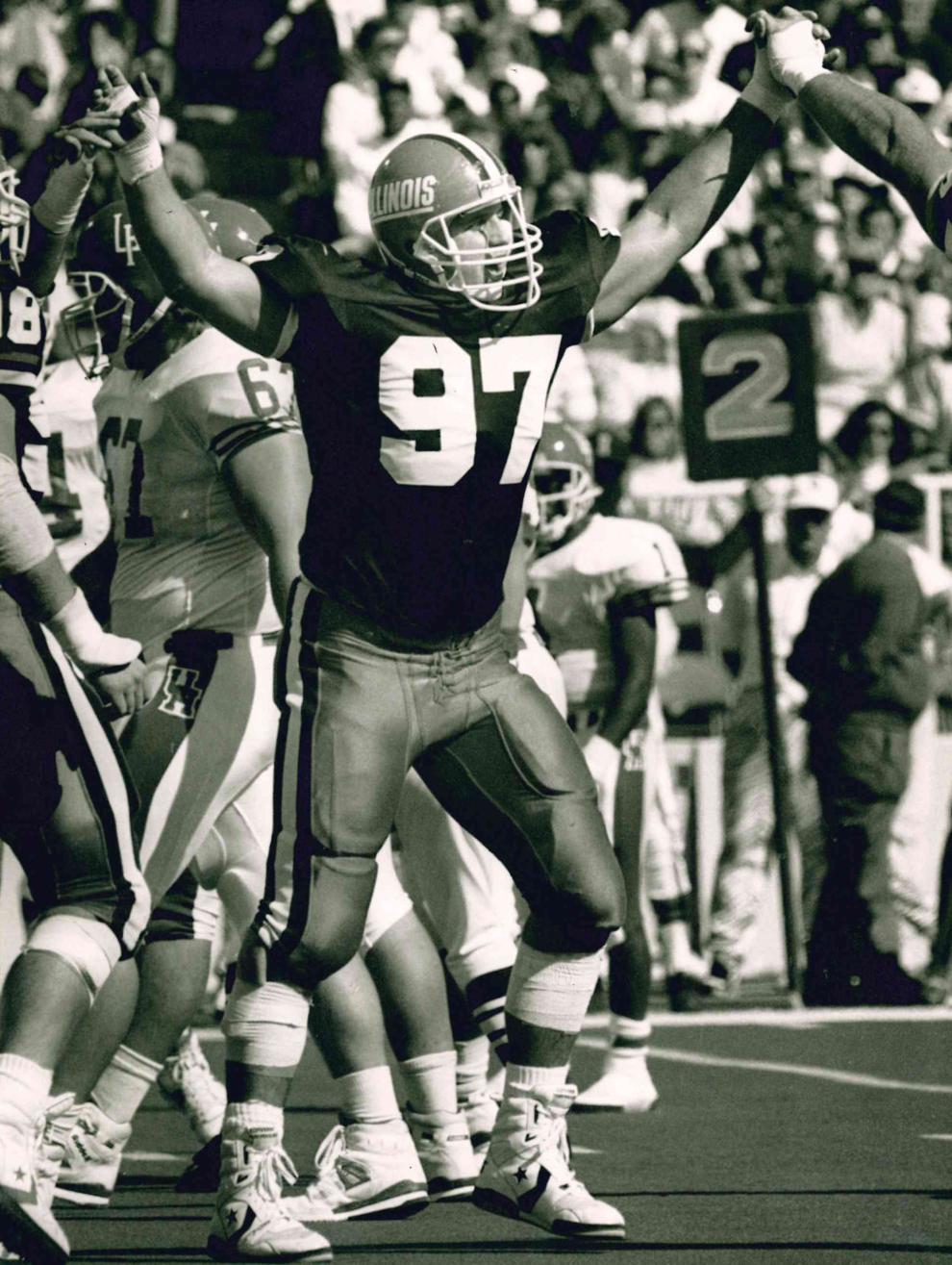 Lester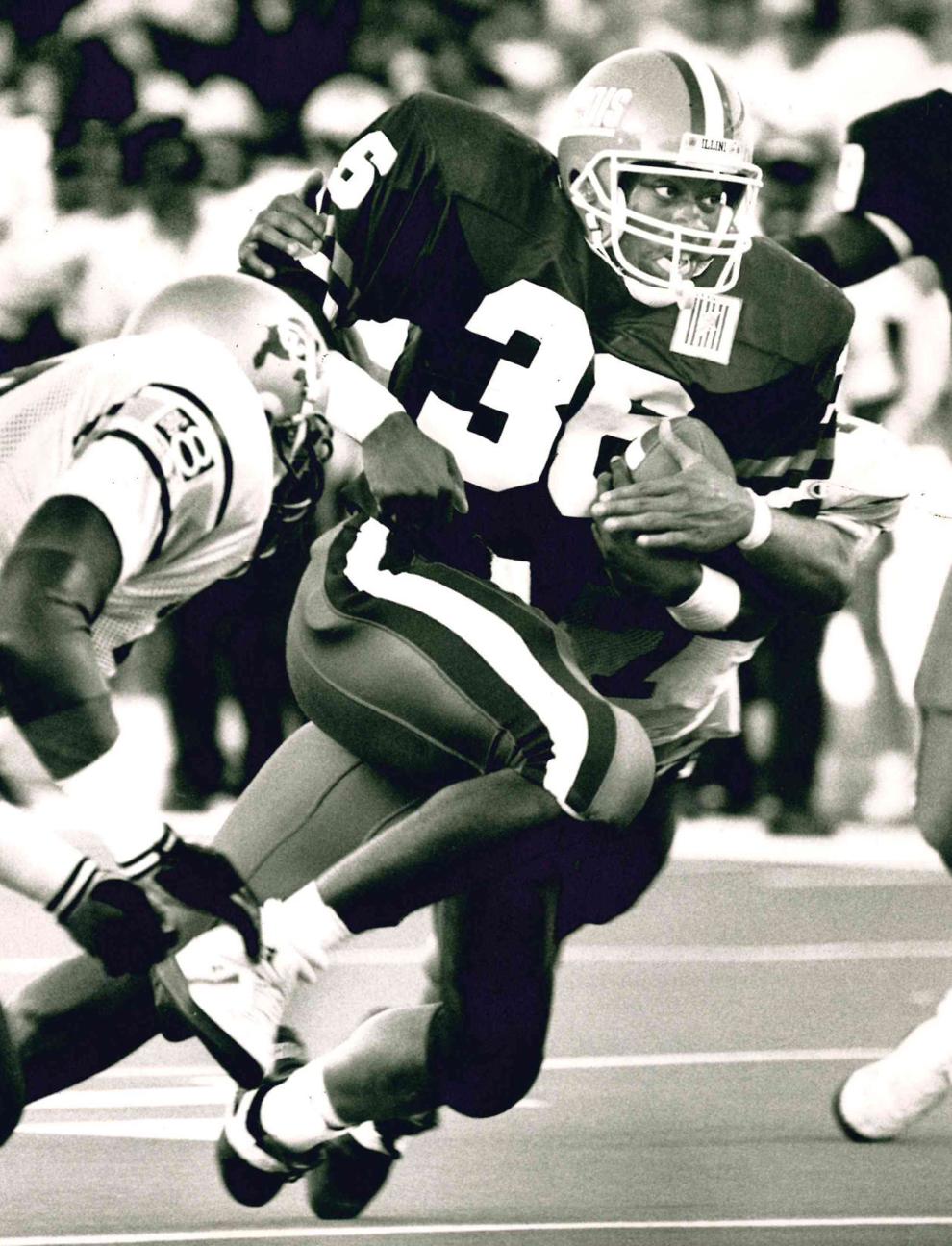 Sack attack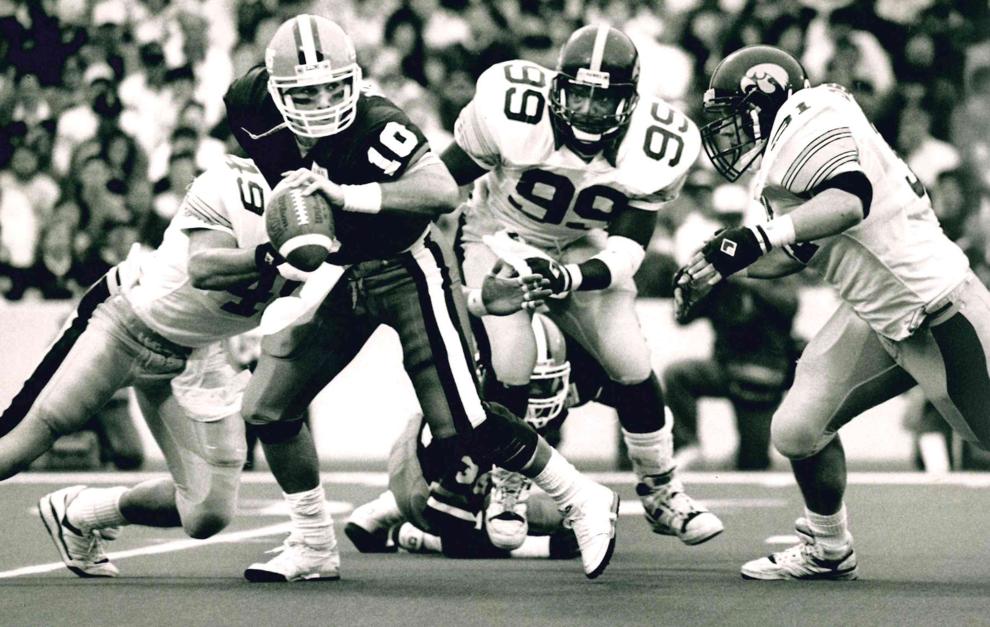 Waiting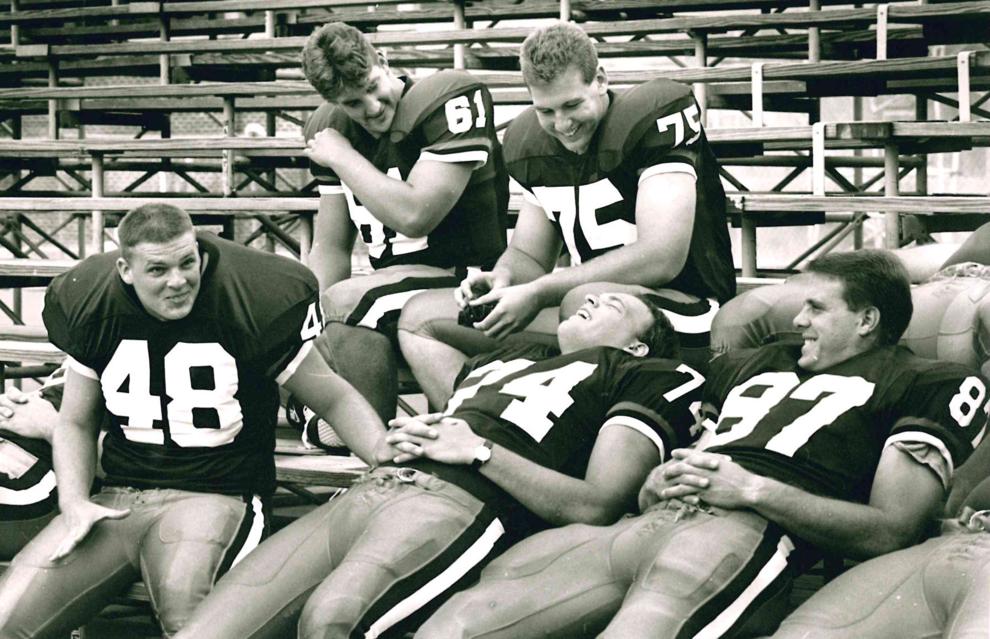 A coming through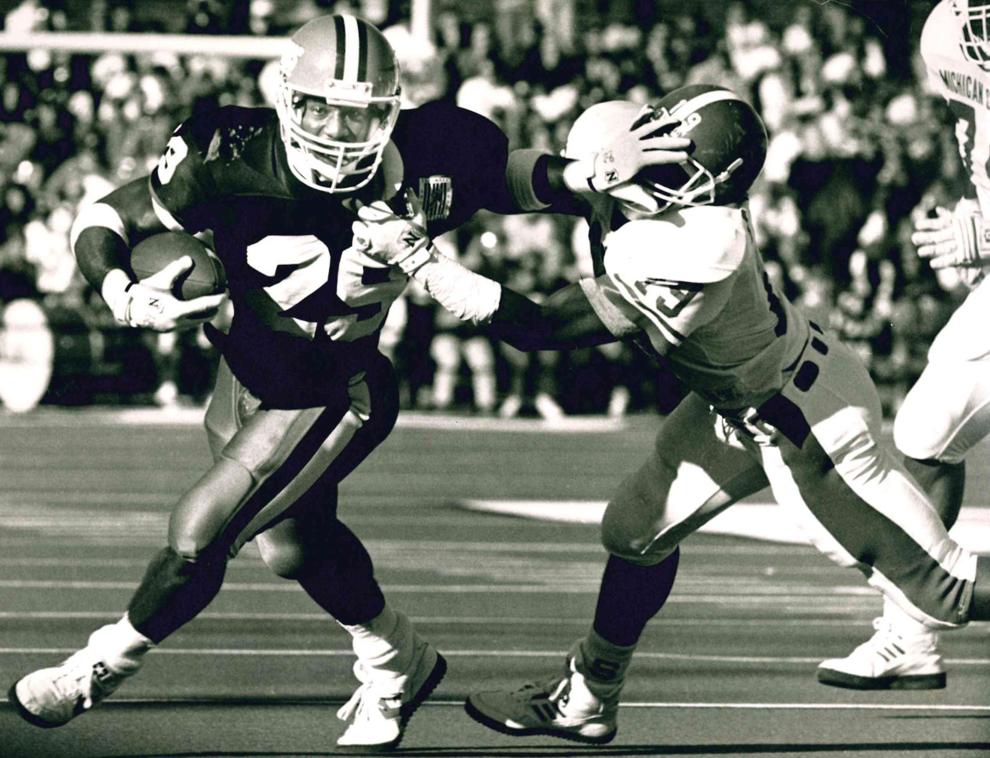 Sideline maneuver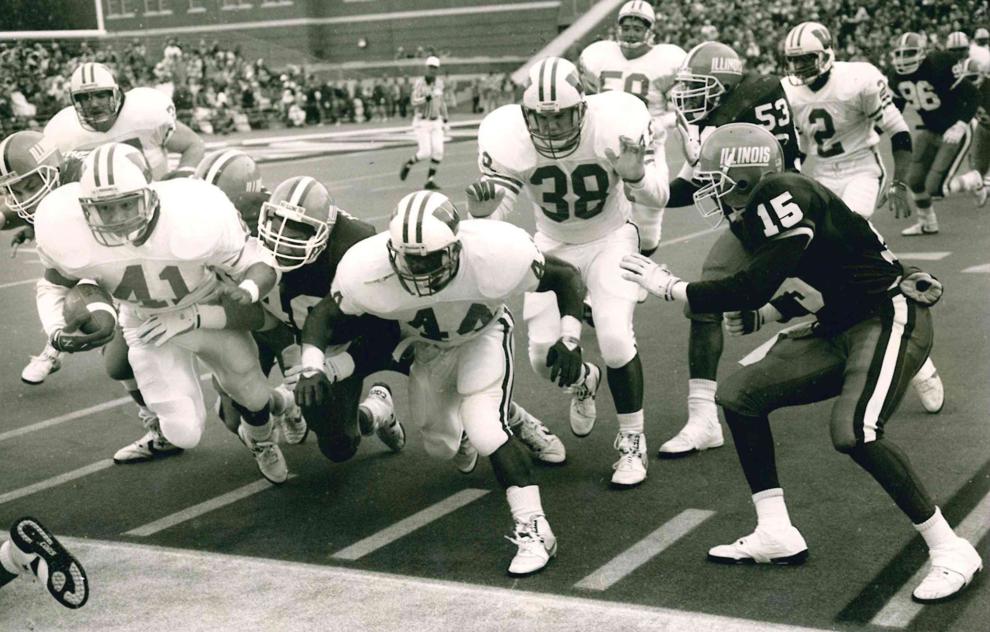 Mowing them down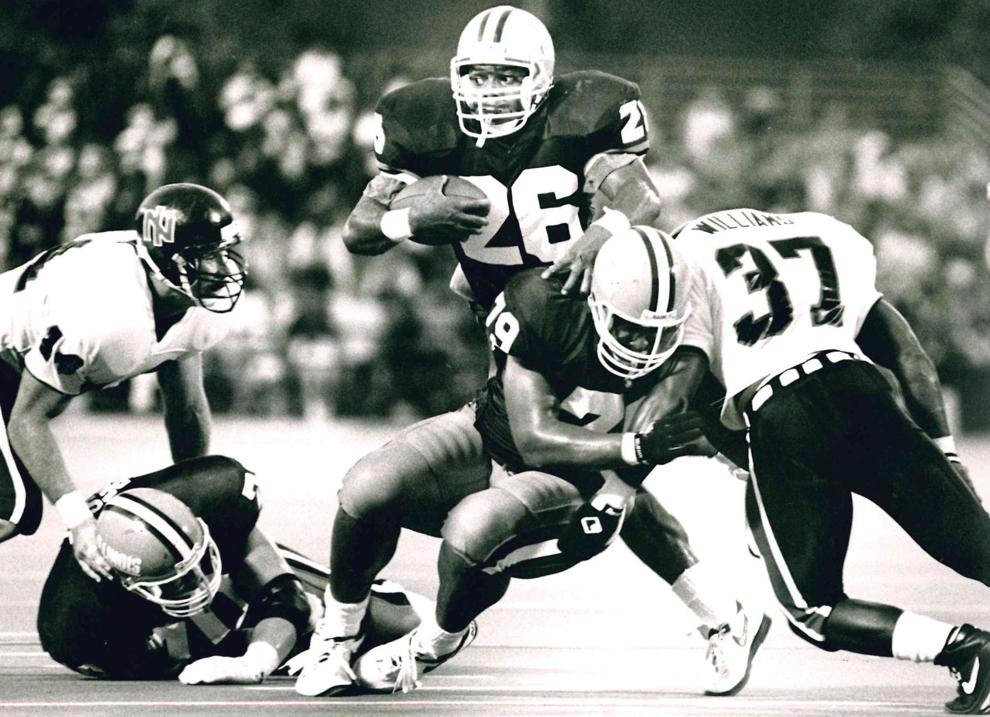 That's my buddy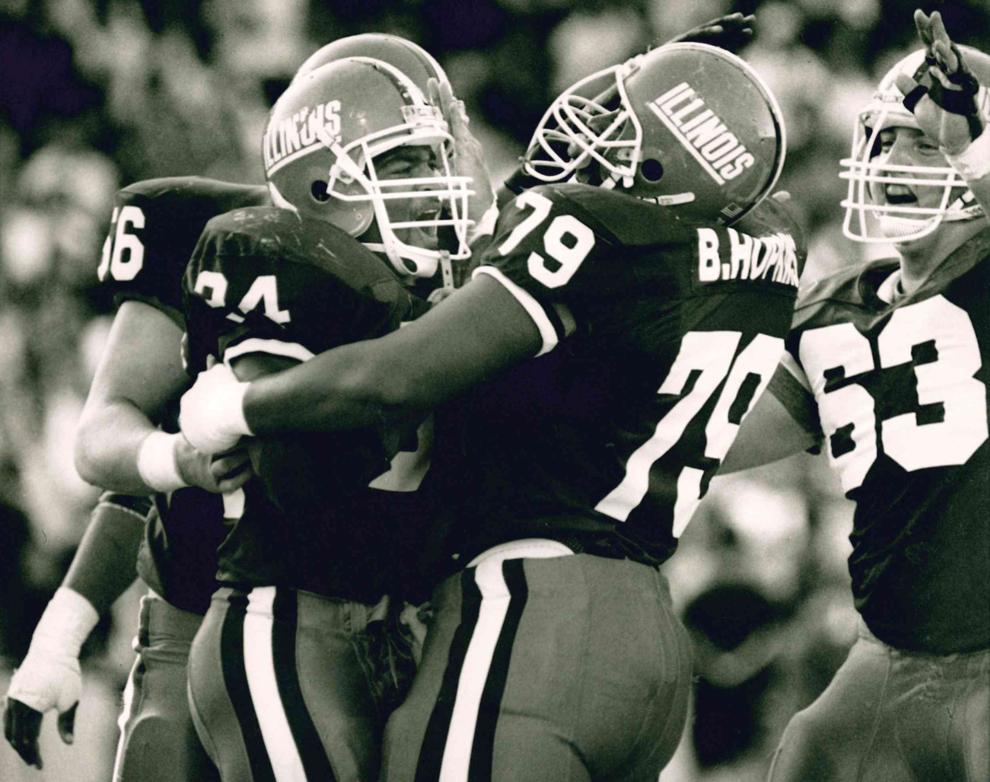 1992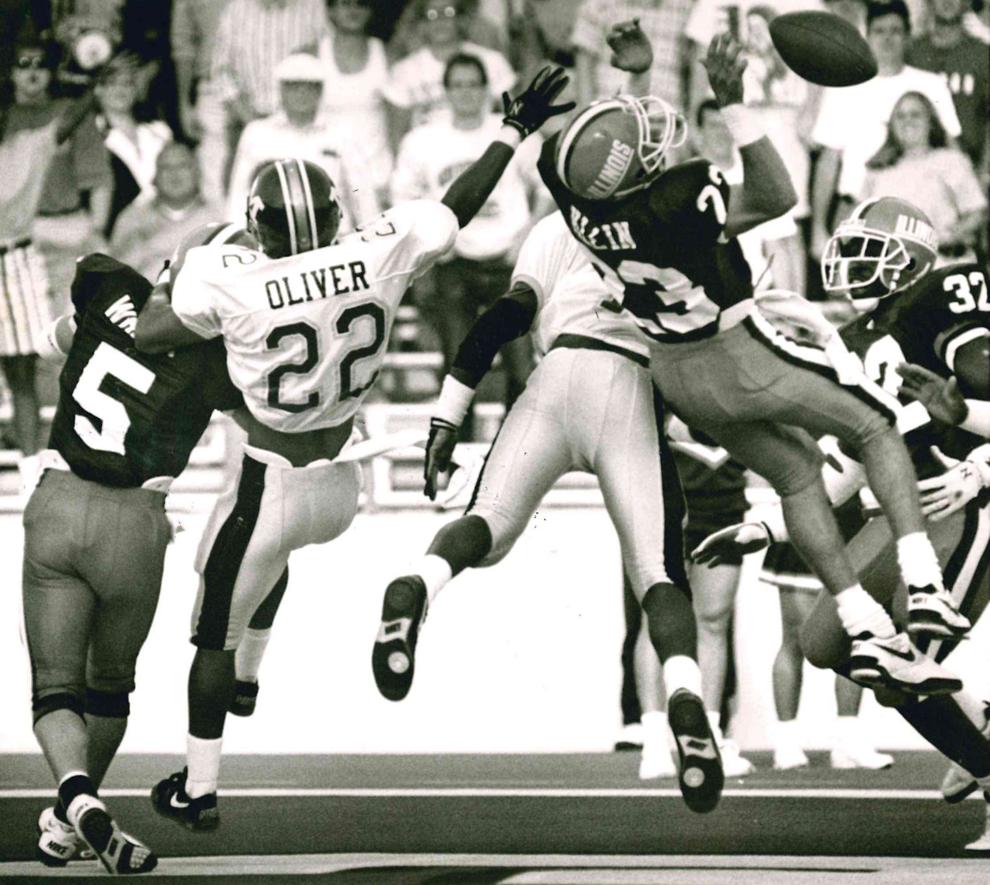 Traffic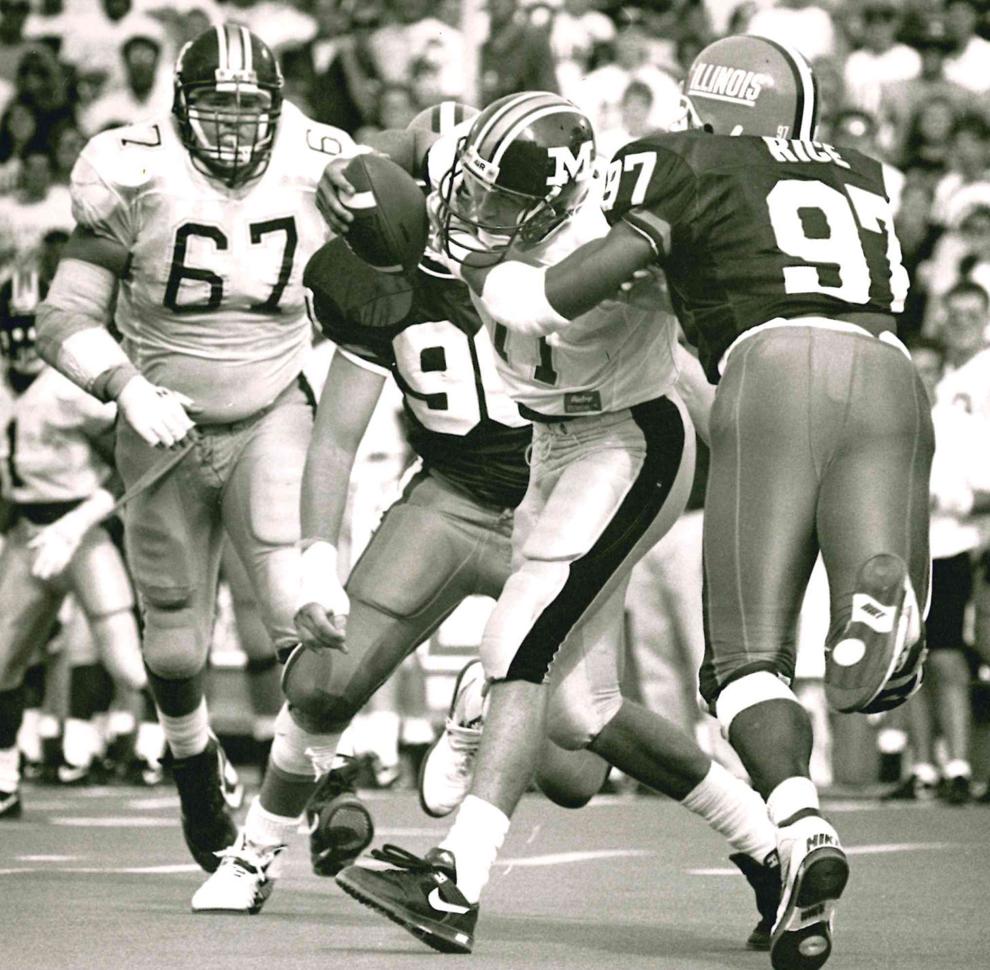 Busting through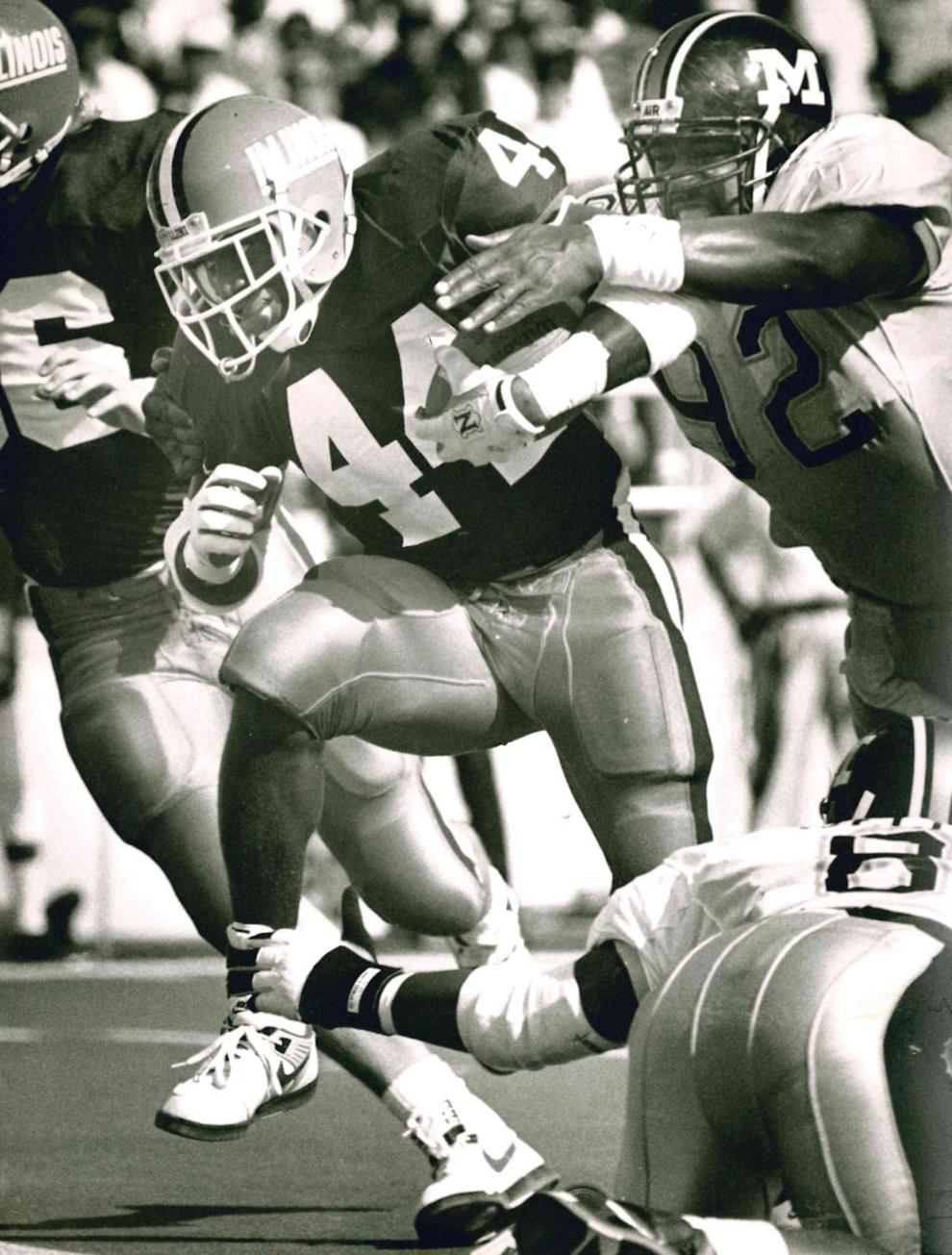 Final Exit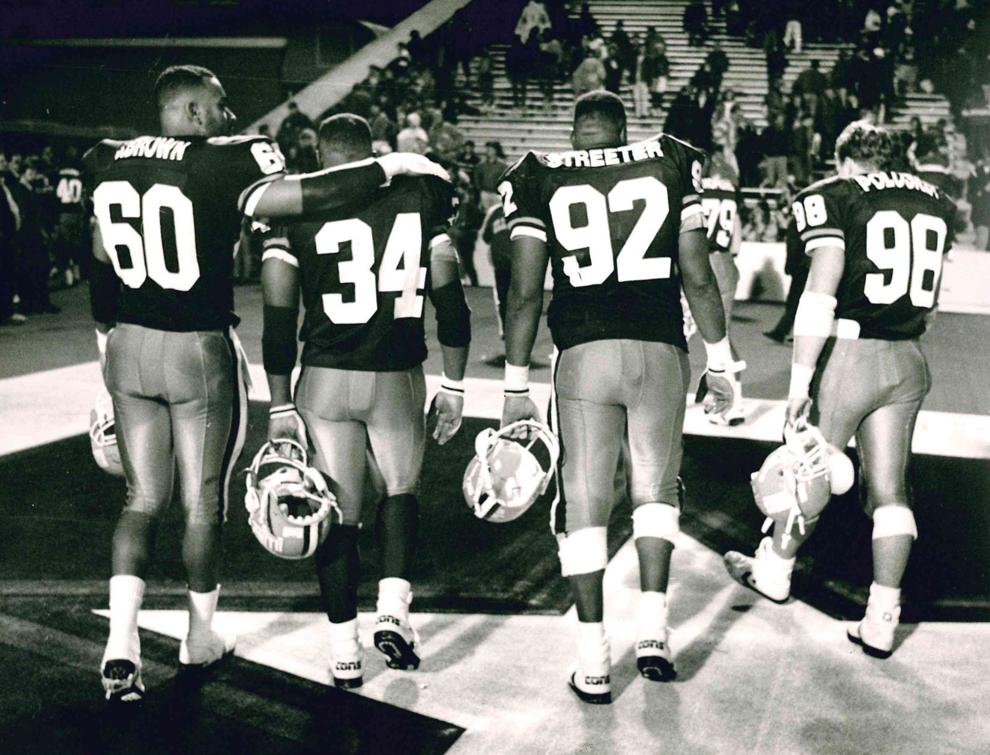 Scrum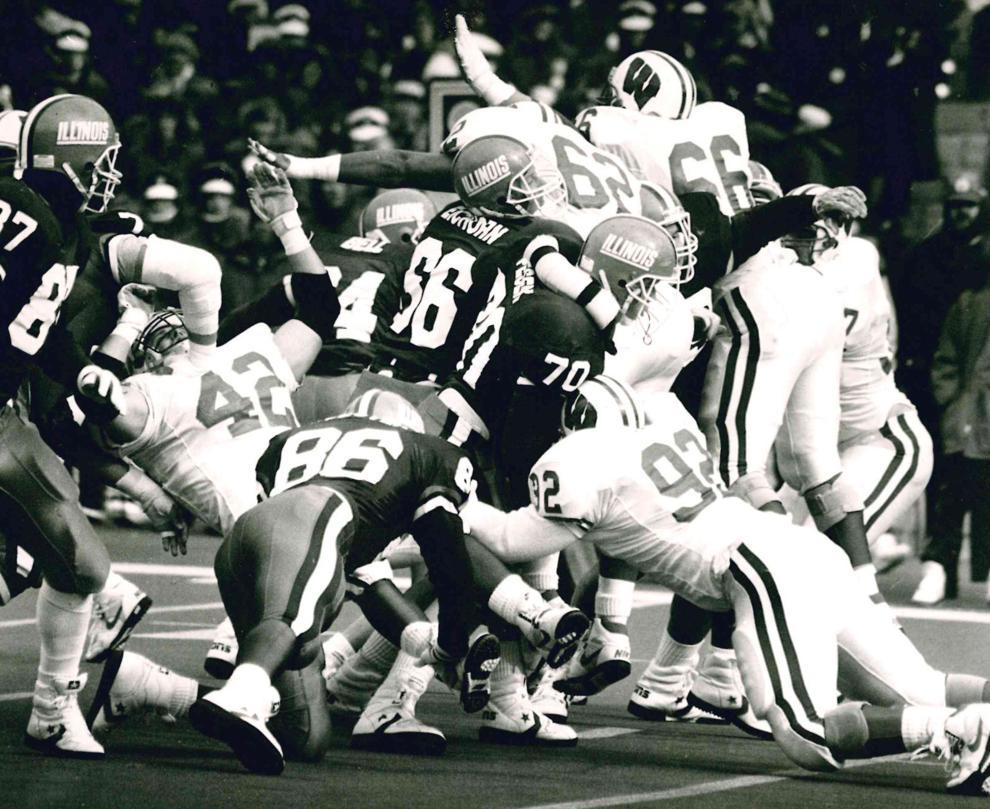 On the run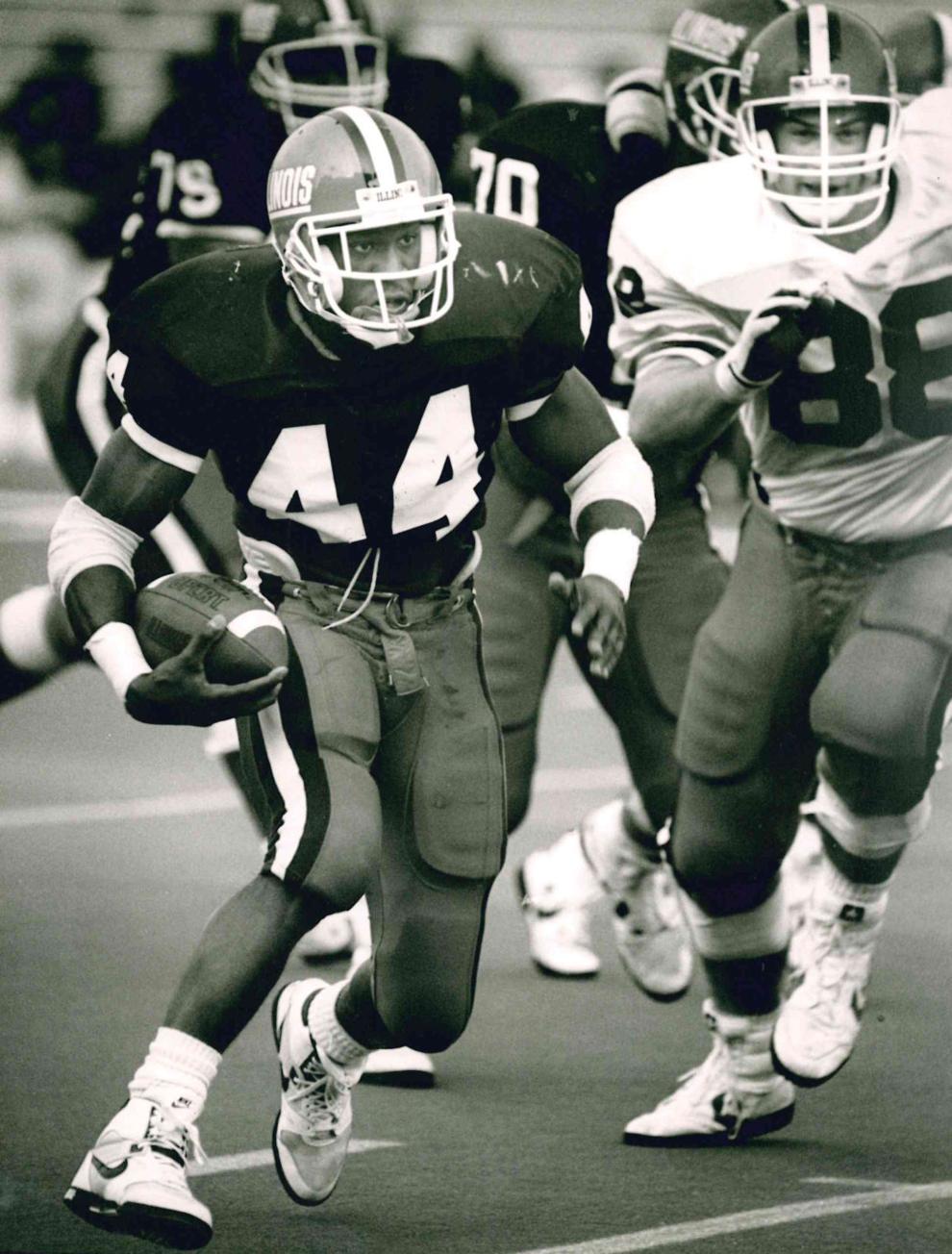 Sack attack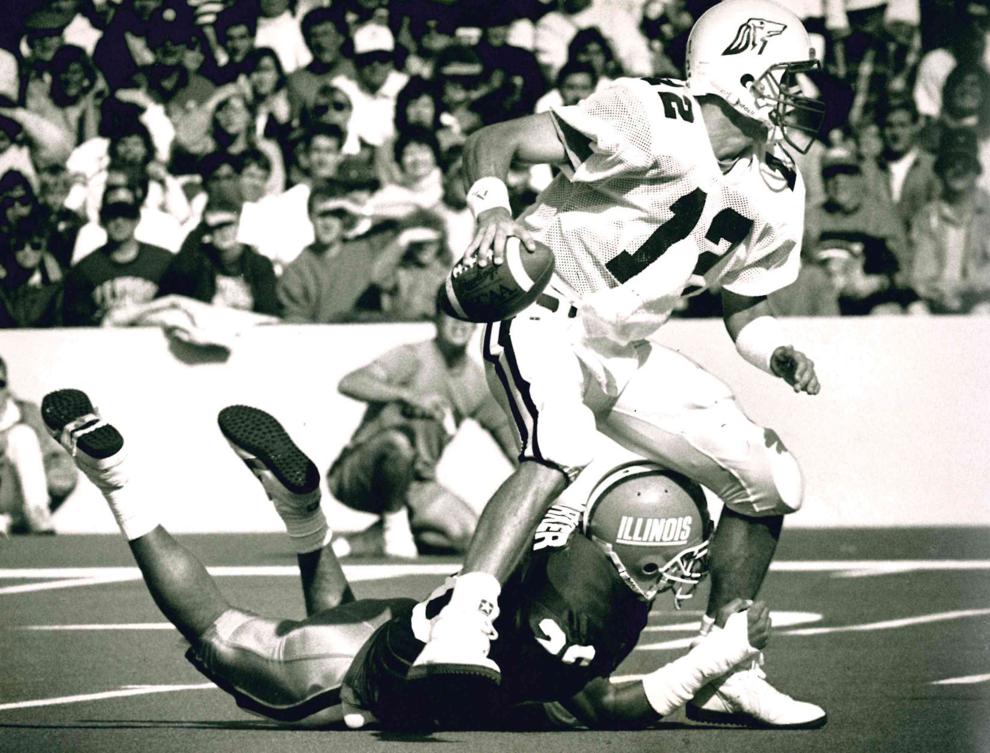 Pileup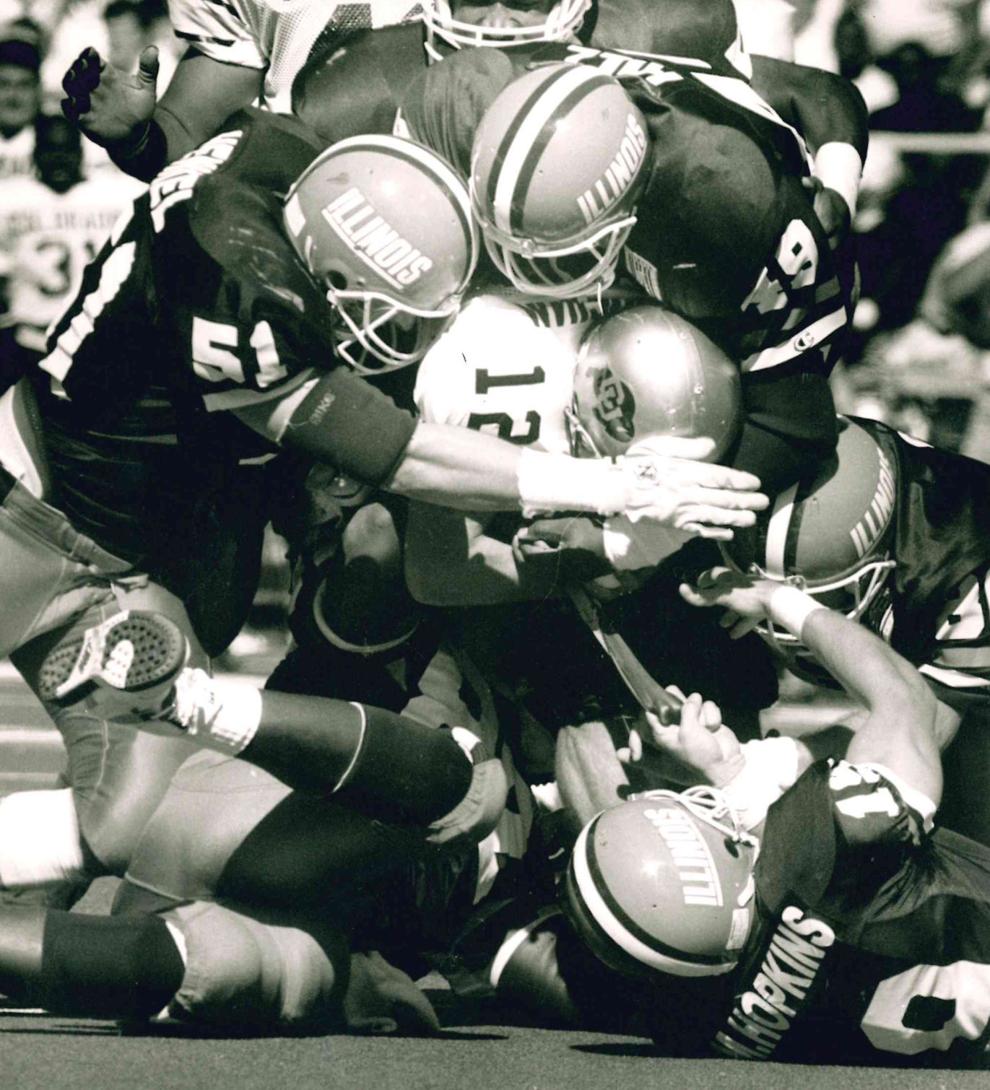 Take that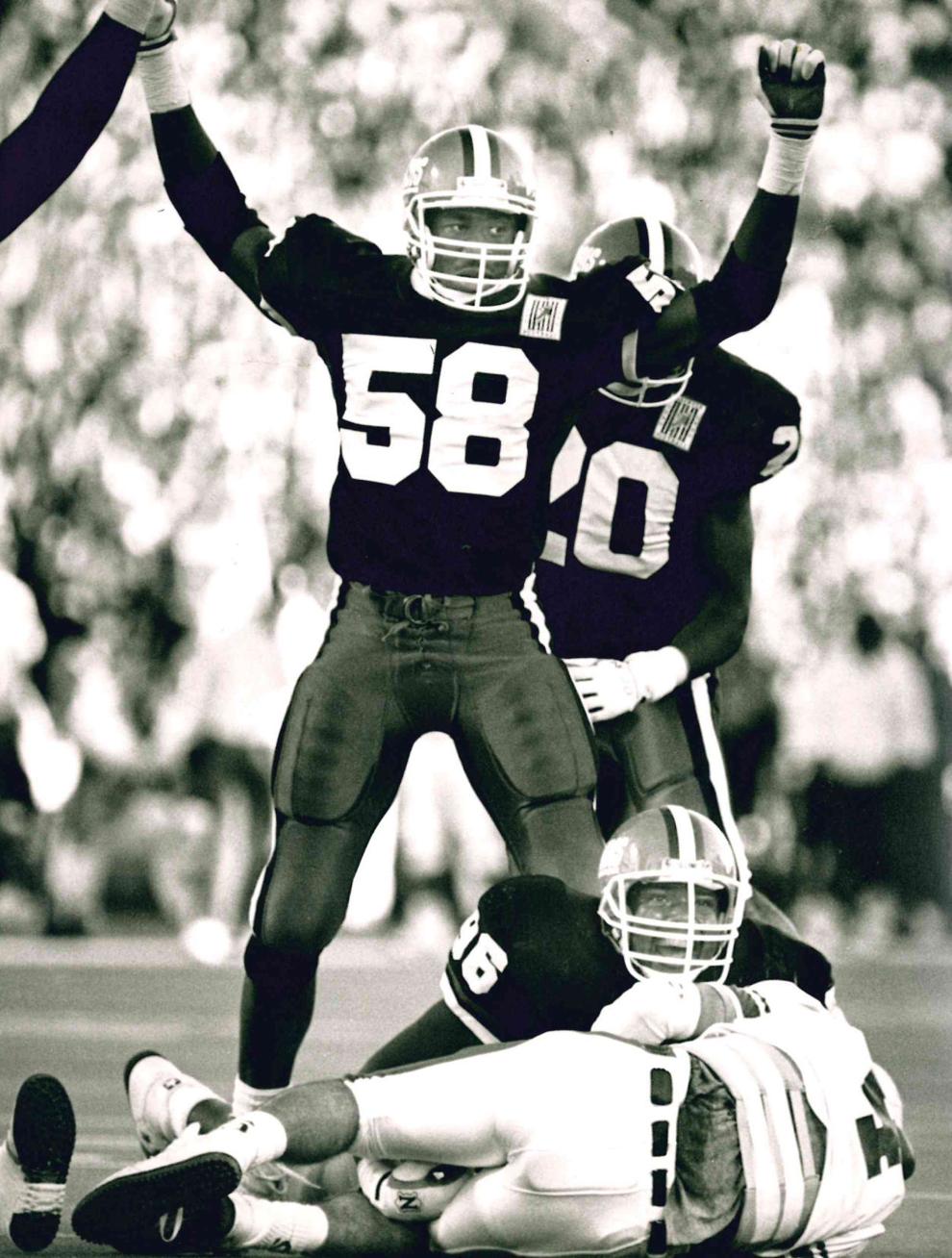 1991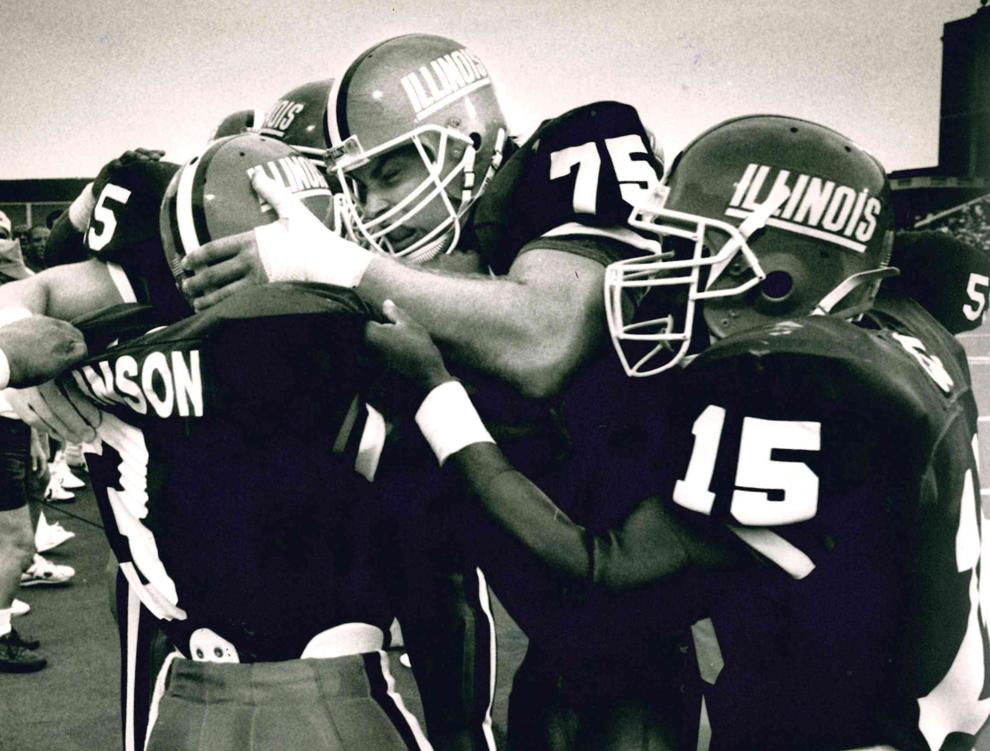 Lean on me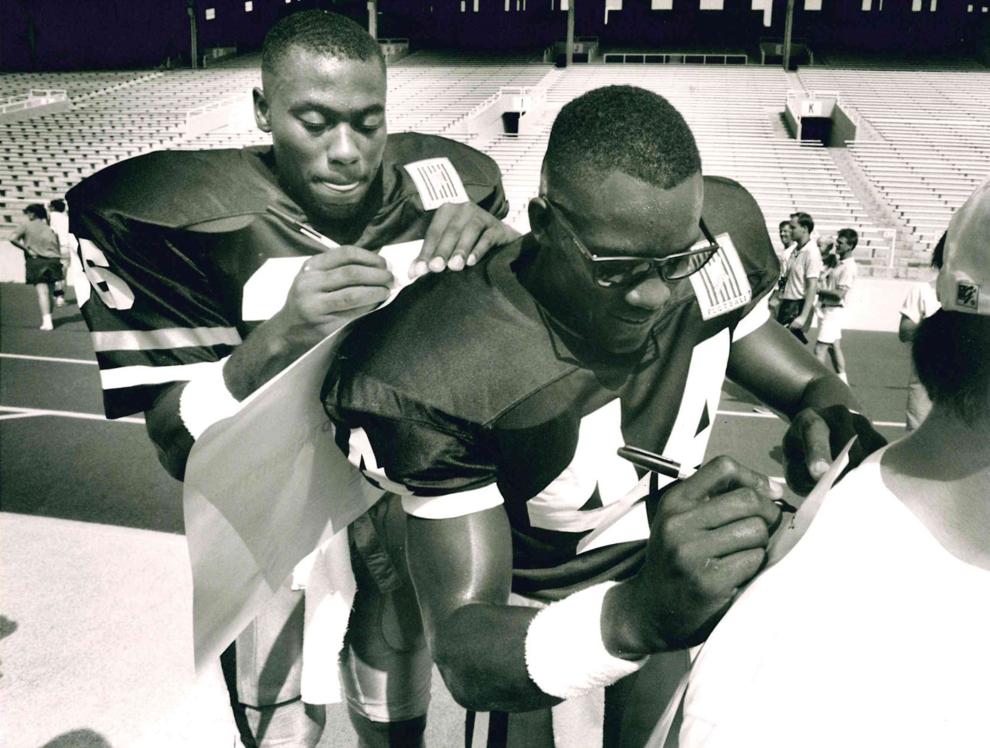 Way to go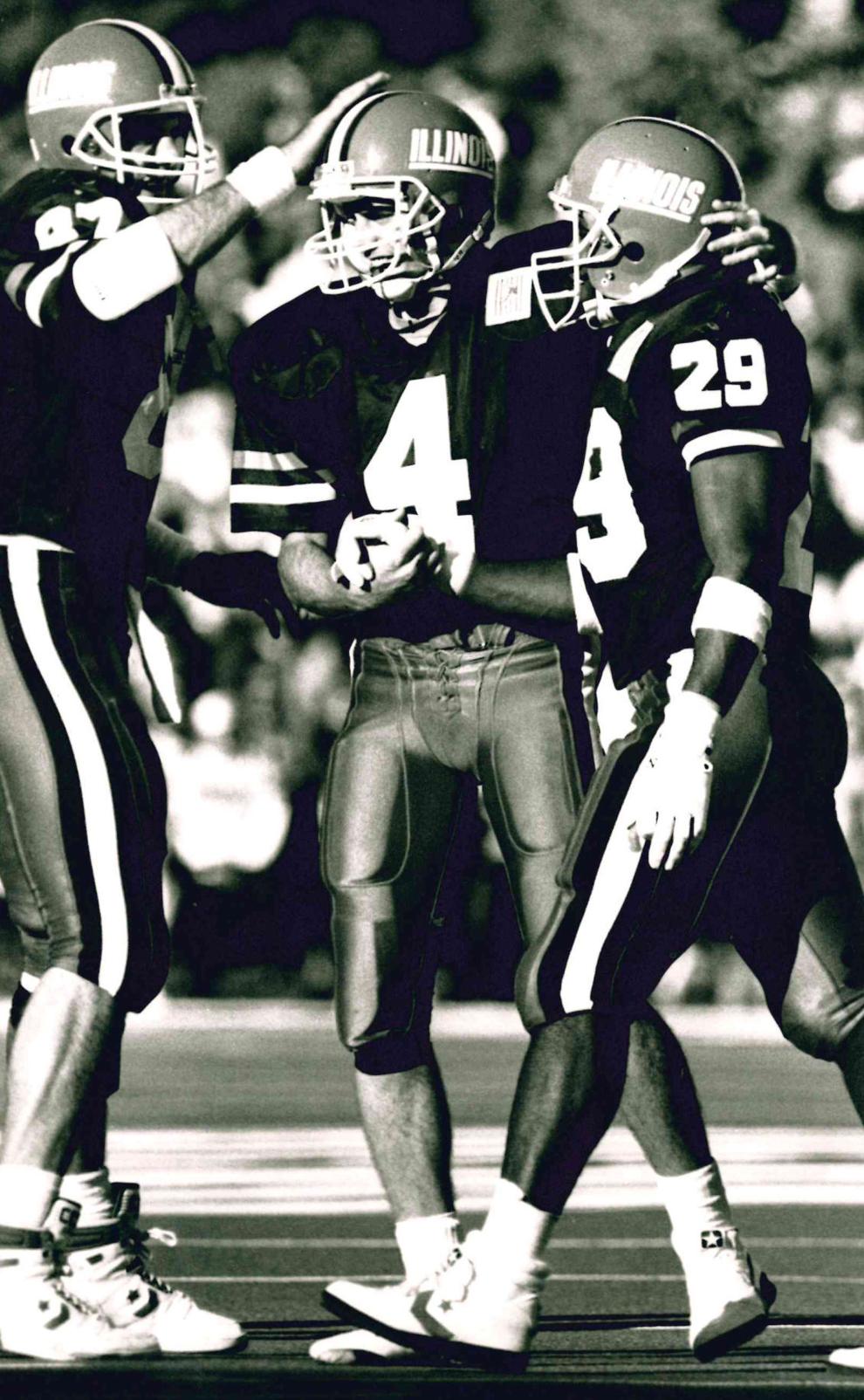 1991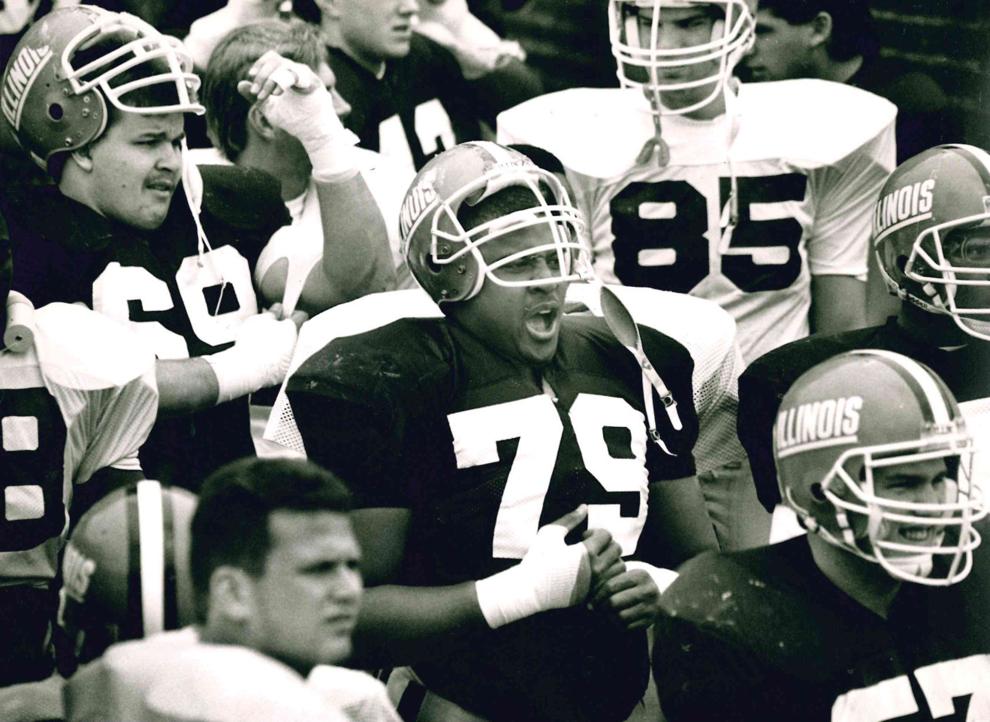 The peoples' choice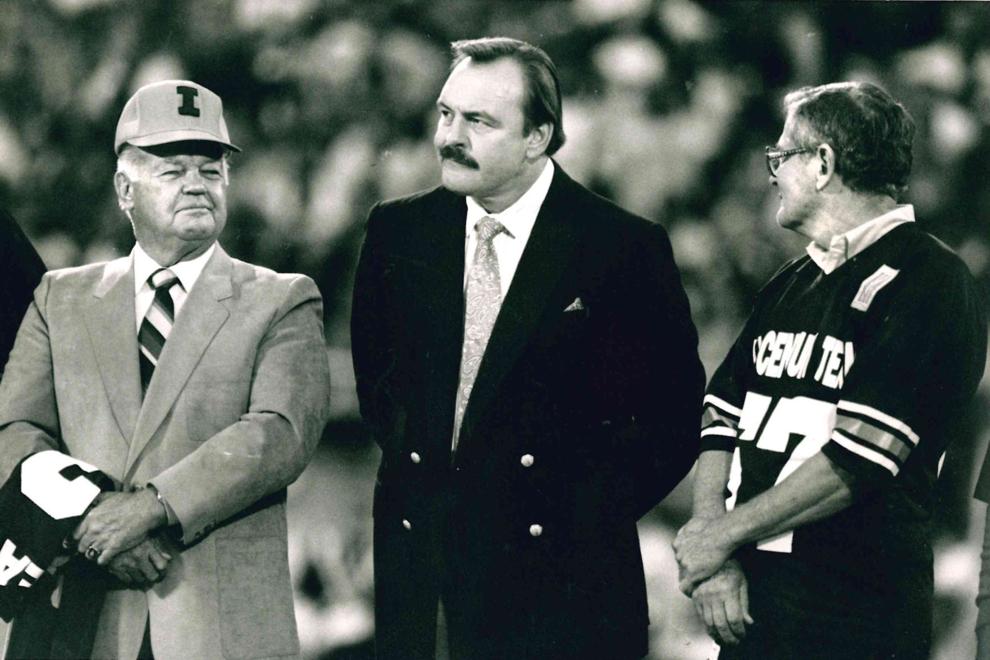 It's good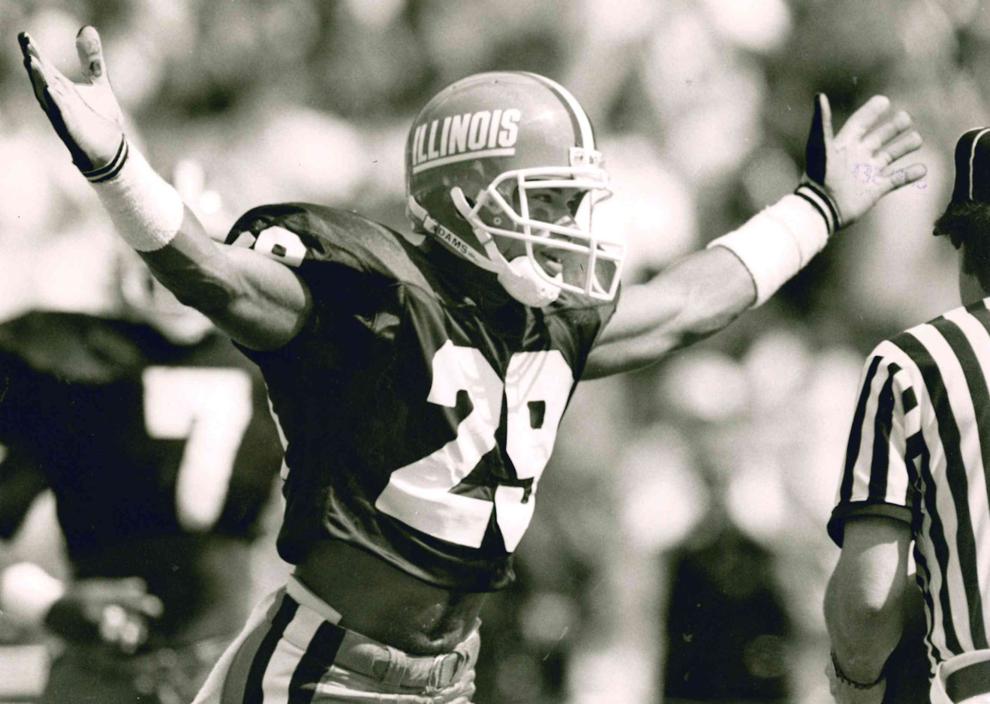 Touchdown Hero
That's Six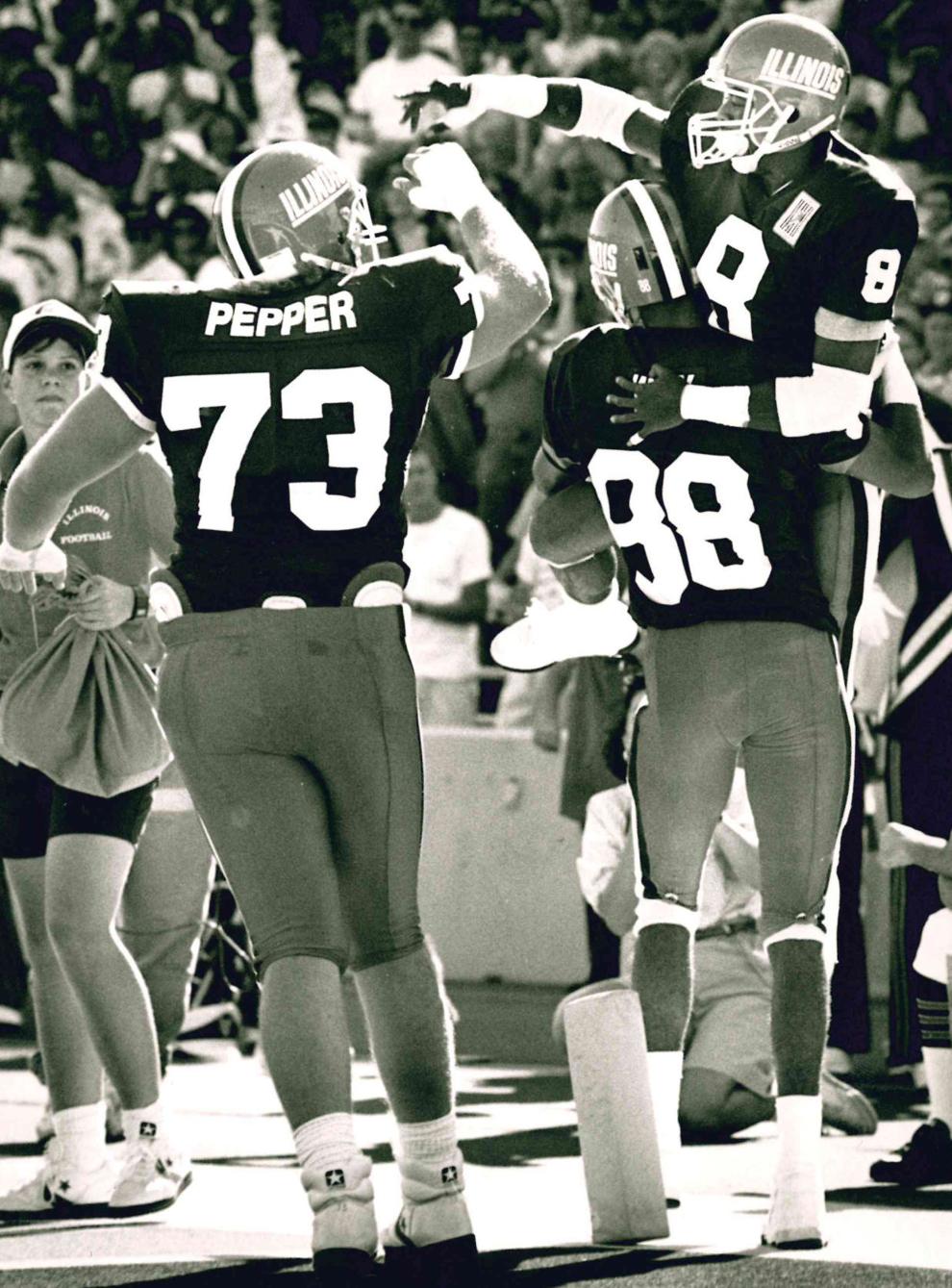 Contact Joey Wagner at (217) 421-6970. Follow him on Twitter: @mrwagner25