CHAMPAIGN — To say the Illinois football team was shorthanded at wide receiver at the end of last season would be an understatement.
Casey Washington, Caleb Reams and Donny Navarro started against Northwestern and no other receivers participated in the game. Washington, Navarro and Trenard Davis started in the bowl game and Carlos Sandy participated in that game.
Washington was a freshman who showed flashes in games, finishing with 11 catches for 132 yards. Navarro was a revelation after initially coming to Illinois as a walk-on from Valparaiso. He was the team's second-leading receiver with 27 catches for 345 yards and two touchdowns. Reams and Davis had been buried on the depth chart and Davis went between three positions during his career.
On paper, things look much different almost 10 months later. With the addition of transfers and players getting healthy, Illinois looks to have a deep group of receivers. Imatorbhebhe is back along with Navarro, Sidney and Washington. Though Smalling is no longer with the program, Illinois landed transfers from Brian Hightower (Miami), Khmari Thompson (Missouri) and Desmond Dan (New Mexico State).
Illinois head coach Lovie Smith and offensive coordinator Rod Smith have both mentioned speedy redshirt freshman Kyron Cumby as having had good practices and Lovie Smith mentioned sophomore Dalevon Campbell on Thursday. The Illini also added James Frenchie, the only wide receiver in the 2020 recruiting class.
In a season with nine games in nine weeks, depth is as important as ever.
"Not only do major injuries come into play, but soft-tissue injuries," Rod Smith said. "All those little things that are nagging that are a couple week injuries sometimes. We've got to have bodies ready to play. It's going to be a positive thing, I think, for us. I feel a lot better about our wide receiver room today than before those guys transferred in here to give us depth. I think we've got some decent wide receivers. We need more. We need more pieces. That was able to address that a little bit."
Imatorbhebhe made an immediate impact after transferring from USC with 33 receptions for 634 yards and nine touchdowns. He and quarterback Brandon Peters developed chemistry immediately. Sidney was also a USC transfer and started three games as a slot receiver before having season-ending surgery. He missed the final nine games of the season. Navarro, a junior, and Washington, a sophomore also return.
"Through last year, we gained some experience and we have to use 2019 as a springboard and learn from our mistakes, most importantly and continue to work hard," Navarro said. "Everyday we've got to go out on the practice field knowing we've got to get one day better and it has to continue on throughout the whole season. Experience is big and just recognizing situations, recognizing coverage and reacting, executing a little bit better."
"Brian had played, we had seen him," Lovie Smith said. "We thought he'd be a big body with sure hands and compete hard on every down and that's what we've seen from him. ... Khmari Thompson, the same thing. Khmari has a little bit more juice, they're different players which is unique. They're different players. ... We like the skill set with both of these guys have brought to the mix so far."
There's also a mix of size and speed on the roster that will allow, in theory, for Rod Smith to take advantage of most defenses, regardless of what type of defense they're playing. Some games might necessitate a bigger receiver like an Imatorbhebhe or Hightower to go up and snag the ball. Others might mean players in the slot like Sidney, Navarro, Thompson or Cumby get involved.
"You like to try to take advantage of size," Rod Smith said. "We've got big receivers. Our faster guys, we get them out in space. Can we get them in quick screens? Can we get them in option routes? Things of that nature to allow them to utilize their skill set."
---
PHOTOS: 32 historical Illini photos
Looking up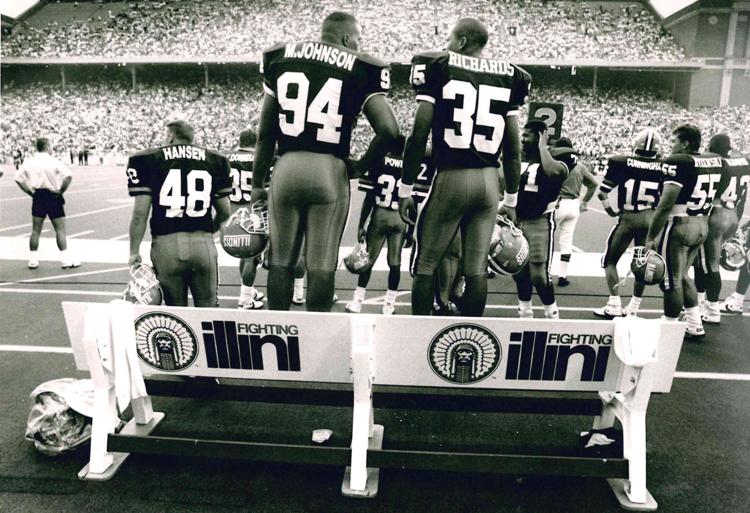 Good Block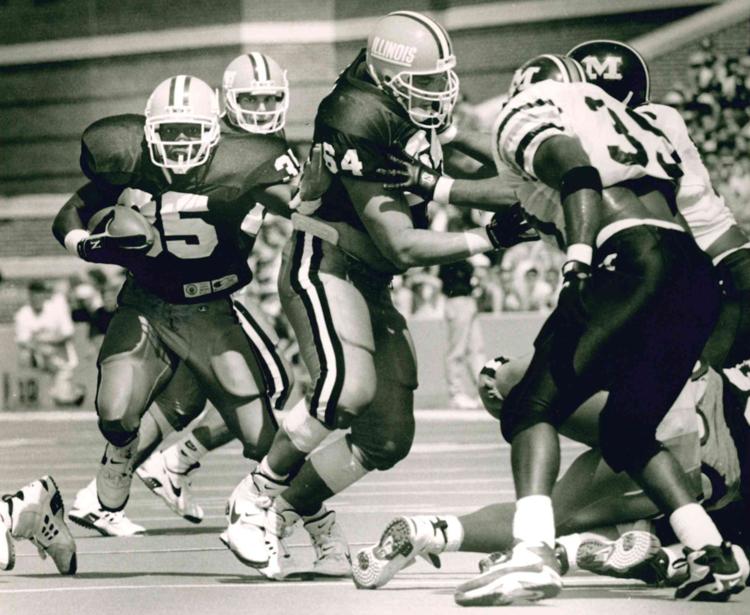 Taking a Dive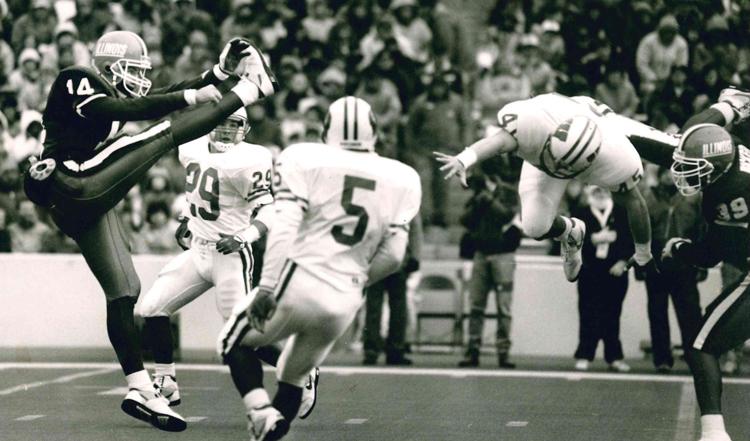 On the loose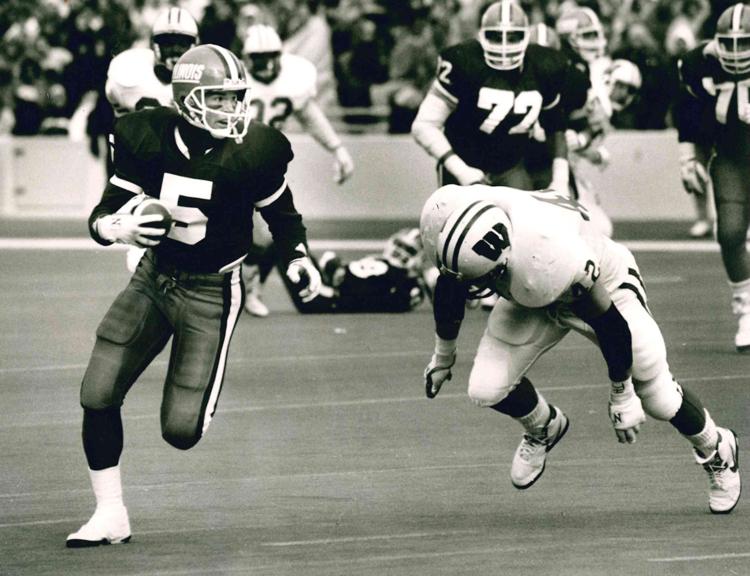 University of Illinois Football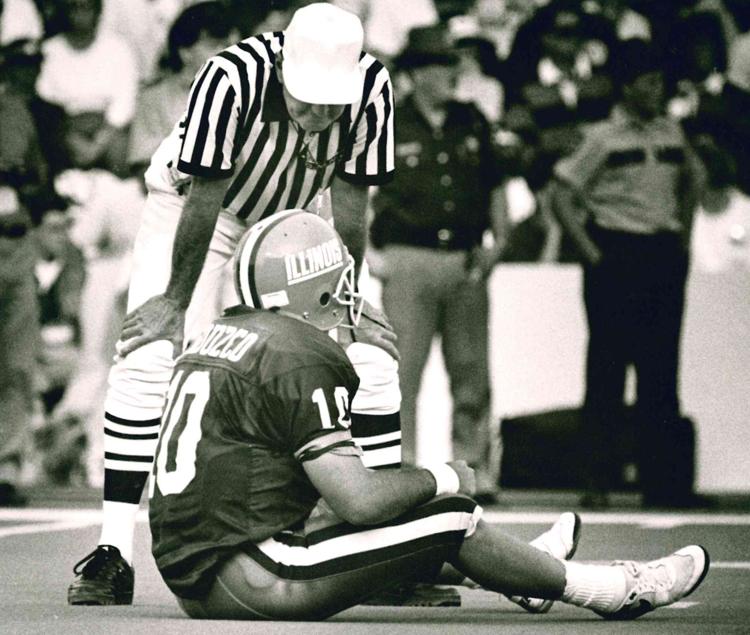 Coming at ya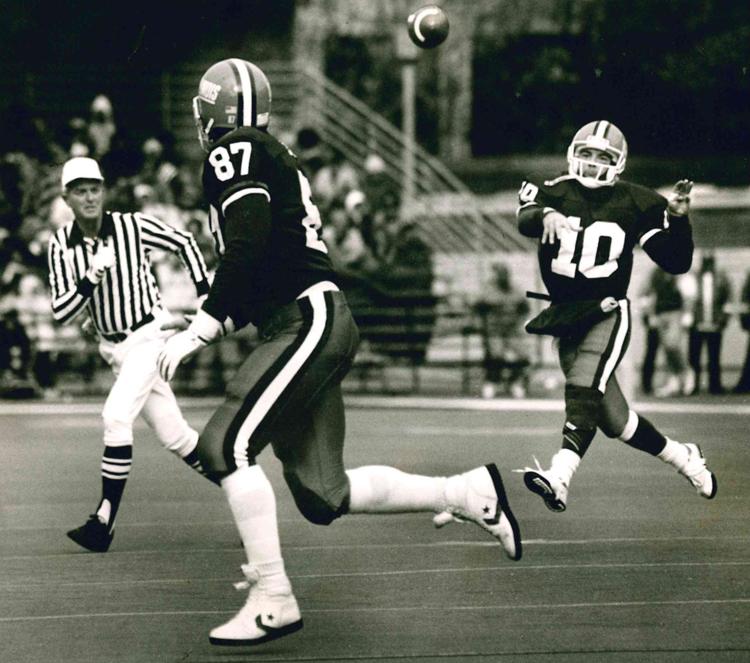 To run
Joyous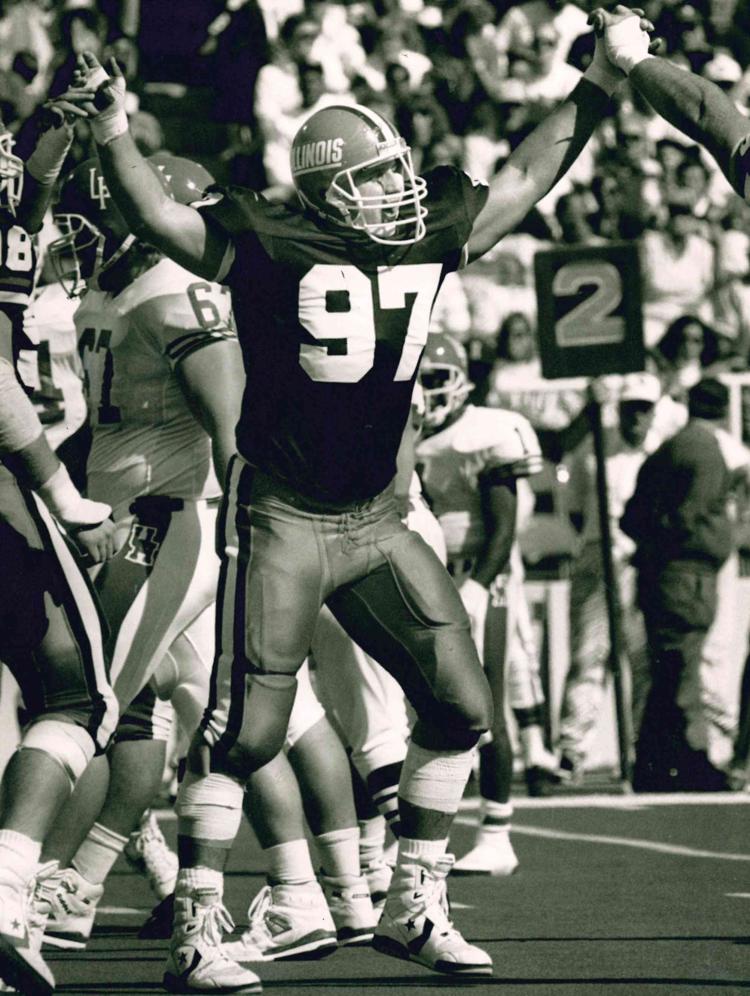 Lester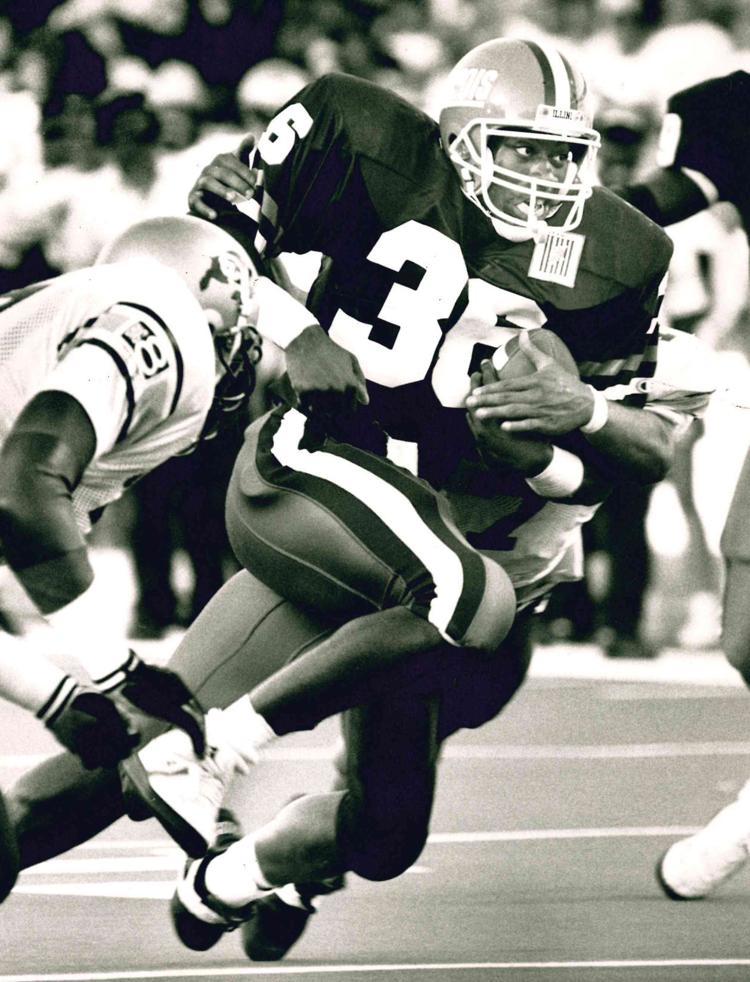 Sack attack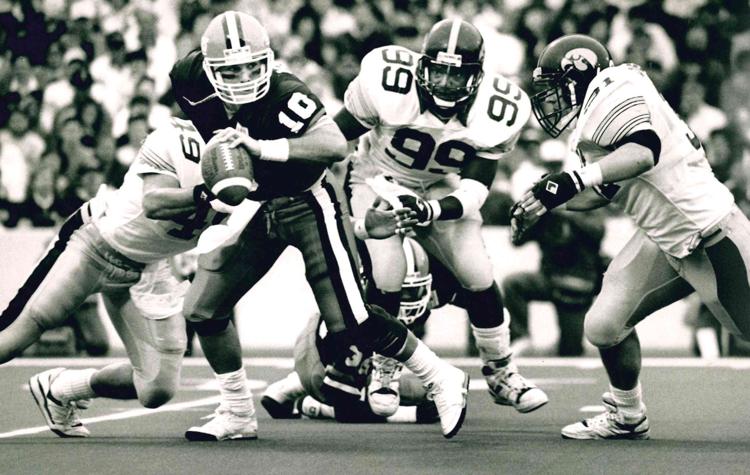 Waiting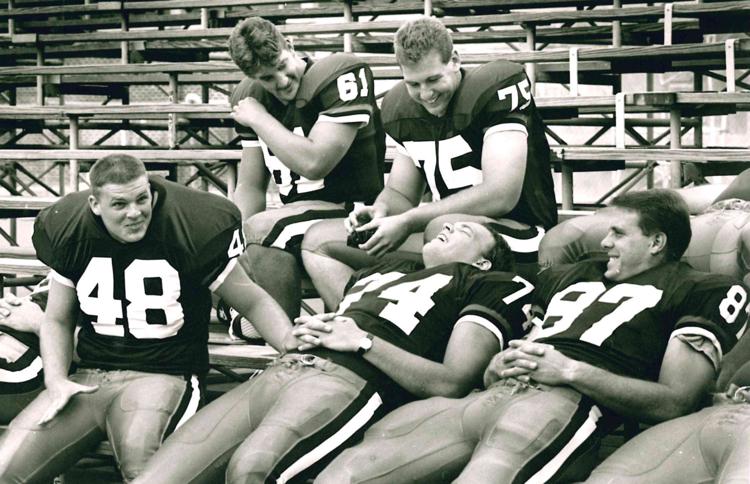 A coming through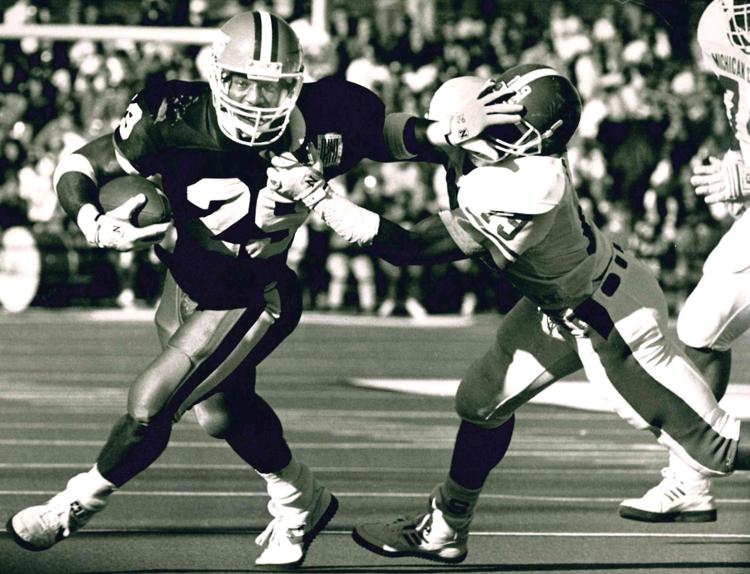 Sideline maneuver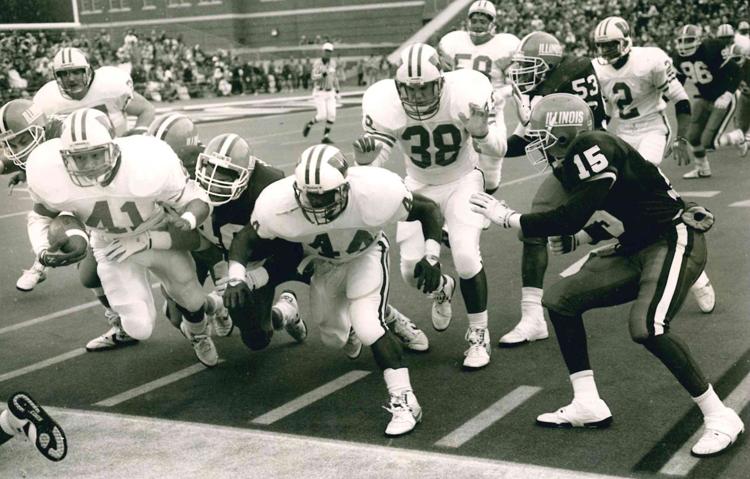 Mowing them down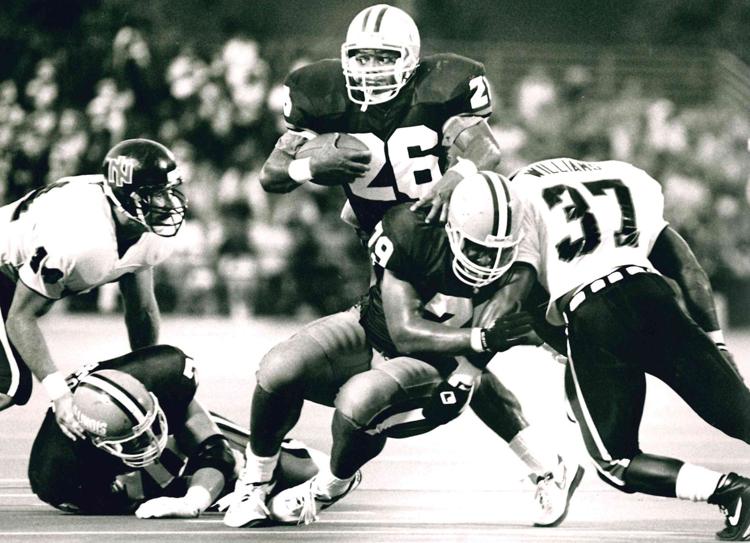 That's my buddy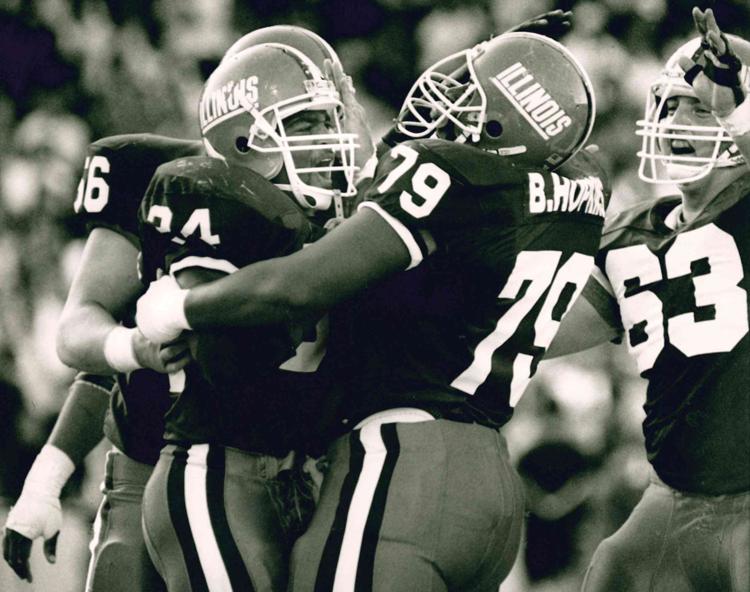 1992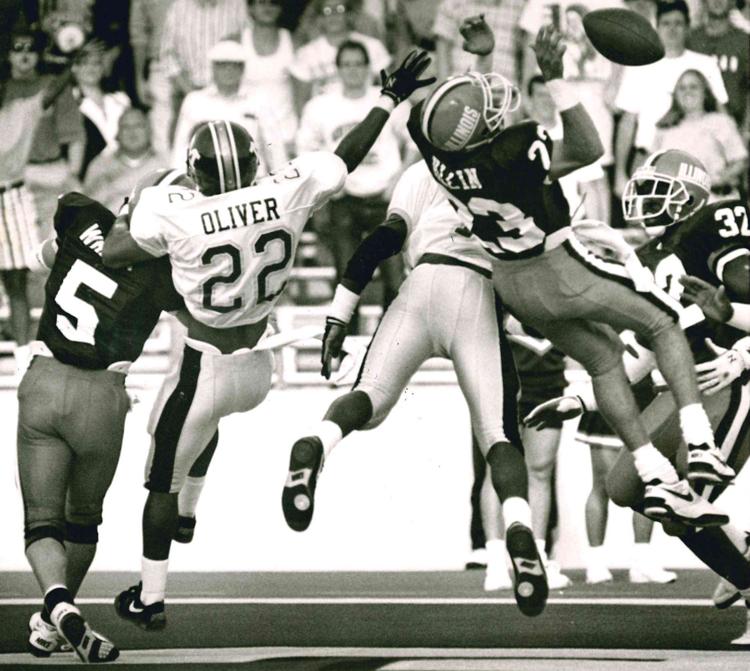 Traffic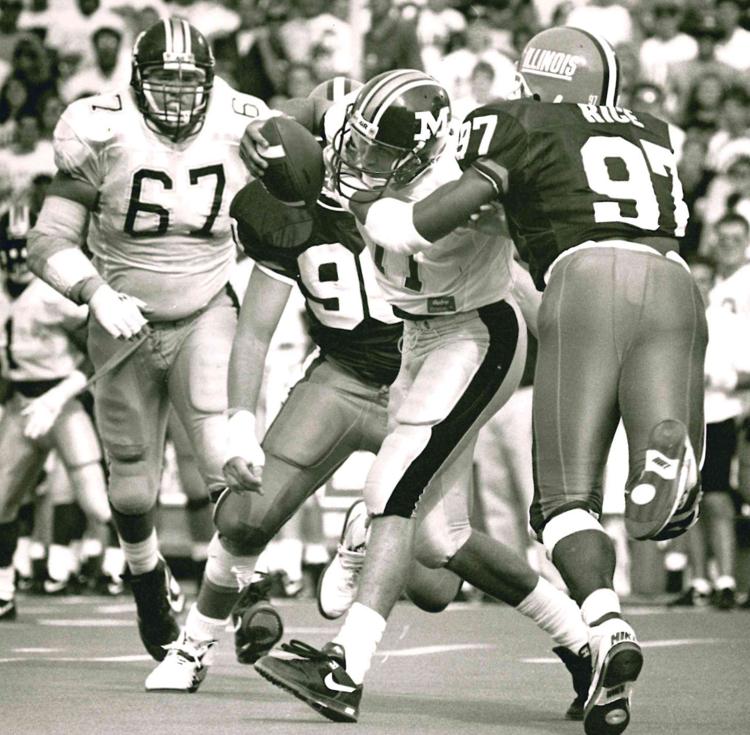 Busting through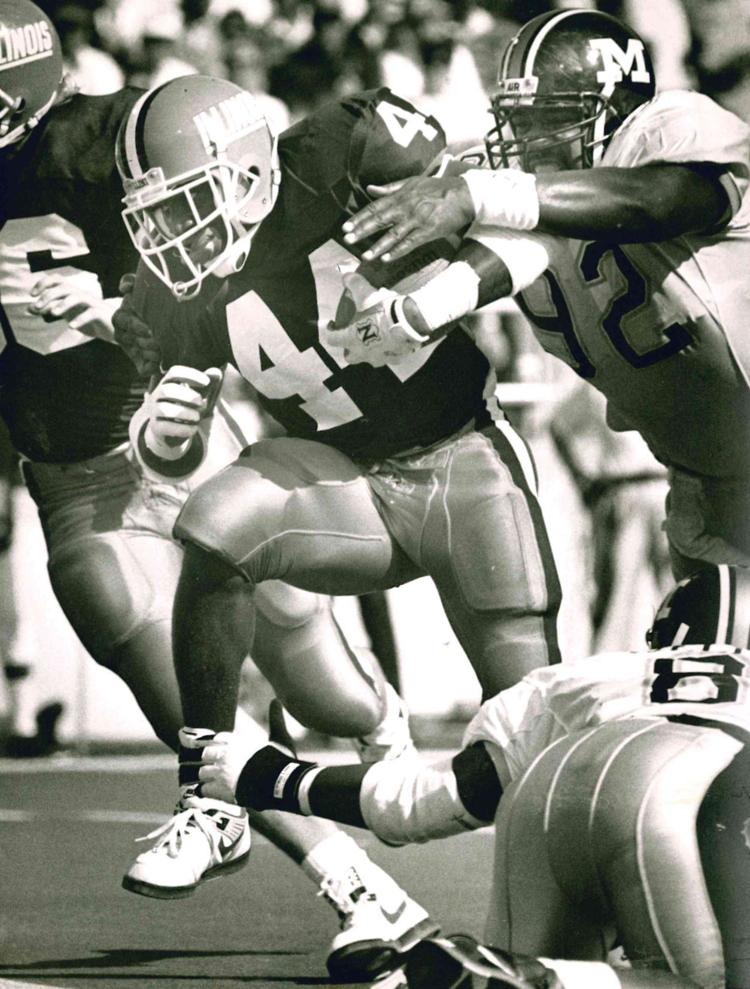 Final Exit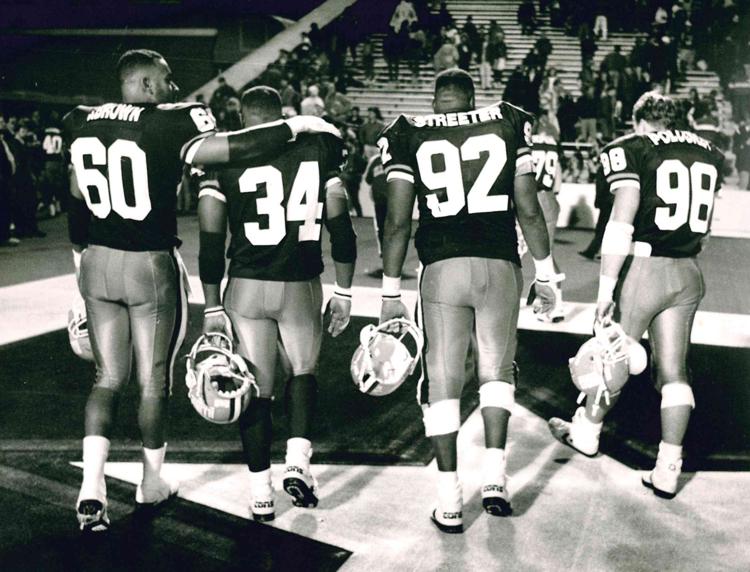 Scrum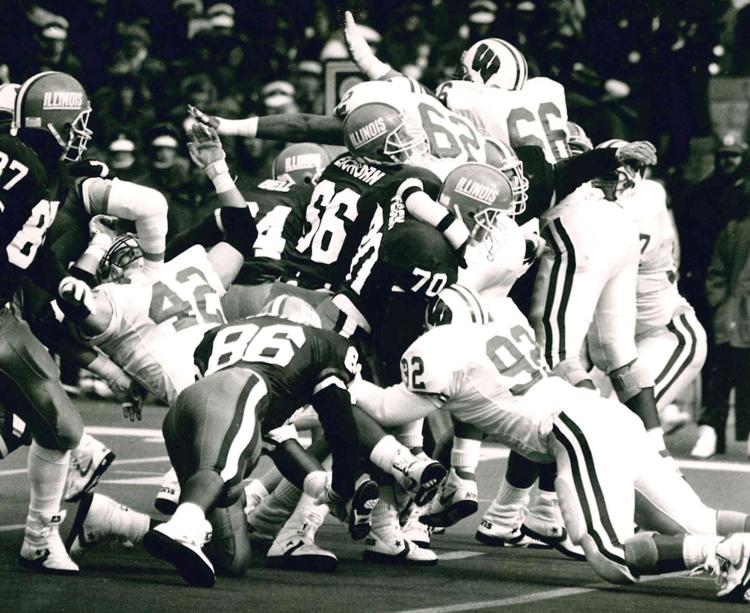 On the run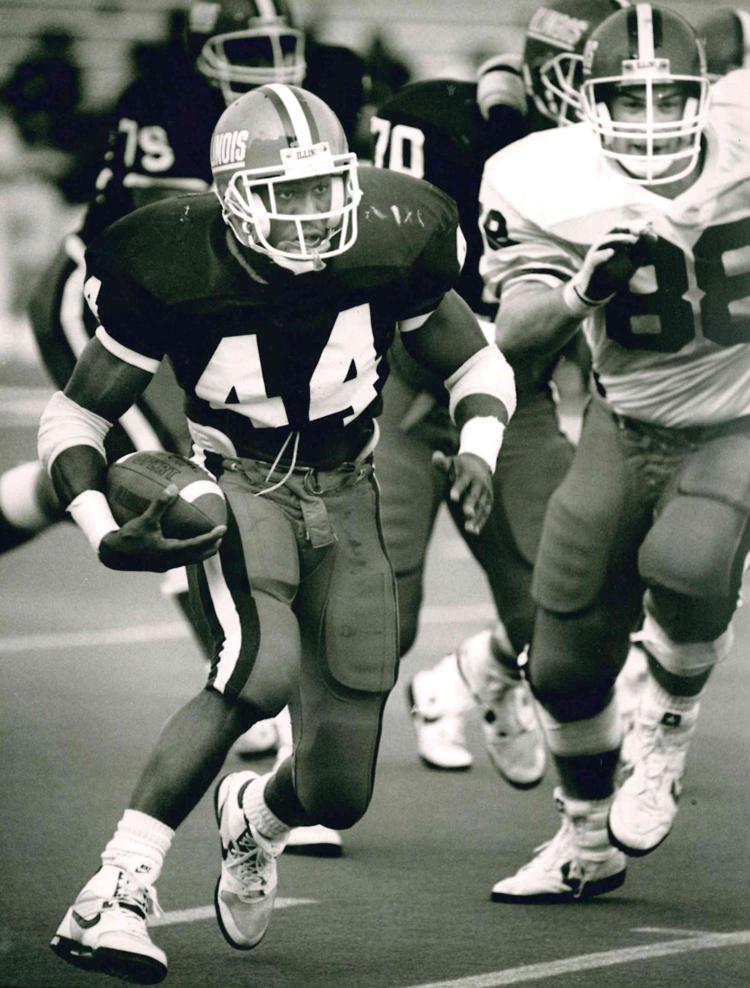 Sack attack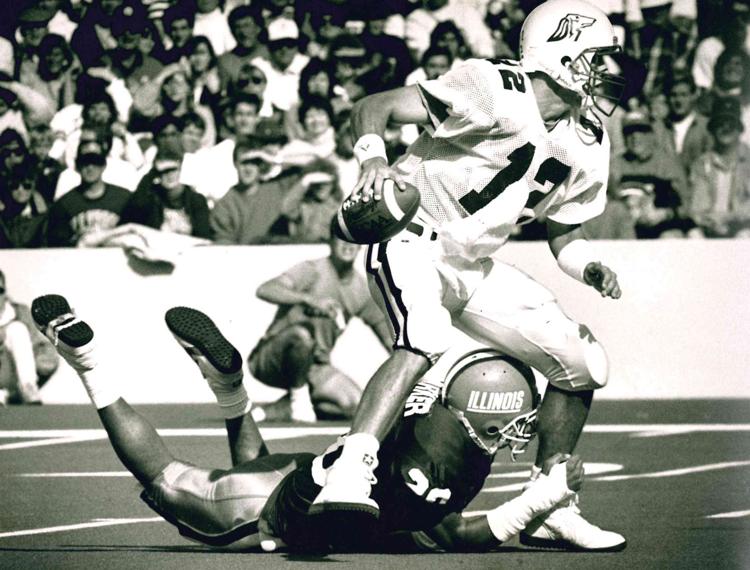 Pileup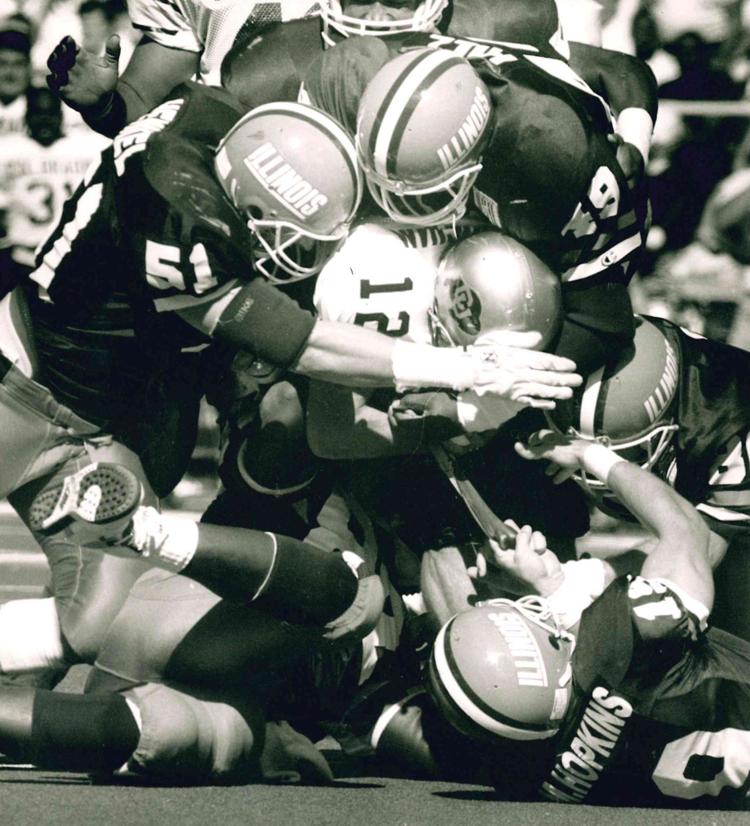 Take that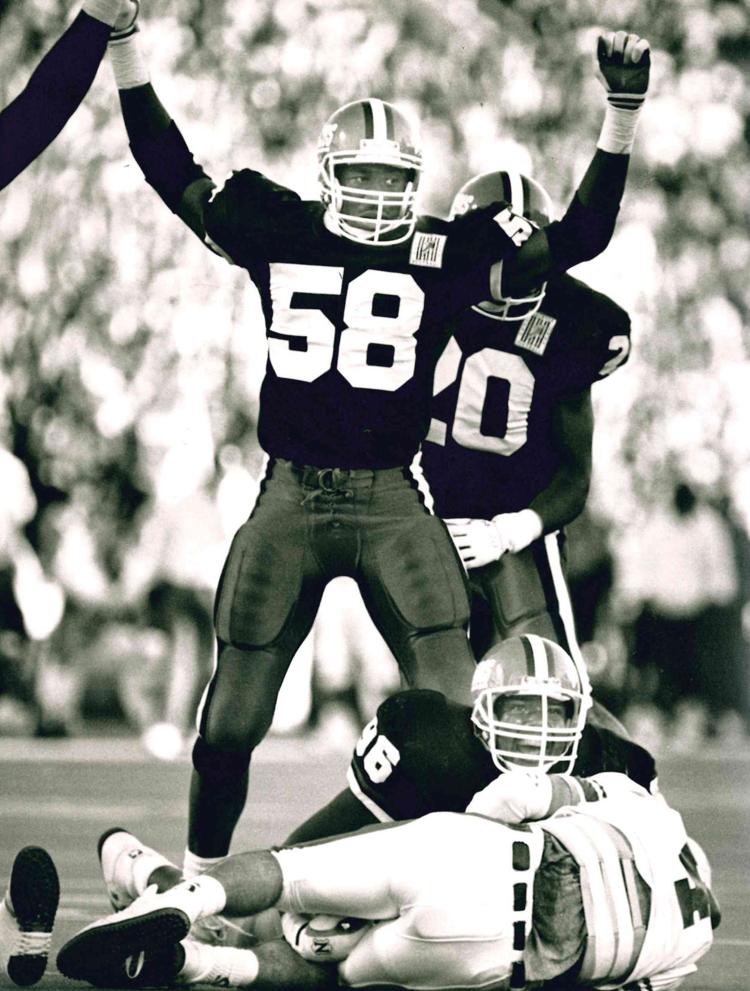 1991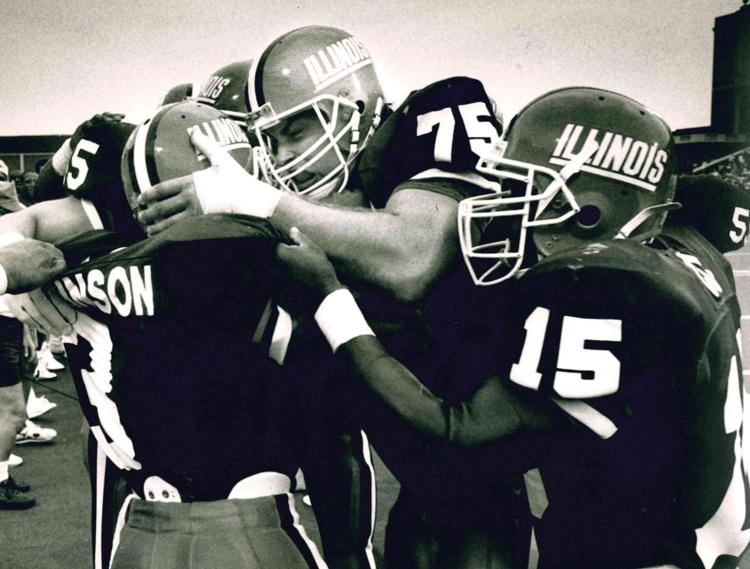 Lean on me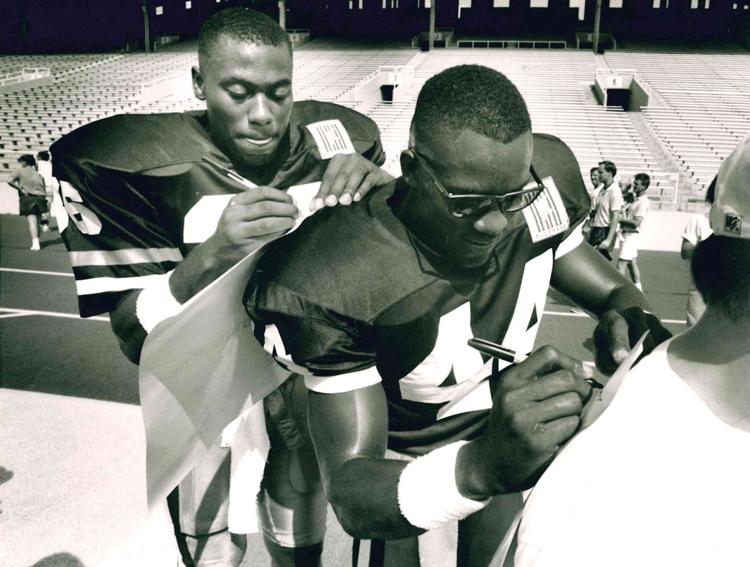 Way to go
1991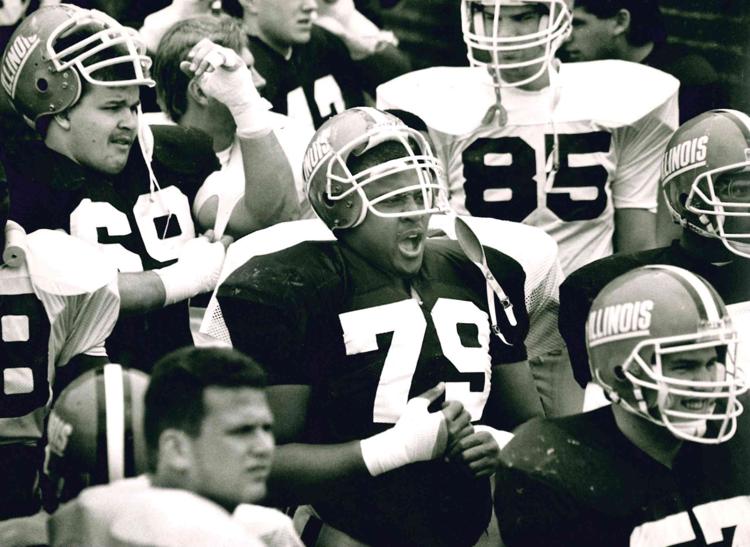 The peoples' choice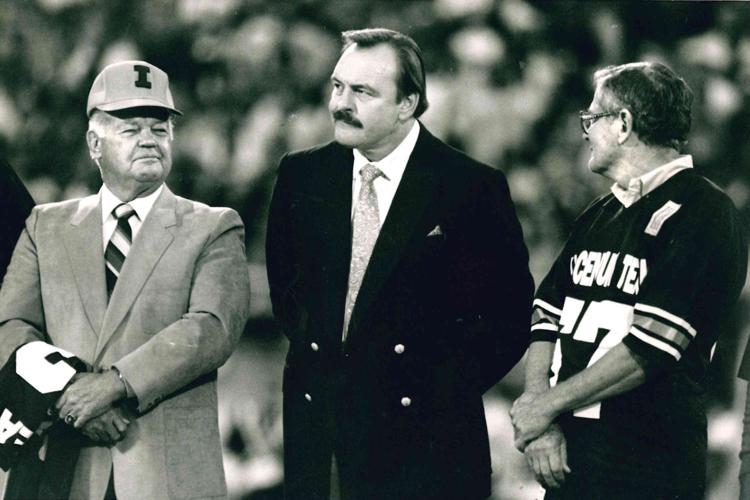 It's good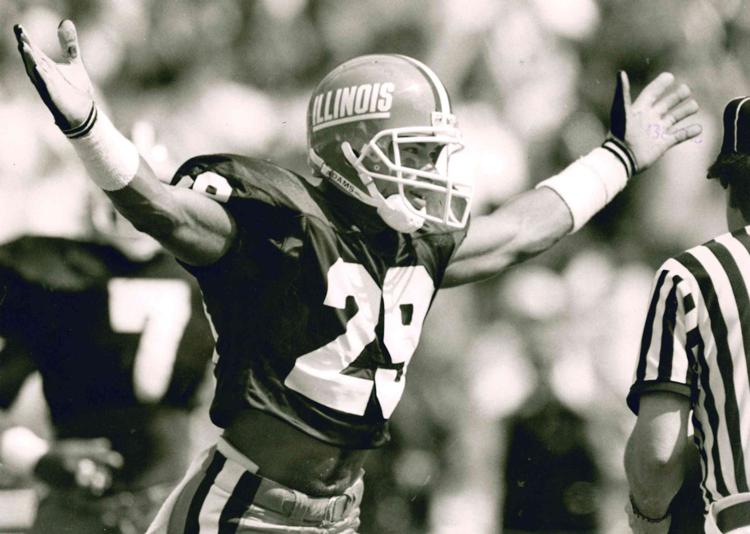 Touchdown Hero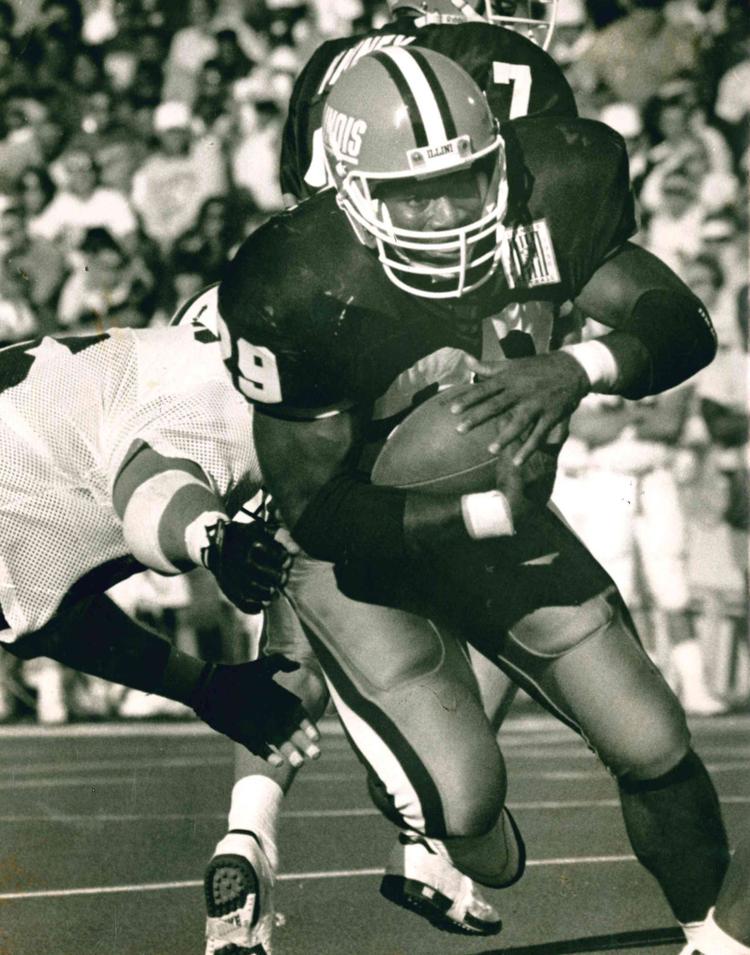 That's Six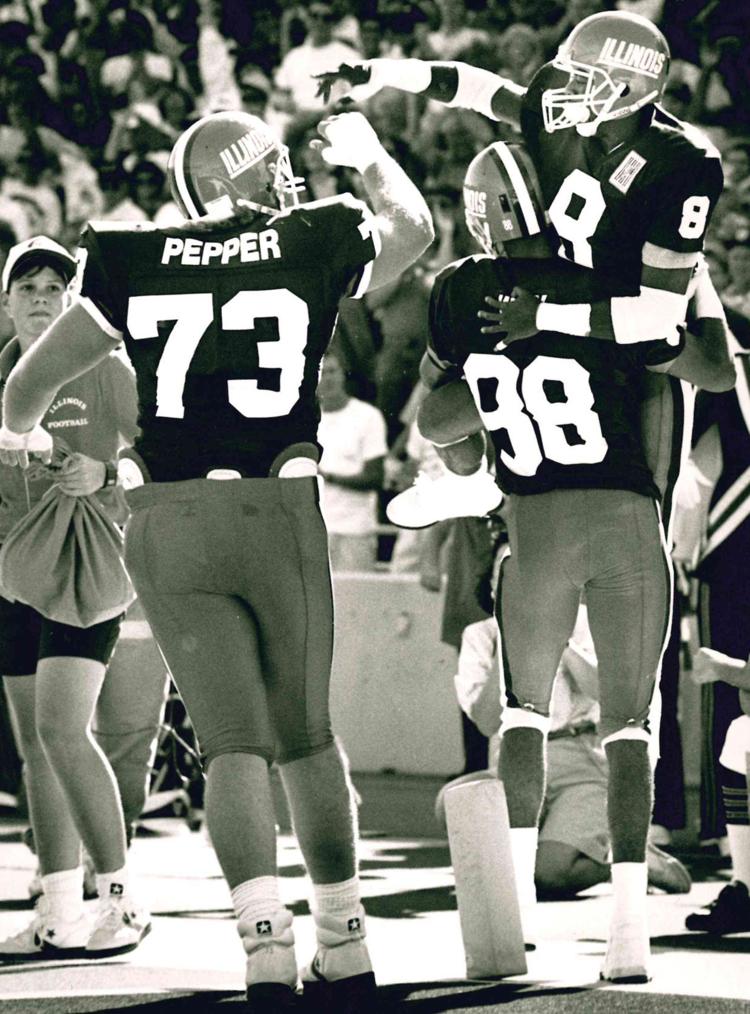 Contact Joey Wagner at (217) 421-6970. Follow him on Twitter: @mrwagner25
Be the first to know
Get local news delivered to your inbox!