CHAMPAIGN — For the first time in almost a calendar year, the Illinois football team enters a game coming off of a win.
The last time? When the Illini traveled to Iowa on Nov. 23, 2019, which ended up being the first of six straight losses. A win last week at Rutgers was massive and gave Illinois a bit of momentum heading into an 11 a.m. game at Nebraska (1-3) on Saturday (Fox Sports 1).
Illinois (1-3) head coach Lovie Smith keeps injuries close to the vest, meaning we won't know the status of offensive tackle Alex Palczewski, linebacker Milo Eifler or defensive end Jamal Woods until just before the game. With just four games left in the schedule (at Nebraska, vs. Ohio State, vs. Iowa and at Northwestern) before champions week, time — and perceived winnable games — is running out.
"I still have high hopes for the team," Smith said. "We didn't have the start we wanted, well all acknowledge that. There's too much football left in the year to really even think about what has happened in the past. The past, that's what it is. Going forward we have a chance to gain some ground, make some ground up. Just excited about this one we have in front of us."
Nearly full roster
All of the players out for contact tracing, including Williams, center Doug Kramer Jr., kicker James McCourt and defensive lineman Keith Randolph Jr., each returned last week. 
Short of injuries, this is the roster Smith envisioned when he touted this as the best team in his five-year tenure. Though younger players got a chance to play while starters were in quarantine, this is the team Smith has been eager to see.
"It's always about the next guy up," Smith said. "Nobody wants to hear about the pain you're going through when things aren't right for you. You just keep moving along. Our guys stayed disciplined throughout and there's always opportunity. That's what some of the players looked at it is, an opportunity. For us, we got a chance to see some players we thought could do some things for us, but it's always good to see them in actual game action. 
"At the same time, I'm glad we got most of our guys back now. This is a team we wanted to play and these are the options we wanted to have each week."
Limiting the big play
Illinois was burned by big plays in the first three weeks of the season, particularly in the pass game. The Illini rank last in the Big Ten in pass defense, allowing 272.8 yards per game.
Some of that can be attributed to the shuffling in the secondary. Nate Hobbs missed the game against Minnesota. So did Marquez Beason. Devon Witherspoon missed the season opener against Wisconsin. The safety position has had its share of rotating, including with Tony Adams going from safety to cornerback several times.
"Playing a little bit harder, I think, is a big part of shutting down the big, explosive plays," Illini linebacker Jake Hansen said. "If they do make a play or makes someone miss in space and someone else is pursuing and shuts it down, it's a minimal gain at most. That's the biggest part of it, I think."
Defense, anyone?
The Nebraska offense has taken advantage of big plays against Illinois in each of the last two seasons. The Cornhuskers ran up 606 yards of offense in a 2018 win in Lincoln and 674 in last season's win against Illinois. Though Nebraska didn't do much to stop Illinois in either game. In 2018, Illinois had 509 yards of offense with 383 coming on the ground. Last year, Illinois had 299 but lost by just four points.
"It's on record what they've done to us that last couple of times we've played them," Smith said. "We haven't played well enough. They've played outstanding football the last couple of times we've played against them. That's why we're anxious to see if we can slow them down just a little bit, more than we have in the past."
While Illinois' quarterback situation remains unclear to the public at large, Nebraska's situation is also interesting. Redshirt freshman Luke McCaffrey started last week in place of Adrian Martinez, who has torched Illinois in recent years. It's entirely possibly both teams rotate two quarterbacks on Saturday.
McCaffery, like Williams, is a bit unproven as a passer but gives Nebraska a strong running threat.
 "They got a new quarterback out there right now, McCaffery," Hansen said. "That was pretty interesting because Martinez was the guy for a pretty long time. It will be a good matchup. They obviously like to get out in space. A lot of quarterback runs with McCaffery as well. They're going to try to get his legs involved. It will be a good one for us."
---
🏈 32 historical Illini photos
Looking up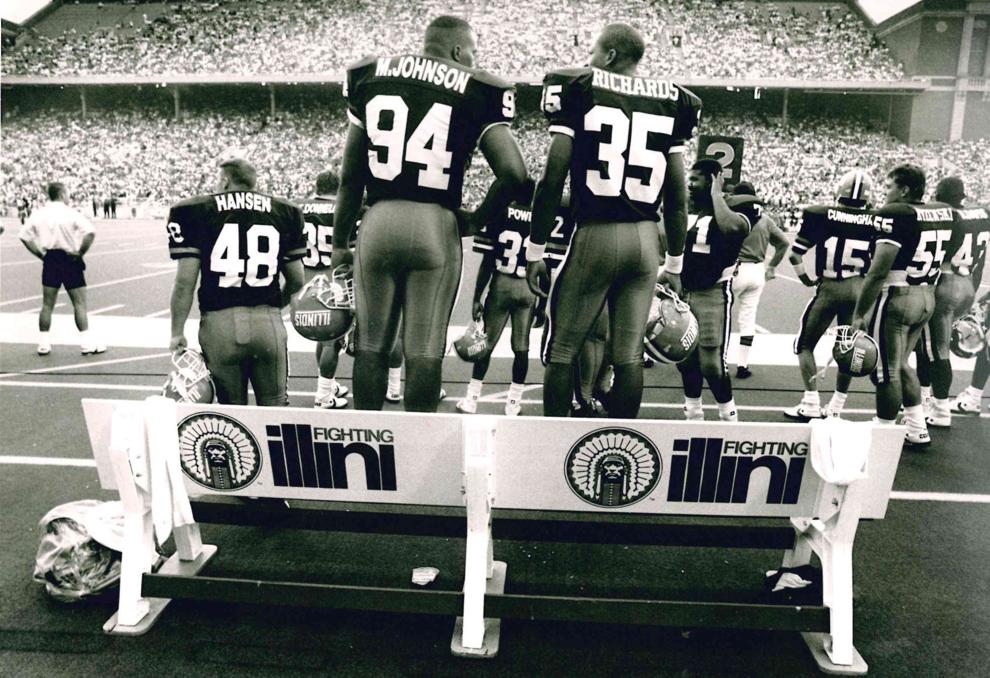 Good Block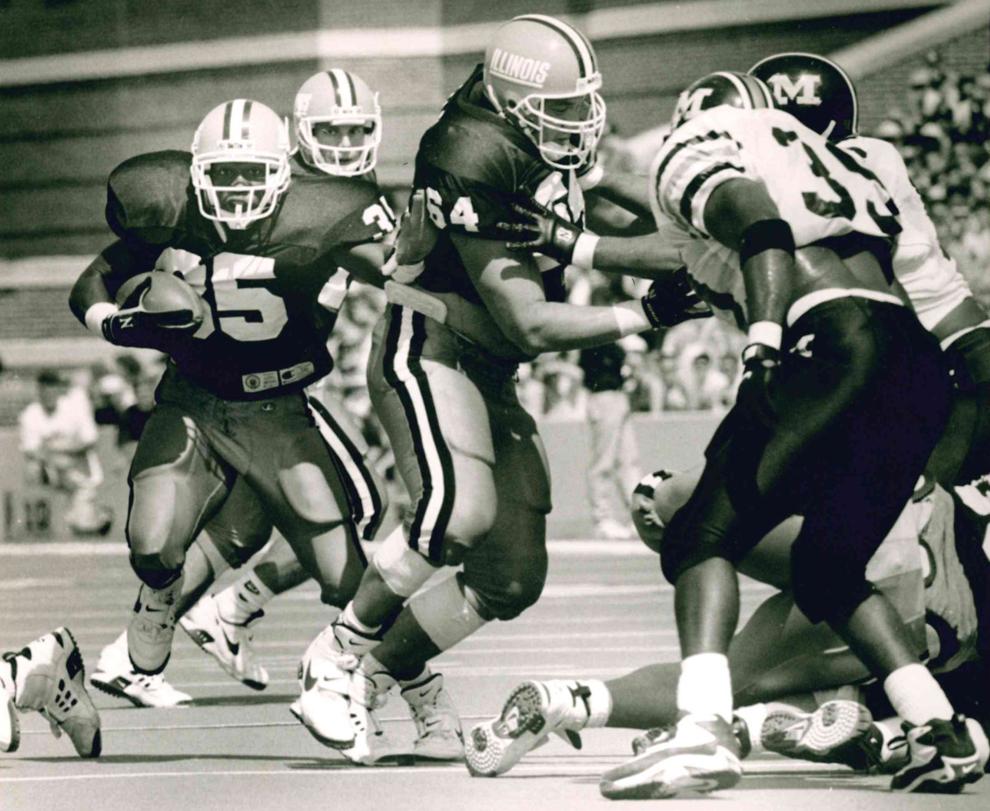 Taking a Dive
On the loose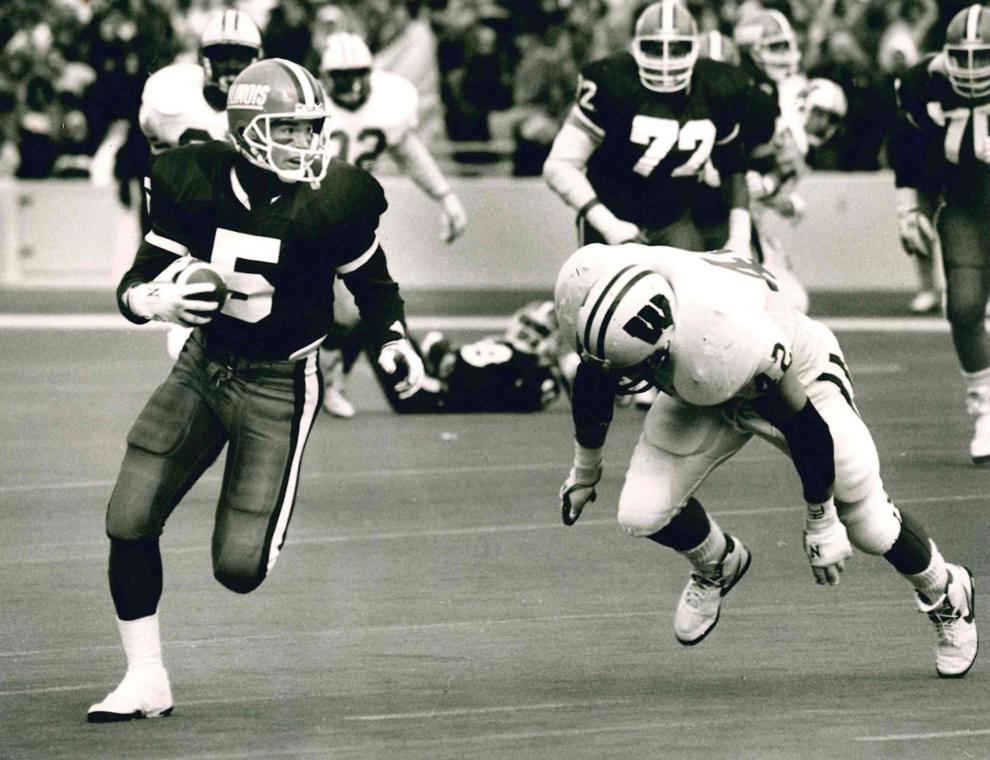 University of Illinois Football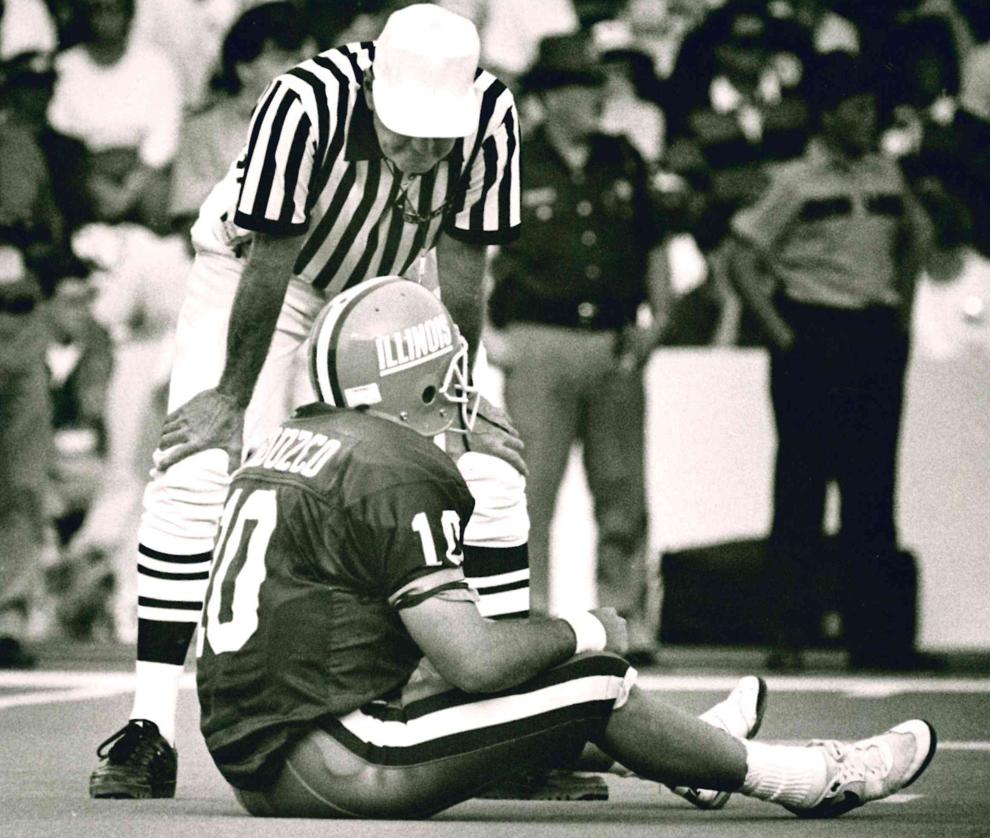 Coming at ya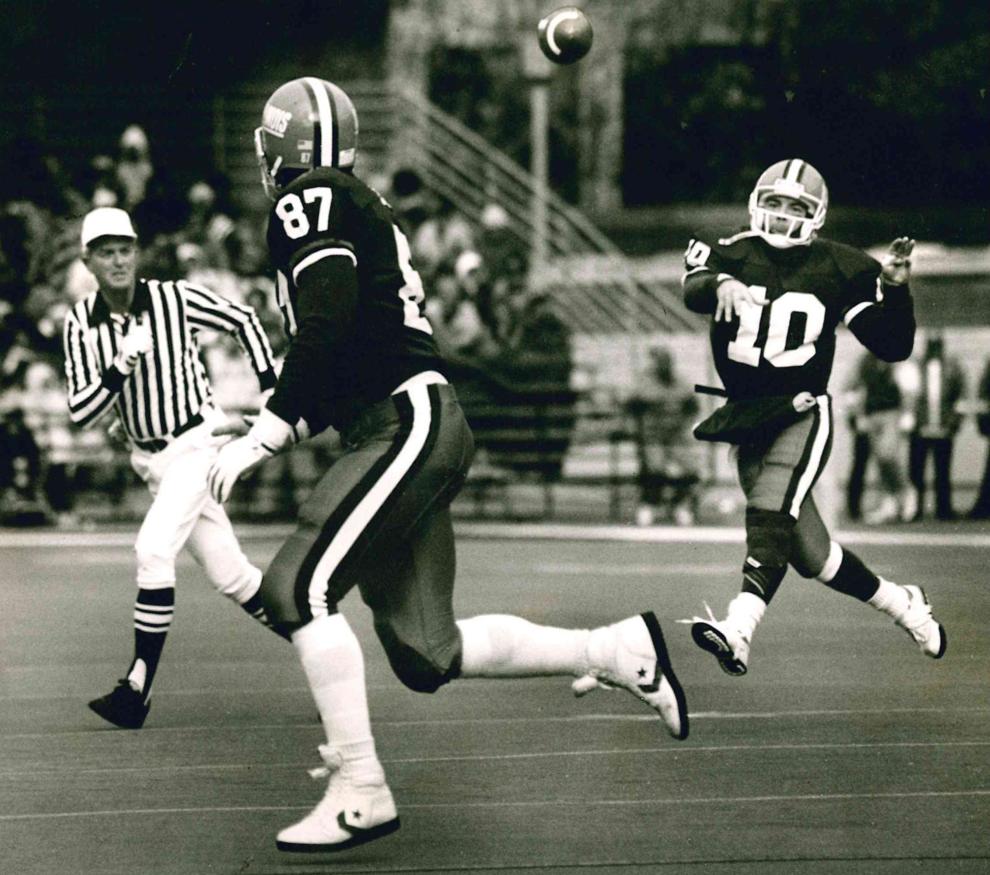 To run
Joyous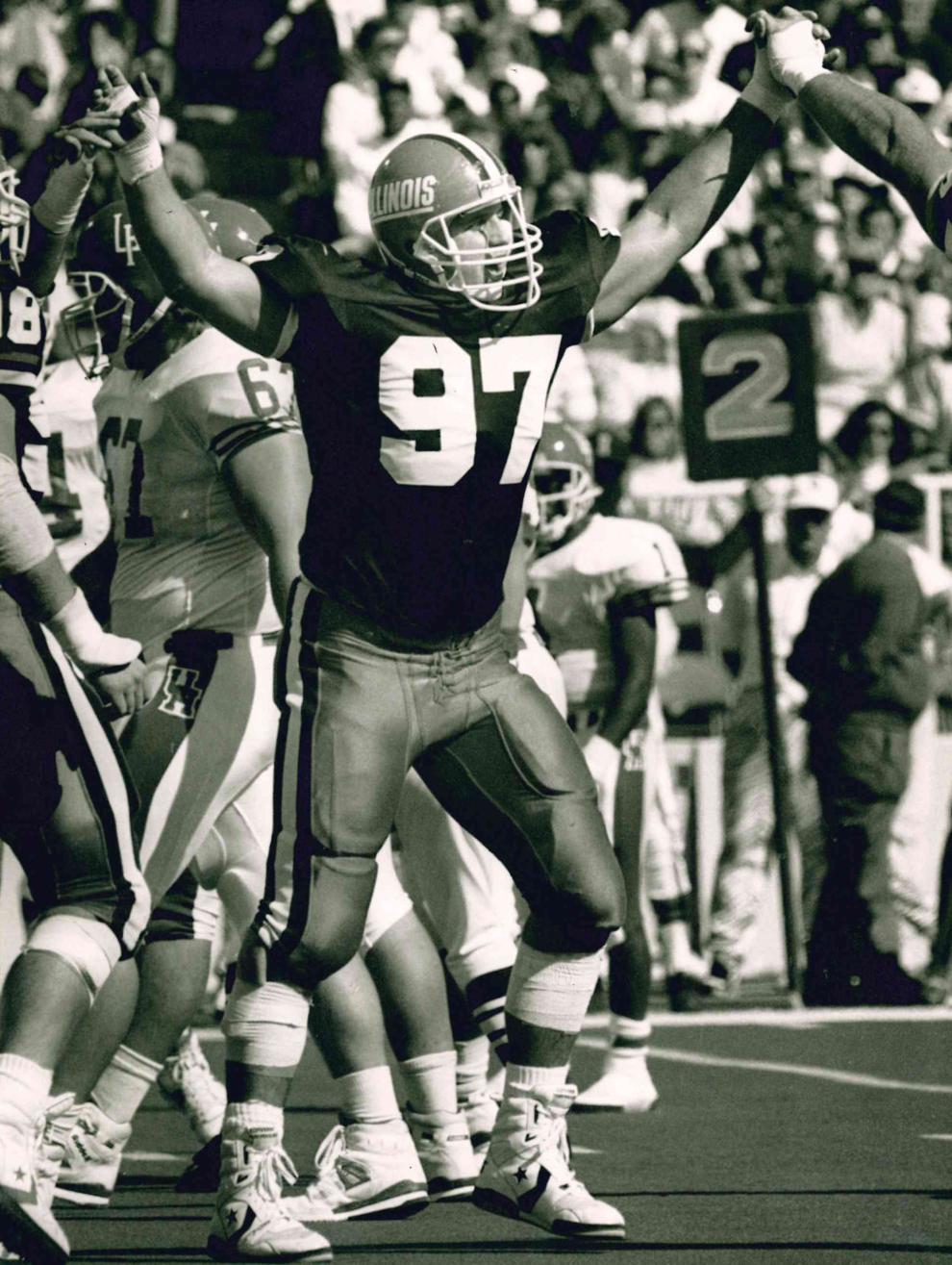 Lester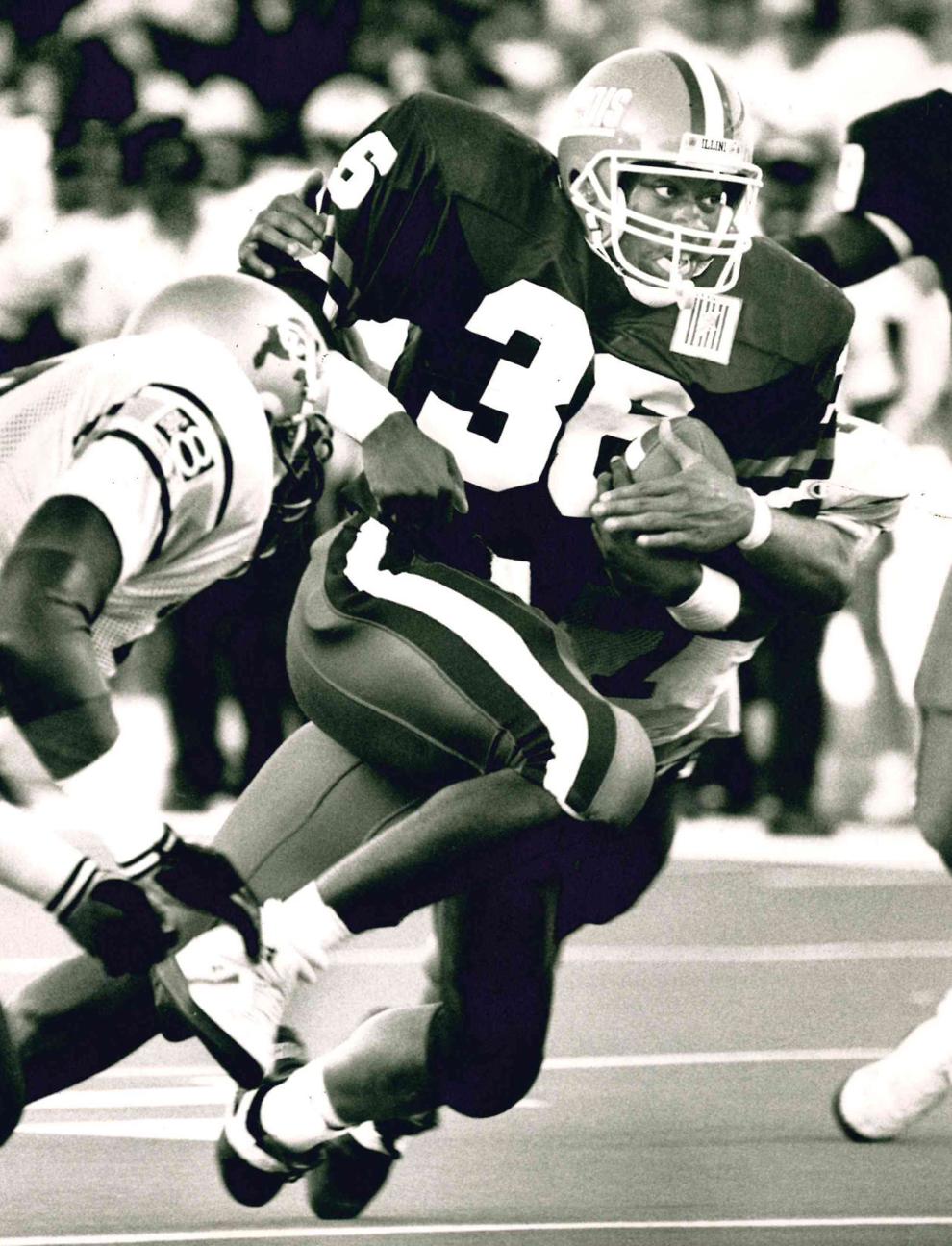 Sack attack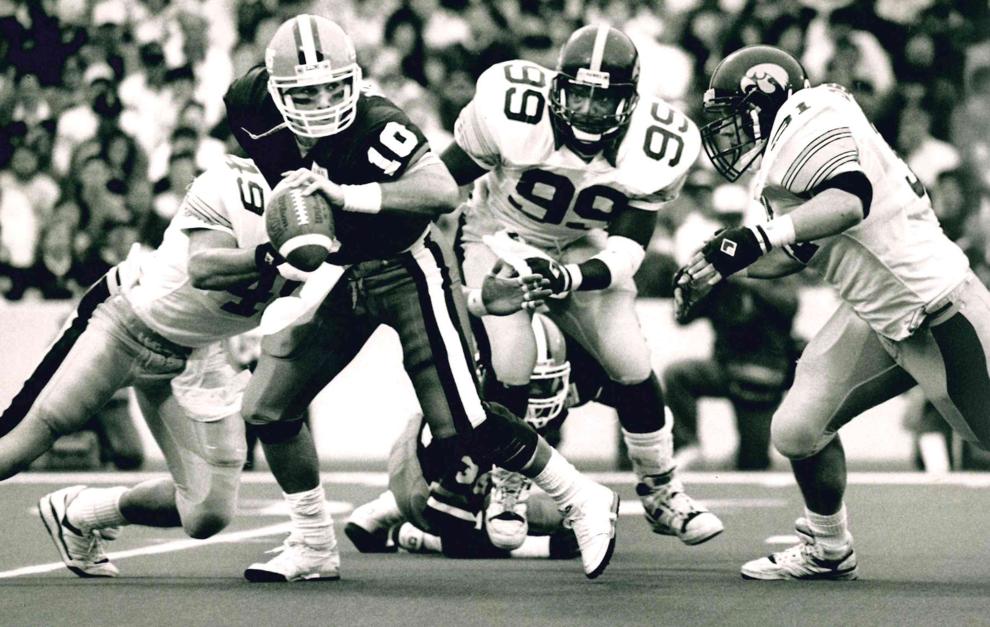 Waiting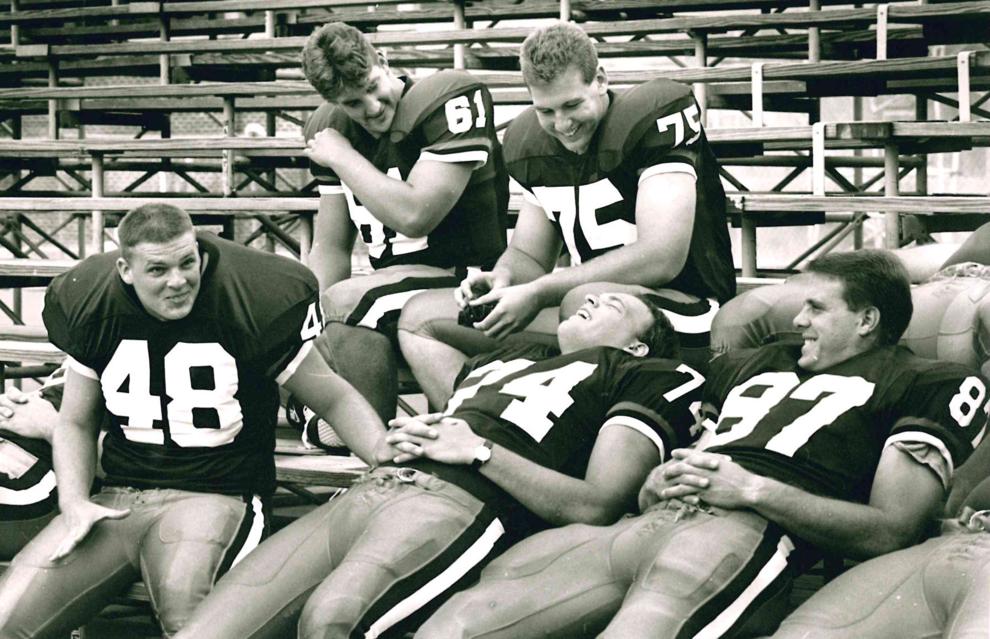 A coming through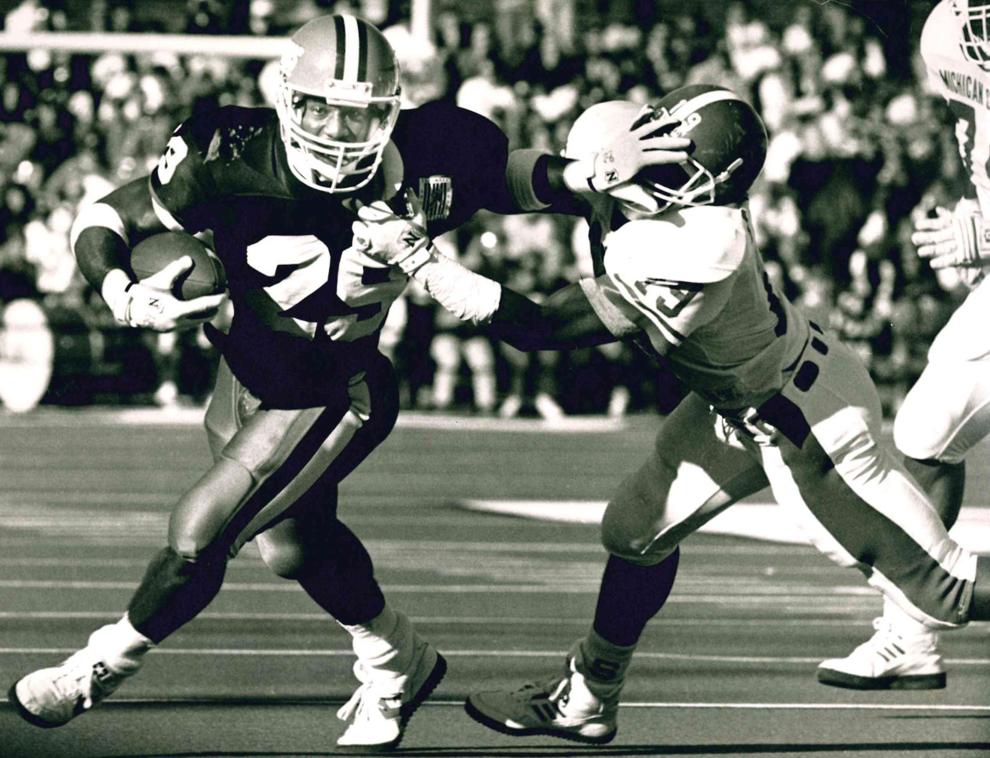 Sideline maneuver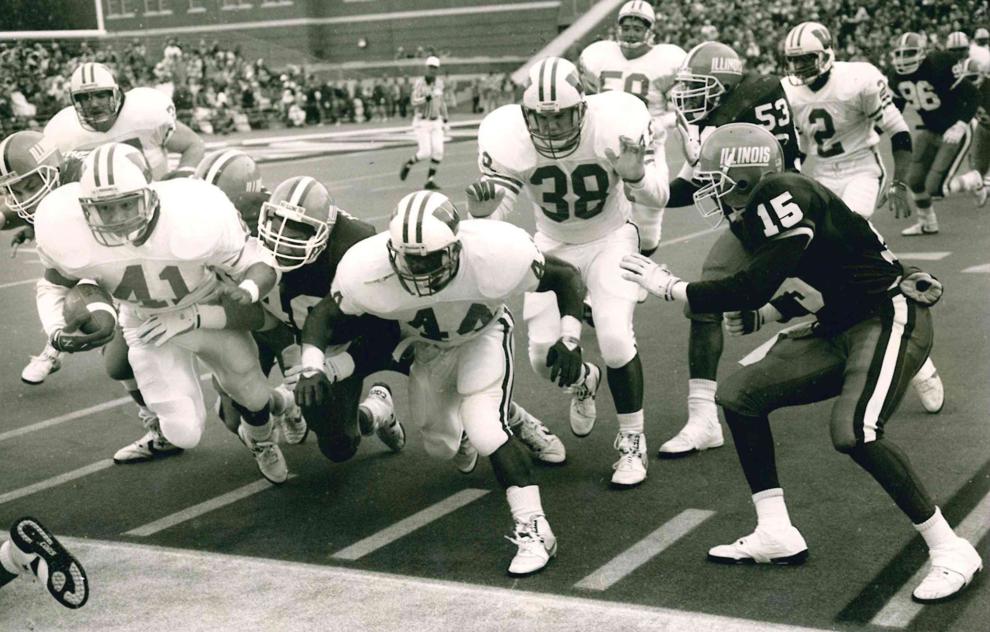 Mowing them down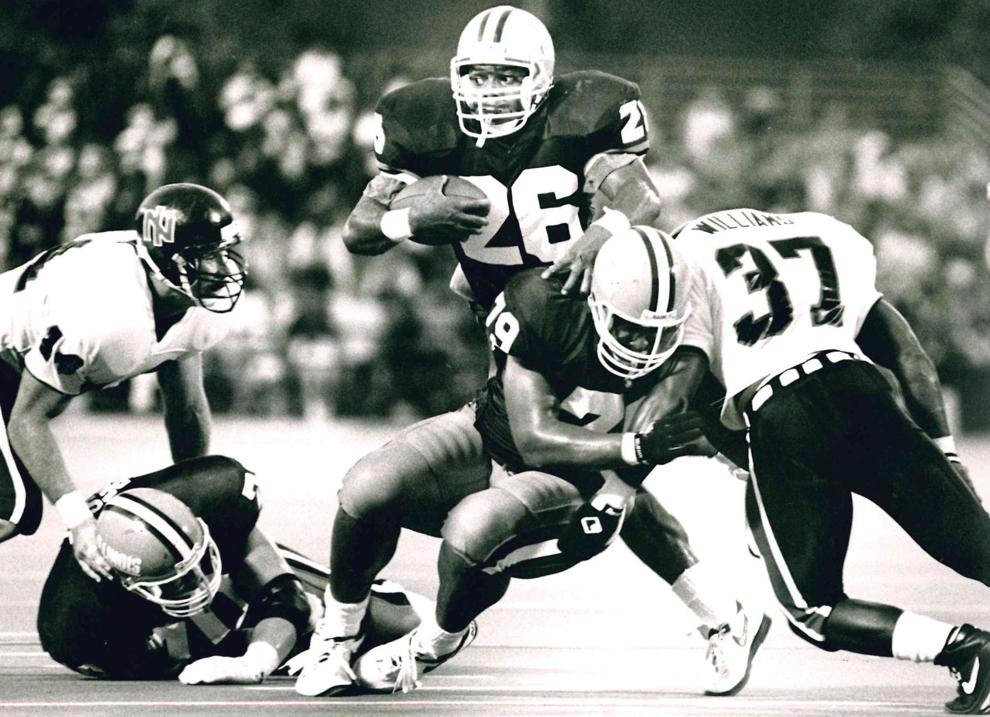 That's my buddy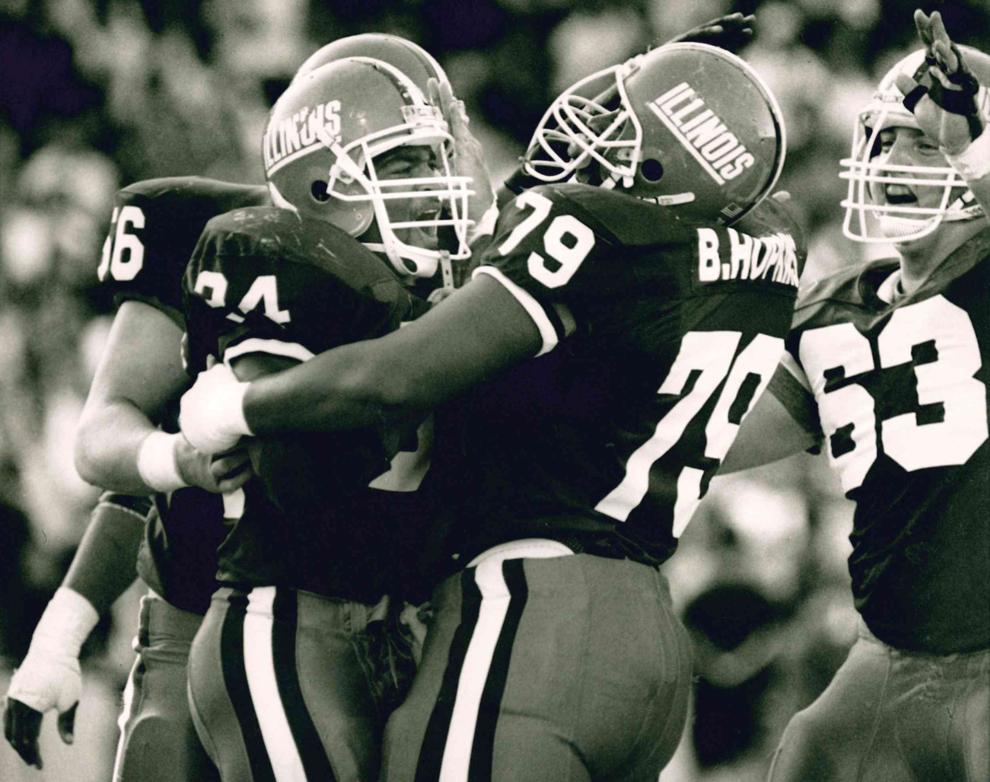 1992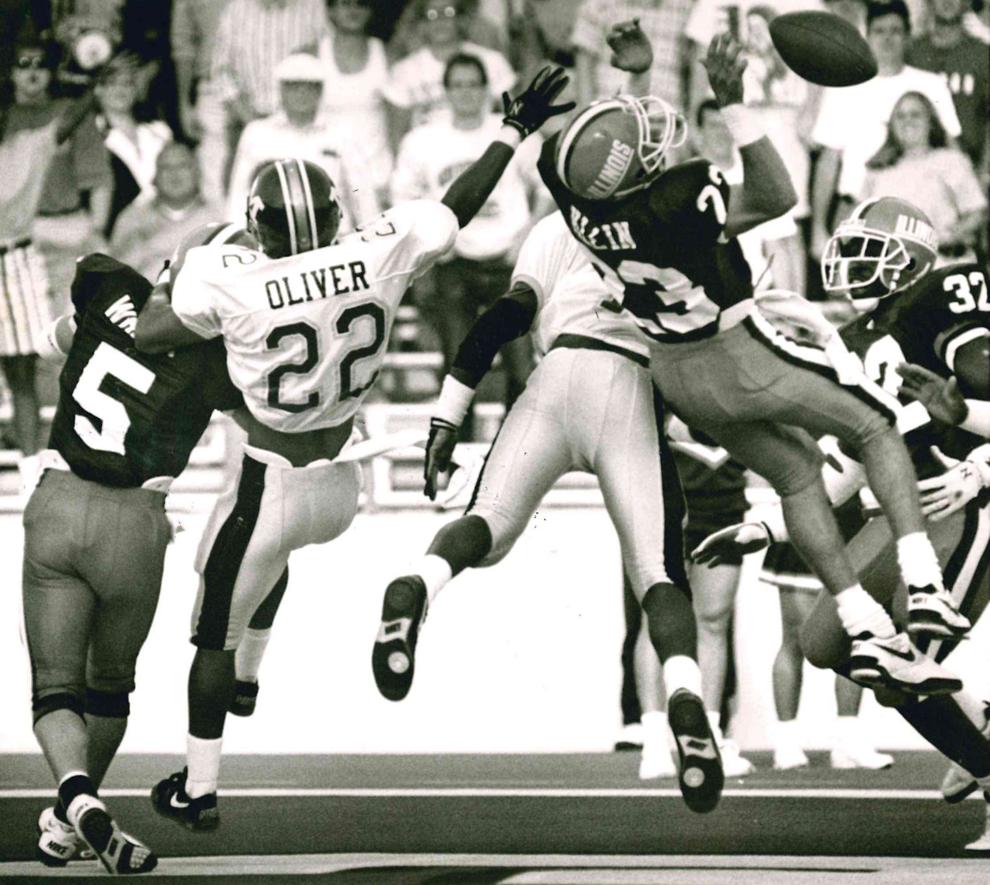 Traffic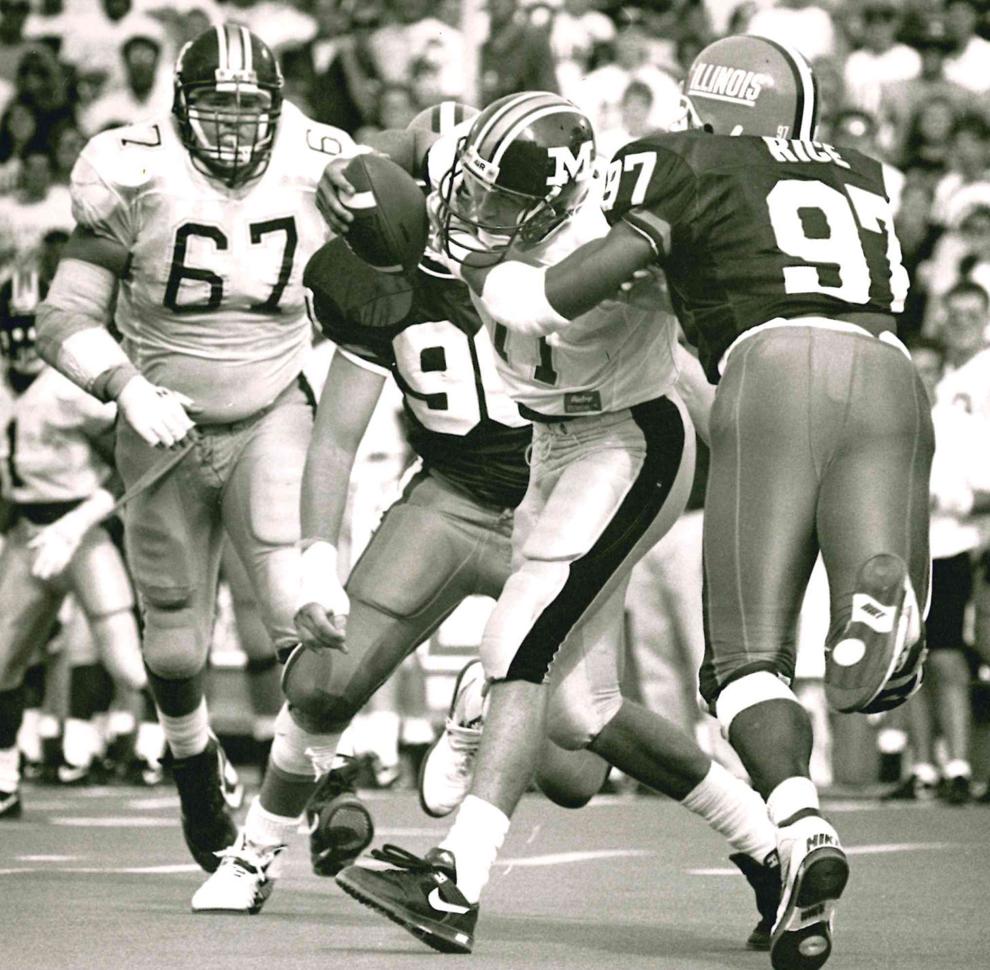 Busting through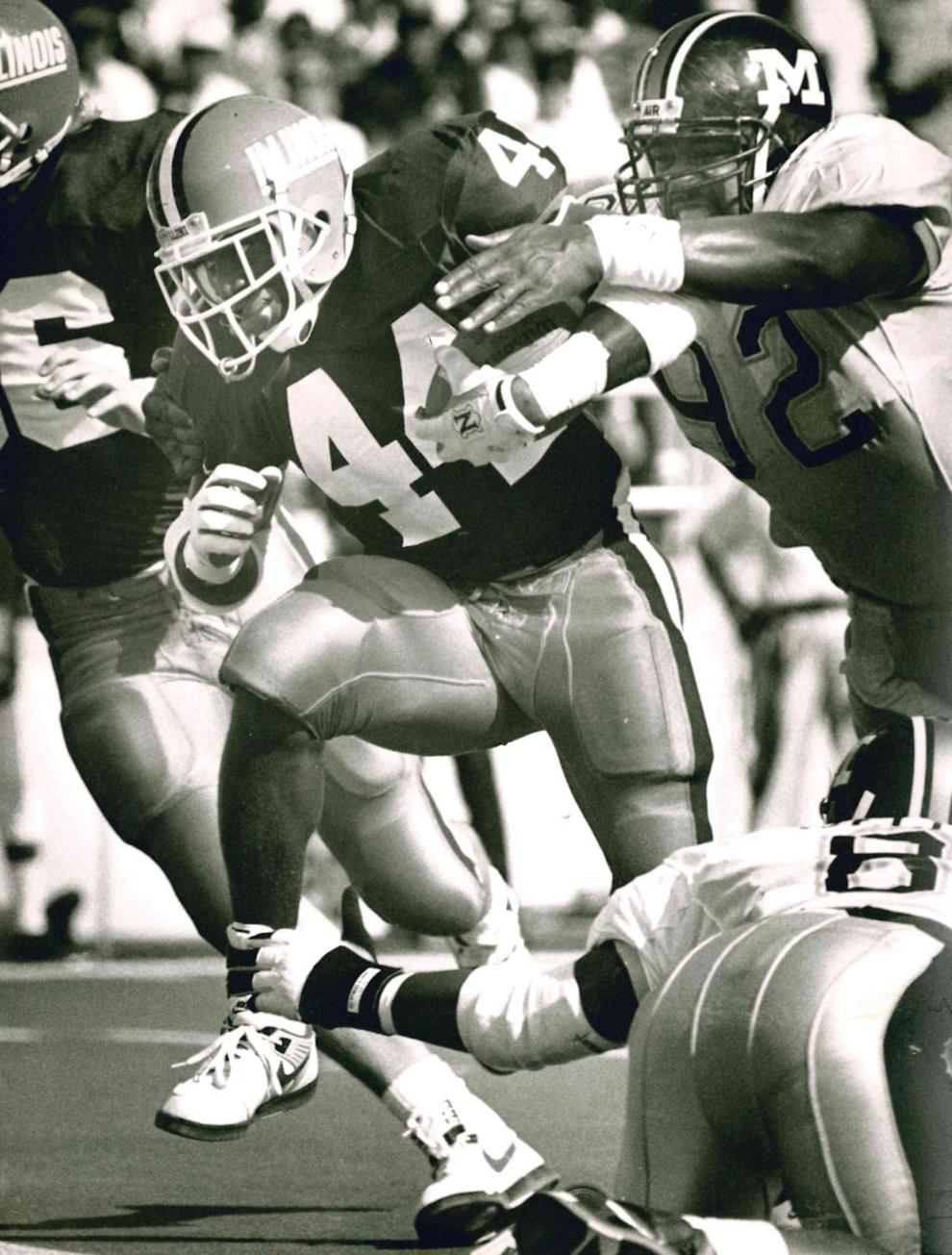 Final Exit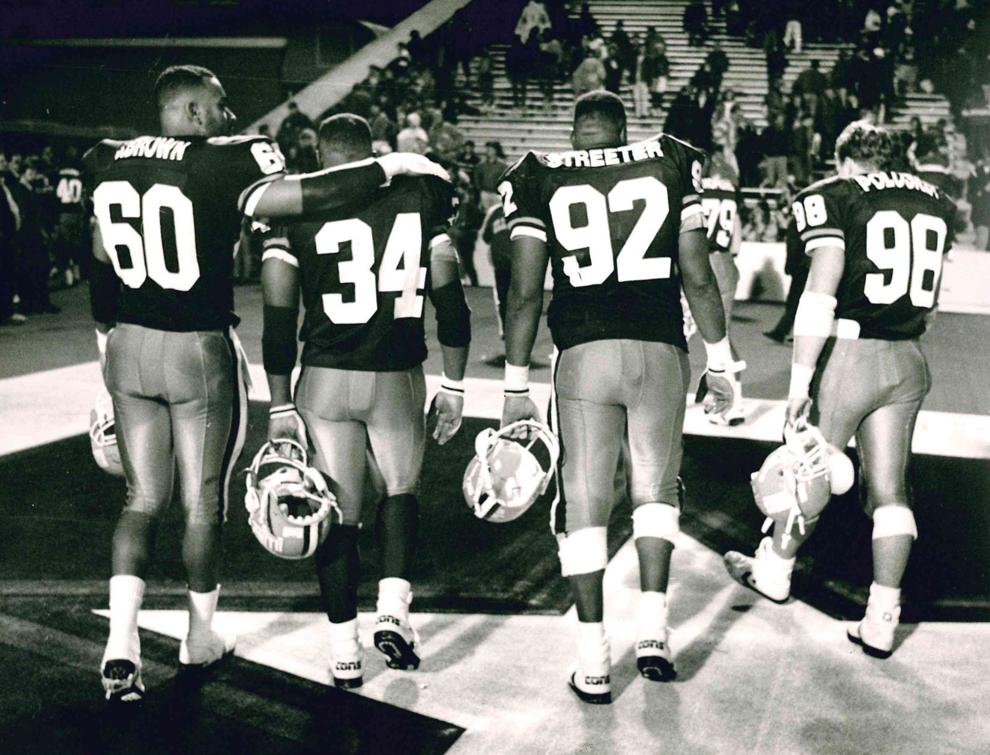 Scrum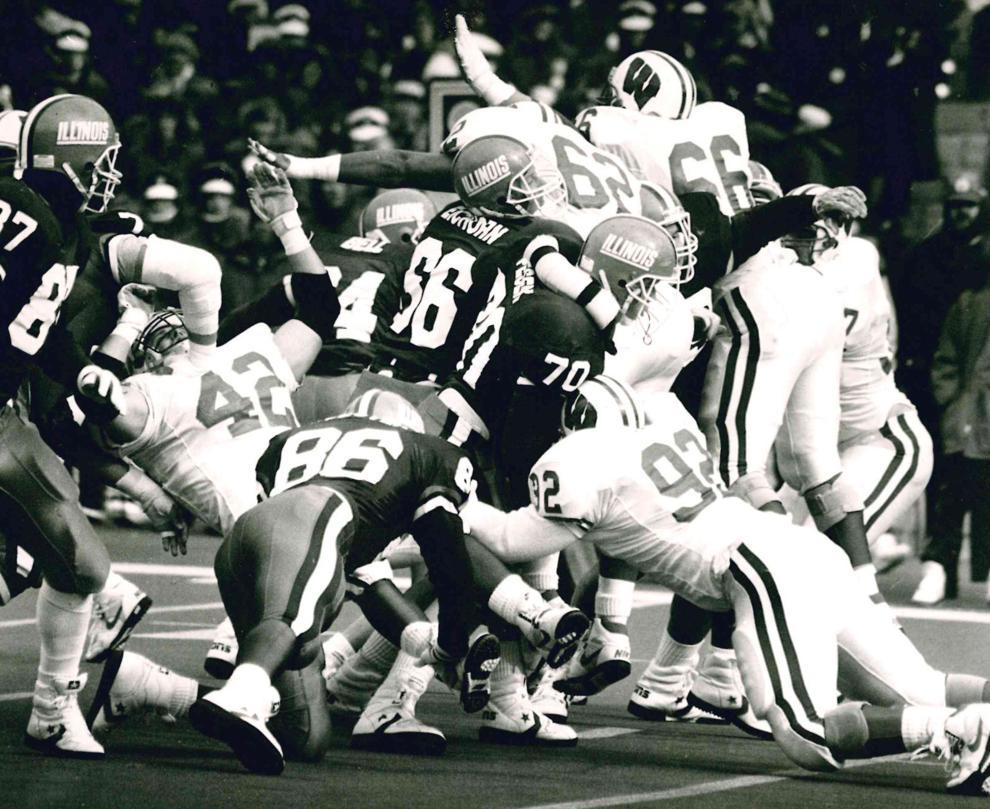 On the run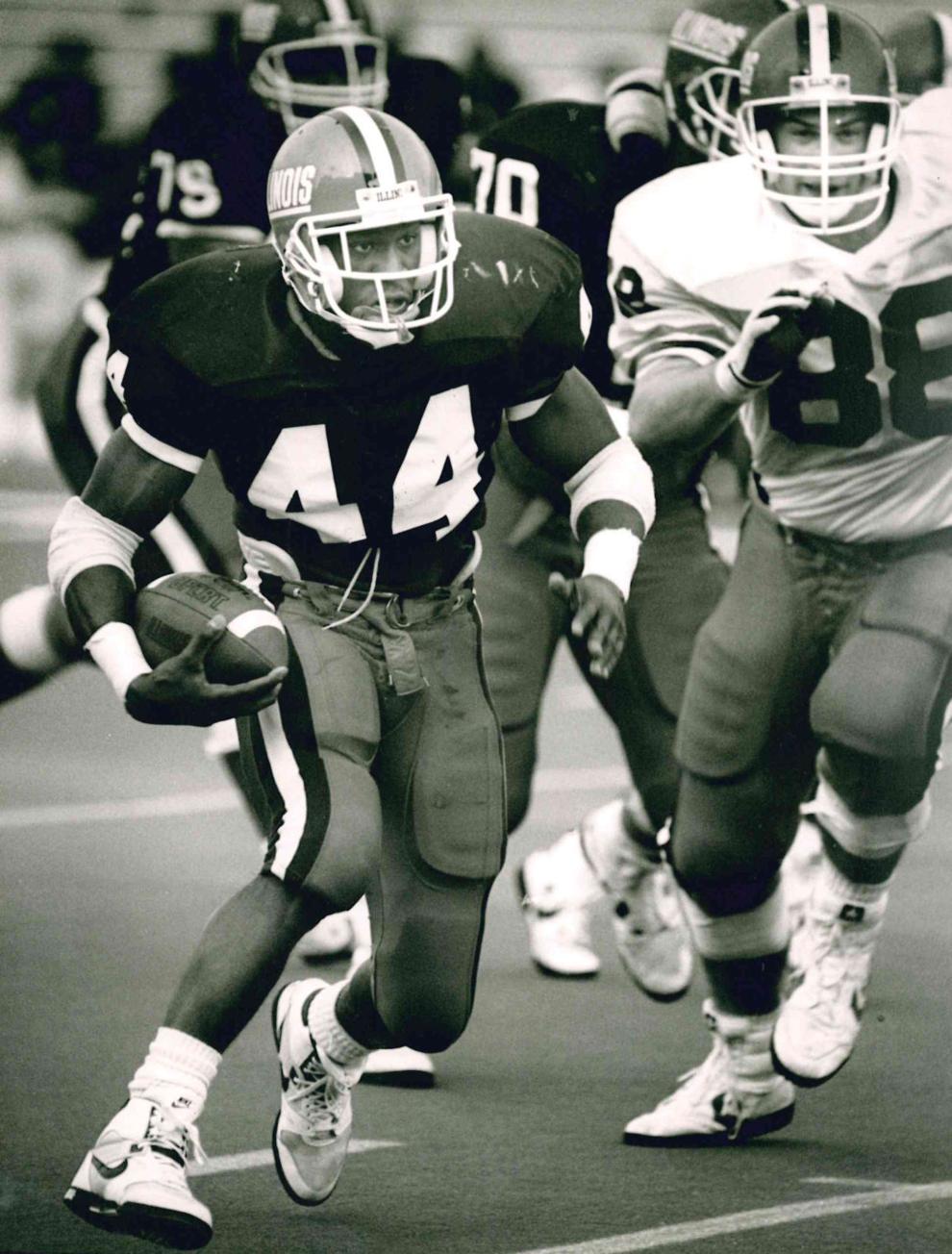 Sack attack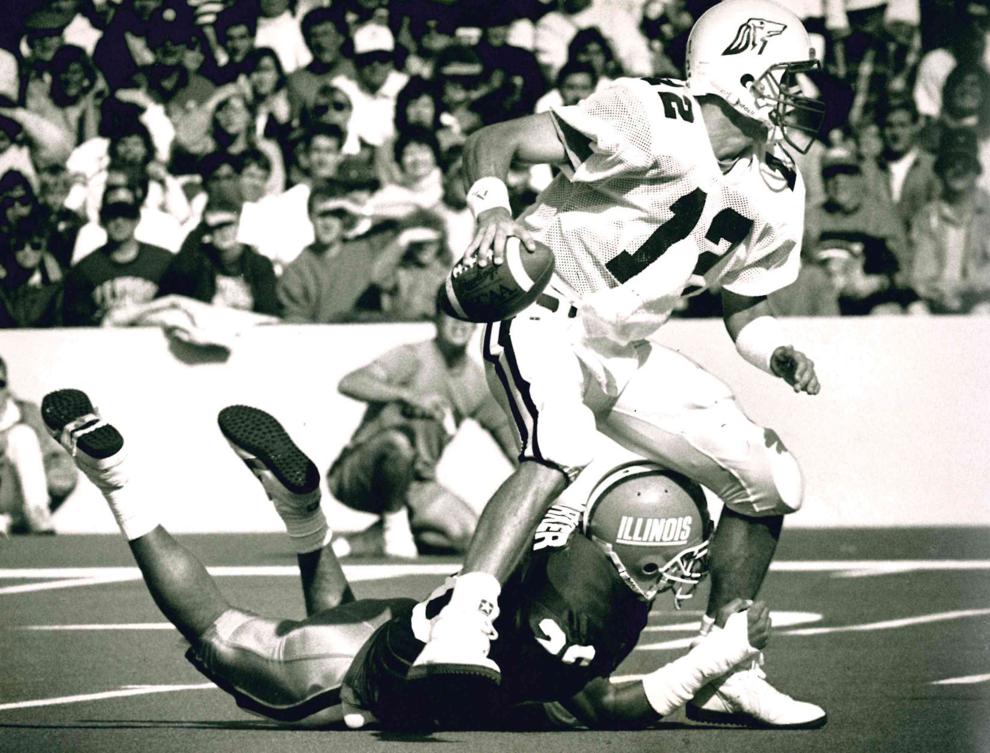 Pileup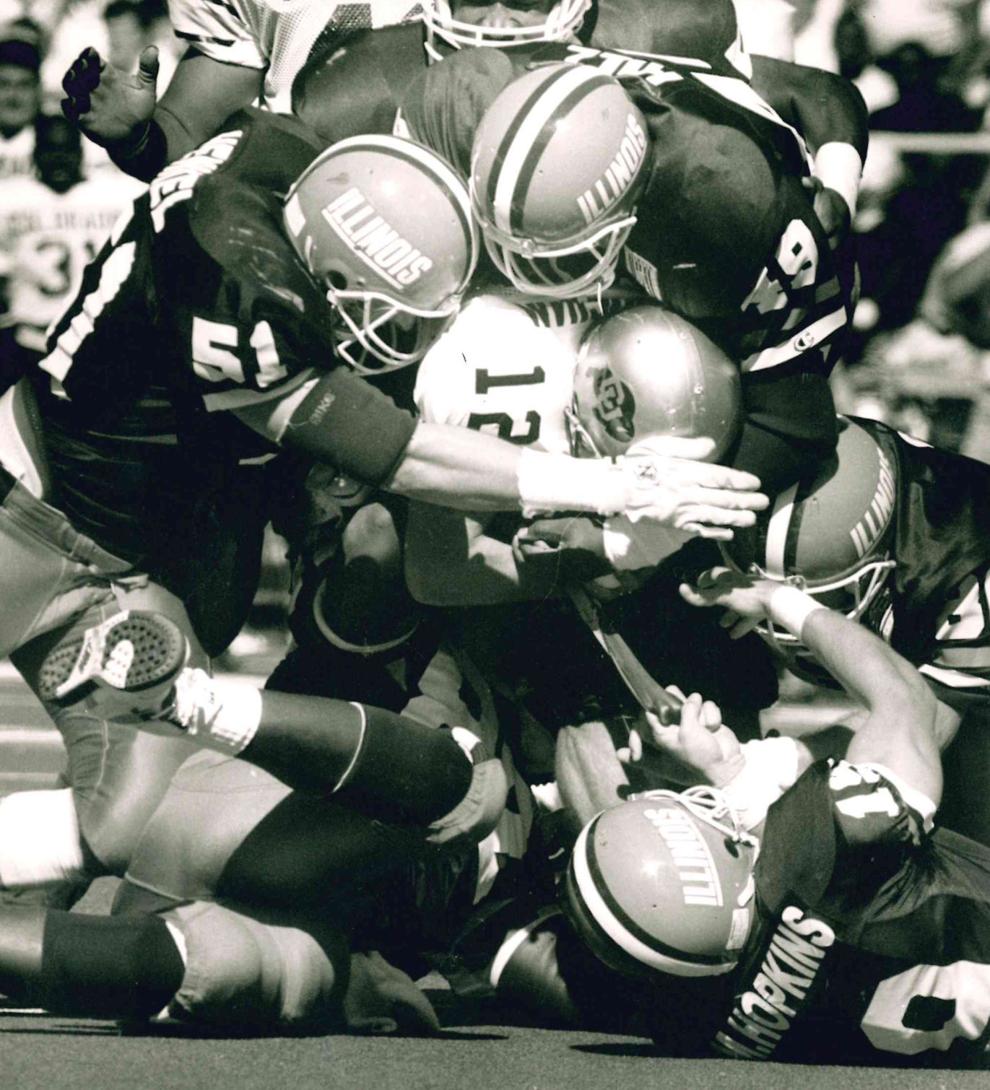 Take that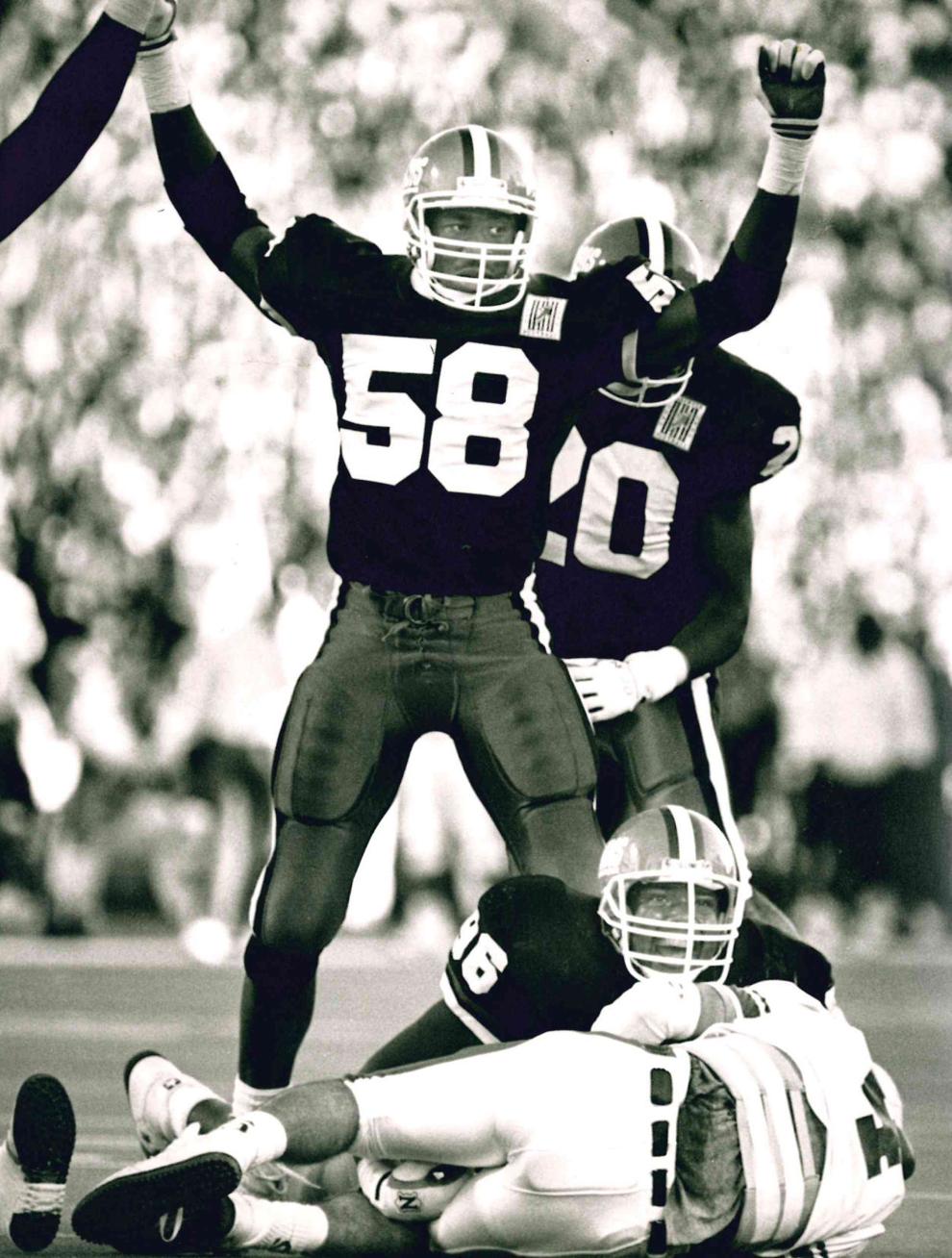 1991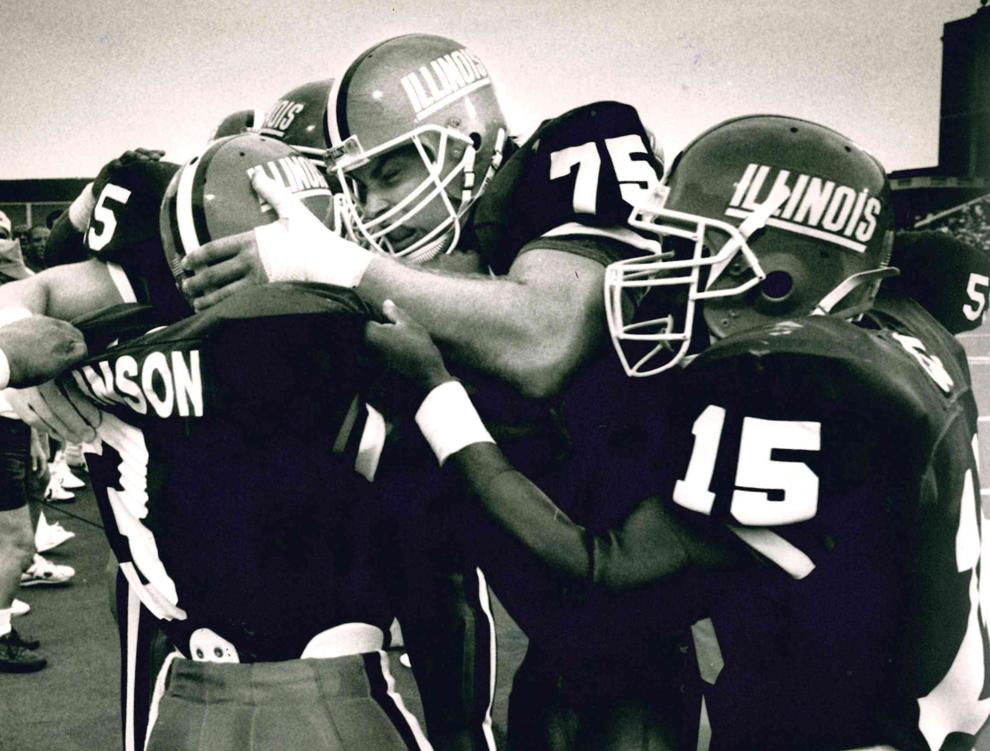 Lean on me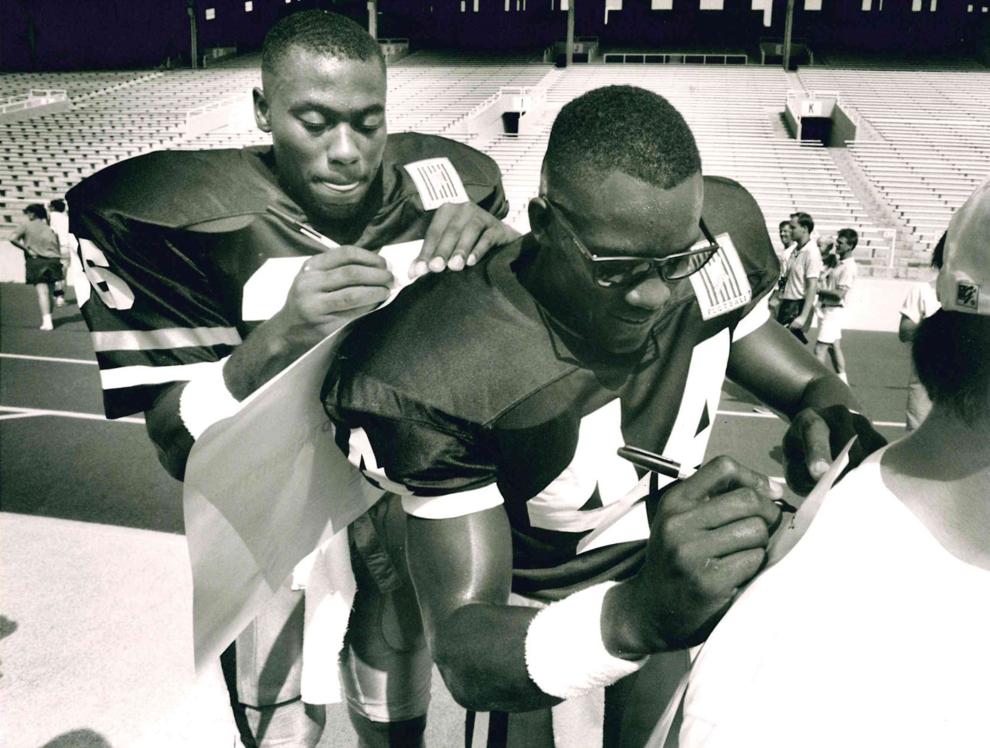 Way to go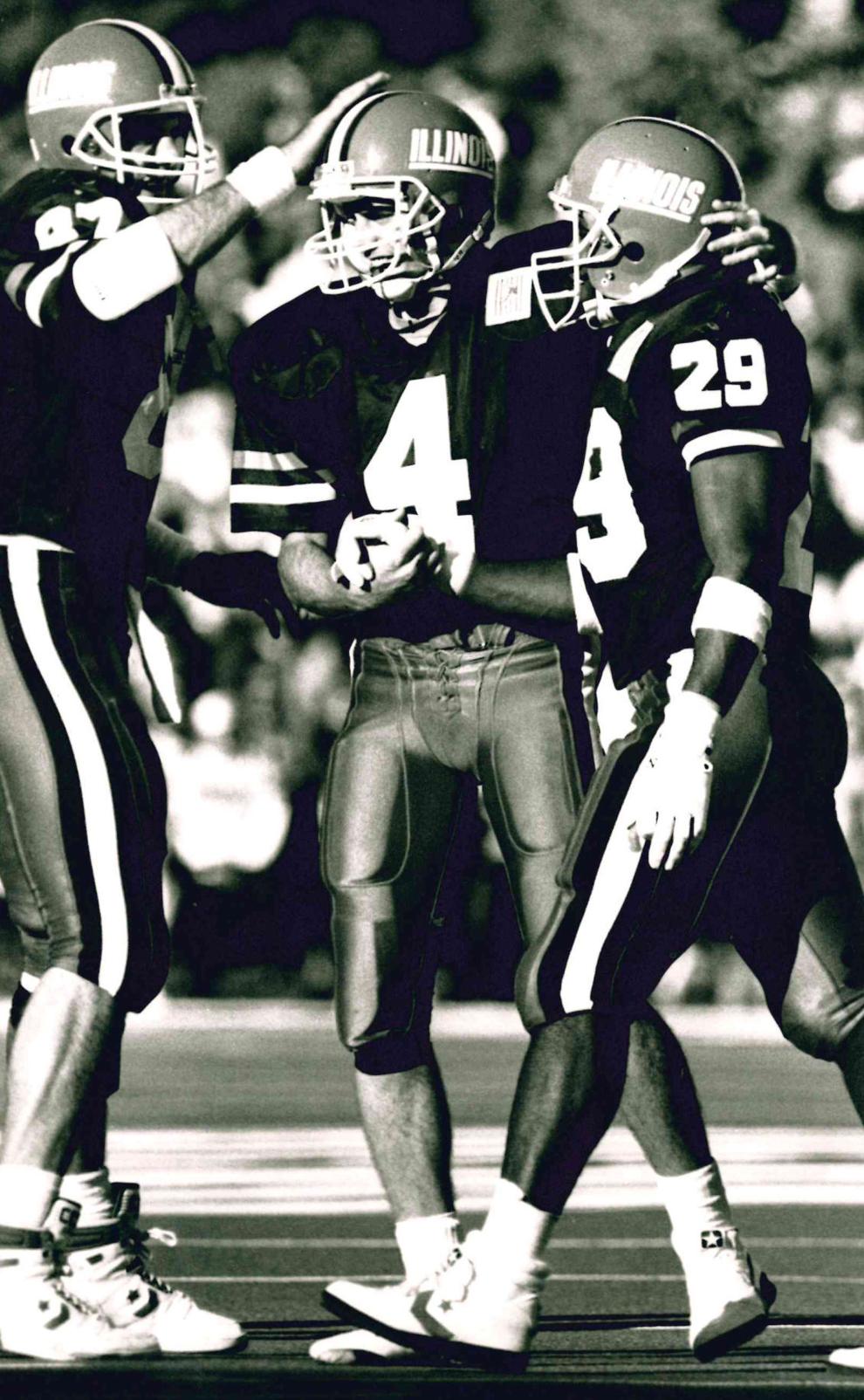 1991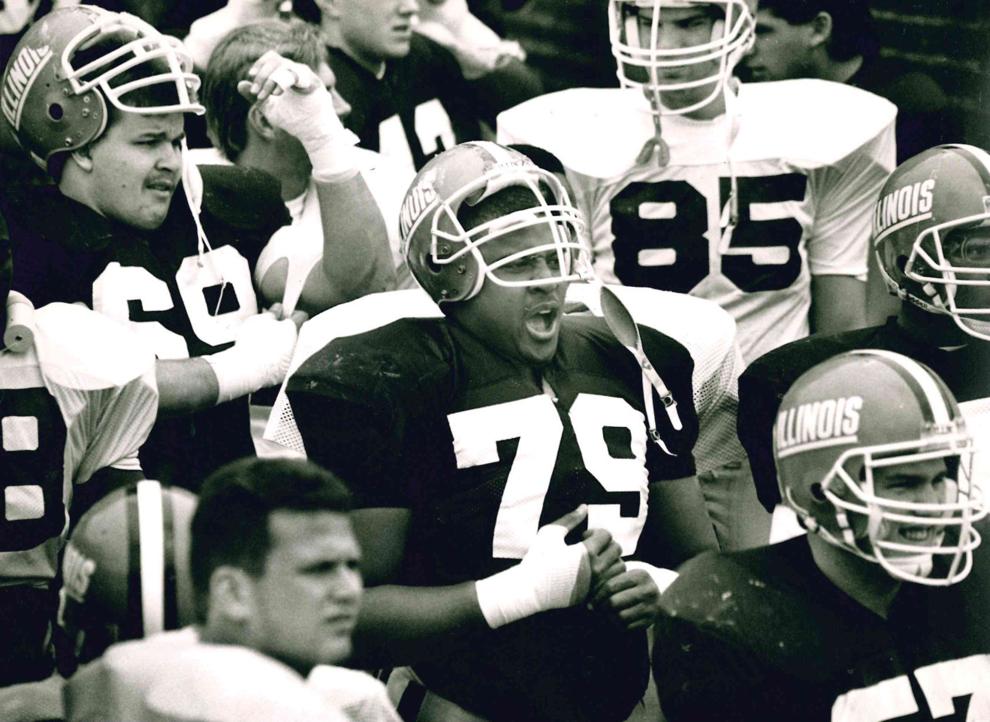 The peoples' choice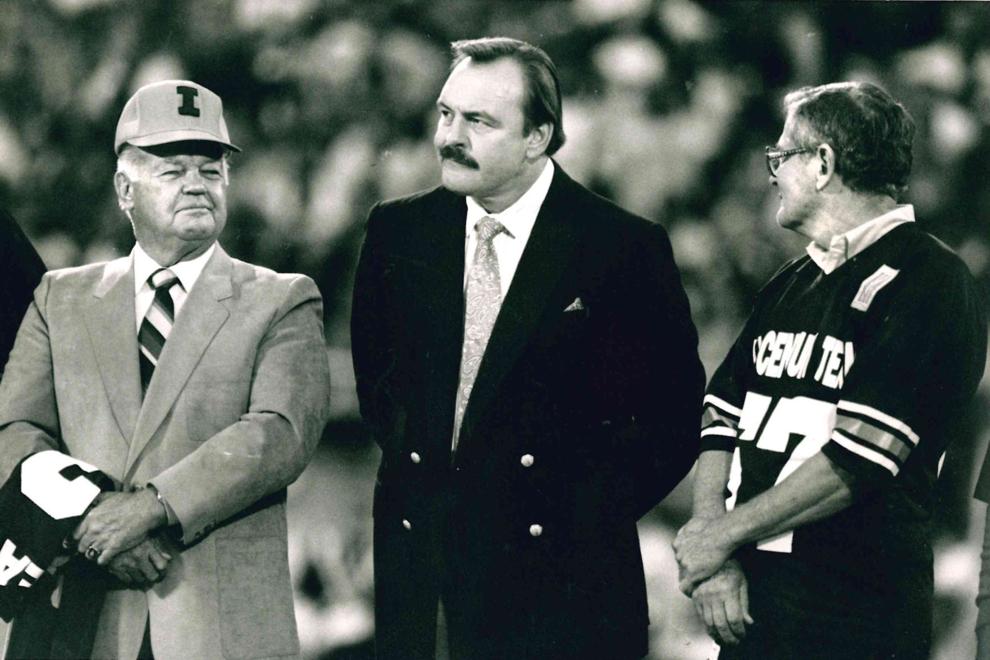 It's good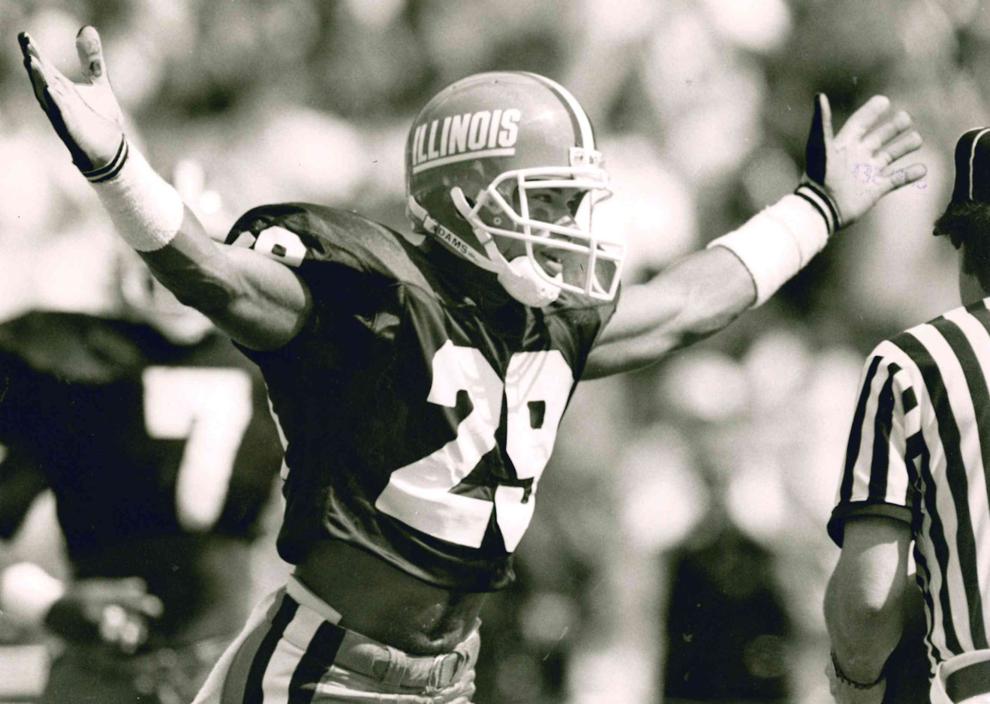 Touchdown Hero
That's Six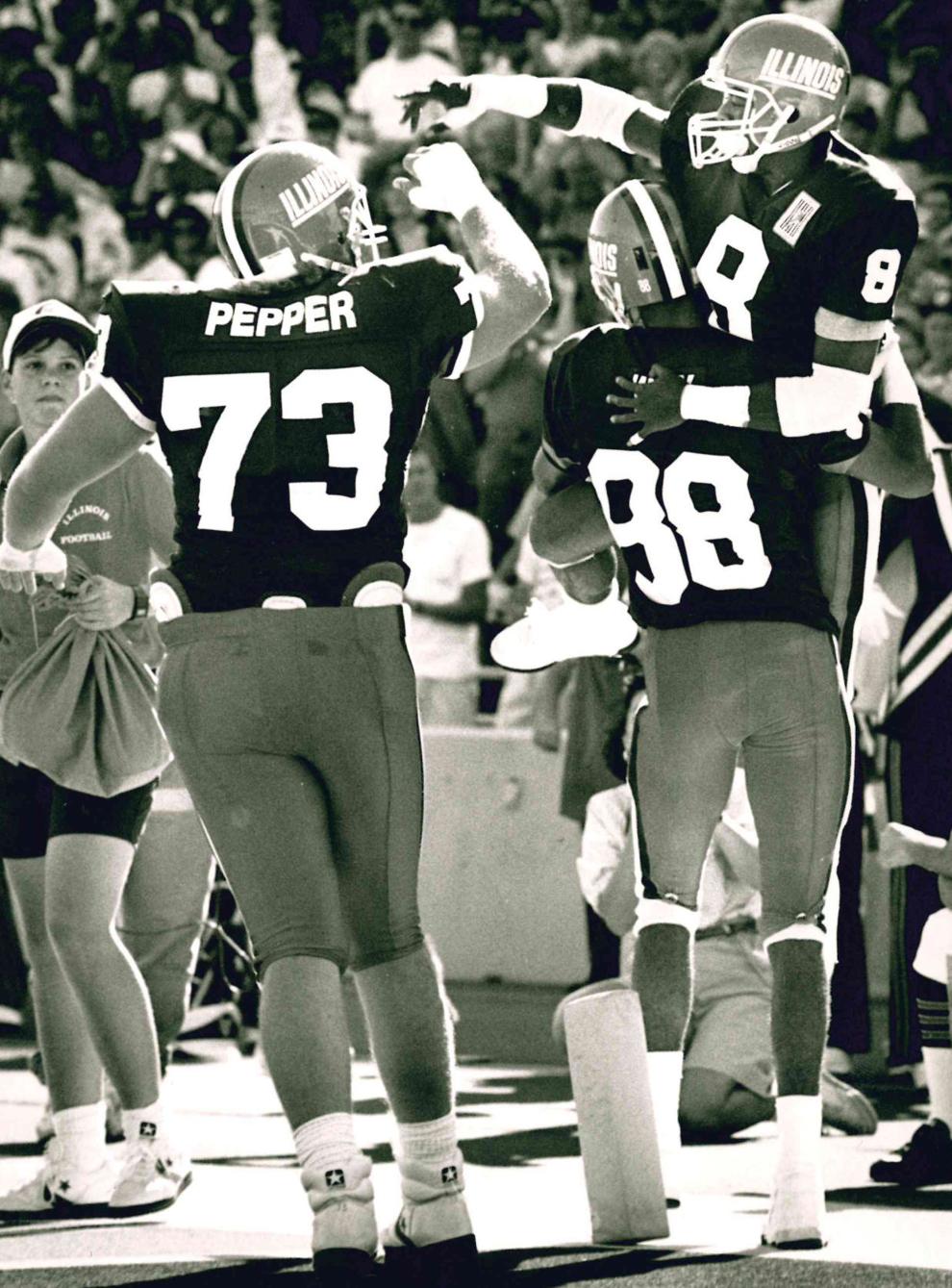 Contact Joey Wagner at (217) 421-6970. Follow him on Twitter: @mrwagner25