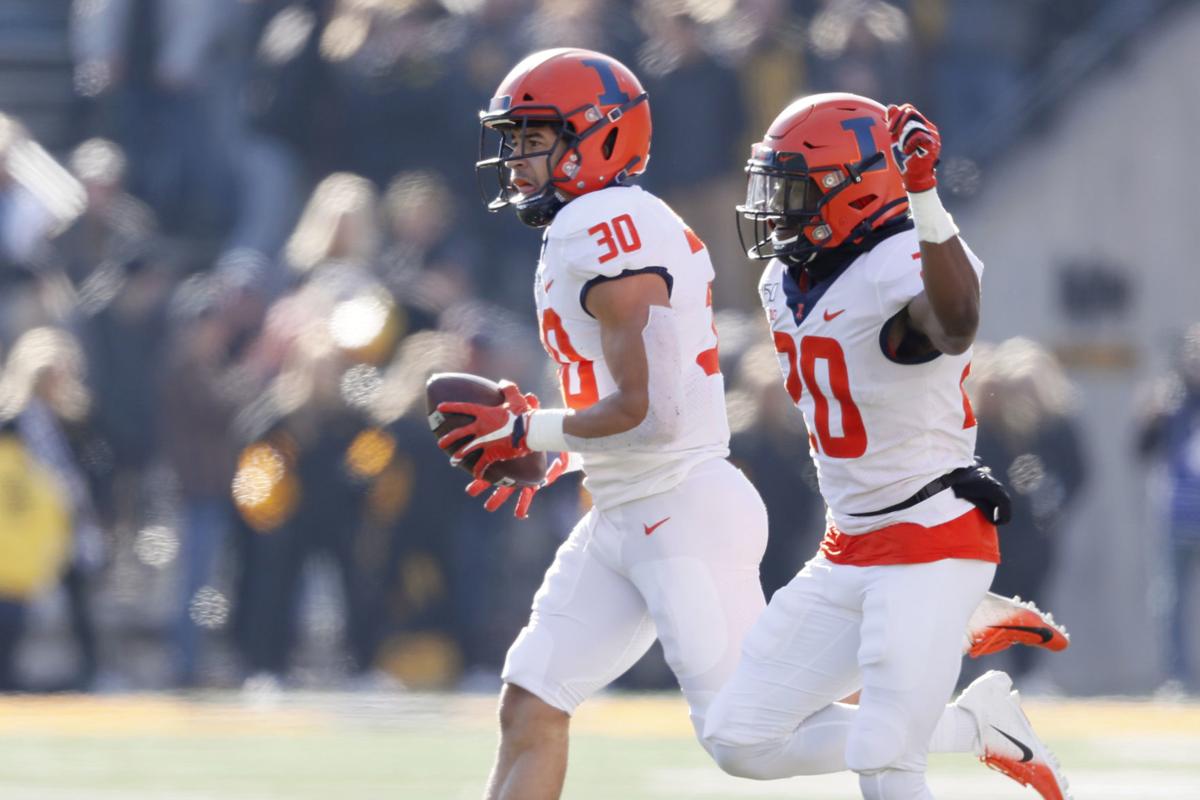 Hey, at least it wasn't 63-0 this time.
Then again, it's debatable whether this felt any better for Lovie Smith and his Illinois football team.
The consensus seemed to be that the Fighting Illini's 19-10 loss to Iowa on Saturday at Kinnick Stadium wasn't any less painful than what happened in Champaign a year ago. If anything, playing the Hawkeyes on even terms for four quarters on their home field and still not finding a way to win may have stung just a little bit more.
"It's disappointing when you lose. Period,'' Smith said. "We talk a lot about what happened last year, but this game we had opportunities to win … That's a disappointment.''
Offensive tackle Vederian Lowe said there really was no consolation or encouragement to be derived from the fact that the Illini competed on fairly even terms with the 18th-ranked team in the nation.
"Not really,'' Lowe said. "Even Coach Smith said we let them off the hook. We had a lot of opportunities and even us, as players, we know we let them off the hook.''
Middle linebacker Dele Harding figured it was a coin flip between the two outcomes.
"Last year was an embarrassment,'' he admitted. "At the same time, this is kind of the same feeling.''
The defeat ended the Illini's four-game winning streak, which extended back to an Oct. 12 loss to Michigan.
It deprived them of a chance to clinch their first winning season since 2011, to beat Iowa for the first time since 2008 and to greatly enhance their bowl prospects.
But for the whole day, victory seemed to be right there in front of them, there for the taking, just beyond their reach. They just never were able to reach out and grab it.
Smith pointed to turnovers as perhaps the biggest factor in the loss.
Illinois entered the game No. 1 in the country in turnover ratio at plus-14 but on Saturday it was a minus-2.
Quarterback Brandon Peters frequently gouged the Iowa defense with his running ability. His 37-yard run on the third play of the second half was the second largest ground gain against the Hawkeyes this season. However, he also threw a pair of interceptions — one just a few plays after his 37-yarder — and also fumbled the ball away at a crucial juncture in the middle of the fourth quarter.
"As an offense, we have to take care of the ball,'' running back Dre Brown said. "The defense played pretty well today. Those turnovers are just inexcusable … I guess that's how the other teams have felt these past four weeks.''
Thanks mostly to Peters and Brown, the Illini rushed for 192 yards against one of the best defenses in the country. It's the second highest rushing total against the Hawkeyes this season. They had lost the three other times they allowed a team to rush for more than 100 yards.
You have free articles remaining.
And the Illinois defense was decent, especially against the run, although it occasionally allowed Iowa quarterback Nate Stanley to hurt them with big plays. He had eight completions of more than 20 yards.
There also was one dubious coaching decision at the end of the first half.
Illinois had the ball at Iowa's 37-yard line facing a fourth-and-5 predicament with 16 seconds remaining in the half. It called two consecutive timeouts to consider its options, then ran a play in which Iowa safety Geno Stone roared up the middle and sacked Peters for a 14-yard loss.
Stanley quickly hit Tyrone Tracy for 22 yards and Keith Duncan kicked a 45-yard field goal to up Iowa's halftime cushion to 13-7.
"I was disappointed at the way the first half ended,'' Smith grumbled in his postgame news conference. "I wish I had that call back.''
What would he have done differently?
"Punt the ball,'' he said. "Bad coaching move. My fault. If I had it to do over again, I'd punt the ball.''
There was another even more agonizing play late in the third quarter that was sort of a microcosm of the frustration the Illini experienced all day.
Harding, who leads the Big Ten in tackles by a wide margin, came flying up the middle with a clear shot at Stanley. But Stanley, who is as big as most linebackers, somehow shrugged him off, scrambled to the left and fired a pass to Ihmir Smith-Marsette for a 40-yard gain. That led to another field goal that pushed Iowa's lead to 16-7.
Smith gave all the credit to Stanley for not only shedding a tackle but also throwing a "perfect'' pass.
Harding wasn't quite as charitable.
"We left a lot of plays out there,'' he said. "I left a really big play out there myself.''
In a way, it's a sign of how far Smith's program has come that the Illini didn't take what happened Saturday as a moral victory. It wasn't good enough just to be competitive with a ranked team. They weren't pleased to simply be 54 points closer to victory than they were a year ago.
They already were looking ahead to next Saturday's home finale against Northwestern as a chance for atonement.
"We're just going to park this,'' Brown said, "and get on to Northwestern.''
---
PHOTOS: Illinois falls to Iowa