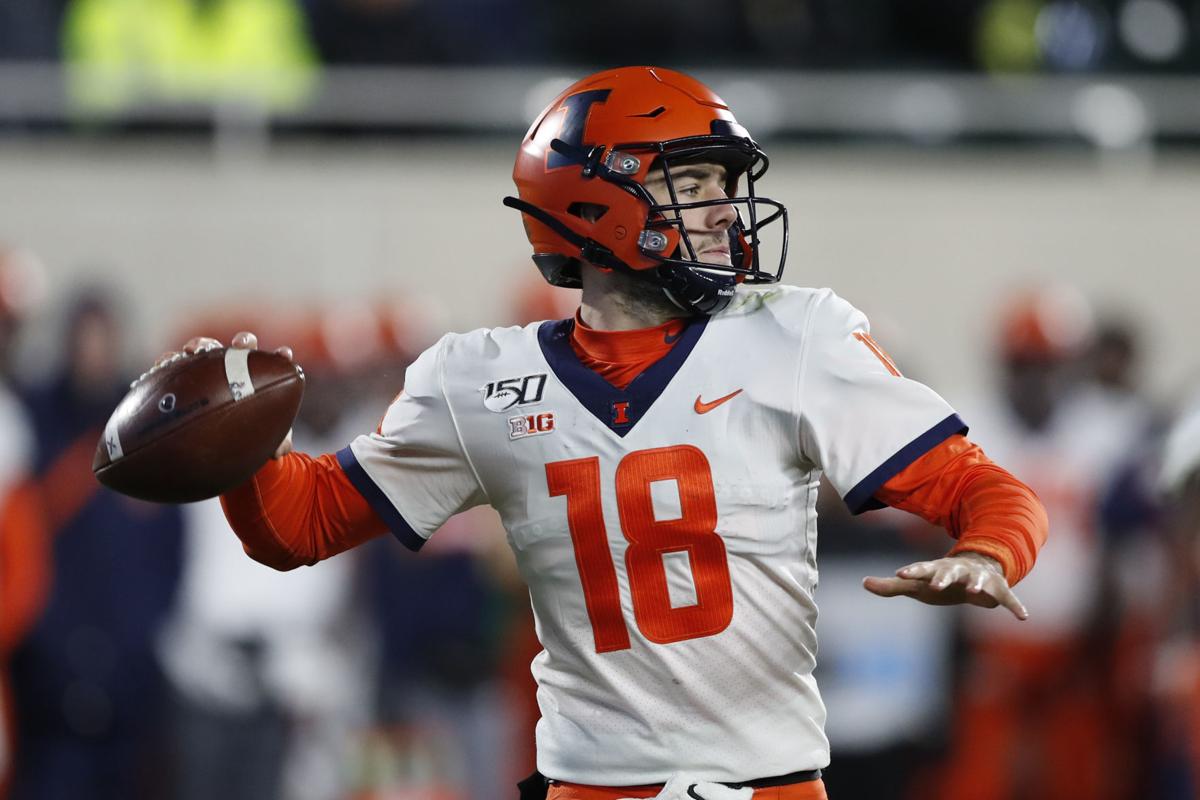 Do you feel elite? Are you rowing the boat? Do you have a nekton mentality — always hungry, never full?
It might be time to quit rolling your eyes when you hear those P.J. Fleck-isms. The man is on the top of the college football world, or at least sharing that space with the game's coaching giants.
"The way we do it is so unique and so different," Fleck said after Minnesota's rousing 31-26 upset of Penn State. "Maybe we're just ahead of the game."
Here are five things we learned about the Big Ten after Week 11:
1. The Big Ten has three legit playoff contenders
Penn State will sink from No. 4 in the initial CFP rankings after Captain Fleck's crew torpedoed the Nittany Lions. But if they can somehow beat Ohio State in Columbus in two weeks and exact revenge on the Gophers in the conference title game, a 12-1 resume would look saucy.
Ohio State destroyed Maryland 73-14 to rack up its ninth straight win by 24 or more points. Only one team, the 1971 Nebraska Cornhuskers, opened with 10 straight victories of at least 10 points. The Buckeyes presumably will join that club next week when they face Rutgers.
And how about those Gophers. Their initial playoff ranking of 17 was understandable considering the flimsy resume -- zero victories over ranked teams and Houdini escapes in September against South Dakota State, Fresno State and Georgia Southern.
Will they rise past idle teams such as Michigan, Auburn, Utah and Oregon? It matters but a little. If the Gophers can close with victories against Iowa (road), Northwestern (road), Wisconsin (home) and the East Champion in Indianapolis, it would take a natural disaster to keep Fleck's cruise liner at bay.
Look at it like this: To be 13-0, Minnesota would have to either beat Ohio State — or twice beat the team (Penn State) that would hand the Buckeyes their first defeat. Either would be a powerful statement.
2. Chase Young will not win the Heisman Trophy
Barring something weird, it will go to former Buckeye Joe Burrow. The LSU quarterback was brilliant against Alabama (31-for-39, 3 touchdowns, no interceptions), and Young currently is ineligible to play.
He missed the Maryland game after committing an NCAA violation by borrowing money to fly his girlfriend to the Rose Bowl at the end of last season. The Athletic reported the loan was supplied by a family friend; Yahoo reported that an agent is involved. If so, that might be more serious in the eyes of the NCAA.
Initial speculation had Young receiving a four-game penalty — a felony's sentence for a possible misdemeanor. ESPN's Kirk Herbstreit fueled that first report but then clarified: The Ohio State alum tweeted he expects Young to miss 2-3 games.
Two is fine. Ohio State throttled Maryland and doesn't need to beat Rutgers by 100.
Three games means that college football's most disruptive player (13.5 sacks) would miss the Penn State game. Nittany Lions quarterback Sean Clifford surely wouldn't mind that, but it would be a terrible loss for college football.
3. The Illini are all-in with Lovie Smith
From 4-26 in Big Ten play to 4-0.
From a 28-3 deficit against Michigan State to a 37-34 victory.
Amazing. The largest comeback in school history. And the 27 fourth-quarter points were the third-most for an FBS team in a game this season.
As Illini running back Dre Brown put it: "I'm glad I'll be watching it on BTN Classic some day."
Players gave Lovie Smith an orange Gatorade shower to celebrate their bowl eligibility. They hoisted the coach onto their shoulders to chants of "Lovie!" "Lovie!" The always-humble Smith actually extended an index finger, like Joe Namath.
The most incredible moment, though, came when athletic director Josh Whitman literally swept Smith off his feet during a bear hug.
Illinois was so down-and-out as a program, it was an assumption in the industry that Smith would be fired a few days after Thanksgiving.
The Illini were losing so badly Saturday, @TheChampaignRoom tweeted: "Hopefully there's mercy in this Spartans coaching staff. They could put up 70 on our defense if they wanted."
But this is why they play the games. All 60 minutes.
4. Northwestern is hurting
We all love the rags-to-riches, first-to-last stories. Northwestern is providing the opposite. One year after winning the Big Ten West by three games, the Wildcats clinched last place in the division. If that wasn't enough of a downer, the men's basketball team opened Friday by losing to Division I newcomer Merrimack, a recent 20-point loser to Maine.
So now the Wildcats have awesome facilities with tenants who are letting the dishes pile up in the sink.
The football Cats need to beat either Minnesota or Illinois to avoid their first winless Big Ten season since 1998. Gary Barnett coached that team, proving just how tenuous success can be. Chris Collins and Pat Fitzgerald are learning the same.
Whereas Ohio State is a team without a weakness, Northwestern is one without a strength.
When Kyric McGowan ran for a 79-yard score against Purdue, it marked NU's first touchdown in more than a month. Northwestern outgained the Boilermakers 435-345 and Aidan Smith took a baby step with a 19-for-31 passing day.
But Charlie Kuhbander doinked a key 32-yard attempt, and the defense could not stop third-string quarterback Aidan O'Connell from driving 58 yards for the winning field goal.
Athletic director Jim Phillips must be wondering: What did I do to deserve this? And how do I make it stop?
You have free articles remaining.
5. P.J. Fleck is the league's giant killer.
Minnesota is 9-0 for the first time since 1904, and Fleck has won six consecutive games as an underdog.
And he has a big-game quarterback in Tanner Morgan, who went 18-for-20 for 339 yards and three touchdowns against Penn State. Morgan planned to play for Fleck at Western Michigan but switched to Minnesota when Fleck took over the Gophers. He believes in Fleck. You probably should, too.
Week 11 power rankings
Here are the Tribune's latest Big Ten power rankings, with last week's ranking in parentheses:
1. Ohio State (1)
Meaningless stat of the week: Ohio State committed 141 yards worth of penalties, 99 more than Maryland.
2. Minnesota (3)
Minnesota's over-under for victories to start the season was 7.5. The Gophers are at nine and counting.
3. Penn State (2)
Nittany Lions fans at TCF Bank Stadium were treated/subjected to "The Lion Sleeps Tonight" after Gophers' stunning victory.
4. Wisconsin (4)
A cool 250 yards against Iowa vaults Jonathan Taylor back into the top spot among Big Ten rushers.
5. Michigan (5)
We're forecasting a lot of unnecessary roughness in next week's Michigan State-Michigan game.
6. Indiana (6)
Hmm … is this the best or worst possible time to be making the trip to Penn State?
7. Iowa (7)
It's turning into another snoozy season in Iowa City.
8. Illinois (8)
Turns out Lovie Smith is a way better coach without Jay Cutler.
9. Michigan State (9)
Spartans spiraling into the abyss. Did the athletic director seriously say there's "no question" Mark Dantonio will return?
10. Purdue (10)
Heartwarming walk-on story scripted by Aidan O'Connell, the Long Grove native and Stevenson alum who beat Northwestern in Evanston.
11. Nebraska (11)
Finish strong, Huskers, and you might get to spend your Christmas in Detroit.
12. Maryland (12)
Worth asking if Maryland screwed up by not hiring Matt Canada, who had Terps on the verge of reaching a bowl game last year.
13.Northwestern (13)
Did you see the LSU passing attack? Northwestern needs a Joe Brady. And maybe a Joe Burrow.
14. Rutgers (14)
Scarlet Knights take on Ohio State next week. Who ya got?
---
PHOTOS: Illinois defeats Michigan State
Illinois Michigan St Football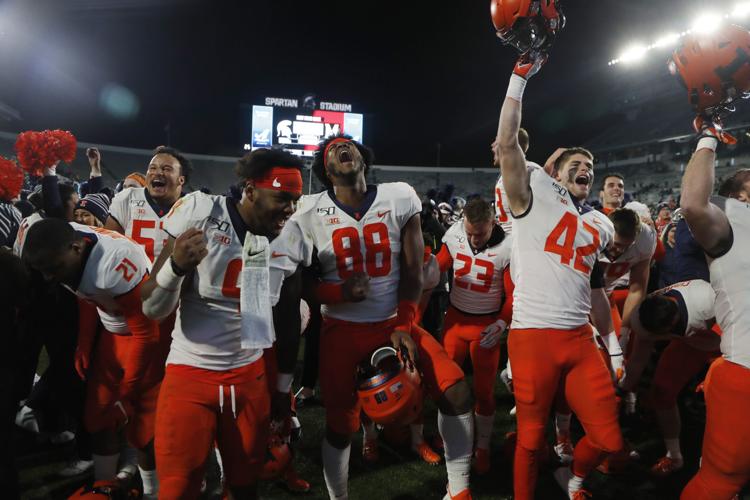 APTOPIX Illinois Michigan St Football
Illinois Michigan St Football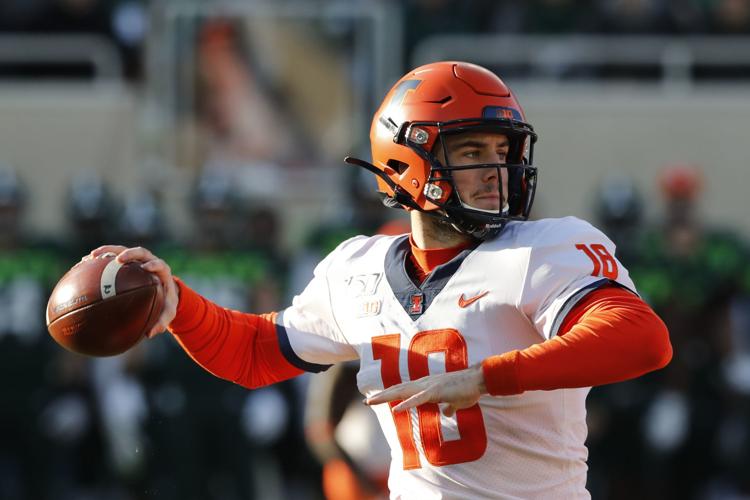 Illinois Michigan St Football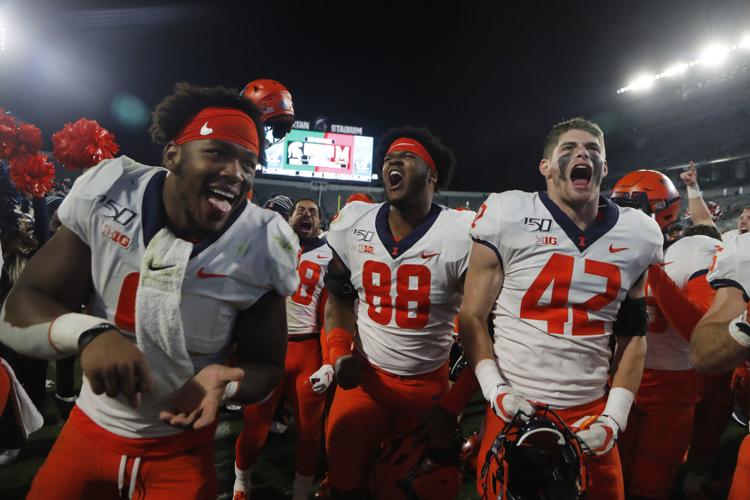 Illinois Michigan St Football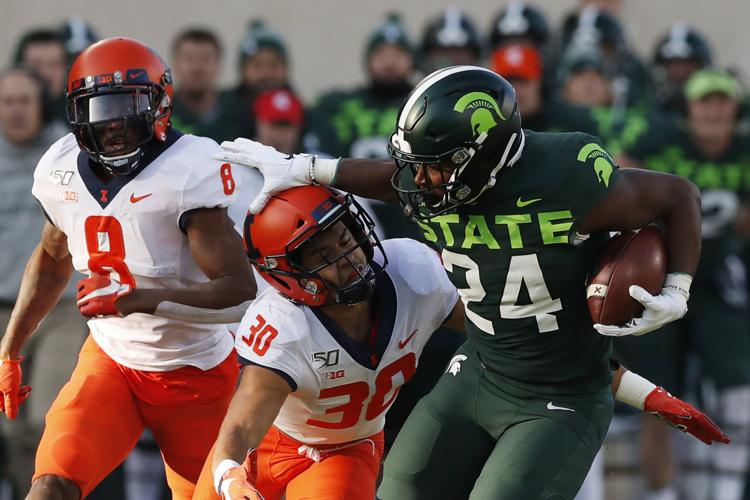 Illinois Michigan St Football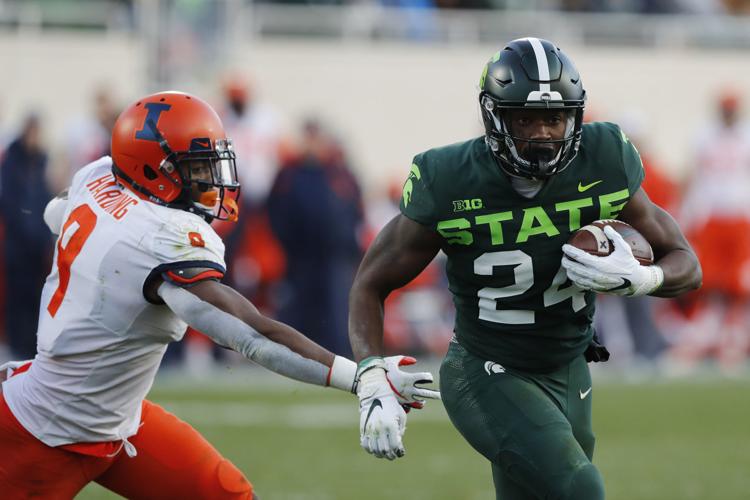 Illinois Michigan St Football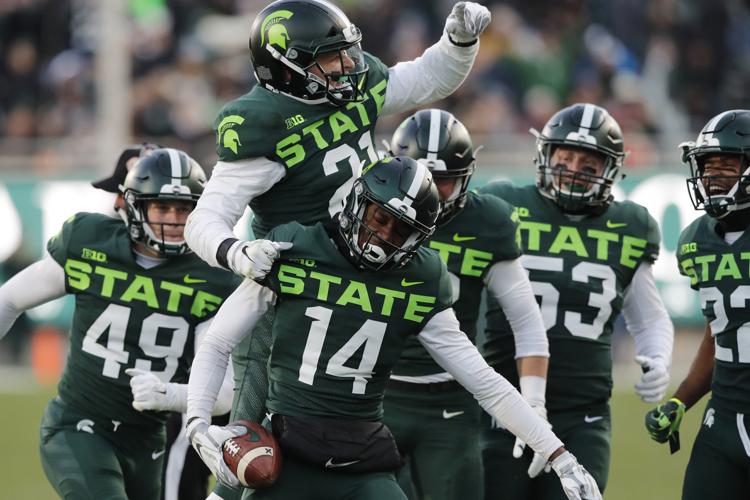 Illinois Michigan St Football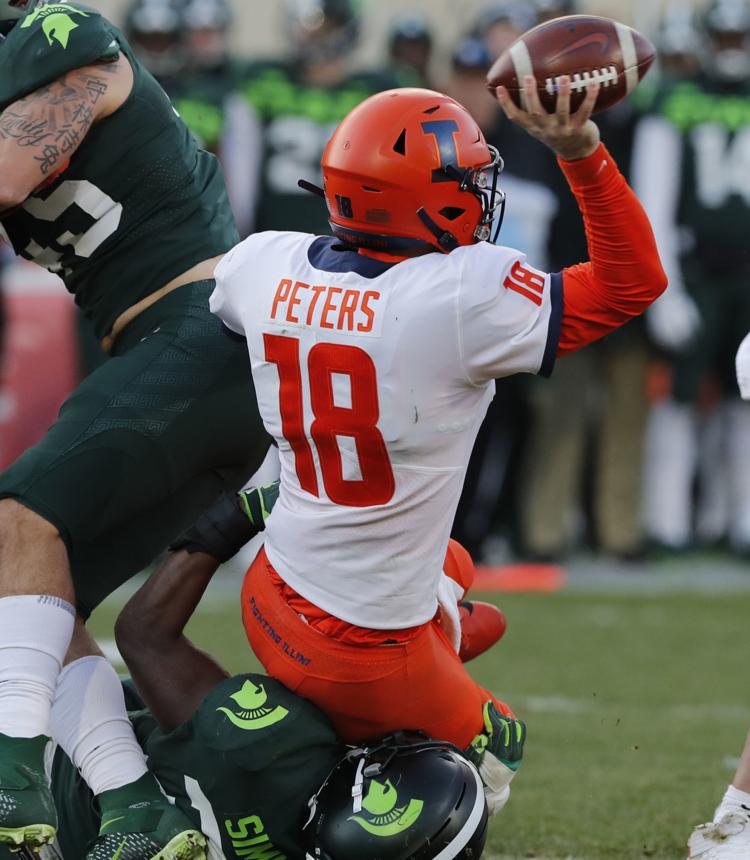 Illinois Michigan St Football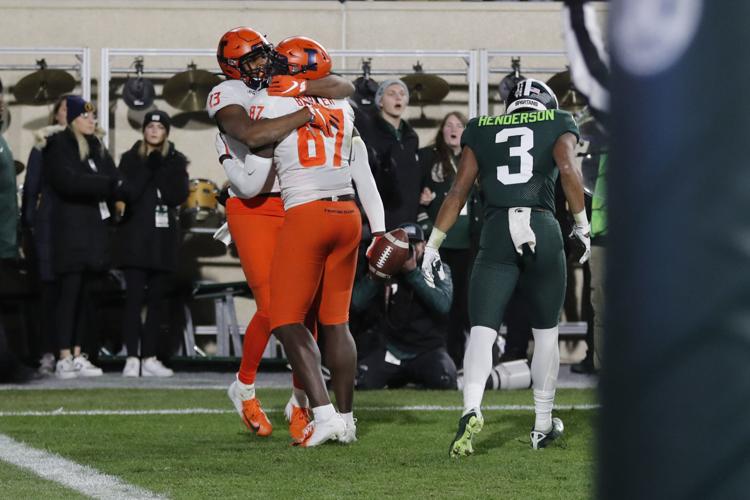 Illinois Michigan St Football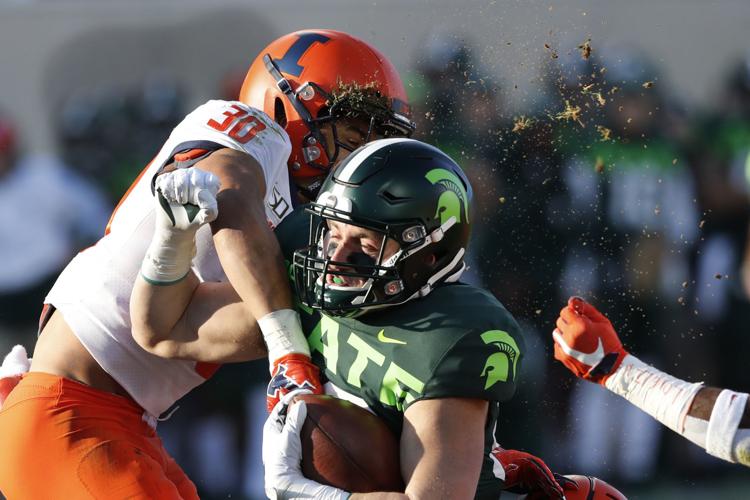 Illinois Michigan St Football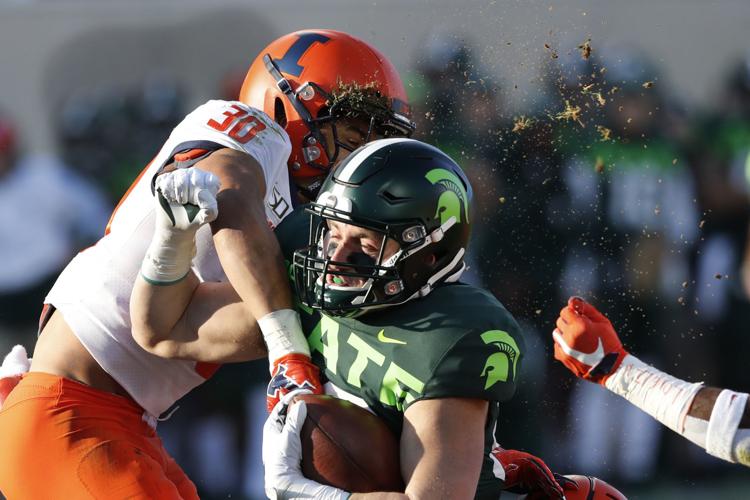 Illinois Michigan St Football
Illinois Michigan St Football