It was only Rutgers, a Jersey-based school whose existence in the Big Ten Conference cannot be explained by a single person in the Midwest.
It was only Rutgers, like Illinois in Year Three of a football program rebuild but unlike the Illini, a team that seems to be slip-sliding in the wrong direction.
It was only Rutgers that Illinois beat 38-17 last Saturday and while that might not seem much to outsiders, it was the most important result in Lovie Smith's Illini coaching tenure.
A loss to Rutgers would have encouraged every second-guesser on the planet and that hot seat some like to think Lovie Smith has in his living room? This time you would have smelled smoke.
A loss to Rutgers would have ended any conjecture that Illinois is moving forward and gaining talent in key spots, that Lovie's guys are understanding schemes and looking competent enough to take bigger steps against better opponents.
But while running for 330 yards, while getting A.J. Bush back in the saddle at quarterback, and by continuing an encouraging trend of taking the ball away on defense, Illinois has at least made a case for taking the next step.
The victory over Rutgers may have been a baby step, but when your program hasn't won a Big Ten game in 700 days, and when more than 70 players on the roster had never tasted a conference victory, that was a crucial baby step.
The question is: Can the Illini take a couple more this season?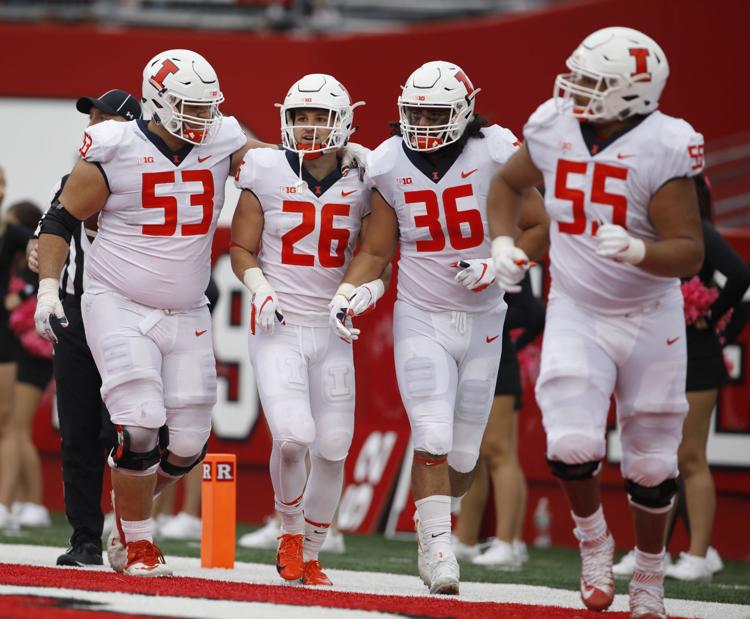 Truthfully, this week's opponent, Purdue, is probably a notch better than Illinois. This is a pretty explosive offensive team with a dynamic freshman play-maker who reminds me of Michigan's Denard Robinson when he burst into the scene as a freshman.
Rondale Moore is a small but dangerous play-maker who lines up at wide receiver, but whose impact on the game is only limited by the number of ways a coach can get the ball into his hands.
And Purdue coach Jeff Brohm has been creatively weaving Moore into the action as a pass-catcher, on jet sweeps and end-arounds, and as a dangerous returner of kickoffs and punts.
In five games, he has already caught 41 passes. He's averaging 19.4 yards per carry when they hand it to him. He makes opponents nervous and the Illini should be against this home run hitter.
A victory over Purdue would change the narrative for the Illini. They're a 10-point underdog in Saturday's homecoming game and an upset in this one would introduce the "B" word. Yep, at 4-2 bowl talk would be unavoidable.
But a loss to the Boilers can't be allowed to douse the progress made possible by the Rutgers victory. There are still winnable games against Maryland, Minnesota and 0-5 Nebraska, and there's a sense that the Illini are getting healthier. Usually it's the other way around.
What I like about this Illini team is that it has real assets it can lean on. An effective running game behind a solid offensive line is a good place to start. Finally, a running threat at QB and wide receivers who aren't afraid to block.
Oh, yes. The addition of offensive coordinator Rod Smith has given the Illini a savvy play-caller who keeps defenses on their heels.
Although young, the Illini secondary has talent and 10 interceptions in five games is a good sign. But to beat better teams, the defense had better generate a pass rush and so far, that's been a disappointment.
It was only Rutgers Illinois beat last week. Call it a baby step against a team that would be better cast in the Ivy League. A homecoming victory Saturday would represent a whole lot more.