CHAMPAIGN — Although spring practices are over and the players are focused on final exams, Illinois football head coach Bret Bielema is still busy at work tinkering with the quarterback and receiver roles on his team.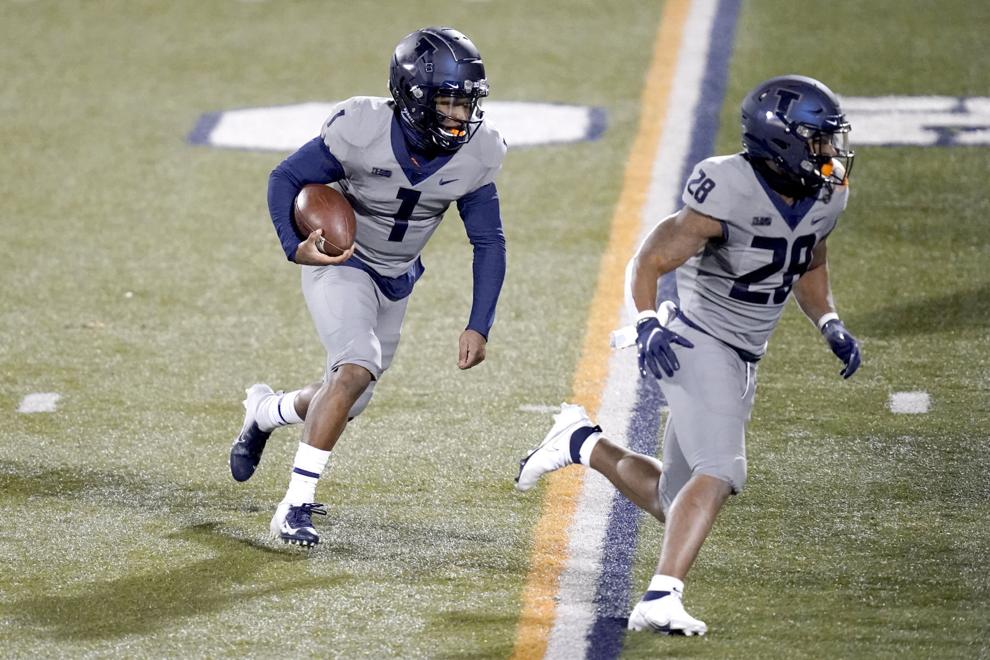 "He and I had a discussion early on about what the opportunities were and we said let's roll at quarterback and we never had another discussion about it," Bielema said. "There was one day in the spring that he wasn't being himself and I saw a guy that wasn't being happy. I would say that as a coach, you recognize when a player wants to talk. I could see where his mind was. After the Spring Game on that Tuesday, I said let's jump into this world and see where we can go. 
"It is not just switching a position. They have to embody it and it has to be their decision. I think anytime you try to force someone into a decision, it never works."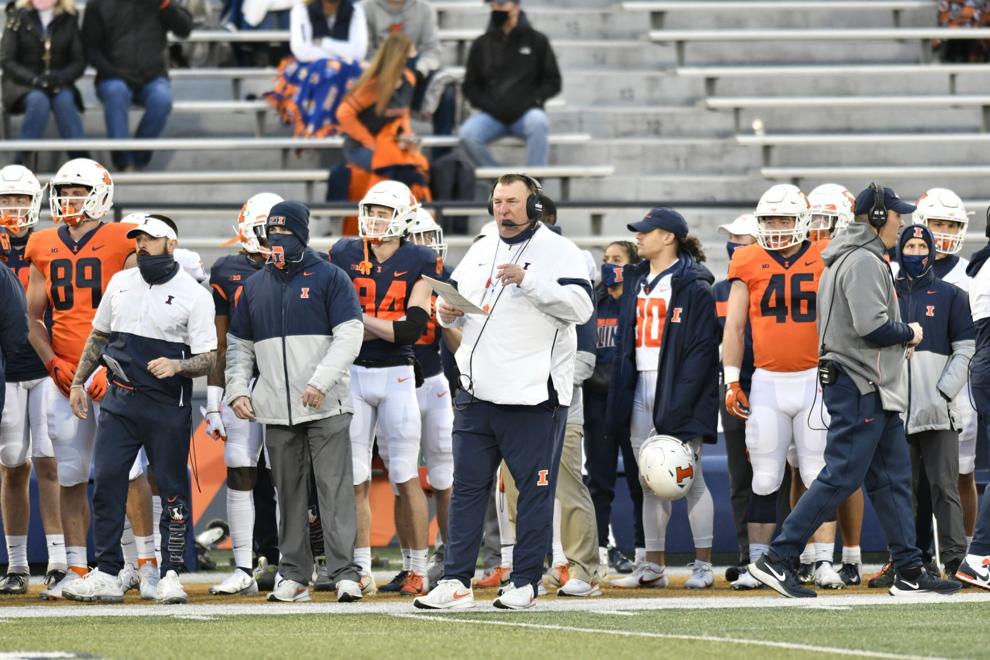 Williams had three spring practices with the receiver group following the Orange and Blue game and Bielema is confident he will find success at receiver with his knowledge at quarterback. 
"He was impressive in those three practices after the spring game and no matter where Isaiah is playing, I think he is an incredible leader and he's got great magnetic energy," Bielema said. "Anything I have seen him do, he does it with a lot of intensity and attitude. At wide receiver, the advantage he has there is that he has played quarterback for a large portion of his career. To line up at receiver and know what he knows as a quarterback ... he has experience at looking at defensive backs and knowing that they do." 
Bielema has experience in shifting players to different positions and reaping the rewards from that transformation. 
"I had a young walk-on linebacker for me at Iowa. He changed directions really well and he had unbelievable bursts and was really good on special teams," Bielema said. "But he just couldn't see things as they laid out for him as a linebacker. I said I think this guy would transition to tight end and his name was Dallas Clark. He went on to be one of the best tight ends to ever play in the NFL. It showed me how quickly somebody could change what they are doing."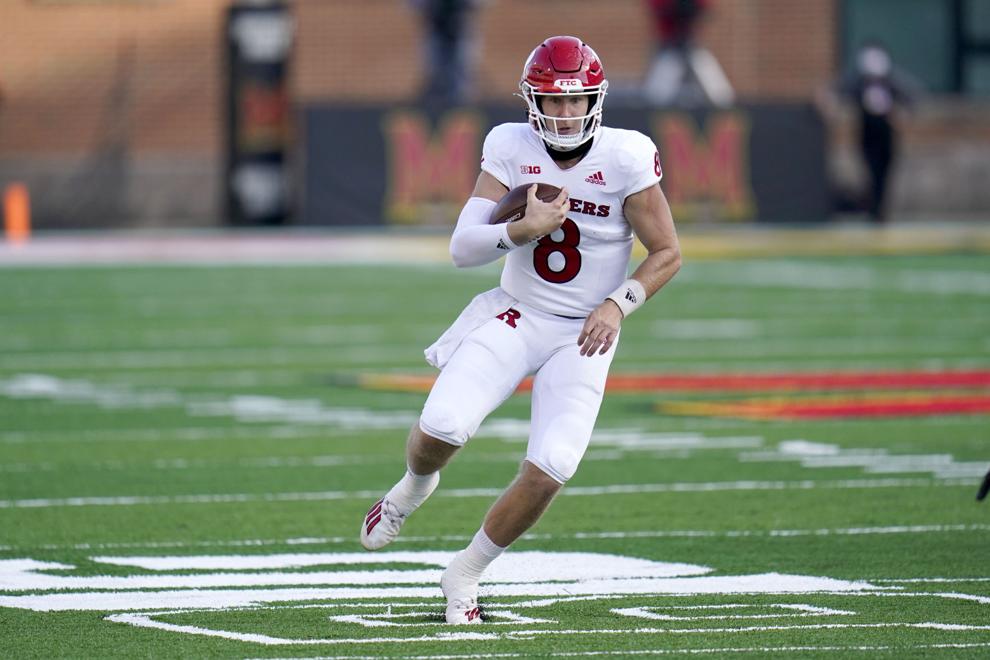 Although Brandon Peters continues to be the leading contender for the starting quarterback position when the Illini face Nebraska opening night, Illinois recently added Rutgers quarterback Artur Sitkowski through the transfer portal.
Sitkowski played in four games for the Scarlett Knights last season and completed 52-of-81 for 444 yards with four touchdowns and no interceptions. He has three years of eligibility and will be available when the team returns for summer practices June 1. 
"I really wanted to get through the spring and see where were at (with the quarterback position) and Art came into the portal in the last week of practice. I thought it was a good mix for us in the QB room. I'm excited to bring in a guy who has played in the Big Ten will bring in competition in that room. He was thrown into the fire there at Rutgers (as a freshman) and there were some good things you could see on film. After a few conversations with him, he decided to join us."
Sitkowski was named Rutgers starter as a freshman in the 2018 season but struggled throwing four touchdowns and 18 interceptions over 11 games.
"(Art) is a very poised and confident quarterback and he's not above learning from his mistakes. The change of venue and coming into this system is something he is very excited about it. I'm happy to get another good quality person into our program," Bielema said. "The QB room is no different than any other room. I think anytime you can add players with high value as well as high character, that is going to be welcomed in the room."
The changes come during a time when Bielema sits down with each of his players to talk about their performance and goals moving toward June 1 when the Illini begin an eight-week training program. 
"It is one of my most enjoyable times of the year. I will sit down and interview everyone on our roster. It is to get the lay of the land with each individual kid and it has been beneficial for me. For some, this is my first true one-on-one with them in my office," Bielema said. "I get to find out a little more about their history and how they got here. It was an enjoyable week for me. I had some great interviews and it was rewarding."
Although the transfer portal has been a dominate piece of roster building for many programs, Bielema did not lose any players to the portal this spring. 
"(In the interviews), there were some conversations that they didn't want to hear by certain guys and others I think it reinforced what they did want hear. It was a mixed bag," Bielema said. "We are in a transfer world and I think after doing 102 interviews, no one on scholarship told me that they were going to leave. I told our coaches that that is a great indication of what you are building. I think our kids want to be a part of something and they don't want to miss it."
---
Contact Matthew Flaten at (217) 421-6968. Follow him on Twitter: @MattFlaten