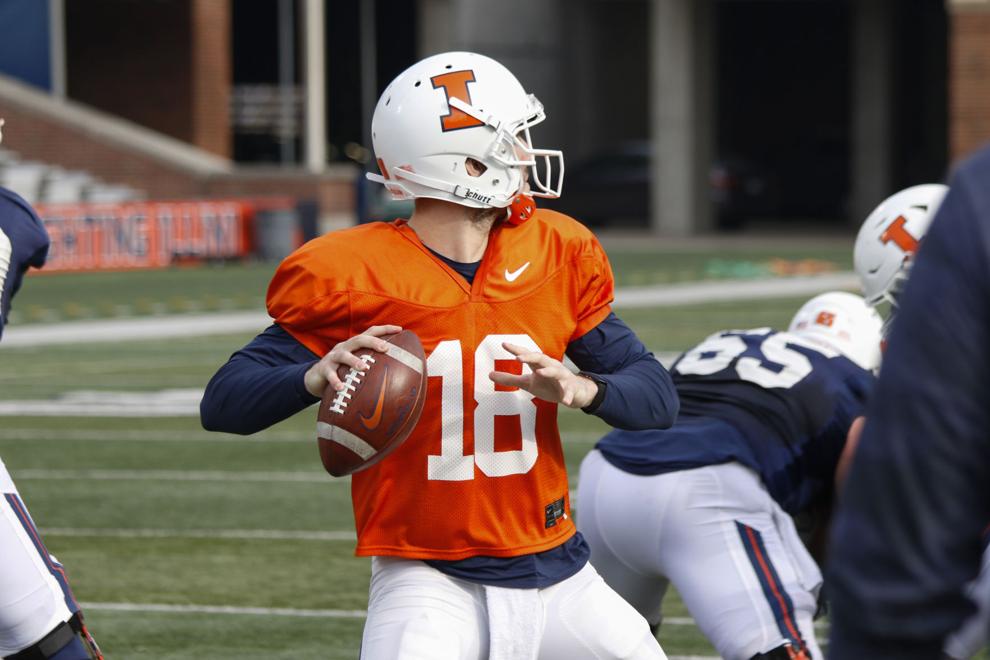 CHAMPAIGN -– The University of Illinois has announced it will allow limited fans to attend the Orange and Blue Spring Football game on Monday, April 19. Game time is set for a 7 p.m. and will be broadcast on the Big Ten Network. The 2020-21 Illinois men's basketball team will also be honored in a ceremony at halftime and will feature the unveiling of the Big Ten Tournament championship banner. The event is free, however reserved seating tickets can be claimed on FightingIllini.com, while supplies last.
The spring game will give Illini fans the first opportunity to watch first-year head coach Bret Bielema and the 2021 Fighting Illini football squad, which returns 17 super seniors, the most in the Power 5. The squad also returns 86 percent of its defensive starts from a year ago and 81 percent of its offensive starts.
Here is all you need to know about attending the scrimmage: 
FORMAT: The Orange & Blue Spring Game format will feature two teams facing head-to-head in a live scrimmage.
BASKETBALL CELEBRATION: Fans will also have the opportunity to celebrate the 2020-21 Fighting Illini basketball team. Head coach Brad Underwood and his squad finished the season ranked No. 2 nationally after posting a 24-7 record, winning the Big Ten Tournament, and earning a No. 1 seed in the NCAA Tournament. The team, which won more conference games than any other team in Illinois basketball history, will be honored in a halftime ceremony.
ILLINI SPIRIT: For the first time in more than a year, the Marching Illini and Illini Cheerleaders will be in attendance inside Memorial Stadium to perform. The Marching Illini will be socially distanced in the East Main stands.
COVID-19 PROTOCOLS: Illinois Athletics will adhere to all current State of Illinois Restore Illinois Phase 4 guidelines, which includes reduced capacity at six-foot social distanced seating. Face masks will also be required for attendance at the spring game. Reserved tickets are also required for outdoor sporting event gatherings.
CLAIM RESERVED TICKETS: Fans wishing to attend the Orange and Blue Spring game can claim their free tickets in advance online at FightingIllini.com. All tickets will be distributed via mobile device in allotments of pairs and fours to allow for social distancing. Seats will be located in the West Main Stands, West Balcony and the Horseshoe.
WALK-UP TICKETS: If seats remain on game day, fans will have the opportunity to claim tickets at the ticket locations on Kirby Ave. To ensure seating, fans are encouraged to claim tickets in advance of game day.
PREMIUM SEATING: Suite holders will have access to their seats for the Orange and Blue spring game. Current suite holders will be sent a request form in the coming days. The Colonnades Club and 77 Club will not be utilized for fan attendance during the spring game. Club members are encouraged to acquire tickets through the ticket link.
STUDENT TICKETS: Students can claim tickets for the student section in the north end zone in pairs.
PARKING: Parking is available in the NW and SW lots at State Farm Center as well as E-14 on the southwest corner of First and Kirby. Due to COVID-19 protocols, tailgating will not be allowed.
CONCESSIONS: Concessions stands will be open in the Great West Hall with special student concessions in the north end zone.
GATES: Gates open one hour prior to the game at 6 p.m.
During Restore Illinois Phase 4, most major events, such as the campus wide Commencement ceremony, cannot be accommodated. The Orange and Blue Spring Game is both outdoors and fan seating can be scaled down to allow for COVID-19 safety protocols to be strictly followed without requiring multiple sessions.