DECATUR — Much of the Millikin student body has left campus for summer break, but the Millikin's softball team continued its season Thursday in the opening round game of the NCAA Division III Regional Tournament, facing Belhaven University at Workman Family Softball Field.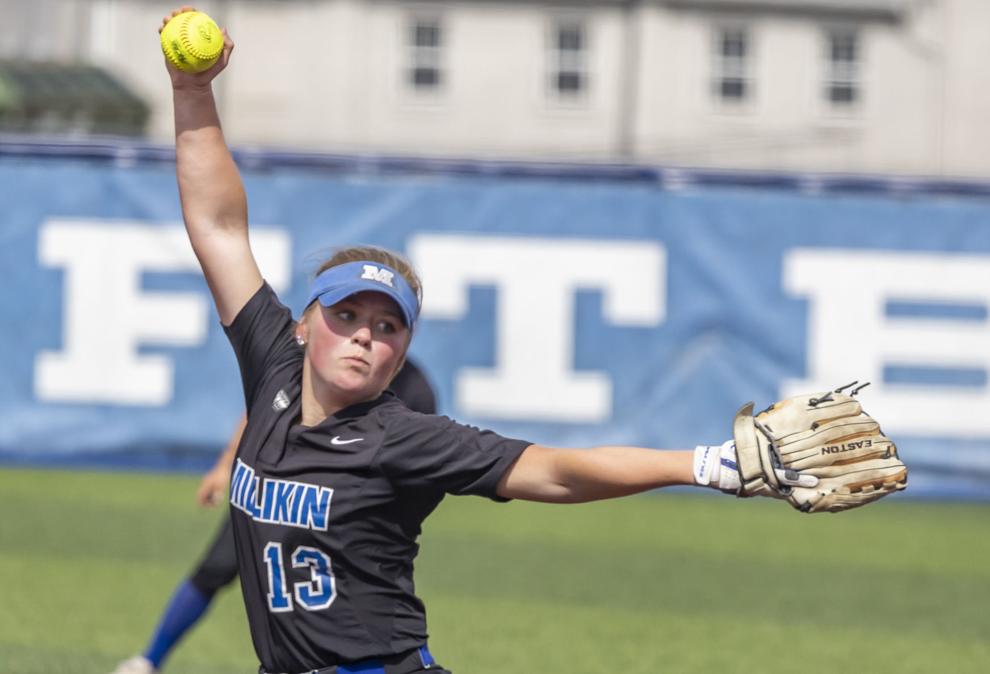 The game was a pitchers' duel between Millikin's Aly Armstrong and Belhaven's Kennedy Carruth, who was able to stop Millikin's seventh inning rally to pick up the 2-1 victory. 
Millikin's ace was in good form Thursday, striking out the first six batters she faced and finishing with 11 strikeouts. 
In the third inning, Belhaven's Abby Trahan hit a leadoff triple and was driven home by a single from Elizabeth Taggard to put the Blazers up 1-0. With the bases loaded, Armstrong walked Anna McNeer to score Marlee Blackwell from third and give Belhaven the 2-0 lead. Armstrong regrouped and struck out Haley Hanson to end the inning with the bases bases loaded. 
In the bottom of the sixth inning, Millikin's Skielyr Trenkle singled and advanced to second on a sacrifice bunt by Rylee Blake. Leah Foreman battled Carruth in a long at bat that ended with a flyout to the shortstop to leave the Big Blue runner in scoring position. 
In the top of the seventh inning, Millikin's defense stepped up as left fielder Maddie Holland, a Shelbyville graduate, made an over-the-shoulder catch on a deep drive by McNeer to keep Belhaven off the board. 
Carruth (21-3) was dominating for Belhaven, allowing just two hits before Millikin began its rally in the seventh inning.
"We did a really good job of getting out and scoring first, that is always a goal for our team. It takes the pressure off of your defense and your pitcher to go out there and be perfect," Belhaven coach Kevin Griffin said. "Kennedy has been perfect a lot of times for us this year and we felt like we took the pressure off of her and made it feel like she didn't have to do it by herself."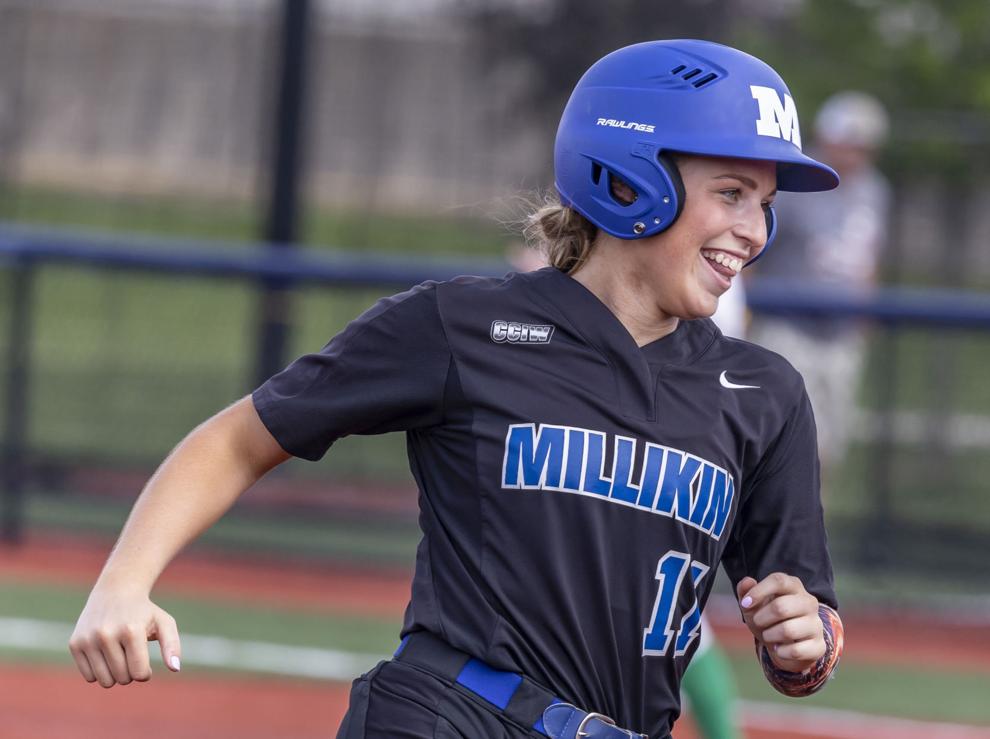 With two outs in the bottom of the seventh, Lexus Tennison hit a left-field home run to put the Big Blue within one, 2-1. Holland followed with a double to left field, moving the tying run 120 feet away. Kailey Pulec then grounded to third base to end the game. 
"I knew it was my job to get on base somehow. I wasn't trying to hit it out but that works, too. It was good to get something going. Maddie came up after and did her thing and hit it hard, too. We can't hang our heads about that," Tennison said.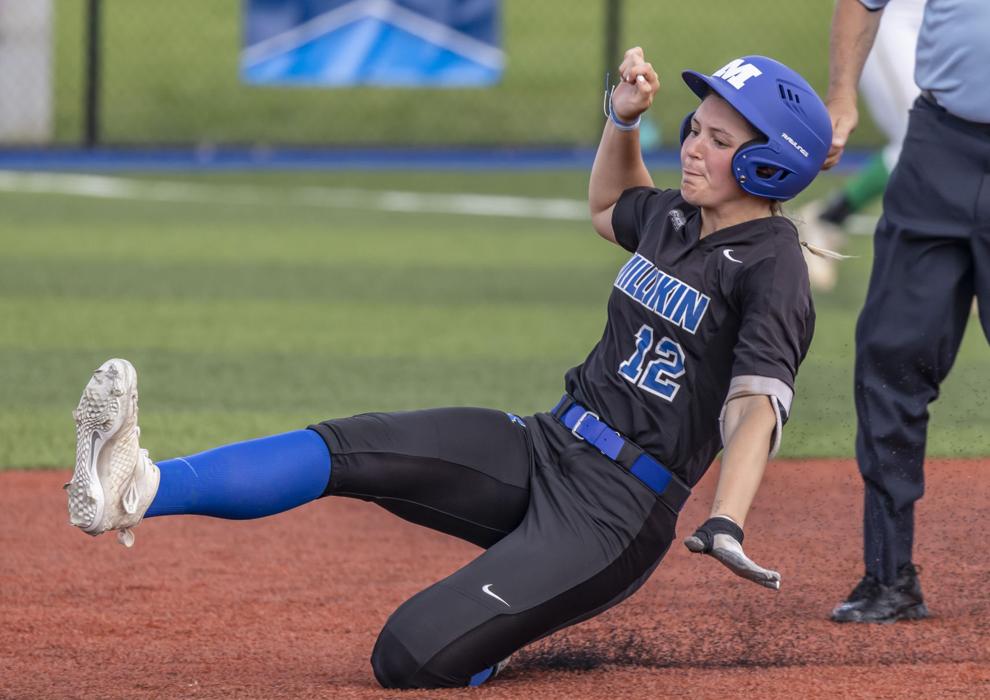 Millikin co-head coach Whitney Sowers said she was proud of the never-say-die team attitude. 
"Lexus had great at-bats all the way through today and we knew going into the seventh inning that we were going to have quality at-bats," Sowers said. "Aly has done what she has done all year. She had some tough moments as far as getting ahead in the count but after she broke through that and other than (the third inning), she did that extremely well."
Millikin (31-12) will play No. 1 seed DePauw, from Greencastle, Ind., on Friday at 10 a.m. at Workman Field. In other regional action on Thursday, No. 1 seed DePauw University defeated Mount St. Joseph 3-1. Belhaven (31-10) will face No. 5 seed Calvin College at noon. Calvin advanced with a no contest win in its game against No. 2 seed Geneva due to a COVID-19 protocol decision by the NCAA.
Millikin faced DePauw in a doubleheader on March 16, losing in both games, 5-4 and 11-2, respectively, but Tennison is confident about Friday's rematch. 
"We are prepared and we are ready for this so I don't think we have anything to worry about," she said. 
---
Contact Matthew Flaten at (217) 421-6968. Follow him on Twitter: @MattFlaten