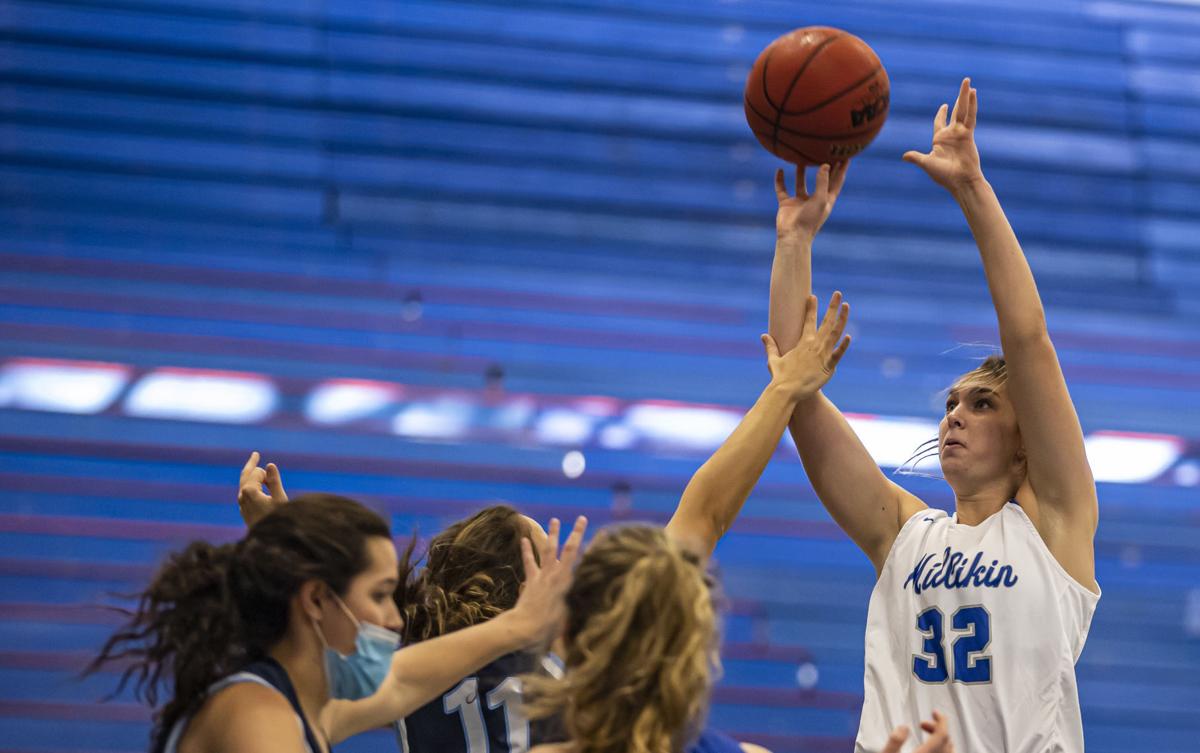 Hildebrand has been a steady leader with 12.6 points and 6.5 rebounds per game but Magro, who was a co-captain last season, has missed all of this year with a knee injury. Magro started the game for the tipoff before being subbed out, a moment that was emotional for her and her team.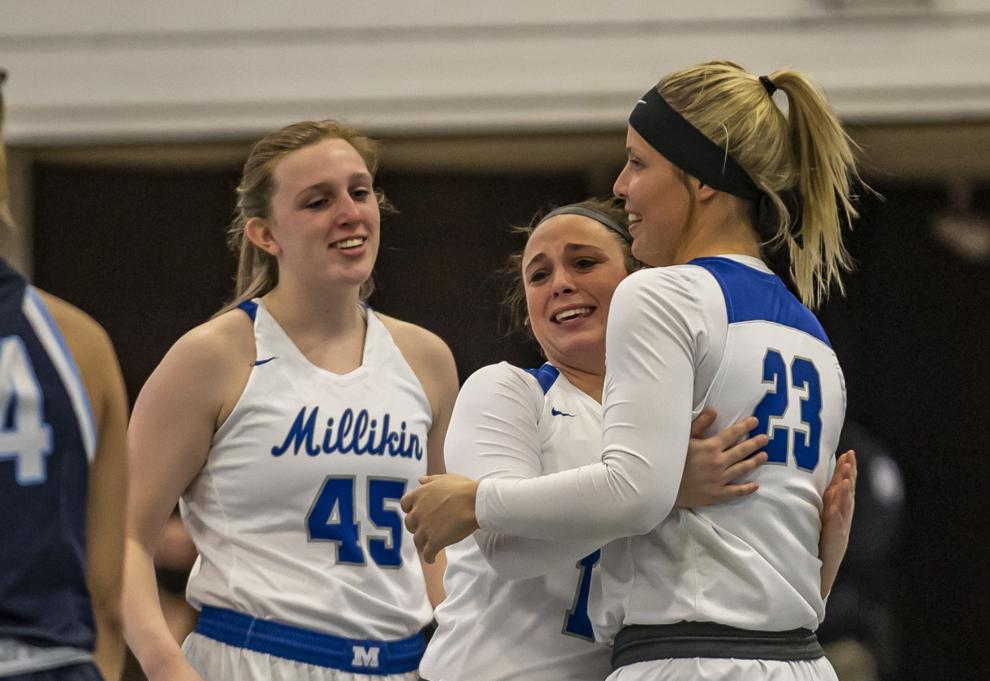 "Aubrey was my first commit and I've known her since she was 16. It was a little emotional for me as well," Millikin head coach Olivia Lett said. "It was cool to give her a chance to end her career on the court and I don't think she expected it to hit her that way. I think our team responded really well to that and used that for energy."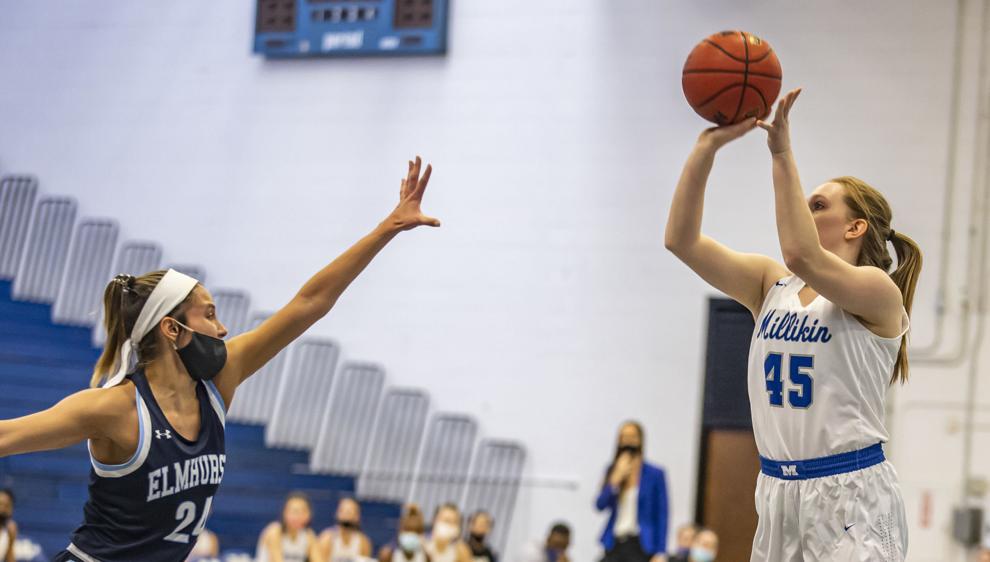 Millikin used that inspiration to break out to a 28-9 lead at the end of the first half and a 39-26 advantage at halftime. Behind 14 points from Elyce Knudsen and 12 from Aubrey Staton, Millikin won comfortably, 70-59. 
Staton found her rhythm from behind the arc and connected on four 3-pointers. In total, 10 Big Blue players scored and five players — Knudsen, Staton, Hildebrand (11 points), Bailey Coffman (9 points) and Abby Ratsch (9 points) — all scored nine points or more. 
"I think that it was great today and I felt really good. I was just having that confidence," Staton said. "Some days you might have a really off game and some days you have a really good game. It is important to know that you are a consistent shooter and that it is going to go in eventually."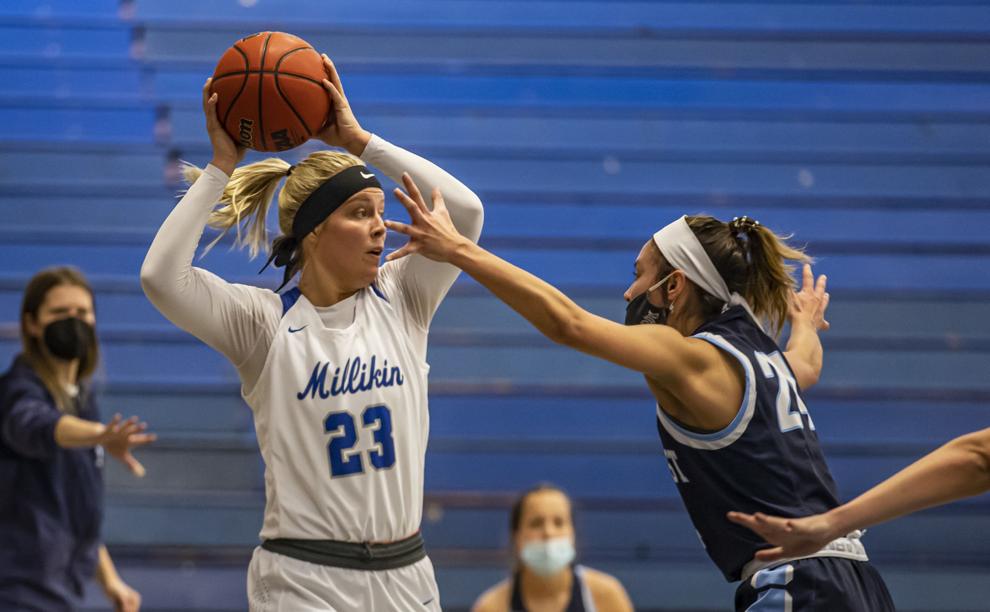 The loosening of COVID rules by the CCIW allowed Hildebrand to have her family in the stands to see her game for the first time this season. 
"It was awesome. I was so excited for them to be here and it was a different feeling (having them here)," she said. "My dad plays a big role in everything I do with basketball, so having him here was awesome."
Millikin (7-3) has just two regular season games remaining — against Augustana on Tues., Feb. 23 and Monday, March 1 — before the CCIW tournament quarterfinals begin Thursday, March 4. 
"We have had a lot of ups and downs. We have had games where we have scored 90 and games where we have scored 50," Lett said. "I think that is a little bit being a young team and also not having a non-conference schedule to work out some of those things. When you get thrown into our conference schedule, it is tough to figure out how to run our offense and how to run our defense."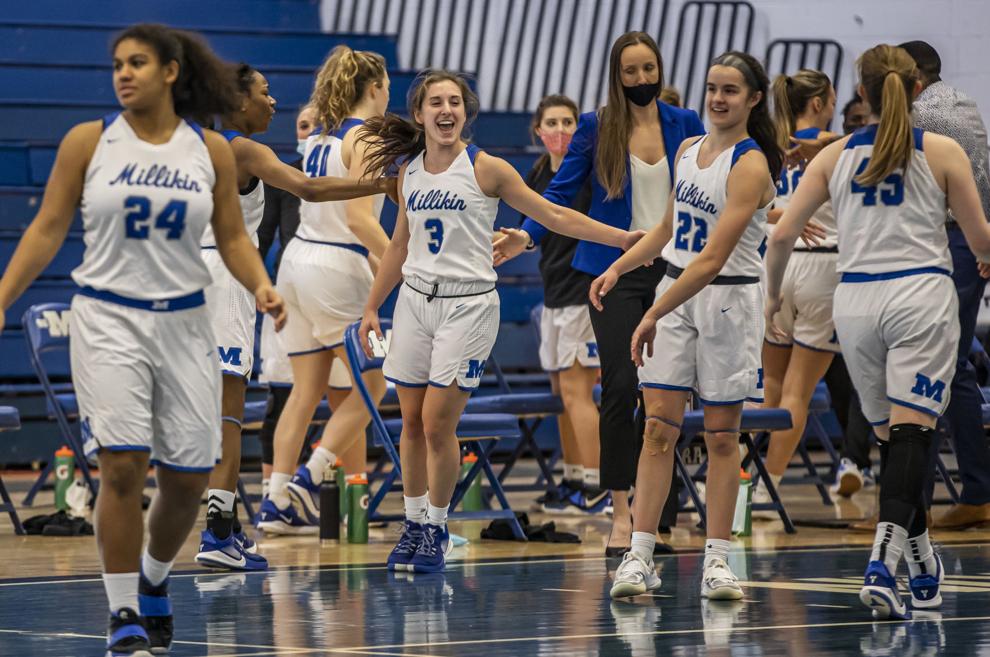 Lett has been focusing on spreading the team's minutes throughout the lineup to get everyone some rest before the postseason. 
"We definitely want to be a team that gets out and runs. (Coach Lett) doesn't want us to play a lot of minutes and if we can spread the wealth, that is best," Staton said. "It makes us hard to guard when we have multiple people scoring in double digits. That is hard to key in on."
Staton, a junior, looks to Magro for advice — the senior has become an ad hoc assistant coach while recovering from her injury. 
"Having Magro on the bench for us has been great this season. Obviously, we want her on the court with us but what's best for her is to sit out," Staton said. "Just having her leadership and advice when I come out of the game and telling me, 'Hey, you need to do this a little bit differently.' She is someone who knows that game really well and she wants the best for us.
"You really don't know how much the game means to you until it is taken away from you. I think everyone kind of knows that this season." 
Elmhurst 81, Millikin men 79
Millikin staged a late rally in the final two minutes of the game, but fell short against Elmhurst (4-1) on the road. 
After Millikin (1-9) took an early lead, the Bluejays gained control of the first half and lead 33-30 at halftime. The Bluejays led 73-63 with two minutes remaining before the Big Blue staged its late rally.
A Jake Hampton basket for Millikin made it 80-79 with six seconds remaining and a free throw from Elmhurst's Ocean Johnson made it 81-79. The Big Blue's game-tying shot was off the mark giving Elmhurst the two-point victory.
Calvin Fisher led Millikin with a double double with 23 points and 10 rebounds. Gowan finished the night with 20 points and six rebounds. Hampton added 11 points.
---
Watch now: Millikin's Aubrey Staton talks about the game against Elmhurst
Watch now: Millikin's Jordan Hildebrand
Watch now: Millikin's Olivia Lett talks about her team
Watch now: Game action from Millikin's win over Elmhurst
Abby Ratsch 1 022021.JPG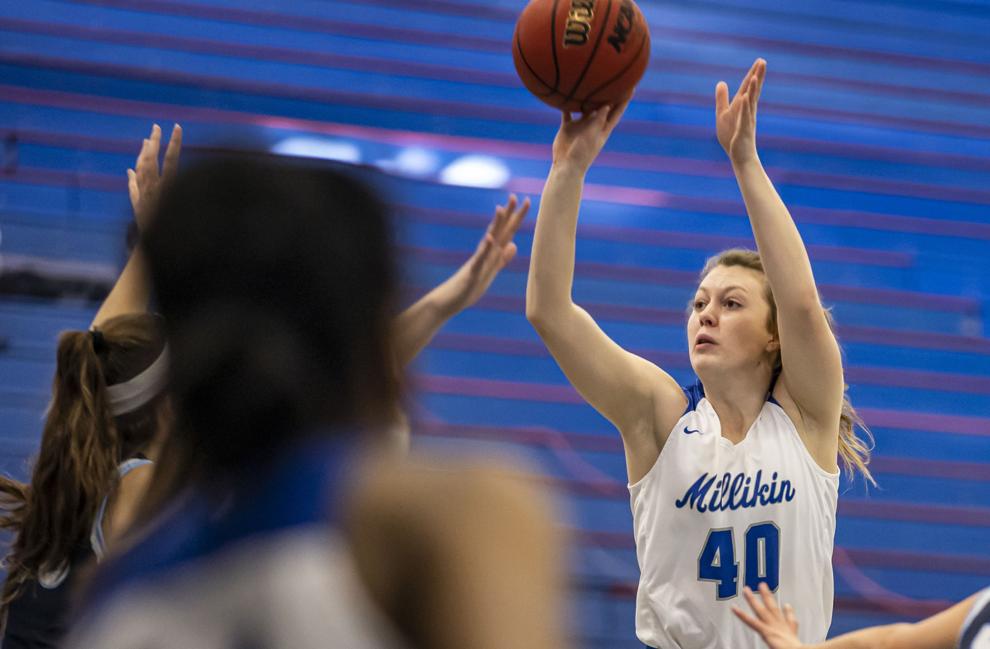 Aubrey Magro 1 022021.JPG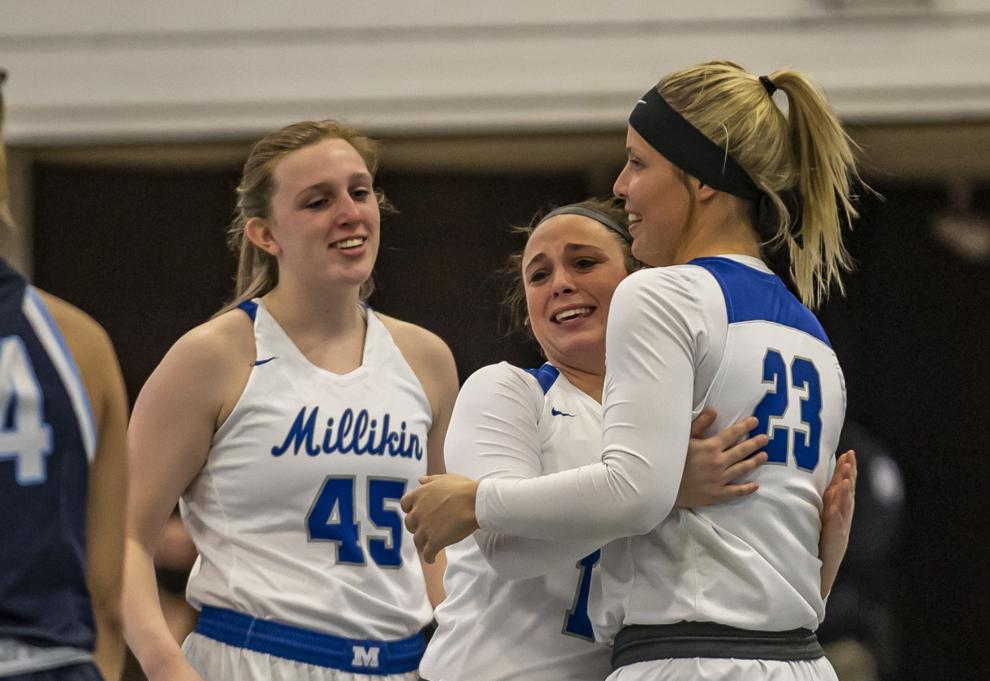 Aubrey Staton 1 022021.JPG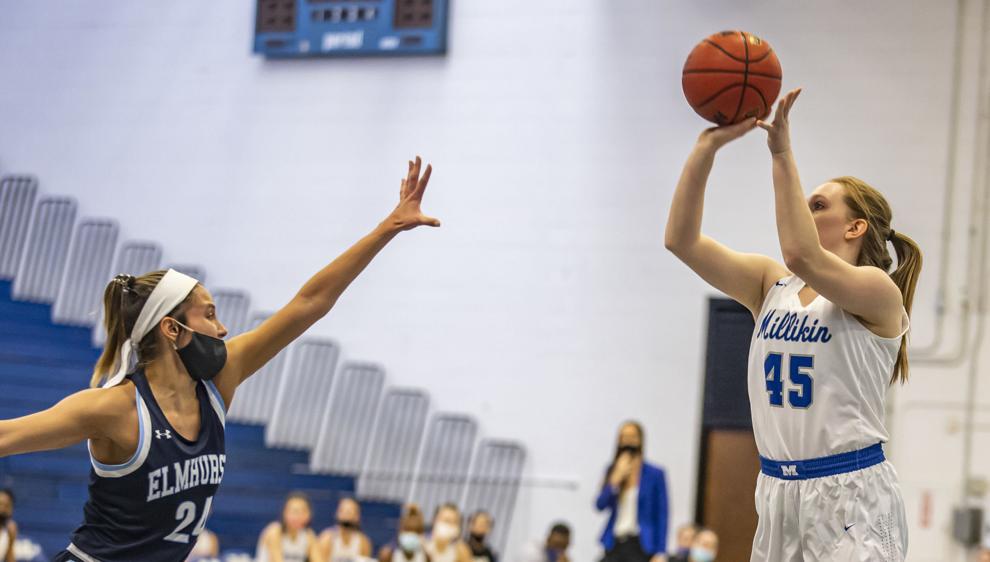 Bailey Coffman 1 022021.JPG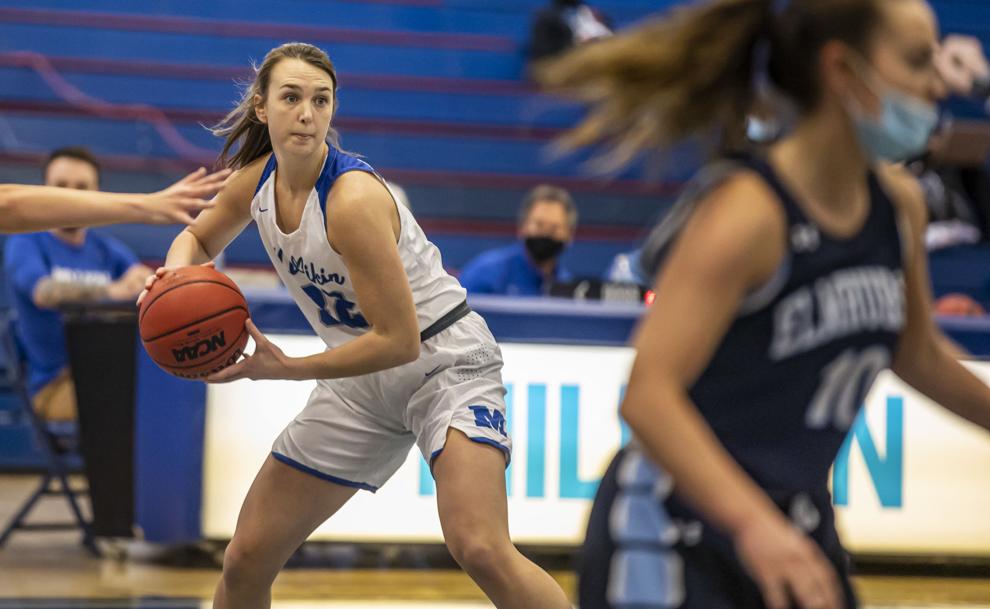 Bailey Coffman 2 022021.JPG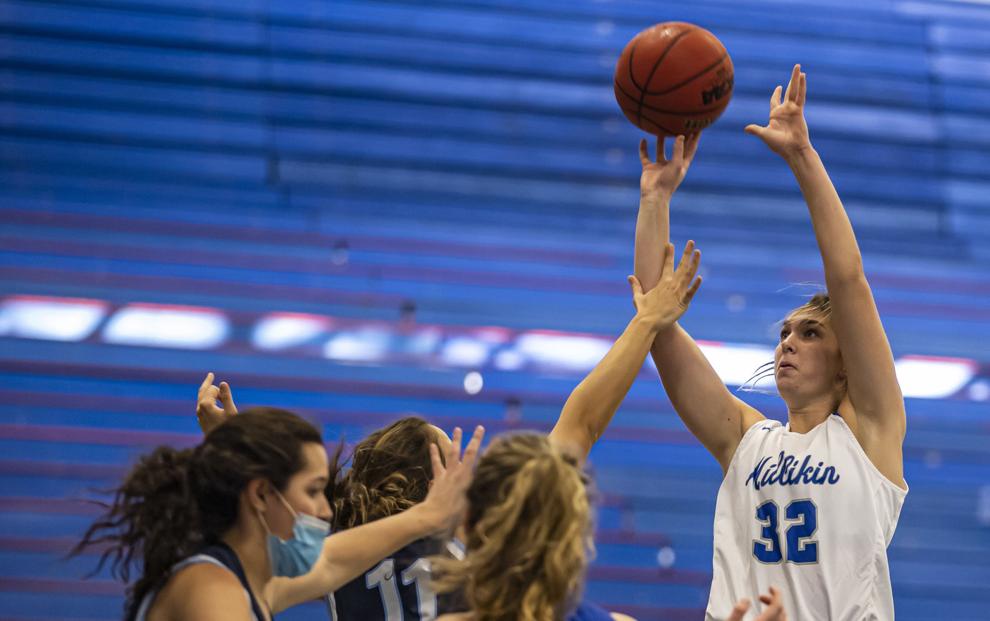 Elyce Knudsen 1 022021.JPG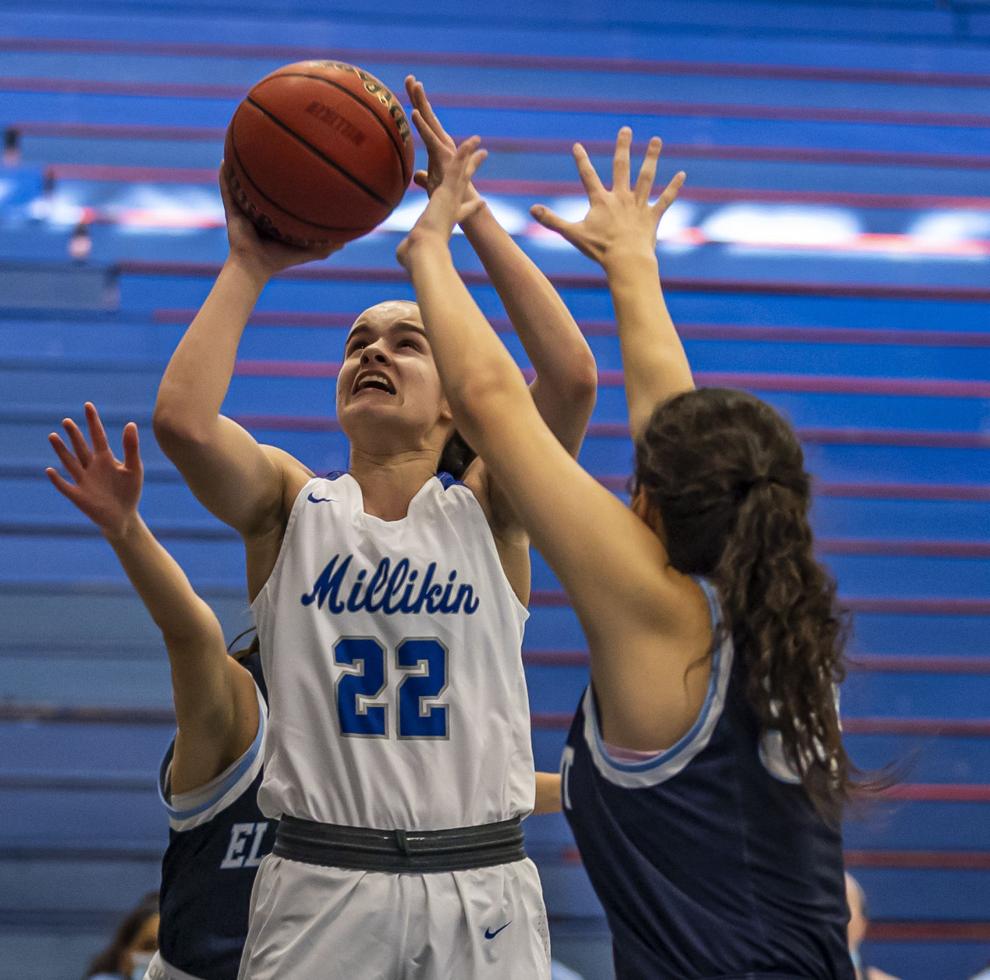 Jazmin Brown 1 022021.JPG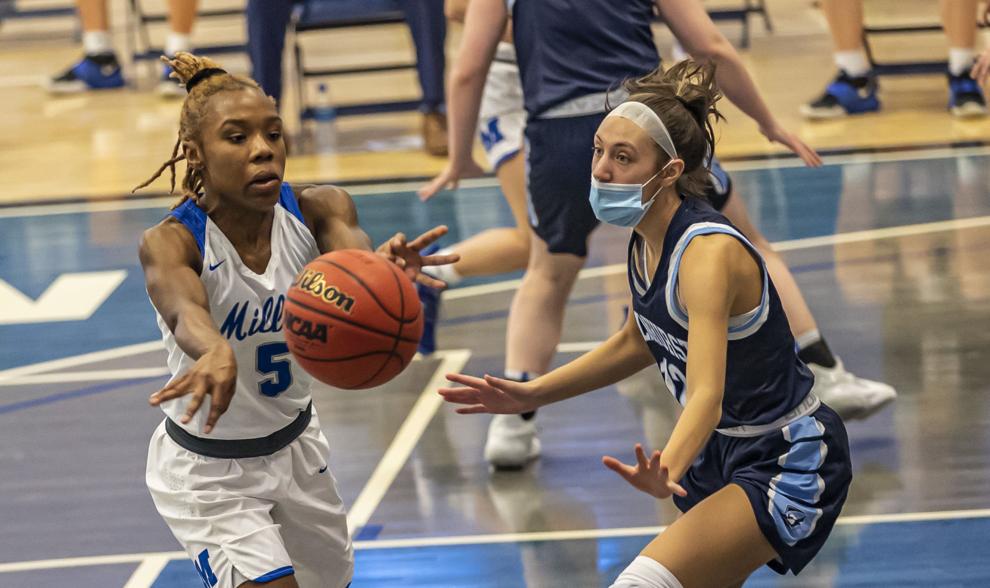 Jordan Hildebrand 1 022021.JPG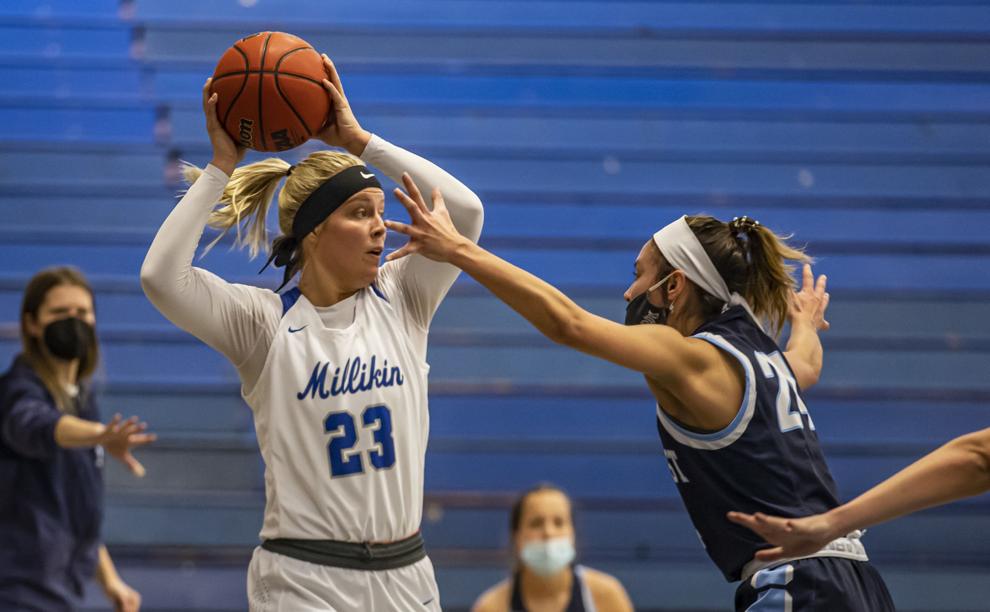 Miranda Fox 1 022021.JPG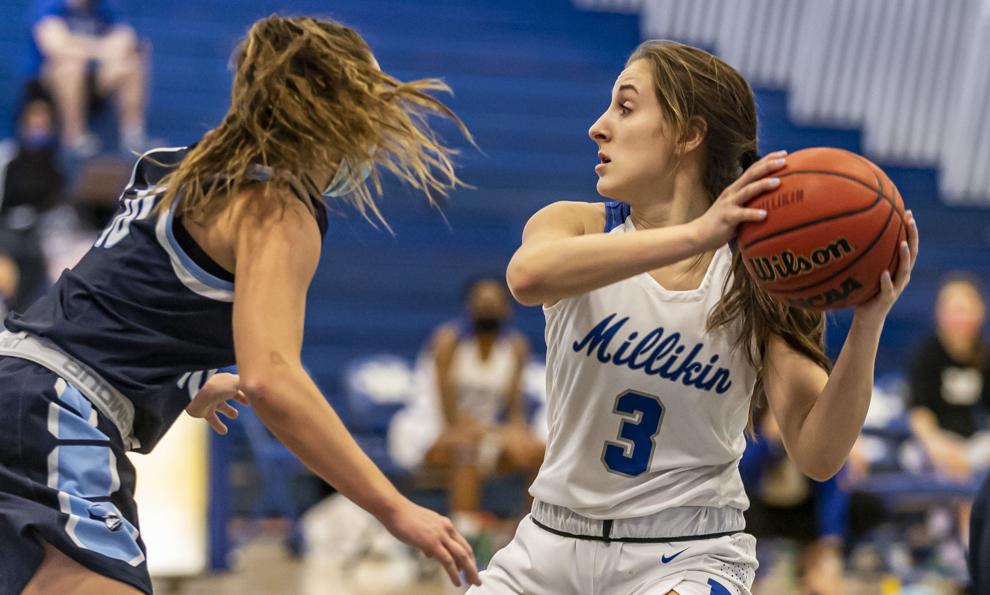 Miranda Fox 2 022021.JPG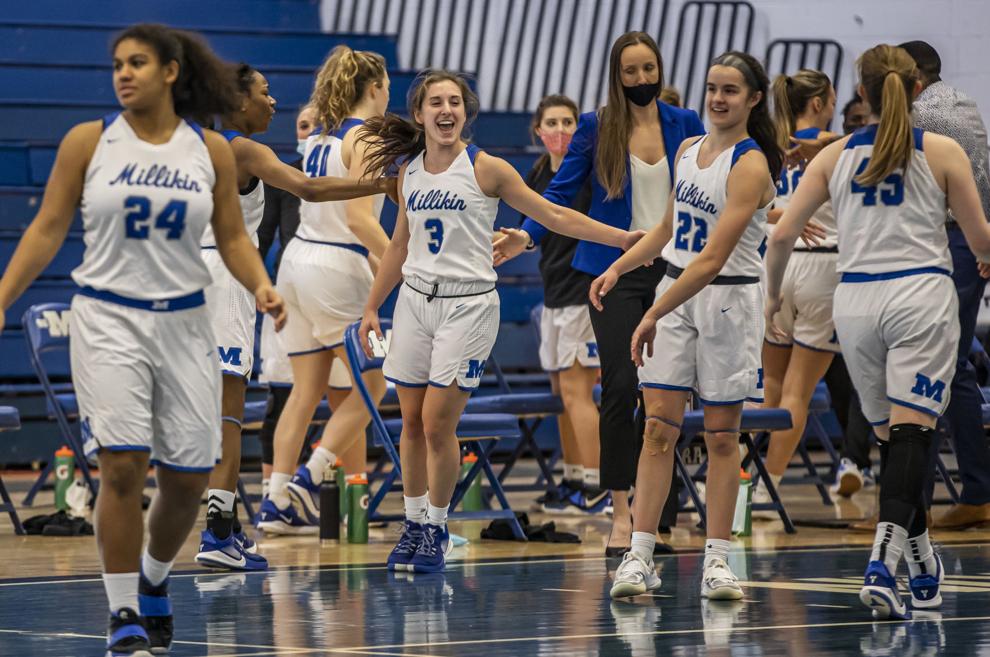 Natalie Snyder 1 022021.JPG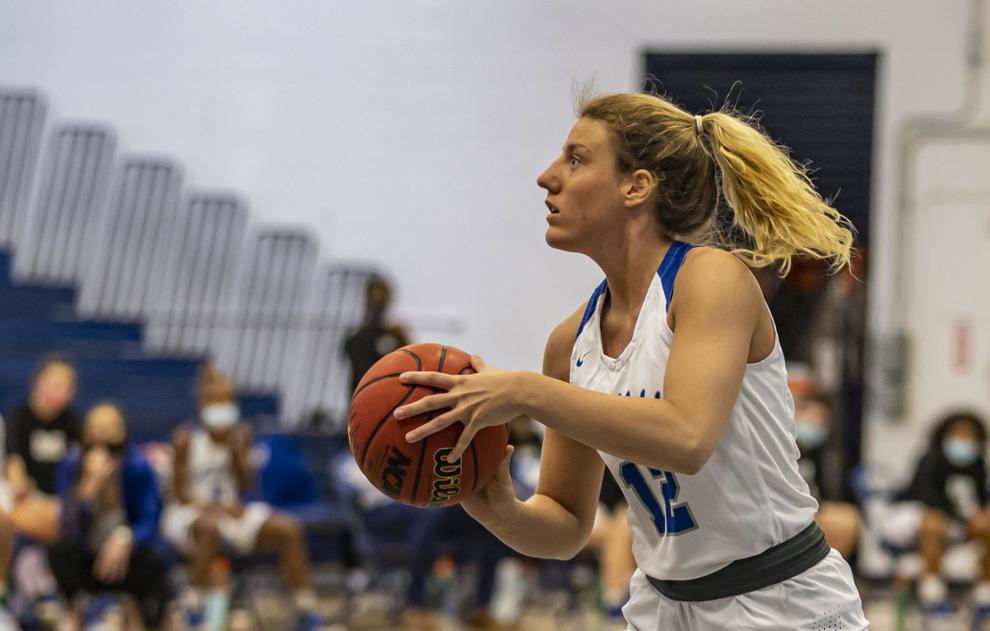 Sophie Darden 1 022021.JPG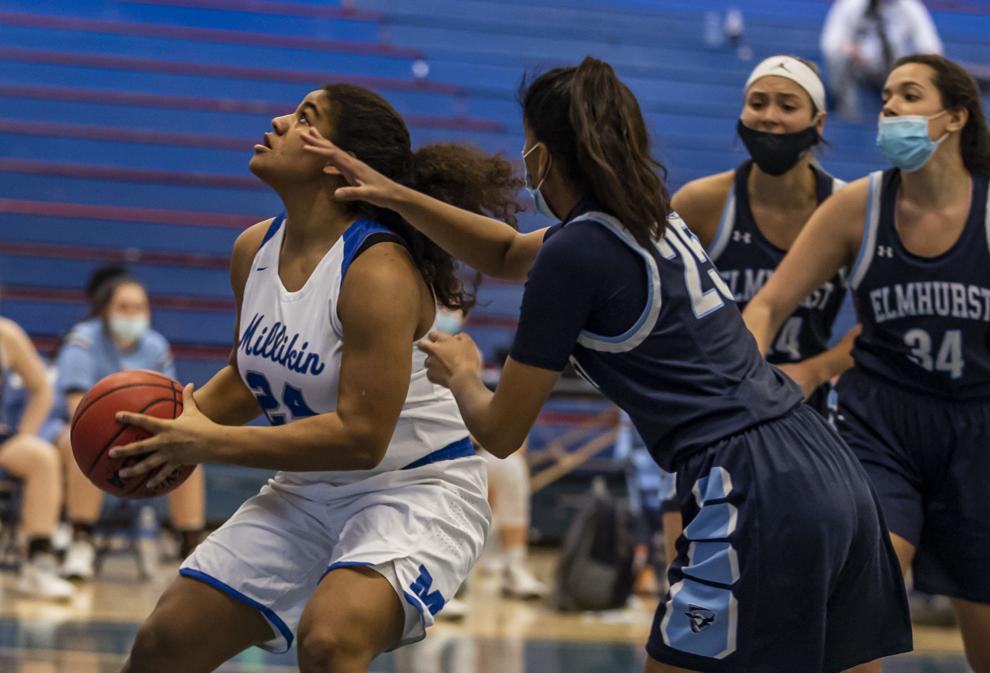 See more photos from Millikin's win over Elmhurst.
Contact Matthew Flaten at (217) 421-6968. Follow him on Twitter: @MattFlaten