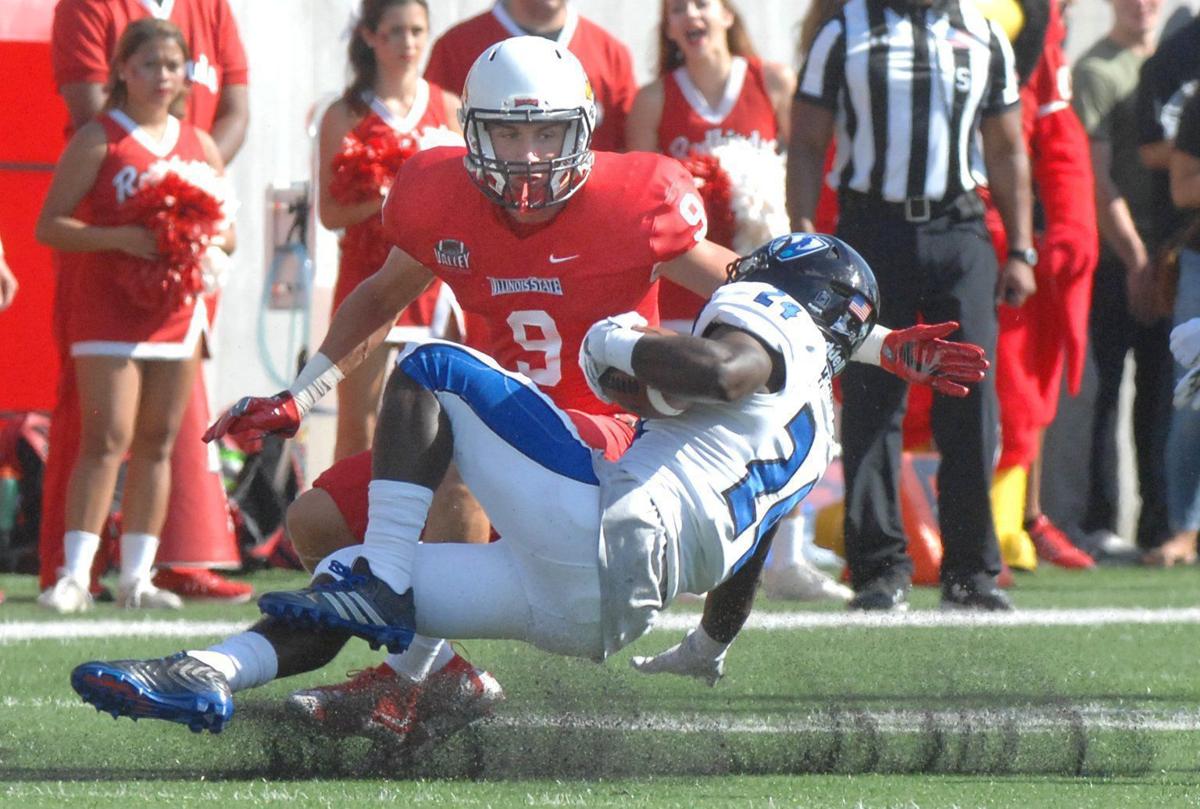 CHARLESTON — The last two seasons Eastern Illinois University football coach Kim Dameron knew what he had on at the running back position. In 2015, Shepard Little returned and teamed up with University of Illinois transfer Devin Church. The two combined for more than 1,200 yards rushing and Church emerged as one of the top running backs in the OVC.
During his junior campaign, Church rushed for 743 yards and nine touchdowns and he led the team with 36 receptions for 253 yards and a score. Church only improved as a senior and was an All-Ohio Valley Conference pick after rushing for 1,066 yards and seven touchdowns on 197 attempts (5.4 yards per carry average). Once again he led the team with 41 receptions for 386 yards and six touchdowns.
Now the Panthers have about a whole new group of running backs with Church's graduation and the other two top rushers behind him, Korliss Marshall and Chris Anderson, are no longer with the team. So EIU almost has to start from scratch with a whole new group.
Sophomore Darshon McCullough is the only running back who received carries last year. As a true freshman, he rushed for 138 yards and two touchdowns on 41 carries. He's joined in by Moorpark Junior College transfer Isaiah Johnson, converted sophomore defensive back Robert Columbus, McKendree University transfer Eddie Lusk and true freshmen Rodarrius Brooks and Courtney Rowell.
So far Dameron has seen something positive out of all of them throughout preseason camp.
"We are giving them all chances to see what they can do. The guys who move the chains and protects the football are going to be the ones that we go with," Dameron said. "But they have to be able to pass protect and have to be able to play the position and I've been pleased with all of them. They are learning."
McCullough said the competition has been good so far and the group knows EIU has rotated a few running backs in the past couple of seasons, so there are plenty of carries up for grabs.
"We have a lot of trust in all of our running backs. That should be good. We trust each other," McCullough said. "We play games, we have fun, we are a pretty good group. ... When one running back is down, the next one is up. That's how it was last year and that should how it be this year. I have a lot of confidence in us. We are deep and I have a lot of trust in us. It will be a great year for the running backs."
Finding a running back who can move the chains consistently on the ground is important, but EIU's offense calls for a number of a screens and swing passes. Church may be gone, but Dameron doesn't expect offensive coordinator Greg Stevens to alter his play-calling, which means at least one of the backs will have to be able to catch the ball out of the backfield.
You have free articles remaining.
"We want the quarterbacks, if it's there, take it, and that's why Devin was so productive because it was there and people dropped off into coverage and we gave it to a good back and let him run," Dameron said. "We will continue to do that and all of them have caught the ball fairly well."
Johnson is a junior as he comes into the program and this is Columbus' third year EIU since he redshirted as a freshman, but his first two seasons were at defensive back, making McCullough, who is only a sophomore, the the veteran of the group. Plus with his experience from a year ago, McCullough definitely wants to be one of the top running backs considered for the starting spot.
"That's crazy, I am young, but I have to step up and be a leader sometimes," McCullough said. "We are all around the same age, so I don't really feel like I have to be the leader even though I should. I am here to do whatever it takes  to help the team win, whether it takes being number two, whatever. I just show up when I need to."
Johnson is listed as the biggest back on EIU's roster at 6-1, 215 pounds. He took some first-team snaps during Saturday's first scrimmage of fall camp and scored on a run up the middle.
"He's a physical kid. He runs hard and has good balance," Dameron said. "He can catch the ball out of the backfield and he did a lot of those things at junior college. I think one thing that helped us, he's from Clarksville, Tennessee, which is 4 hours down the road and he liked it here and his mom liked him that close to home. She was a big part of why he came here. We are excited to have him."
At Moorpark, Johnson rushed for 780 yards and nine touchdowns as a freshmen. Then as a sophomore, He rushed for 1,064 yards and 14 touchdowns. He drew the attention of San Jose State and South Dakota State along with EIU.
"EIU got a hold of me and they were showing that they were committed to me and it felt like more of a home for me because they were calling me every week checking on me," Johnson said. "I just felt like they were more interested in me than what South Dakota State was. I saw that (EIU) had a gap in the depth chart. I knew that they needed someone that could be an immediate impact player. That's what I've been trying to provide for this team."
While Johnson thinks he can come in and make an impact, he knows he's with a talented running back group. He does think he can shine in EIU's offense if he gets touches.
"I feel like I can be a guy that compliments this offense, but you know how the running backs are and rotate, so everybody has a chance to be a guy and that's what I like about this group, we compete with each other and always keep each other on the edge," Johnson said. "So you want to stay on your toes to make sure you that you can be that guy because there's always someone in the group that can.
"I do have some personal goals, but it's a team sports. It's not what's best about me but what's best for the team. I am just trying to do my part first. Right now I just want to be an impact player for the team and help them where they need to be helped at."