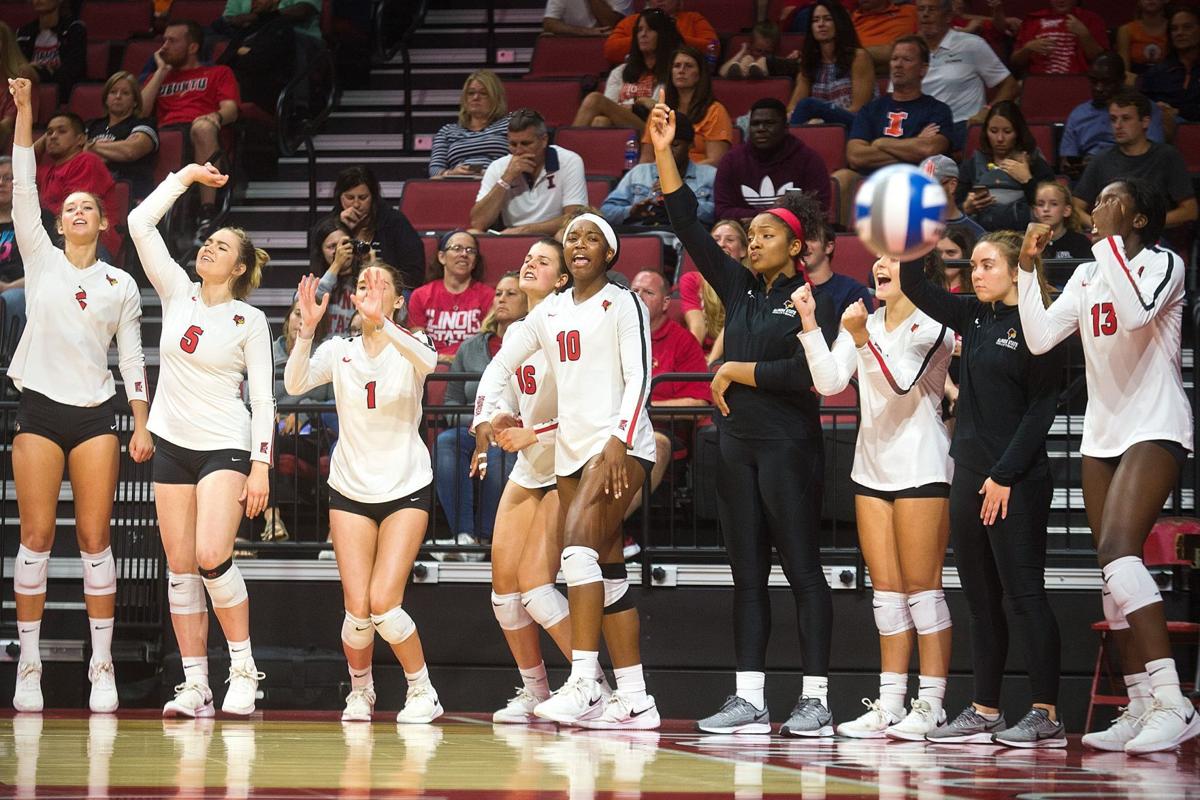 NORMAL — The Missouri Valley Conference has delayed the start of fall sports, excluding football, until Sept. 18, the league announced Monday.
The MVC will play conference-only seasons in volleyball and soccer.
Fall competitive schedules for ISU men's and women's cross country, men's and women's golf, and women's tennis will also be delayed until Sept. 18, as will the non-championship fall seasons for Redbird baseball and softball.
Additionally, fall practice for all MVC-sponsored sports may not start before Aug. 17.
"We've had multiple phone calls the last several weeks, and it appears this was probably the right thing to do," said ISU director of athletics Larry Lyons. "Cut the season down. Concentrate on the conference season."
"We had two options, either adjust the schedule or cancel the schedule," said Johnson. "I would rather start with the least irreversible option. As we gain more information and observe the professional leagues around us, we can make informed decisions."
Johnson has been discussing possible scenarios with her team for several weeks.
"To ignore it would be naïve on my part. We wanted to get the angst on the table before getting the official word," she said. "We're trying to make the most of what might remain."
ISU loses the equivalent of 12 nonconference matches over four weekends of round-robin tournaments, leaving a schedule of 18 MVC contests.
"We were pretty excited about our schedule so we're bummed there," said Johnson. "But we still have a season to play so we're trying to focus on that."
According to Johnson, the nine-week MVC slate will be expanded to 10 weeks.
"I'm excited we have some flexibility even if it's just one week to address the what ifs," she said.
Silvey also has opted for an optimistic approach.
"What I read into it is we still have a season and we're still playing soccer," he said. "That's the message we shared with the team. That's what we really need to focus on. That's what needs to be the priority."
Silvey's players are participating in voluntary workouts.
"They are excited to be back on campus with each other doing what they love," he said. "That hasn't been taken away from them yet."
The loss of nonconference matches whittles the Redbirds' schedule from 19 to eight, although Silvey said MVC coaches are hoping to secure additional dates within the conference.
"We're looking at trying to give the MVC a few different ideas to hopefully add some more competition dates for our student-athletes," said Silvey. "We're trying to figure out a way to make that equitable."
According to Lyons, ISU will attempt to reschedule a women's golf tournament at Weibring Golf Course that was to be played before Sept. 18.
In a statement released by the MVFC, which is considered a separate entity from the MVC, the league "has determined patience is warranted regarding any decision to modify the 2020 Fall season, seeing merit in delaying as long as there remains a possibility to provide a safe competitive opportunity for MVFC student-athletes.
"The MVFC and its Presidents Council will continue to monitor national developments and, if necessary, will consider additional action as dictated by circumstances."
ISU football coach Brock Spack is "still optimistic" the Redbirds will have a season.
ISU's schedule sits at 10 games after the Sept. 4 season-opening game at Illinois was canceled when the Big Ten Conference decided to contest a schedule of solely conference games.
The Redbird football opener is Sept. 12 with Eastern Illinois playing at Hancock Stadium in the Mid-America Classic.
Spack's team is currently in a walk through phase of preseason practice and remains on target for the official opening of training camp on Aug. 6.
"The (MVFC) presidents want to wait a couple more weeks and see where the (NCAA) Board of Governors comes down," Lyons said. "They meet again in early August. A good number of league teams have games against Big 12 schools. We'll see where that comes out."
Spack called the lingering uncertainty "frustrating. But it's nobody's fault."
ISU's baseball and softball teams have spring schedules, but also have a fall practice session with a small slate of outside competition.
"They will have to decide if they are still going to do that or make it more of an intrasquad situation," said Lyons. "Whatever they need to do within those (safety) parameters, they still will be allowed to do that."
Pantagraph reporter Randy Reinhardt's top five games
Contact Randy Reinhardt at (309) 820-3403. Follow him on Twitter: pg_reinhardt
Be the first to know
Get local news delivered to your inbox!