DECATUR -- The Maxey family name and Decatur boxing have been synonymous for decades.
Terry's grandson, Jordan Maxey, continued the boxing tradition by winning four Golden Gloves tournament tiles and eventually going pro, where he notched a 3-1 record, including two knockouts.
Jordan has now also continued a Maxey tradition by opening Maxey's Boxing Club at 1101 N. Water St. near downtown Decatur.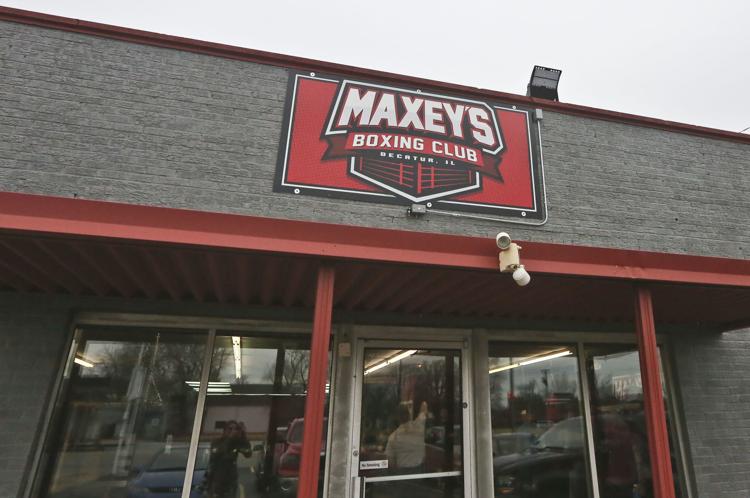 "We were looking at places for at least two and a half to three years," Maxey said. "I found this one just driving by the road one day and I thought that would be a cool little place. Business-wise it is very visual and kind of in the middle of town. North or south we are within five or 10 minutes from everywhere.
"I thought it would be perfect for a boxing gym and I knew right away when I was inside how I was going to design it."
The club features heavy bags, speed bags and in the back you'll find a full-size boxing ring which, thanks to Maxey's reputation as an experienced trainer and his significant social media presence, has seen a lot of action since Maxey's opened March 4.,
"It's going great. Before I turned the key I pretty much had everything taken care of. I have a lot of people interested and a lot of pre-signups so I have no complaints," he said. 
Maxey has found the largest hurdle for getting more people in the club is mental: What actually happens in a boxing club? 
"I always use the old expression, 'You don't have to be a fighter to train like one.' You don't have to be afraid to walk into a boxing gym," he said. "People sometimes wonder, 'Do I have to get hit? Am I going to get punched?' The answer to that is no.
"I wish some of those people who are nervous about it will take that step and come in and see the vibe and come in here and get in shape."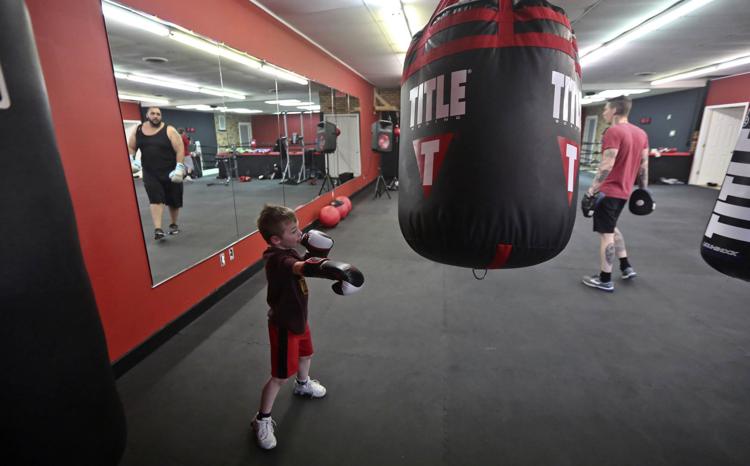 Workout programs begin early at 5:30 a.m. with a women's cardio boxing class. 
"Our first class is an all women's class that is geared towards cardio and fat burning and it is one heck of a work out," Maxey said. "The girls are about dead when they get out of here and I am proud of them already in their first weeks."
Between 5 p.m. and 8 p.m. Maxey leads an open boxing gym in which members can learn the basics of boxing or just get a workout. Some advanced boxers are prepping for an upcoming amateur boxing event on April 20th at SkyWalker International. 
One of those preparing for the event is Christina Heathcock, a mother of three who trains at Maxey's club with her husband Colby Heathcock. She sees many different benefits in training at the club. 
"My husband and I go for one to two hours at a time. It's a stress reliever for me and helps with weight loss. It is also good for self-defense too," she said. "I enjoy the atmosphere. Jordan makes it feel like you are a part of a team and everybody's together. He's tough as a trainer — tough in a good way. He lets you know what you are supposed to do and teaches you instead of criticize you. He helps you build yourself up."
Monthly costs for the women's cardio boxing are $100 and $70 per month for the open gym boxing. One-on-one personalized lessons with Maxey are also available. 
"I've done every type of workout and boxing is the best workout that you can do. It's fun, once you get in and get comfortable, it is fun," Maxey said. "Everyone is in here nice as can be and they are in here helping each other and it's a good environment."