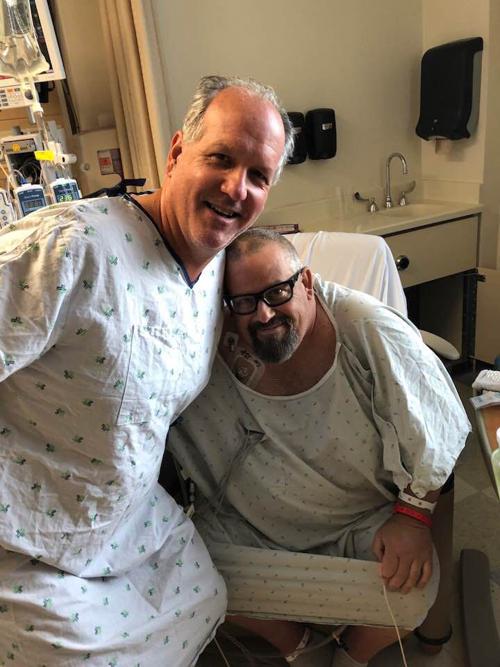 DECATUR — Kevin Hale walked into Eisenhower High School on June 22, gently lowered himself to his hands and knees, bent down and kissed the Panthers logo in the student commons.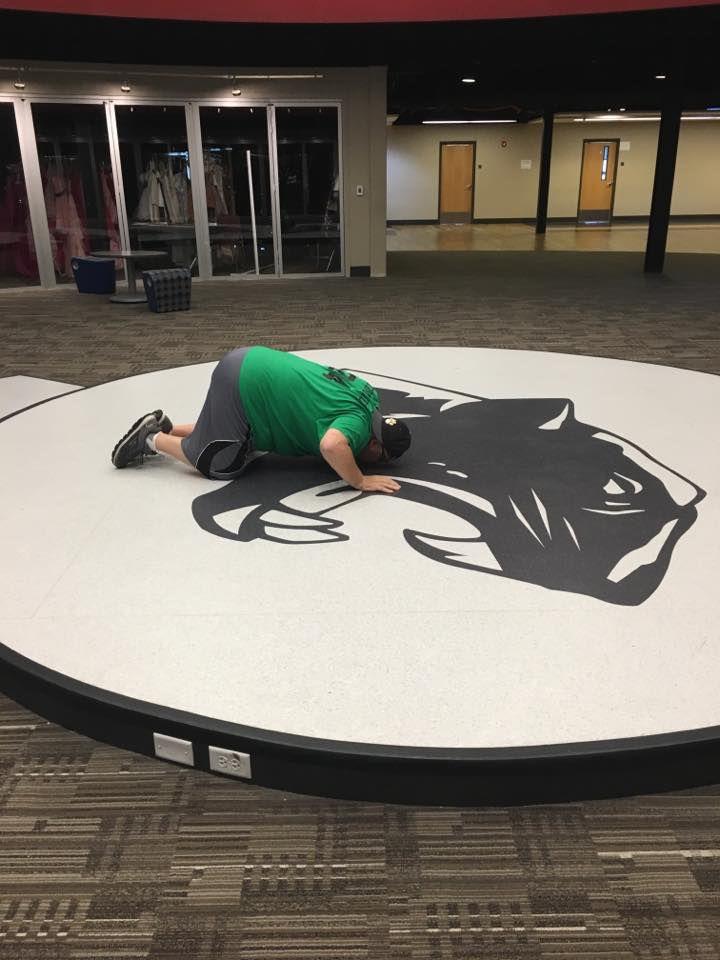 The kiss signified the end of a journey that began in the summer of 2015 when Hale — a teacher and coach at Eisenhower — went to the emergency room and was told his kidneys were failing, and that he was dying.
For three years, Hale, 52, of Decatur, stayed alive via a dialysis machine. He was told by most of the medical facilities he visited that he was too overweight for a kidney transplant.
When he finally found a place that would perform the surgery, Hale thought he was getting a kidney for Christmas from his sister, but just days before the scheduled surgery, doctors found her kidneys weren't functioning well enough for a transplant.
In a late twist, Hale didn't end up with Overturf's kidney, either, But on Thursday, June 14, at the University of Illinois Hospital & Health Sciences System in Chicago, he received a new kidney, and it's working.
A week later, he returned to Decatur, free from the effects of kidney disease, free from the rigors of dialysis, and grateful for the love he received from his community and beyond.
"That was a true kiss," Hale said of homecoming smooch at Eisenhower. "That was for my co-workers who supported me, the students who wrote me letters wanting to give me their kidneys, and everyone in the community who encouraged me. I'm in debt and grateful to all of them."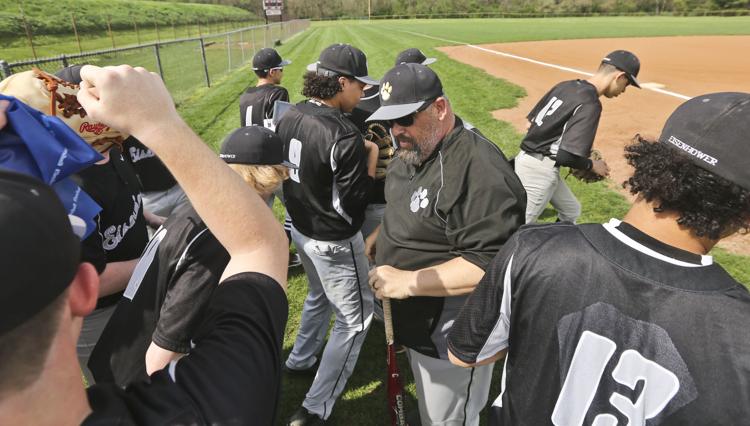 'That's the guy'
The Hales were crushed when the planned transplant of his sister's kidney fell apart. When Overturf turned out to be a perfect match, the surgery was set for mid-June — as soon as the Eisenhower baseball season, which Hale had insisted on coaching despite his illness, was over.
It was that previous disappointment that had Hale's wife, Ranee Hale, skeptical when the hospital's transplant program asked the Hales if they would be OK with what UI Health transplant surgeon Enrico Benedetti called a "paired donation."
Because, while Overturf was a match for Kevin, he was also a match for a UI Health patient named Juvenal Cano. And the man who had volunteered to donate a kidney to Cano, Gregorio Cortez, wasn't a good match for Cano, but he was a perfect match for Kevin.
"Todd was apprehensive about it, and Ranee was really apprehensive about it," Kevin said.
Kevin, though, knew what Cano was going through.
"I told them both: 'I'm all in,'" Kevin said. "You have to be in a dialysis chair and know the pain, throwing up in the parking lot, your legs hurting … you have to know what that is to understand.
"I just said: 'We have a chance to get another guy off the island. Instead of saving one person, you'll be saving two.'"
Overturf agreed, and, eventually, so did Ranee.
Fortunately for the Hales, this wasn't Benedetti's first rodeo. He's performed more than 1,500 organ transplant surgeries since he began at UI Health in 1996, and has presided over dozens of paired donations, including eight this year alone.
The main concern in a paired donation is that a donor will back out at the last minute, leaving one of the recipients without a new kidney. To avoid that, they all go into surgery at around the same time.
That's how Kevin was able to figure out who his donor was.
"You don't have to be Sherlock Holmes," he said. "When we got into the waiting room at 5:30, there was a Hispanic family to the right, then me and Todd, and we're all just kind of looking at each other.
"Then we go into pre-surgery, and there's only a curtain between us. We're the four back there, and I'm signalling to Todd: 'That's the guy who's getting your kidney.'"
'It's discrimination'
Kevin's quest for a kidney had been an uphill battle from the start. He'd been to several facilities that told him he weighed too much for a safe transplant to be performed. They told him he'd have to lose weight, an especially difficult task while on dialysis.
"I yelled at a lot of doctors who told me I was too fat," Kevin said. "I told them I couldn't run a marathon anymore. How do you want me to lose 70 pounds?"
Those doctors didn't tell him about Benedetti. Kevin found him by chance, but knew right when he met him, he'd found the right guy.
"I remember the first thing Dr. Benedetti told me when he first walked in," Kevin said. "He looked me in my eyes, and in his hard Italian accent, he said to me: 'It is cruel they won't do transplants for overweight people.' He had me there."
Benedetti said obese patients are often looked at as too high-risk, and not worth saving.
"Doctors tend to have a bias in their minds that people with certain health problems caused their own disease," Benedetti said. "But it's also more difficult to perform a transplant on an overweight patient. The outcome isn't as successful as in people with a lower BMI, and there's a lot of pressure all the way to CMS (Centers for Medicare and Medicaid Services) to have optimal outcomes. That pressure has made a lot of programs risk averse. To get phenomenal results, the only answer is to minimize risk. That's sad.
"It's a real problem. These are still human beings, and the long-term survival of patients on dialysis isn't good. A nice guy like Kevin, who is a father, it's discrimination. As soon as I saw him, I knew I had to help him."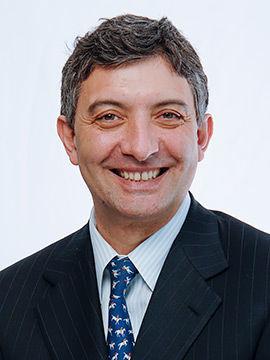 Benedetti said that transplanting a kidney into Kevin wasn't an easy surgery. Kevin had quadruple bypass surgery in 2007, and he's diabetic — the diabetes had caused his kidney disease, and Benedetti said arterial calcification nixed his plans to perform a less invasive robotic surgery for the transplant.
"Even in that case, we don't say, 'No,'" Benedetti said. "We did a regular open surgery and it went very well."
Benedetti said when he began performing transplant surgeries on overweight patients, it caused the medical community to raise an eyebrow.
"I was looked at with suspicion," Benedetti said. "Now teams from all over the country come to Chicago to train. We have a team from Yale coming to train, and the University of Cincinnati. We're starting to create some momentum that is really going to benefit a lot of patients."
After a three-and-a-half-hour surgery, Kevin was moved to a hospital room. Sometimes it can take weeks, even months, for a transplanted kidney to begin working, but Kevin's new one began working right away. It immediately began producing urine, which is the tell-tale sign it's functioning.
Kevin had a lot of pain after waking up in the late afternoon, but by 6:48 the next morning, was feeling good enough to make his first post-surgery Facebook post: A smiling selfie with the message, "I'm coming home. Give me some time...but hug fest is on horizon. I feel...and felt all you prayers. You carried me with your thoughts and best wishes. I love you all very much."
'Mi hermano'
It was another six days before Kevin returned home, but, in typical Kevin Hale fashion, he spent that time making two new friends.
Kevin said, normally, transplant recipients must apply to Gift of Hope, a not-for-profit organization that facilitates organ and tissue donation, before getting in contact with donors. But Kevin had already seen who his donor was. And when he saw Cortez walk by his room the day after surgery, he yelled out, "Mi hermano" — Spanish for, "My brother."
Cortez told Hale he spoke English, and the two began talking. It didn't take long for Cortez to get the full Kevin Hale experience.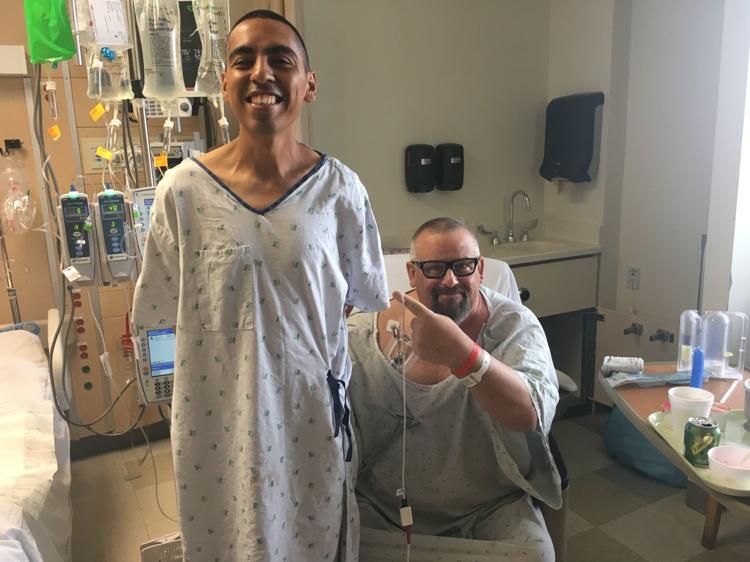 "He has such a big heart," Cortez said. "He said to me, 'Greg, you're my brother now.' He's such a great guy."
Cortez is an auto auction foreman in Chicago. He met Cano a few years ago and the two became friends. When he found out Cano needed a kidney, he was tested and was deemed healthy enough for donation.
Cortez said when the paired donation was brought up to him, he was a little worried. But, ultimately, decided it was the right thing to do.
"I'm a man of God," Cortez said. "If I can help save a life, I'm all for it."
Cortez said he hadn't even really considered whether or not he'd try to meet the person he donated his kidney to, and hadn't planned on immediately trying until Kevin called him into his room.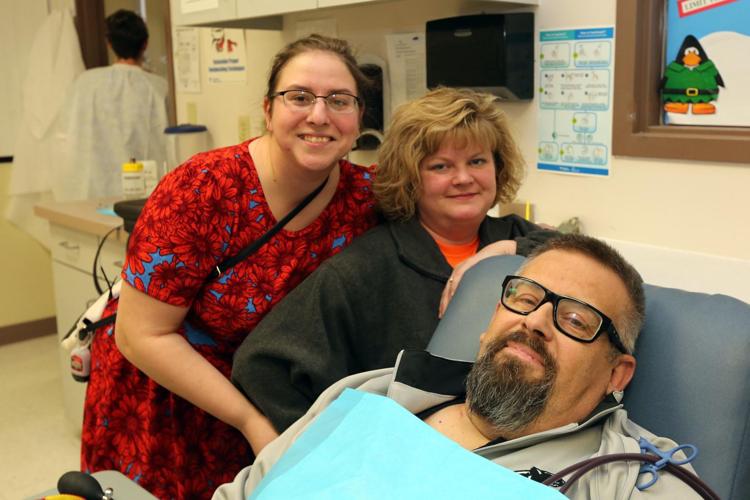 Soon he was Facebook friends with both Hale and Overturf, and their wives. Cano was also introduced to the mix, and the four families bonded over a shared experience.
"We would go into each other's rooms to visit and hug on each other," Kevin said. "Late at night I'd go sit with Juvy and watch the World Cup."
Kevin sees Cano at his twice-a-week follow-up appointments at UI Health — "He doesn't speak great English, but we sit there and talk about our lives and our kids." Kevin and Cortez text each other every morning.
"I have to say, I didn't see that coming," Cortez said. "I may have eventually become interested and reached out. But even now, saving someone's life … I can't explain it.
"We had a barbecue after I got home and Kevin couldn't come, but we want to do it every year and I want him to be there. And I want to go to Decatur and visit him sometime. This is just … something very good."
'Off-the-charts good'
Though Kevin is still in pain from the surgery, it's getting better, and the kidney is still functioning well. He'll get staples from the surgery taken out next week, and his twice-a-week trips to Chicago for check-ups might be decreased to once-a-week sooner than expected.
"My numbers are off-the-charts good," he said. "I just can't believe it. My legs feel great and my lungs feel great. Everywhere I go people tell me I'm not gray anymore, and the whites of my eyes are white, not yellow."
The surgery was also a success for Cano, and Overturf and Cortez didn't experience any complications, either.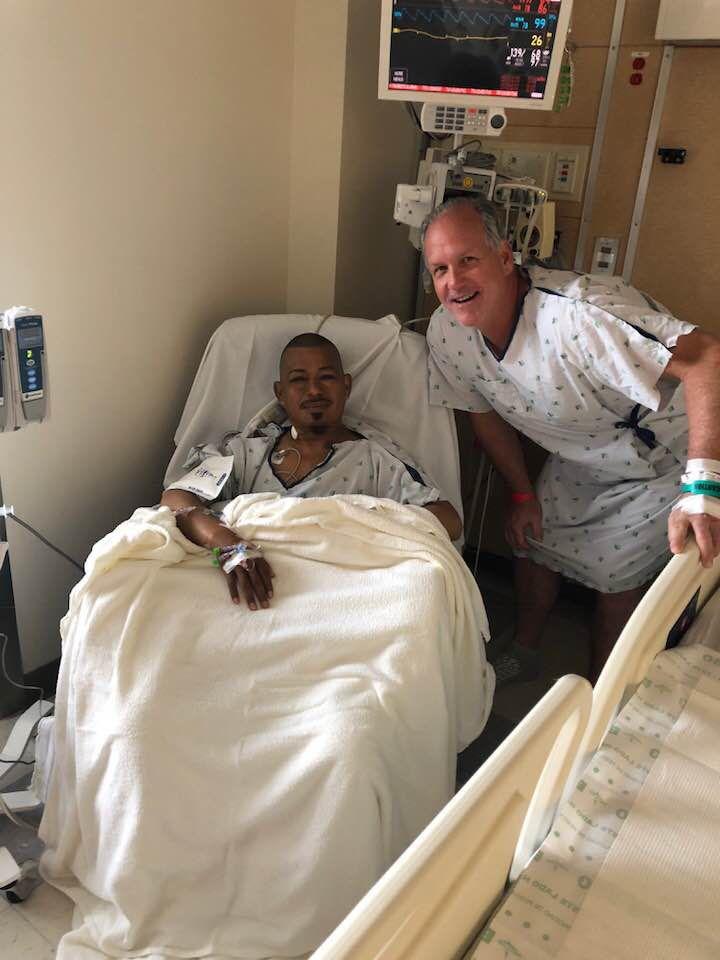 But life post-transplant isn't exactly like hitting a reset button. Kevin will be on anti-rejection medication the rest of his life, which lowers his immune system and makes him sensitive to sun — not easy for a baseball coach.
"The first six months are the hardest because of the anti-rejection drugs and the drug he's taking to prevent infection," Ranee said. "His immune system will always be compromised, but it'll get stronger. After six months they'll take him off the one that prevents infection and cut another drug down to half, so that will help."
Letting his diabetes get out of control is what caused his kidneys to fail, and he's been better about taking his insulin and not gaining weight the last three years.
But the sacrifices made for him by Overturf and Cortez have him ready to take his health-consciousness to another level.
"This is the way they (UI Health) put it: You've been given a gift. You can continue on the old path, or you can have the discipline you need to live a long life," Hale said. "After what I've been through and what I just saw three other people go through for me to get a kidney, I watch my carbs, I take my insulin, I take my medication. It's so easy for me to walk by a cupcake now. It was hard before. Now I just walk by it.
"My best friend just gave up a kidney for me. If you can't have discipline in a moment like that, you're never going to have it. I want to honor him. I want to honor Gregorio.
"You have to think like this. Do I want to dance at my daughter's wedding, or do I want to be in a wheelchair? When you've been given a gift like this, I'm taking every med down to the last one and taking my insulin regularly."
Benedetti said as long as Hale takes care of himself, his new kidney will last. He said the early returns are good.
"The long-term success depends mostly on the patient, and he's a man who is very precise with taking medication," said Benedetti, though Kevin would be the first to admit that Ranee is a big part of that. "As long as he continues to be precise, he has a very good chance of keeping the kidney for a long time."
More Kevin Hales
On June 21, Kevin returned to Decatur. Within a week, he'd kissed the floor at Eisenhower, brought flowers to his fistula nurse Carrie and went to Fresenius Kidney Care, where his dialysis had been performed, and hung out with his "chair buddy" Dale.
"It's a weird feeling to know that I'm free from it, but I have friends who are still in there," Kevin said. "You want to be joyous, but you want it to be tempered. Dale told me he was jealous. I just said to do what you need to do and call who you need to call."
From the time Kevin first shared his story with the Herald & Review, to the days leading up to his surgery and in the aftermath, Hale received hundreds of Facebook and Twitter posts, emails, letters and in-person encounters encouraging him.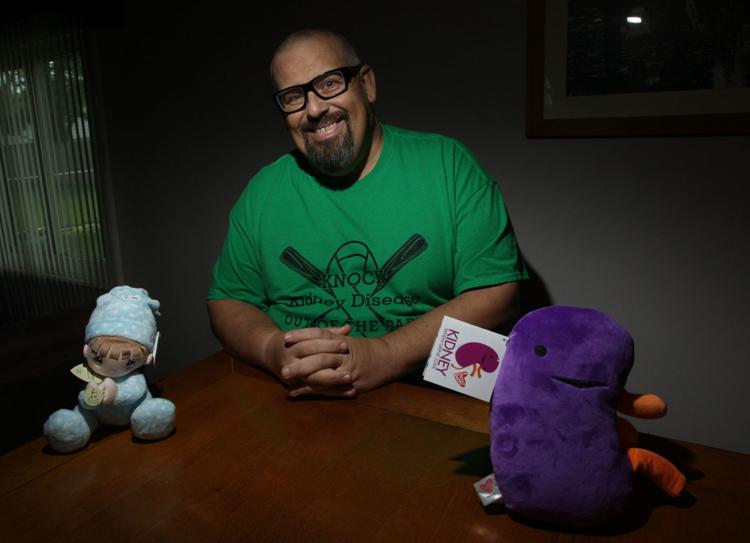 "When Kevin decided to share his story, it just kind of made this connection with everyone, and it's blossomed from there," Ranee said. "To see all the outpouring of support and prayers from our friends and family, and the community, and even complete strangers ... it touches you to know he's had such an impact on so many lives."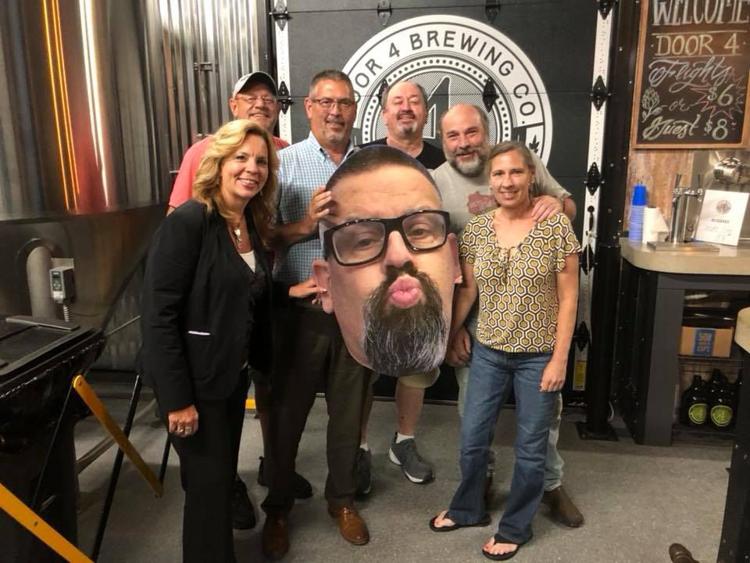 Kevin said now he wants to make it his mission to help other people whose shoes he was in. And he wants to make sure everyone registers as an organ donor.
"I want to get the message out there that there's nothing to be afraid of," Kevin said. "If you're leaving this planet, God is going to take your soul. He's not going to take anything else. Sign the back of your driver's license. If you die in a car wreck, save somebody.
"I'd like Decatur to be one of the great sites of organ donations in the state. We have a great, caring community with people willing to sacrifice for others. There's more that needs done. There are more Kevin Hales out there. We have to go get them."
---
Contact Justin Conn at (217) 421-7971. Follow him on Twitter: @jconnHR
Be the first to know
Get local news delivered to your inbox!