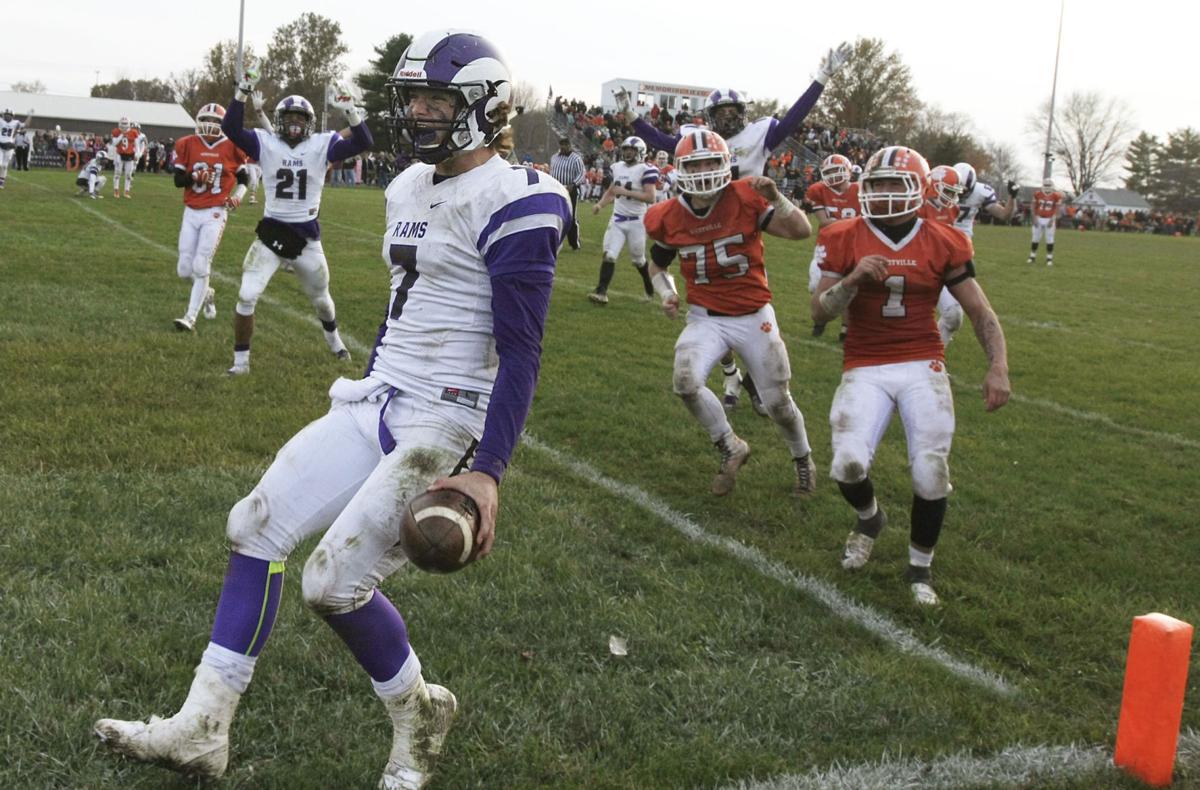 SHELBYVILLE — If Turner Pullen's senior season were split up into a four-act play, the penultimate act would be where he silenced his critics and earned rave reviews.
The first act was the beginning of the season, where Pullen set the stage and established a motif of success.
His second act was after coach Bill Duckett was sidelined by a mini-stroke, and Pullen rallied the troops through the closing weeks of the regular season.
The third, and penultimate act, was his playoff performance, where the curtains drew closed right after he delivered a monologue to send Shelbyville to its second straight Class 2A state semifinal football game.
And the final act? That's still being written.
Pullen dominated this season, throwing for 3,070 yards and 41 touchdowns to go with 1,076 rushing yards and 27 rushing TDs on his way to the H&R Area Football Player of the Year.
But it was the third act, in the quarterfinals against Westville, that was Pullen's shining moment.
The Rams allowed Westville to storm back from a 23-point deficit to take a lead with 1:30 left in the game. Shelbyville's players were letting skepticism slip into their minds.
But it never happened to Pullen. He orchestrated a drive capped off by a 15-yard touchdown scamper with roughly 30 seconds left to send the Rams back to the semifinals.
"That last drive is something I think everybody who was a part of that will never forget," Pullen said. "Scoring that last touchdown with about 30 seconds left was awesome, too. That was probably my favorite memory of my high school career.
"I guess it would have been better in the state championship game, but it was still cool in the quarters to do something like that."
The final act of his season should be Pullen signing to play college football. He has the size (6-foot-3, 200 pounds) and skills (a pinpoint-accurate arm with power and the ability to run), and he is one of the most statistically accomplished quarterbacks in recent H&R area memory.
But the phone isn't ringing.
He has an offer from McKendree University and has had contact with a handful of Division I schools, but no offers.
Around this time of the year, social media is abuzz with high school athletes signing their letters of intent.
Pullen sees it and, while happy for his friends, is trying to keep a level head.
You have free articles remaining.
"It's a little hard to stay positive, especially when you have tons of people asking you throughout every day what colleges are looking at you," Pullen said. "But I mean, all you can do now is stay positive and send out your Hudl highlights to coaches, stay in the weight room and working out and stay in shape.
"It does kind of make you sad seeing all these kids get offers. But at the end of the day you have to realize that life is more than football and you have to stay positive through it all."
There's no cut-and-dry answer as to why the phone isn't ringing.
Pullen and Duckett cite the small school aspect — as has been the plight of many small school football players before Pullen, and will be the plight of many small school players after Pullen.
The numbers are there. The postseason success is there. The Hudl tape shows a 6-3 quarterback sprinting away from linemen and launching the ball more than 30 yards down field with a flick of the wrist.
Duckett said he knows the opportunity will present itself for Pullen.
"If he was on one of those bigger schools, he would have bigger, better personnel around him and he would be that much better, too," Duckett said. "Its tough to get lumped in with the small school thing. He just has to stay patient, work hard and get his name out there.
"Something good is going to happen. It will turn out all right and he will find the place for him. He's just excited and wants to play football. He's always said that he wants to be a college football player. He's doing the right things and hopefully playing basketball takes his mind off of it a little bit."
Even before Pullen took the Central Illinois Conference — and central Illinois — by storm, he and Duckett knew last season that he had the potential for a breakout year.
They put last season's 48-8 semifinal loss to Maroa-Forsyth behind them and looked ahead to what would return — Pullen, a deep, talented cast of receivers that included Kentrell Beck, and an offensive line to give Pullen time and keep him upright.
It started then, in that moment on the way back to Shelbyville from Walter Boyd Field.
"Once we lost last year in the semis, I knew we had something special this year," Pullen said. "Coach Duckett was always reminding us to keep working hard and was always giving us reminders of what happened in that semi game.
"After seeing how good of a year Kentrell had last year, I knew we would have a good connection this year."
Duckett said he knew his offense had the firepower, he just wanted to see Pullen improve on a few aspects of his game — and he did.
He improved his completion percentage by about 10 percent, which was enough to have the offense humming.
"We had high expectations knowing we had all those receivers back, him and quite a few linemen," Duckett said. "Offensively we had eight or nine guys back. He put in a lot of time in the off-season and  in the spring and summer getting ready and throwing passes with those guys and improving the little things from last year. He accomplished that."
All that's left for Pullen to do now is wait for his chance to play in college and officially draw the curtain on the fourth act of his senior season.