MOUNT ZION — The rain let up just enough Saturday afternoon for Joe and Matt Brummer to get outside and throw the football to each other.
A few hours later, Joe and Matt — twin brothers and eighth-graders at Our Lady of Lourdes Catholic School in Decatur — planned to take the field for theDecatur Catholic Jr. Dawgs Junior Football League program's game against rival Maroa-Forsyth.
But recently, there are fewer kids like Joe and Matt on football fields across Central Illinois and the nation. Participation numbers in youth football are falling as fears about the safety of football increase. Still, many parents whose children play believe the benefits outweigh the health risks. 
Stories of former NFL players diagnosed with chronic traumatic encephalopathy, a degenerative brain disease that leads to dementia, and an increased awareness of the dangers of concussions, have many parents rethinking whether their children should play football.
"This is the first year that I'm really thinking about it, especially with all the (concussion) studies," said Tim Bell, the father of a seventh-grade Charleston JFL player. "My son is a pretty talented baseball player and so I worry about his arm getting hurt. It's definitely a concern."
The Brummers said they love playing football, particularly the teamwork aspect of the game, but they do worry about head injuries. Joe Brummer has suffered a head injury in a game.
"It was just a normal play, and a kid picked me up and threw me on my head," Joe said. "I came out of the game and had some symptoms of a concussion, so I sat out the rest of the game and the next game."
The Brummers, who have played tackle football since fourth grade, said while they're concerned about head injuries and don't think kids should be allowed to play tackle football until seventh grade, both plan to play football for St. Teresa in high school.
"It's something that you think about," Joe said of injury concerns, "but you forget in the moment when you're out there."
High school football statewide and nationally has been thrown for a loss because of safety concerns. Football remains, by far, the most popular high school sport in Illinois, according to the National Federation of High Schools, with 40,111 playing football in 2017-18. And while still far higher than the second-most popular sport, outdoor track and field, at 24,973, football numbers are down 19 percent from eight years ago — or 9,342 fewer participants statewide.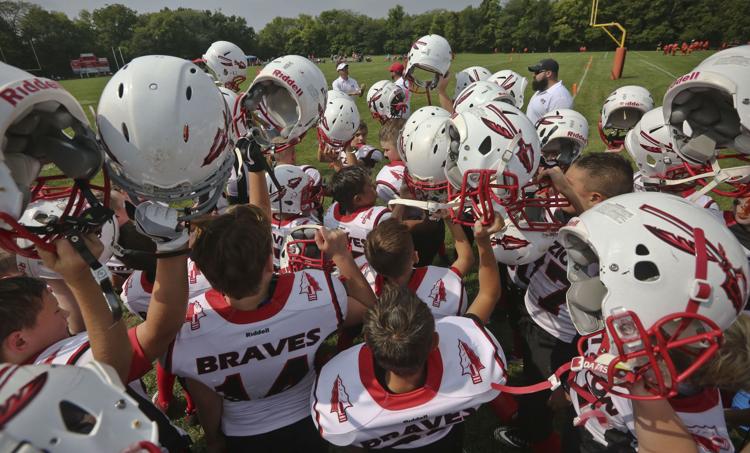 Nationally, the drop isn't quite so drastic — 6.4 percent in the same time period — though the rise of all-girls football in several states has helped stem the tide.
Matt Troha, assistant executive director of the Illinois High School Association, said awareness has been a major factor. 
"I think there was an understanding that at some point we would have a leveling off and and drop-off at some point, and I think that coincided when we started learning about concussions and the long-term impact of head injuries. I think that natural regression was accelerated greatly because of what we were learning," he said. 
Locally, the Mount Zion JFL offers a flag football program from first to fourth grades, and tackle from fifth to eighth grades.
Mount Zion JFL President Jason Summers said there are currently 120 participants in the flag program and 80 in tackle.
"The past couple of years (numbers) have been going up, but this year we are down a little bit — 10 to 15 kids," Summers said.
The Little Illini JFL league has 22 Central Illinois squads, including St. Teresa, Monticello, Warrensburg, Argenta, Central A&M and Meridian. Each of those JFL squads has three teams, split by age groups, with 20 to 25 players per team, totaling about 1,400 players. 
Teams in the Little Illini are also experiencing a numbers drop, according to Little Illini JFL president Chris Quick. LSA's squad was struggling to field a heavyweight team (seventh and eighth grade), so they entered into a co-op with Decatur Catholic. Arcola dropped out 10 years ago because of low numbers, but has since returned.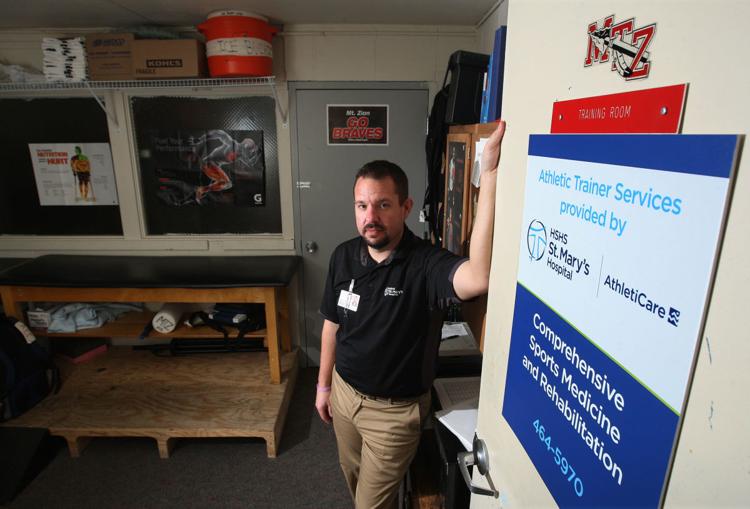 Summers attributed the short-term drop in Illinois to the proposal of the Dave Duerson Act in the Illinois legislature, which would have banned contact football for children younger than 12. Duerson was a former Chicago Bears player who committed suicide and was found in an autopsy to have CTE.
"When (the bill) was proposed, it was discussed a lot and I think it scared some parents away," Summers said. 
Though Dr. Bennet Omalu, the forensic pathologist who discovered CTE, has said that allowing children younger than 18 to play football "is the definition of child abuse," a study published by the Journal of American Medical Association's Neurology journal in 2017 found that former high school players do not face an enhanced risk of CTE.
The study looked at 3,904 men who played high school football in Wisconsin in the 1950s. Much of the concern is over repeated hits to the head in contact sports. 
But Dustin Fink, athletic trainer for Mount Zion High School and Mount Zion's seventh- and eighth-grade JFL tackle games, said the study doesn't relate too much to today's players. 
"The game has changed dramatically since the 1950s. Players today are faster and stronger. A top high school program today could defeat a Division I college team from the 1950s," he said.
A study in JAMA Pediatrics attributed the national drop in participation in high school football to reports about brain injuries. 
"This decline is associated with media attention focused on concussions or brain injuries among football players," said study co-author Dr. Chris Feudtner, of the Children's Hospital of Philadelphia and the Perelman School of Medicine at the University of Pennsylvania.
Last fall, sportscaster Bob Costas, appearing at a Maryland roundtable of sports journalists, said that "the reality is, that the game destroys people's brains."
"I certainly would not let, if I had an athletically gifted 12- or 13-year-old son, I would not let him play football," he said. 
But in an effort to address the faster game with harder tackles, JFL leagues have adjusted how the game is taught to players. 
For the past three years, the Mount Zion program has instituted a tackle system developed by the coaching staff of the NFL's Seattle Seahawks in which the technique resembles rugby tackling rather than traditional helmet-to-helmet football tackling. 
Summers said it's the same style of tackling that's now taught at Mount Zion High School. It's used at several other area schools as well, including MacArthur High School.
"Our seventh graders only know one way to tackle, and that's the Hawk way of tackling," Summers said. "If we continue down that road teaching in a safer way, it will become safer. The way it was taught 20 or 30 years ago isn't the way it will be taught anymore."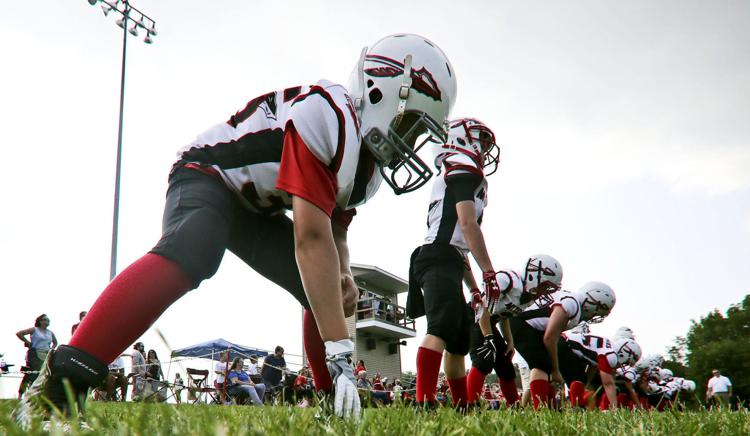 In making sure that teams are following the best practices regarding safety and tackling, Quick said he takes an active role. 
"For the most part, the coaches are doing the right thing and teaching kids the right way," Quick said. "If it is brought to my attention (that it's not), as president I go to practices and games. I'm not afraid to get on the other towns to let them know that this isn't how it should go. We have a rules committee where people can send in complaints and we review it as a committee and rule on it from there."
The Brummers' dad, Mark Brummer, played football in college and has helped coach his sons in JFL. He said head injuries weren't a concern when he played, but he takes the scientific evidence about the danger of concussions and CTE seriously, and focuses on teaching kids how to play the game as safely as possible.
"If we see a kid tackling with his head, we get him on the bags and teach them to tackle the right way," Mark Brummer said. "We see kids from other teams who aren't using the basic fundamentals and I've seen a kid get from another team carted out, and that scares me. But we focus on safety, and we have a trainer (St. Teresa athletic trainer Bob Hill) at all of our home games who sits down with kids if their heads hurt. We won't let them back in unless they're cleared by Bob."
Staying cautious
Colleen Johnson's son Aiden Johnson, an Our Lady of Lourdes sixth-grader who plays for the Junior Dawgs, loves football. His mom, though, took some convincing.
"His dad (Patrick Johnson) wanted him to play, but I was not thrilled," Colleen Johnson said. "At first it was flag, but when he started to play tackle, I was worried."
But Colleen Johnson said those worries have been eased since Aiden started playing tackle
"I really trust his coaches. Safety is their number one priority," she said. "They teach them how to do things safely, and if someone does something that's not safe, they yank them. It doesn't matter if they're the best kid on the team."
Aiden is in his third year playing tackle football and has never suffered an injury worse than a bump or bruise. He said he feels safe on the field.
"There are a lot of rules," Aiden said. "I hit a kid in the shoulder one time and they called a penalty. The refs keep it really safe."
Jay McAtee of Mount Zion said he knows first-hand the concussion risk in the JFL. His son, Grant, had one after a tackle in a sixth-grade JFL game last season. 
Although he experienced headaches for a short period of time, the Mount Zion training staff held him out longer. 
"They kept holding him out and holding him out and weighing on the side of caution," McAtee said. "(Grant) wanted to get back quicker than they wanted him to get back and they took their time. They did a concussion test and a memory test. They did everything they needed to and when the time was right they let him play."
Grant is now Mount Zion's running back on the seventh-grade team.  
"Safety is not a concern for me," McAtee said. "Dustin (Fink) was there every step of the way and making sure (Grant) did everything that he needs to do. 
"I think safety is a concern for every parent, but you don't want to put your kid in a bubble and not let them do things they enjoy doing."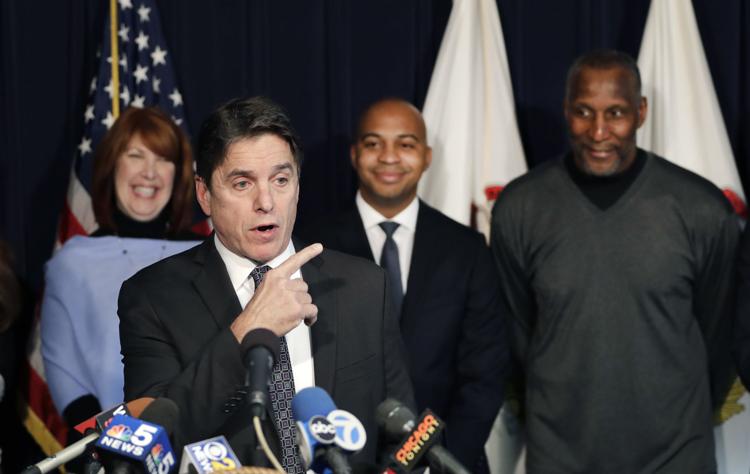 McAtee said Grant hopes to play football into high school and that JFL will have prepared him to.
"If you don't play contact (football) until you get to high school you are probably going to be at a disadvantage," McAtee said. "If (the coaches) teach them the right techniques and try to minimize the injuries, I think everyone can be safe and have a good time."
Bridget Harrison's son Dalton plays on Mount Zion's seventh-grade team and she said he was eager to start tackle football while he was playing flag. She said Mount Zion does a good job teaching kids the safe way to play the game.
"It has been a fantastic experience for him," Harrison said. The coaches "dedicate all their time to him and he spends a lot of time out here practicing. It's a great program.
"I think as a general rule you know there is some risk there, but I feel like the JFL has the kids practice a generous amount so that you can expect that they will be as safe as possible."
Bell, the father of the Charleston JFL player, said the team is well-prepared for potential injuries. 
"We see minor injuries in every game and we have Eastern Illinois physical trainers on hand all the time and I think our coaches train the kids how to hit properly, and that's a big thing," Bell said. "I think they do a good job of it."
Troha, who played at the Joliet Catholic 1999 state championship football team, lives in Heyworth and has two sons — 9-year-old Caleb and 8-year-old Keegan. Troha has coached their flag football team, but youth football in Heyworth switches to tackle in third grade, and Troha said he won't let his children participate in tackle football until they get into high school.
"I went to a small Catholic school in Joliet and we had flag football fifth through eighth grade, and that is what I played," Troha said. "I feel like it prepared me well for tackle football. Freshman year in high school I played tackle for the first time and took some lumps there and got better my sophomore year. I felt like it prepared me enough.
"I think football is a game you can learn pretty well in four to six weeks, so that has been my stance even before the concussion concerns came about."
Instead of football, Troha's kids play soccer in the fall.
"Despite me saying that I would encourage them to play football in high school, I realize that the likelihood of that decreases if they do not play football for the next six years," Troha said. "I am sure there are many others in the same situation, so I think it remains important to try to continue to connect families and elementary school kids with football, whether it be flag or 7-on-7 or something else, if they are no longer opting to play the sport at the youth level."
'Taught me discipline and hard work'
The Little Illini JFL's motto is "youth football is the first step to being successful in life."
Jon Kidd, the defensive coordinator at Maroa-Forsyth High School, played in the Decatur JFL from fourth to eighth grade in the 1990s and agrees with that motto.
"I think my time in the JFL has had some of the biggest impact on who I am today," he said. "It taught me discipline and hard work and I loved every minute of it."
Kidd said the sport is safe with the proper precautions and he has two daughters in Maroa-Forsyth flag football. 
"They have watched Reilly play for years and so their interest in playing football is totally normal for them," he said. 
Pat Pierce, a Tuscola JFL coach and assistant football coach for Tuscola High School, said he sees advantages for both parents and kids in participating in JFL. 
"Being involved at the player and parent level will result in being a part of something greater than yourself while forging friendships that will last a lifetime," he said. "I feel JFL is a unique opportunity for young men to become involved in the sport of football and they will learn a lot of life lessons such as hard work, discipline and character, which will help them once they exit the football field."
Aiden said his favorite thing about football isn't even the game itself.
"I've made a lot of friends who I wouldn't have otherwise met," Aiden said. "It's just really fun."
Harrison said her son learns lessons from JFL that will continue beyond his playing days. 
"JFL teaches him how to be a good team member and how to work hard and be for the betterment of your team," she said. "They expect him to work hard and give 100 percent and that will definitely help them in life."
Editor's note: This article has been updated to correct the name of the Little Illini JFL president.
---