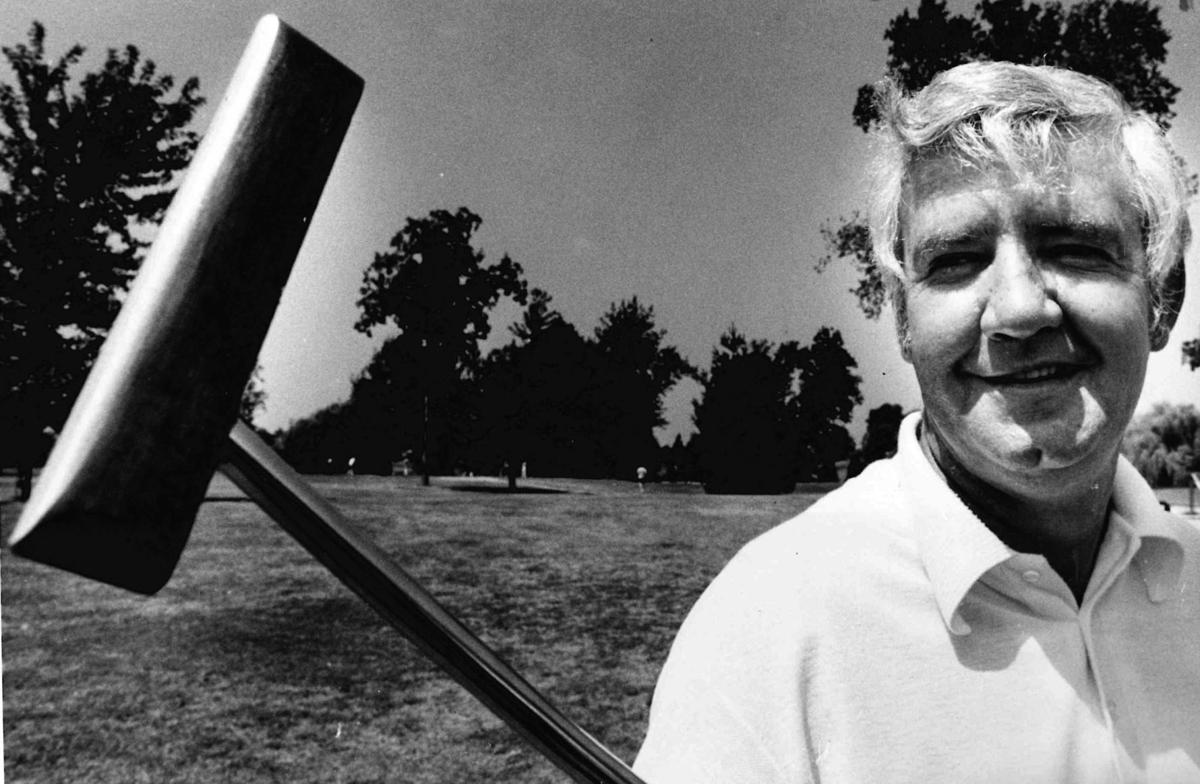 Kurt "Turtle" Rogers tells me I might own the record when it comes to hours spent on a golf course by someone who rarely lifts a club. He's right, and it's all his fault.
I would play more golf if I wasn't always exposed to the intimidating skill of great golfers, like Turtle. Nothing is more frustrating than watching someone pound a golf ball 300 yards into the center of a fairway, then trying to duplicate that swing only to find my ball sitting behind the trunk of a pine tree, where it left the fairway about 170 yards out.
I'm better off admiring the fine shot-makers of Central Illinois and being thankful for a number of people who have made me appreciate the game.
When I arrived in Decatur in 1974, the city was filled with golf courses and avid golfers. Faries Park, Nelson Park and Scovill are gone now. The little Sun 'n Fun course is but a memory. Ditto for Wildwood, the 9-holer which came and went.
But Hickory Point and Red Tail Run remain in Decatur and a bunch of courses throughout Central Illinois still stand. Other than a few lightning storms, near tornados and scary downpours, memories of covering golf for 44 years still make me laugh out loud.
Turtle has gone from outstanding player to the current head of golf for the Decatur Park District. Every sport needs someone to be its champion and Turtle has been that for golf in Decatur– passionate, knowledgeable, respected and skilled. I've also learned he is as caring a person as you'll find in this city. A real gem.
Fred Copeland was one of the first African-American golf professionals in downstate Illinois, the long-time Nelson Park pro who had the patience and the personality to welcome countless young people into the game of golf. He taught the game and in the process taught so much more – sportsmanship, respect, manners.
When I arrived in town and was first told to cover a golf tournament, he even had the patience to take me by the hand and introduce me to the game and golfers of Central Illinois, answering every one of my silly questions. I loved that man.
It was a thrill to see Penny Hammel win at every level (prep, college, pro) and I remember handing her to the trophy the year she won the Decatur Women's City Amateur championship at Hickory Point. The best was yet to come for her.
Other who made an impact:
— Richie Hammel, another Decatur club pro (Scovill, Faries Park) who welcomed new players to the game and was the inaugural captain of the Signature Cup team.
— Rex Spires, the easy going Herald & Review sports writer. Rex had a carpet in his living room the color of the Masters green jacket. It was there where he refined his capable putting stroke. Rex was the gatekeeper for the game of golf in the Decatur media, beloved by golfers and the local pros.
— Bob Scherer, the Hickory Point pro who I guarantee could match current PGA pros putt-for-putt today.
— Rick Anderson, the long-time director of golf for the Decatur Park District and a talented teacher who oversaw the construction of Red Tail Run.
— Jerry Menz, another Park District legend, a polarizing fellow who ruled with an iron fist whenever he saw someone peel off a shirt, throw a club or shout an obscenity.
— Ray Bundy, the former city champ who had a keen knowledge of Decatur's golfing history.
— Marilyn Dechert and Ann Harshman, who I lump together because they each won multiple city titles and were both terrific about helping young players feel welcome. They could not have been more helpful to me.
— Also, Jerry "Red" Rogers, a fine, fine golfer but an even better person; Don Galka, who never met a golf bet or a cool libation he didn't want to embrace; Darryl Stock, the gentlemanly rules expert who is the voice of reason for many golfers; and a wave of young guns who left an imprint on the game in recent years including Hunter York, Tommy Bliefnick, Christian Crabill, Nick Chadwick, Wes Hillen, Callie Harrison, Hilary Anderson, Kate Laegler, Gabbi Schuerman, Ashley Miller and many more.
And surely golf heaven must hold a special place for John Skeffington and Cindy Deadrick Wolfer, who somehow, miraculously, have managed to keep the Futures and Symetra women's pro golf tournament alive and well in Decatur. For nearly 35 years they fought the uphill battle to find sponsorship, round up volunteers and outlast the weather. They should be awarded gold medals for winning that fight every single year.
Golf is more than tournament play. It's people whose passion for the sport drives them to the course day after day after day, people like Tommy Amstrong, Billy Janisch and Bobby Holmes. Weather doesn't much faze them. Add the Herald & Review's Joel Fletcher to the list, too, if he could only find more time to play.
To understand golf in Decatur is to appreciate the various golf leagues that have kept grass roots participation going. And when I think about local leagues, I think about "The Big Dummies" men's league and the various women's leagues that seem to always have stalwarts like JoAnn Swansen, Eileen Zilz, Connie Albert, Jane Norfleet and Sandy Fisher to help keep the fun flowing.
I was playing alone at Scovill one fall day when I naively came up the first fairway and saw two flag sticks waving on the first green. I had no idea where to aim my approach, although my lack of accuracy probably made that a moot point.
Later I learned I had the honor of playing on the date of "The Witch" tournament, an annual women's association tradition that celebrates Halloween and has fun doing it with things like double holes, gravestones, ghosts hanging in the greenside trees and a hand sticking out of the sand in a bunker.
Love it, ladies. Keep making the game fun.
Contact Mark Tupper at (217) 421-7983. Follow him on Twitter: @MarkTupper
Be the first to know
Get local news delivered to your inbox!