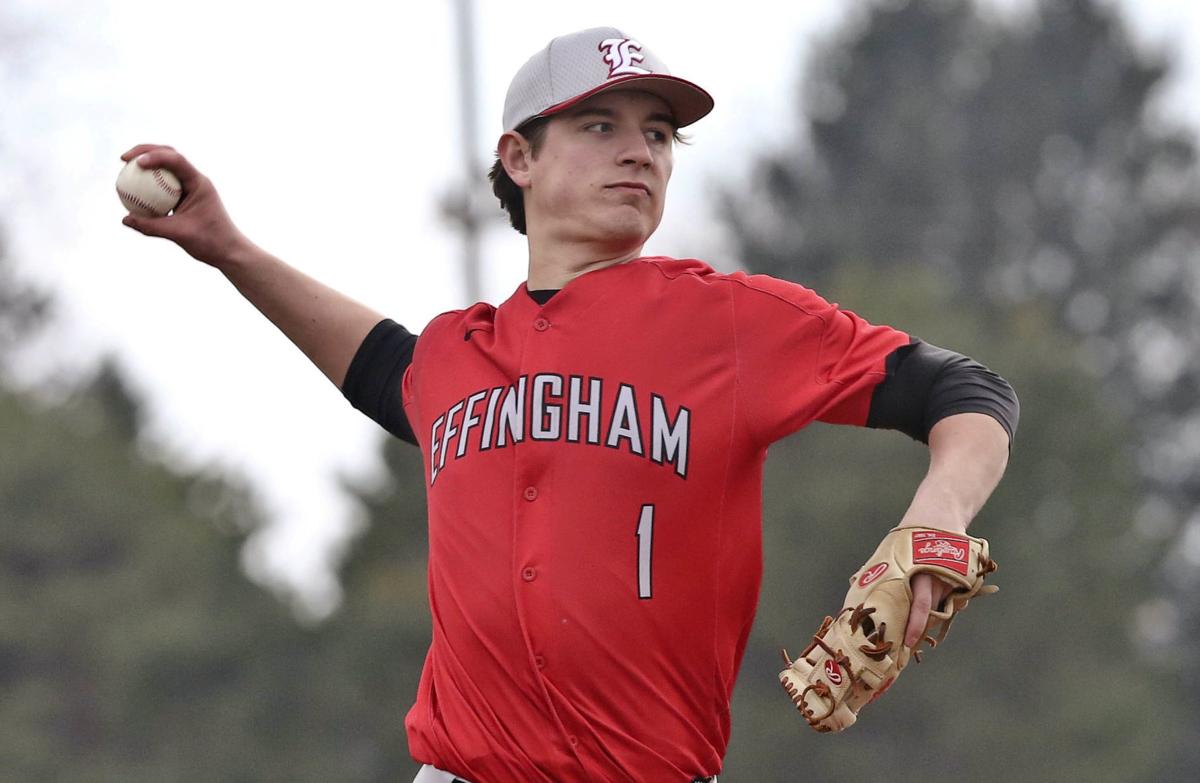 EFFINGHAM — Zack Lee never expected this.
When he was throwing a ball around in his front yard as a child, he never thought he would grow into this kind of pitcher — the kind of pitcher who hits 95 miles per hour on the radar gun with his fastball and has a wipeout slider, had a 0.35 earned run average as a senior in 59.1 innings with 102 strikeouts, led Effingham to its first sectional championship in 42 years, and will pitch at the University of Kentucky next season.
He wouldn't have guessed that when this year's Major League Baseball Amateur Draft rolled around, he would be projected to be drafted between the fourth and seventh round, and likely would have been taken had teams not known about his strong commitment to honor his scholarship at Kentucky. Baseball America placed him No. 339 in their top 500 draft prospects.
Lee allowed just 23 hits all season and went 9-1 for Effingham as a senior, with pro scouts in attendance and a target on his back by opposing teams, earning the Herald & Review Area Baseball Player of the Year.
"It's a dream come true," he said. "I never thought it would be this big. When I was little throwing baseballs, I never thought I'd be this big. It's humbling to see everything pay off."
His season was so dominant that he was a walking win. His lone loss of the year came on May 11 against Mattoon, a game Lee struck out seven batters, allowed just two hits and no earned runs. In total, Lee was charged with just three earned runs all season. He remembers each with clear detail.
The first came on April 27 against Charleston. He issued a walk that was followed by a double. That was the only run charged to him in the regular season. The other two came in a Class 3A sectional championship game against Chatham Glenwood.
"He has probably some of the best numbers that I've seen for a high school kid as far as strikeouts and stuff like that while not allowing any runs," Effingham coach Chris Fleener said. "It's been awhile since we've had anybody out up the numbers like that, especially if you look back over a three-year period."
The dominance came from confidence and a strong arsenal of pitches. Lee added a curveball, change up and a two-seam fastball to his bread and butter pitches — the fastball and slider. 
When he was first being recruited by Kentucky, of course Wildcats head coach Nick Mingione noticed the fastball that was sitting in the low-to-mid-90s. As Mingione got to know Lee, he saw a fierce competitive drive, a personality that matched the UK baseball team's values and a strong student.
It was too much to pass up.
"His ability was identified as someone who could help us," Mingione said. "As we went through the process and we got to know him and got to know his family, to figure him out as a student, we feel like that was a match. There are not many people walking around who can throw the ball the way he can from a velocity standpoint and a command standpoint."
In fact, Mingione was in attendance when Lee got his revenge on Mattoon in the regional final game. Lee savored the opportunity to make up for his only blemish. He hit 95 on the radar gun, threw seven complete innings, allowed three hits and three walks to go with nine strikeouts — it was his favorite game of the season.
"I was pumped up for that game," Lee said. "I was ready to go and it was a really good revenge game for me."
Every time Lee pitched, other teams' hitters wanted to make a name for themselves against one of the state's top pitchers. But that's easier said than done.
"It was like, 'Hey, I want to get a hit off of this kid. He might be in the major league some day,'" Fleener said. "It's a good challenge for other teams to get to face somebody like that. A lot of times some of them are pretty amped up until they get up there and they realize, 'This is a little tougher than what it looks like.' As the year progressed, he just got better and better."
That competitive fuel caught Mingione's eye. Lee responded to every team's best efforts.
"When he threw this year he had a target on his back and he went out and answered the bell each time," Mingione said.
Lee is off to Kentucky, where he'll be tasked with adjusting to the SEC and the talent loaded from top to bottom. He's got a frame to add more speed on his pitches and refine his growing number of pitches. If all goes well, in three years he'll hear his name called in the MLB Draft.
No, he never expected that, either.
Contact Joey Wagner at (217) 421-6970. Follow him on Twitter: @mrwagner25