DECATUR — At the start of last year's baseball season, St. Teresa didn't look like regional champions. 
A 2-8 start to the Bulldogs' season had the team searching for answers. The players called a team meeting to regroup.
"We had lost a bunch of games pretty badly in a row and we had a meeting and after that it all clicked," St. Teresa senior pitcher Kolby Osborne said. "We started slow so we weren't really sure how the season was going to go, but we started picking up momentum about halfway through and then we definitely thought we could make it to sectionals."
The No. 5-seeded Bulldogs went on to defeat No. 2-seeded LSA 5-3 in the regional title game to claim their first regional championship since 2013-14, and the first under coach JD Arnold. 
"I expected to play for a regional championship, so winning was an added bonus," Arnold said. "We were definitely a year ahead of schedule. It wasn't unexpected (at the beginning of the season), but as it wore on you could see we were building toward it."
Arnold's goal this spring training is building upon that regional crown. Practices have mostly been relegated to Joe Venturi Gymnasium so far because of the weather, with infielders and outfielders trying to get rid of the winter rust with some basic throwing and running drills. It's all a part of the team's mantra: "Small things for the bigger picture."
"We want to do the little things which will help us do the bigger things," Arnold said. "Playing catch is a small thing and these guys take it for granted, and yet they don't know how to do it
"When we get outside and we are asked to do the bigger things, and then we can't catch the ball, that's not going to make me happy."
Focusing on the details is important when the team is already thinking about the playoffs. 
"Other than our catcher it is the exact same team from last year," senior pitcher Seth Gillespey said. "So we all remember what it was like when we were winning at the end of the year, so (Arnold) wants to remind us that we still have to do all the little things to get there."
Arnold is looking to Gillespey and Osborne to anchor St. Teresa's pitching staff. 
"Seth is our No. 1 — he's our horse," Arnold said. "Every time Seth touches the ball we have a chance to win. He's going to keep us in the ball game even if he has his stuff going or not/
"(Kolby) is able to pound the zone and throw strikes and he is able to get his breaking ball over effectively for a strike, which makes him more devastating and more efficient because he can throw two pitches for a strike."  
After intimidating running backs this fall as a linebacker on the Bulldogs' football team, Gillespey's 6-2, 200-pound frame will also power St. Teresa's offense from the middle of the lineup. And when Osborne's not on the mound, he'll be leading the defense at shortstop. 
"Seth's one of our biggest guys," Arnold said. "He's a physical presence in the batter's box and on the mound. Seth and Kolby are both four-year varsity guys and I've seen the progress in both of them. As seniors it's going to be a sad day when they go. You can talk to me next year about how practice is going without having them around." 
Gillespey's accuracy from the mound sets him apart. 
"My changeup and my breaking ball are my strengths," Gillespey said. "I'm accurate. I don't walk very many people. In high school baseball there are times when pitchers walk everybody, but I can throw strikes.
"Not to sound cocky, but I feel like in the games that we really need to get it done I want the ball, and I feel like it works well when I'm pitching and Kolby's at shortstop"
The changes that have been a part of Arnold's plan to build the Bulldogs' baseball program are evident to Osborne and Gillespey.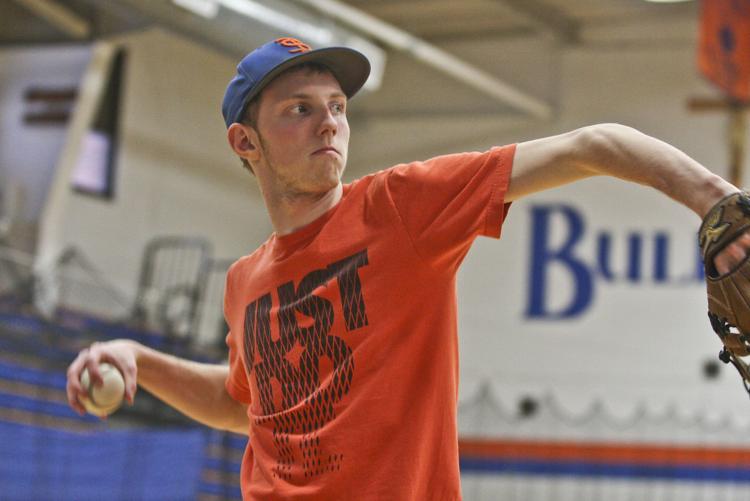 "I would say we look better than it has for most years," Osborne said. "The seniors can remember from our freshman year, those practices weren't good, but we have improved a lot and we have stepped up where we can help the freshmen through it."
The Bulldogs are now a team that is thirsty for more.  
"I think everyone used to come in and do their own thing and it was divided, and its not like that now — we are actually a team," Gillespey said. "We play together and enjoy being around each other which makes everything easier.
"This is our final chance so we are trying to do our best. I feel like we have been working towards this for the past three years."