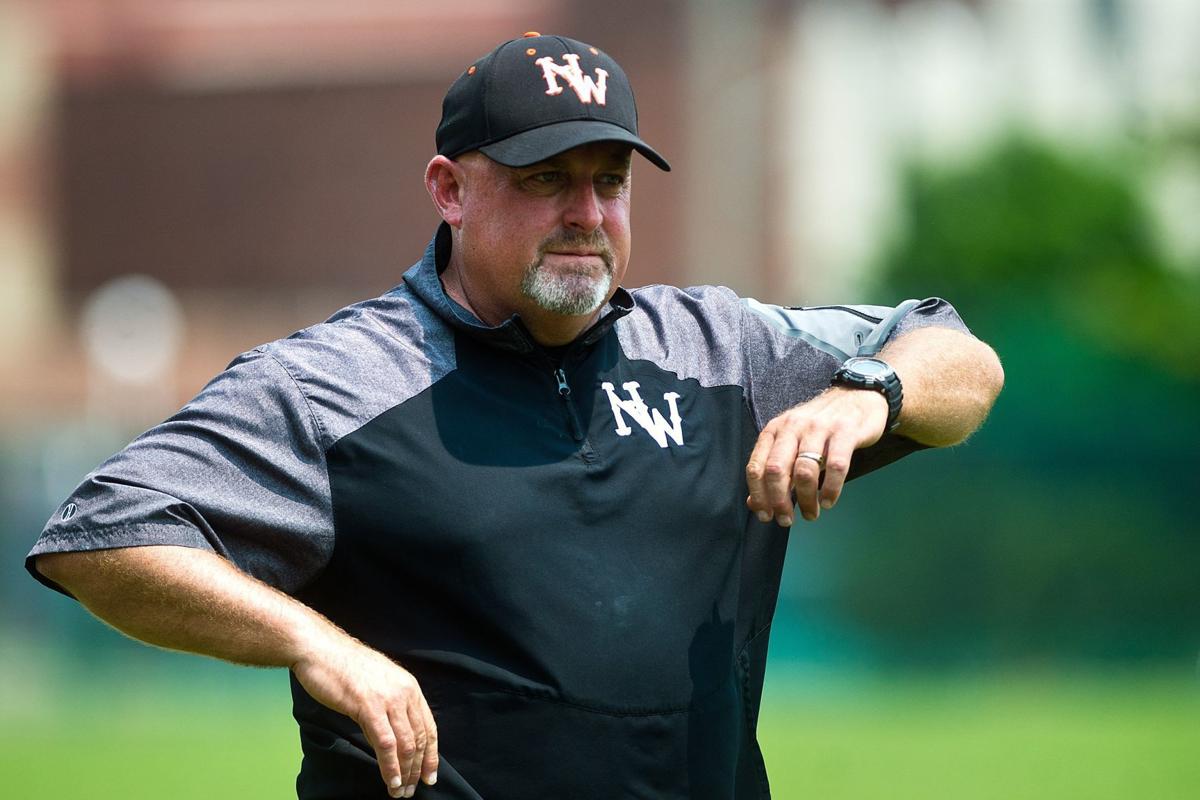 Chris Hawkins' spring Saturdays typically are spent filling out lineup cards, flashing signs from a third-base coaching box, positioning defenders from a dugout.
In this spring like no other, Normal West High School's veteran baseball coach is mostly reading on Saturdays. You've heard of the book.
With baseball taken away, a fallout from the COVID-19 virus, the most passionate baseball man you'll meet decided to focus on three things. It beat the alternative.
"I was going to lose my mind," he said.
So Hawkins sought a daily routine of reading at least one chapter in his Bible, doing 30 minutes of cardio exercise and practicing intermittent fasting (no eating outside of an eight-hour window).
The cardio work and fasting lasted about three weeks. The Bible reading continues … especially on Saturday.
"I'm on pace to get through the whole thing in the calendar year of 2020," he said. "I have it all written down. Sometimes I have to read a lot on Saturday to get my week's quota."
Since 1992, when Hawkins was sophomore coach at Lincoln High School, spring Saturdays have been about catching opponents trying to steal. Now, they are catching up on Matthew, Mark, Luke and John.
No way is Hawkins alone in a spring that has canceled or pushed back sports at every level. He understands others have been impacted greatly … at his school, in his community, in his state and around the country. He feels their pain.
He's felt a lot of things since March 13 when, listening to the radio while driving to practice, he learned Governor J.B. Pritzker had mandated schools in Illinois be closed. Spring sports were on hold and in jeopardy.
Hawkins stood before his players moments later. His goal was to reassure and encourage a talented squad with 11 seniors.
"All I could really do was cry and babble," he said.
Since then, with schools still shuttered, the Illinois High School Association has canceled the spring sports state series. After three straight trips to the Class 4A Sweet Sixteen, there will be no postseason run for West.
The IHSA has left open the possibility of an abbreviated, non-championship season in the summer. Hawkins applauds that.
"There's hope, and I think when there's hope, we still have kids who are trying to better themselves," Hawkins said. "They're working out and finding places to try to get better."
There was talk of that Thursday afternoon when Hawkins held a video call with his players, the first he had organized since this all began. Seventeen of the 18 varsity players participated.
Other coaches began such meetings weeks ago. Hawkins wasn't ready. He sent text messages, etc., to his players with inspirational messages or videos he had found. But to see them face to face, even on a computer screen …
"I was not in an emotional state (to do it)," Hawkins said. "I didn't have a lot of answers. It was just really hard to see them without being able to do what we normally do.
"Heck, you just want to give them a hug or a high five. We've done a lot more hugging than handshakes over the last 10 years and now it's weird not to be able to do that. Plus, you know how bad they want to be doing something baseball wise. I can't fix it for them. That's very frustrating. You feel helpless."
An Illinois High School Baseball Coaches Association Hall of Famer, Hawkins has steered West to a 518-215 record, 10 regional championships and eight Big 12 Conference titles in 20 years as head coach. He feels badly for his seniors but also the underclassmen, who he said have been denied "the chance to rub elbows with that senior class and just learn from them."
"They learn a lot more from their teammates than they learn from me," Hawkins said.
The players have been there for their coach. They produced a video in which they dressed in full uniform and, individually, held signs expressing how they remain a team despite being apart. At the end, they told Hawkins they loved him.
It meant a lot to a coach who admits he has gone through emotional phases typically associated with the loss of a loved one. "Sadness, anger, confusion," he said.
Hawkins senses his players are working hard and "getting through this." He has received text messages from parents saying, "I'm learning my son is tougher mentally than I am."
"Parents are being open about that. I think some of them are still in shock," Hawkins said. "Looking back on it someday, I think we're all going to wonder how we did get through it."
---
PHOTOS: Normal West coach Chris Hawkins
Concerned about COVID-19?
Sign up now to get the most recent coronavirus headlines and other important local and national news sent to your email inbox daily.