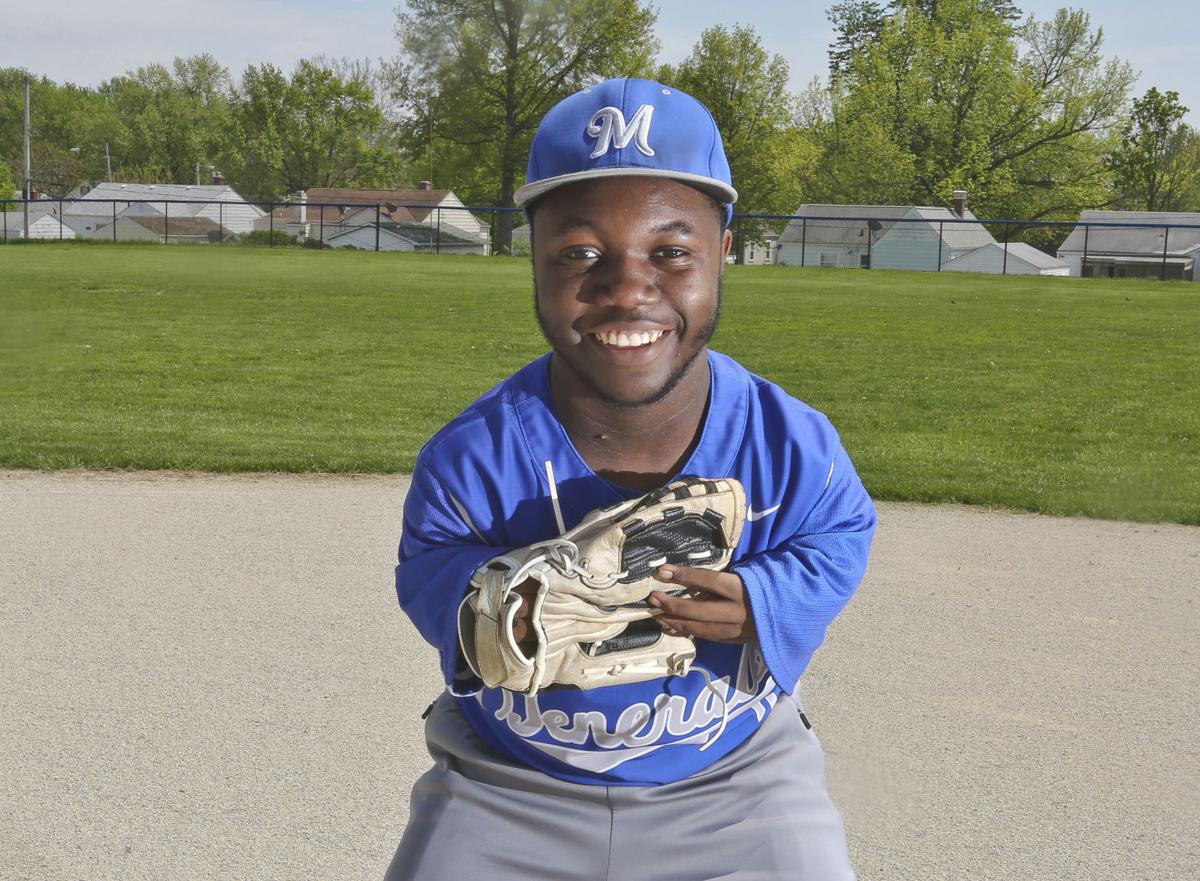 DECATUR — There are a few certainties that Denita Mathews knows about her grandson, MyShaun Dozier.
If there's something that takes the shape of a ball, Mathews knows she better be ready to catch because Dozier will launch it. It's a fact that dates back to when Dozier was growing up. When Mathews did laundry and balled up the socks, Dozier got his hands on them and threw them. Like clockwork.
One way or another, something about the sport of baseball has always been a part of Dozier's life, from his favorite team, the St. Louis Cardinals, to his favorite player, Cardinals pitcher Adam Wainwright. The thing was, Dozier wasn't always playing.
But earlier this year — at age 16 and as a sophomore at MacArthur High School — he decided to give baseball a try for the first time. He did two months of physical conditioning and made the Generals' junior varsity baseball team under head coach Jesse Danbury. 
Last week, Dozier went viral after WAND-TV's Gordon Voit did a story that has since stretched across the country. He scored the game-winning run against LSA earlier this year for the only win of the season and is treated just like all of the rest of the players on the Generals' roster. Through baseball, he's learned to view things through a larger scope.
"It was real cool because like I said, I didn't want just me to do this, but for everybody else who is like me with this disability, they can do it, too," Dozier said. "Just because they look different and they have different stuff to process that's physical and mental, they can do something too as long as they believe in themselves."
Dozier won't exactly take all of the credit for the inspiration he gives his teammates, but it can be felt when he sprints down the hill from the high school and into the dugout for practice, or when he dances from one end of the dugout to the other, smiling.
"I still think they sometimes get that fired up on their own, too, but I think I give them a little bit of inspiration," Dozier said. "Even if I don't, I gave the whole nation inspiration, the whole world inspiration to just don't think that you can't do something. You have to try it. You have to do it before you say you can't do it."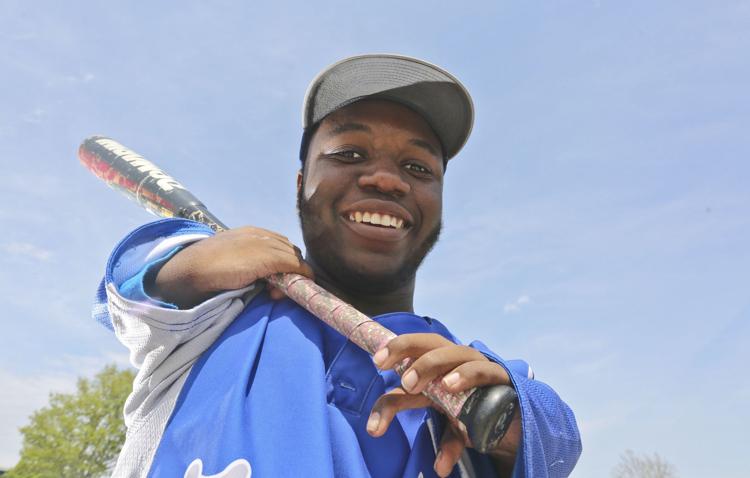 'Honey, there are no limits'
TAR Syndrome also causes a platelet deficiency, which prevents blood clotting leading to easier bruises or more nosebleeds. Dozier, though, has had no problems with his platelet counts. If he did, Mathews said, she wouldn't have had as much excitement for Dozier to play baseball. In fact, she said they have been "blessed" that none of the other problems that come with TAR Syndrome have been present.
Dozier had daily doctor visits when he was born to monitor the platelet counts. The visits have dwindled over time and are now down to about one per year. According to Patient, if someone with TAR Syndrome survives the first two years of life, the life expectancy is normal with hemorrhaging the main cause of mortality. 
Mathews, with whom Dozier lives, wasn't nervous when she got a call from her grandson that he was trying out for the baseball team and that he would be staying after school for tryouts.
"Call me when you're done," she replied.
For years she has been instilling into Dozier's mind to try whatever he wants. Baseball was no different. Admittedly, 16 was a tough age for Dozier to put himself out there and try something new, but Mathews trusted his mental and emotional strength.
"Ever since MyShaun has been old enough to understand I said, 'Honey, there are no limits. You might have limitations in your arm length, but in what you can do, there are no limits. The only way you're going to know whether or not you can is if you just do it. Just do it,' " Mathews said.
As it turned out, that call after the "tryouts" happened relatively quickly after Dozier learned it was just a sign-up sheet. Later he underwent, and passed, his physical. The next step was a poster on the wall with a list of who did and didn't make it.
Dozier wasn't nervous playing baseball for the first time in his life, or even putting himself out in the public eye. He was simply nervous about not making the team — much like the nerves most high school players battle on the day that teams are posted.
On a Friday afternoon, the poster was put on the wall and Dozier's name was on the list. He made the team.
"I did this baseball thing to see if I could do it and to prove to everybody that I can make the team," Dozier said. "It really lightened up my day."
Soon after he saw his name on the list, he made the call to his grandmother. Elation followed. Mathews can't help but to crack a smile when she hears Dozier talk about the feeling of landing on the team. 
"To know that he made the team, I was overjoyed, mainly because all that he's been through with his physical difference," Mathews said. "For him to make a team and never having been on a league ball team, any sport period, it was so exciting."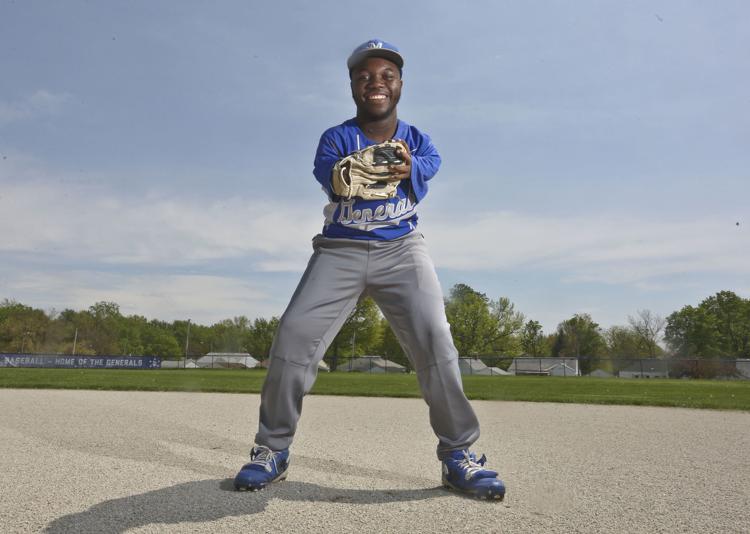 'It gives you goosebumps'
The Generals' junior varsity season has been a struggle. They have exactly one win, against LSA.
In that game, with a runner on first base and no outs in the bottom of the seventh inning, Danbury saw an opportunity to get Dozier on the basepaths as a pinch runner and, typical of Dozier's personality, he capitalized.
He quickly stole second base.
"I was like, 'OK, OK, you're going to steal second,' " Mathews recalled, smiling and putting her right hand on her chest.
Then another swipe, this time third base as a part of a double steal.
"I'm just sitting out here; I'm just tickled pink," Mathews said. "I'm just loving the moment."
Then came the biggest moment.
DECATUR — For years, Decatur high school wrestling has had one arm pinned behind itself.
With runners on second and third, Dozier's teammate Nick Sutherland's ground ball base hit brought home Dozier for the game-winning run and the first win of the Generals' season.
He had finally scored his first run as a baseball player. Naturally, he had found a new venue for his dancing. It was no longer for just in the dugout.
"That was a great feeling," Dozier said. "My first time doing it, I stole two bases and I ran for home plate and I made it home. I did a little dance move."
For as elated as Dozier was on the field, Mathews matched that off the field. She now realizes her only regret was not having the camera on her cell phone on and pointed towards her grandson.
"When he came in and scored, that was a great moment," Mathews said. "I really enjoyed the little victory dance he did after he scored. I'm still so excited. I'm just thinking about the first score he ever made and his victory dance."
For a team that was desperately searching for a spark, the Generals found one in that moment with Dozier. Dozier has gone on to score more runs, including against Normal U-High on the Illinois State University field. But that one against LSA was the fire MacArthur needed.
"It gives you goosebumps," Danbury said. "I'm super excited for him. It's just a great moment in his life. To make it around the bases and score, you know how it is when you play baseball your whole life: You live to get on base and make it around the bases and score. There's not a better feeling than when your teammates are cheering for you. They were so pumped up and excited."
Said freshman teammate Cory Beck: "It got everybody going and sparked up."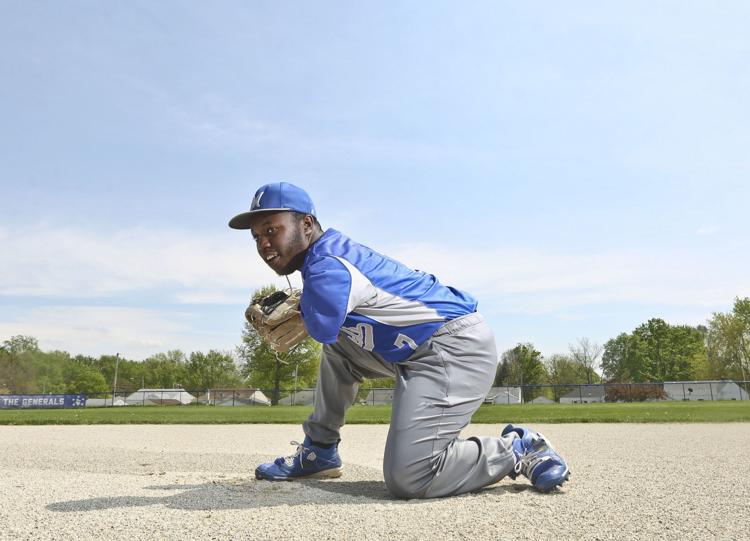 'I don't want no shortcuts'
Earlier this season, Dozier was late to practice. He wasn't entirely sure what time it started. When he arrived, he wasn't given a free pass.
His punishment was to run — just like every other player who has been late before him and every other player who will be late after him. That meant a lot to both Dozier and Matthews. If there's an easy way out for Dozier, he's not interested.
"I don't want no shortcuts," he said. "If I need extra help, I'll say that. With baseball, that's not a problem. I can be doing it real well."
It matters to Mathews how Dozier is treated, and punished.
"I thank Danberry for everything he has done for my grandson and the entire athletic department," she said. "Don't make him different. Punish him like you do other kids. He might not be able to do push-ups, but he can do some running, he can do some sit ups, he can do some running and whatever else. Make him."
The onus doesn't just fall on the coaching staff to treat Dozier like everybody else. His teammates do the same. In the locker room before games, Dozier and teammate Tylin Koshinski have locker-room dance-offs. Before a practice gets fully underway, and after Dozier has made his beeline from the school to the field, he's right in the pack of players running the first-base line to the foul pole.
Since Day 1 he's been welcomed by the team without any trepidation. With that comes the feeling of brotherhood and being part of a team. That's something he hadn't experienced until this year.
"I don't feel any difference besides my physical appearance," Dozier said. "Other than that, I've still got heart to be out there and play with my teammates and do the best I can."
Dozier may not have much experience, but he shows plenty of skill. It's well-known to the team that he has a quick foot to stop ground balls before he picks it up and fires to first, and that he isn't afraid to put his body in front of a one-hopper coming his way.
"We see him doing better than some people with regular arms," Koshinski said. "I treat him like a regular person because he is a regular person. No one should treat him different."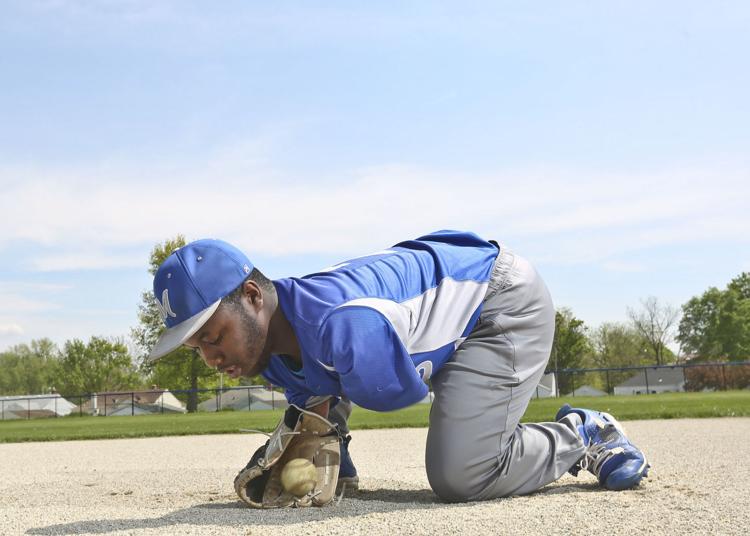 'All that really came true'
Dozier has always told his friends that "everybody would know his name." As it turns out, Dozier was right. He's a viral sensation and former outfielder Shane Victorino reached out on social media for a game of catch with Dozier.
Baseball has been key for his notoriety, but his desire to succeed and hard work has been the vehicle. Baseball has provided life lessons: punctuality and being part of the greater good of a team. 
"It really improved me as far as being a young man," Dozier said. "Next year I'll be a junior so I have to learn how to do better as a young man so I can improve in life itself to be a good citizen in society, not a menace to society. That's the best thing that baseball has done for me. It got me to mature a lot better."
Months ago, all he wanted was to make the team. These days, the social media praise comes in droves from everywhere in the country.
"If I was going to make the team, I said I was going to do my best to make my family proud by doing this baseball thing," Dozier said. "All that really came true after the full two months."
Contact Joey Wagner at (217) 421-6970. Follow him on Twitter: @mrwagner25
Get in the game with our Prep Sports Newsletter
Sent weekly directly to your inbox!