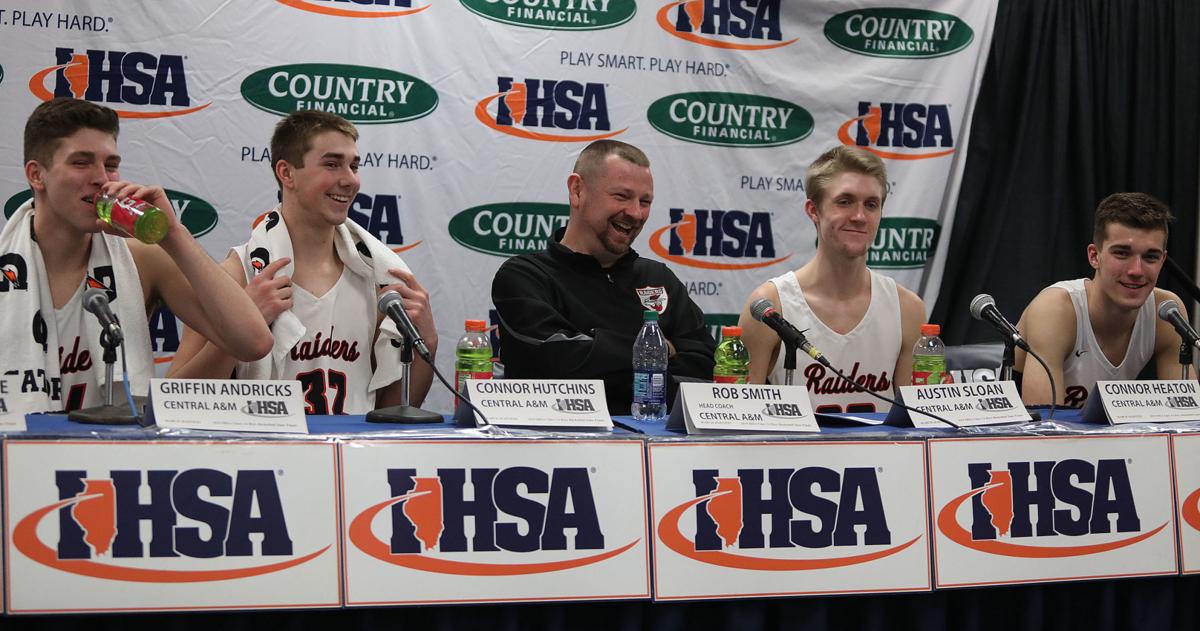 MOWEAQUA — The situation wasn't new for Rob Smith.
When Smith was an assistant boys basketball coach and head baseball coach in Teutopolis, he had been in positions where the Shoes were expected to win and make a deep postseason run.
So when the Central A&M boys basketball team opened this year fresh off of a super-sectional appearance and rife with expectations, Smith knew how to handle the pressure. He didn't hide behind the fact that the Raiders, led by a strong junior triumvirate of Connor Heaton, Griffin Andricks and Jacob Paradee, had been all-but-predetermined to make it to the Class 1A state finals in Peoria.
A&M lost four games, but only one to a Class 1A team: Cissna Park in the state semifinals. Smith guided the Raiders to a 33-4 record and his second consecutive Herald & Review Area Boys Basketball Coach of the Year award.
The expectations were a stark difference from when the Raiders opened last season with the trio of stars as sophomores and lacking substantial varsity playing time. That was before the Raiders went on a deep postseason run that was stopped short in a foul-plagued super-sectional game.
You have free articles remaining.
"Our motivation was to embrace that pressure," Smith said. "From Day 1, I told our kids, 'You have a target on your back. Last year you were the hunter and this year you're the hunted.' We just took it from Day 1 and said: Understand this is what we're going to be dealing with. We had a great group of guys and just embrace it and accept that challenge, which is a different challenge."
In their wins, Central A&M had an average margin of victory of 26 points and just three wins in the regular season were within 10 points. A&M lost by two points to Class 2A Williamsville and had back-to-back losses in the Effingham-Teutopolis Christmas Classic to Class 4A Lincoln Way East and to Class 2A power Chicago Corliss.
The Corliss game, more than any, was an eye-opener for the team as to just how good they could be this year. Corliss beat Class 4A Chicago Simeon. It was a team to be reckoned with in the postseason and was a strong team in the Chicago Public League. Yes, the Raiders lost by 23 points, but it was closer than that at points in the game.
"I think our kids looked at that and said, 'We played terrible, Jacob fouled out early in the third quarter and we were close and we were in the game and we really felt like had we played to our capability that we would have been able to be right there with them," Smith said. "They were as good as anybody."
There were also trap games built into the schedule. Smith was open with his teams about those games that came the night after a big win. It didn't faze the Raiders. Central A&M beat Robinson by four points late in the season, but that came the night after beating Shelbyville on the road to clinch at least a share of the Central Illinois Conference championship, which the Raiders won outright a week later.
The sectional championship game against Nokomis, Smith said, had the opportunity to be a trap game. The Raiders didn't overlook Nokomis, but falling shy of a super-sectional appearance after advancing that far last year would have stung. Nokomis took a lead late and Connor Heaton took over to power the Raiders to another sectional title.
Smith won't assume a lot of the credit. At the post-game press conference after winning third place in Peoria, Smith opened with a statement and deferred the rest to his five starters who surrounded him. At every turn he made it a point to put the attention on them. In part because that's Smith's personality, but the majority of it was for him to give his players the limelight. The Raiders are on the verge of putting together one of the best three-year stretches the area has seen. Smith recognized that, but he also knows just how challenging it is to do what the Raiders have done.
"One thing that I talked about with my staff is that it's very difficult for a junior-dominated team to get to the state tournament," Smith said. "If you look at the history, it doesn't happen very often, but we're a unique group of kids."
Contact Joey Wagner at (217) 421-6970. Follow him on Twitter: @mrwagner25