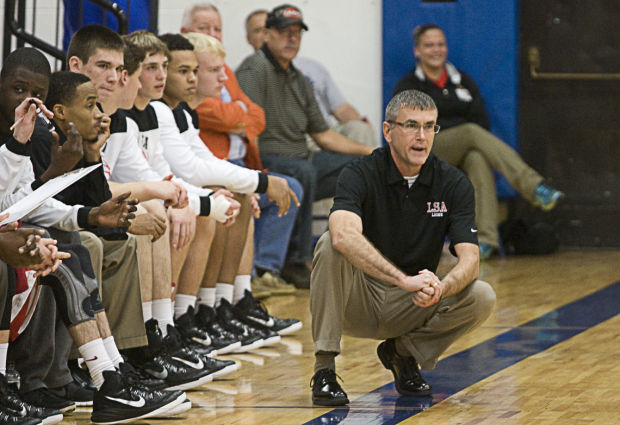 MACON — Shannon Houser thought he would coach at Meridian Middle School until he decided to hang up his whiteboard. 
"I've been with Meridian for a long time and to be honest I thought I was going to end up retiring coaching at the middle school," Houser said. "But the position became open and with a little bit of prayers, here we are."
Houser has deep Meridian basketball roots — he's coached the middle school or JV teams for over 20 years for the Hawks and coached much of Jack Blickensderfer's led 2008-09 Class 1A championship team in middle school.
"At the middle school in my 14 years we have been to the state tournament seven times and so there has been a lot of basketball talent that has come through Meridian," Houser said. "We have been blessed with point guards and those years that Jack Blickensderfer coached he had a whole lot of talent."
In 2013, Houser was hired to coach LSA's boys basketball team, replacing Dave Kreps. The Lions were 20-10 in his first season and in 2014-15 won the first boys regional championship in school history. He had a career 53-37 record in his three seasons as head coach. 
"When I went to LSA I had been coaching a long time and I thought (varsity head coaching) was something I wanted to do," Houser said. "I was pretty pleased with my time at LSA and they had some talented young men."
After resigning from LSA following the 2015-16 season, Houser returned to Meridian Middle School coaching. 
"I've always been a big Meridian basketball fan no matter where I was at. I've coached a lot of young men in the last 20 years and this will be my 23rd year of coaching and I get 15 new kids every year," he said. 
You have free articles remaining.
Houser is familiar with the team, which went 20-10 last season under Driscoll. He's coached the freshmen and sophomore classes in middle school, a bonus for a new coach. He's eager for summer practice to begin. 
"We tip off our summer basketball in June and we will all get together then and see what kind of team we will have for next year," he said. "I've got a lot of teaching to do. The juniors and seniors haven't had me but I think that will work out fine. That's part of being a coach; it's all about the kids."
Rams hire Colston
SHELBYVILLE — Matt Colston, who most recently coached at Hoopeston, has been named the new Shelbyville boys basketball coach. He replaces Bob Herdes.
Colston will teach physical education taking over Kevin Kramer's spot. Kramer retired from coaching track and field and cross country as well as teaching after 33 years.
"He has got a wealth of knowledge in basketball," Shelbyville athletics director Tony Pullen said. "He is a basketball junkie. He has a good foundation to work on."
The last seven years Colston has been at Hoopeston, including the first six as the boys basketball coach. He went 101-72 in those seasons, including back-to-back 20-plus win seasons in 2017 (23-5) and 2018 (22-9). He was the athletics director last year at the school of 365. From 2008-09 through 2011-12 he was the head coach at Bushnell-Prairie City/Avon, which included a 19-9 season in 2010-11.
Colston is a 1996 graduate of Illini Bluffs in Glasford where he played under his father, Mike Colston. Colston went on to play at Dubuque University, a Division III school. He was an assistant at Dubuque as well.
"My dad influenced me and I have learned things from Tom Wierzba (Illinois Coaches Association Hall of Fame coach at Farmington) and Dave Mott (former Pekin coach). They have all been influences on my coaching. I have been fortunate enough to be around good coaches. Marty McDermott at Dubuque (now athletics director at Muskegon Community College in Michigan) taught me a lot also."
The Journal Gazette/Times-Courier's Mike Monahan contributed to this story.
Contact Matthew Flaten at (217) 421-6968. Follow him on Twitter: @MattFlaten