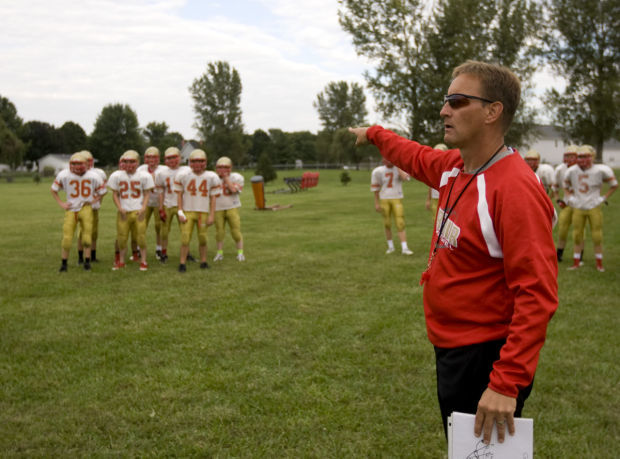 ARTHUR -- Dale Schuring will be back on the sidelines next season coaching basketball.
Schuring, the former 15-year boys basketball coach at Arthur-Lovington-Atwood-Hammond, was hired by the Mount Zion school board Monday night. He will be the varsity coach and replace Bryon Graven, who coached the Braves for four seasons, going 52-70 (.426).
Schuring's time at ALAH ended in March 2018, when the school board unanimously voted not to rehire him as football and boys basketball coach. It ended his tenure as the winningest football, boys basketball and girls basketball coach in Arthur, Arthur-Lovington or A-L-A-H history. As a boys basketball coach, he went 268-150 (.641) in his 15 years.
"It speaks well for our community, for our school district that I'm able to get candidates like Dale to show extreme interest in working here," Mount Zion athletic director Ben Davis said. "It shows our kids and community that we're going to work hard to bring quality coaches in here. We try to go out and get the best we can."
Graven left Mount Zion in May to become the boys basketball coach at South County, a sports co-op between Waverly and Franklin (a combined enrollment of 190). Davis launched his search right after and said he settled on Schuring in late June.
"That's when I had the feeling good things could happen," Davis said.
Schuring said what attracted him to Mount Zion was, "their interest in me, their facilities, their willingness to make it work even though there are some logistic issues, their understanding of my concerns, and the straightforward, open honest way they handled all of our conversations."
Schuring guided the Knights to 11 winning seasons, including going 17-11 in 2017-18 after starting 2-6 and going 9-18 the previous season. He had four Class 1A regional championships and two Sweet Sixteen appearances (2011-12 and 2012-13).
Mount Zion has an enrollment of 779 and is a Class 3A school that competes in the Apollo Conference. Graven led the Braves to a Class 3A regional title in the 2016-17 season, going 22-10.
You have free articles remaining.
"I was not actively looking for a position," said Schuring. "Davis called and talked to me and and encouraged me to apply if I was interested."
Schuring said he will remain a math teacher at ALAH for two years and no plans of teaching elsewhere after that. He was also an assistant coach under Travis Wilson at Arthur from 1988-89 through the 1994-95 seasons, helping the Knights to four straight seasons with at least 20 wins, including a trip to the Sweet Sixteen in Class A under the two-class system.
As for the year away from coaching Schuring said, "It was very difficult at first, but it became more tolerable as time went on. I adjusted to the free time and took advantage of some of the freedom by doing things with family and friends."
In May, Schuring was inducted in to the Illinois Basketball Coaches Association Hall of Fame in the career coaching category.
"(Coaching Mount Zion) is an opportunity to do something I love and have done my whole professional career," said Schuring. "I think it will be an educational experience even after 30 years. I look forward to getting started."
The junior varsity and eighth grade coaches are returning to Mount Zion and the freshmen and and seventh grade positions were hired Monday night as well.
Schuring said he understands the JV and eighth grade coaches have been taking the team to summer leagues and handling day-to-day operations after Graven accepted his new job in late May.
"I do plan on meeting the team, but nothing has been decided yet as I am just returning from two weeks of vacation," said Schuring. "I have been told there are still some contact days left. I hope to get to see and work with them in the gym before the dead period without interfering with football activities and other commitments."
Mount Zion was 4-27 last year, including 1-11 in the Apollo. The Braves split with Charleston, winning 47-44 and losing 64-48. They lost to Mattoon twice, 69-49 and 56-42. Mount Zion lost just two players from last year due to graduation.
Patrick Engel contributed to this story.
Contact Mike Monahan at (217) 238-6854.