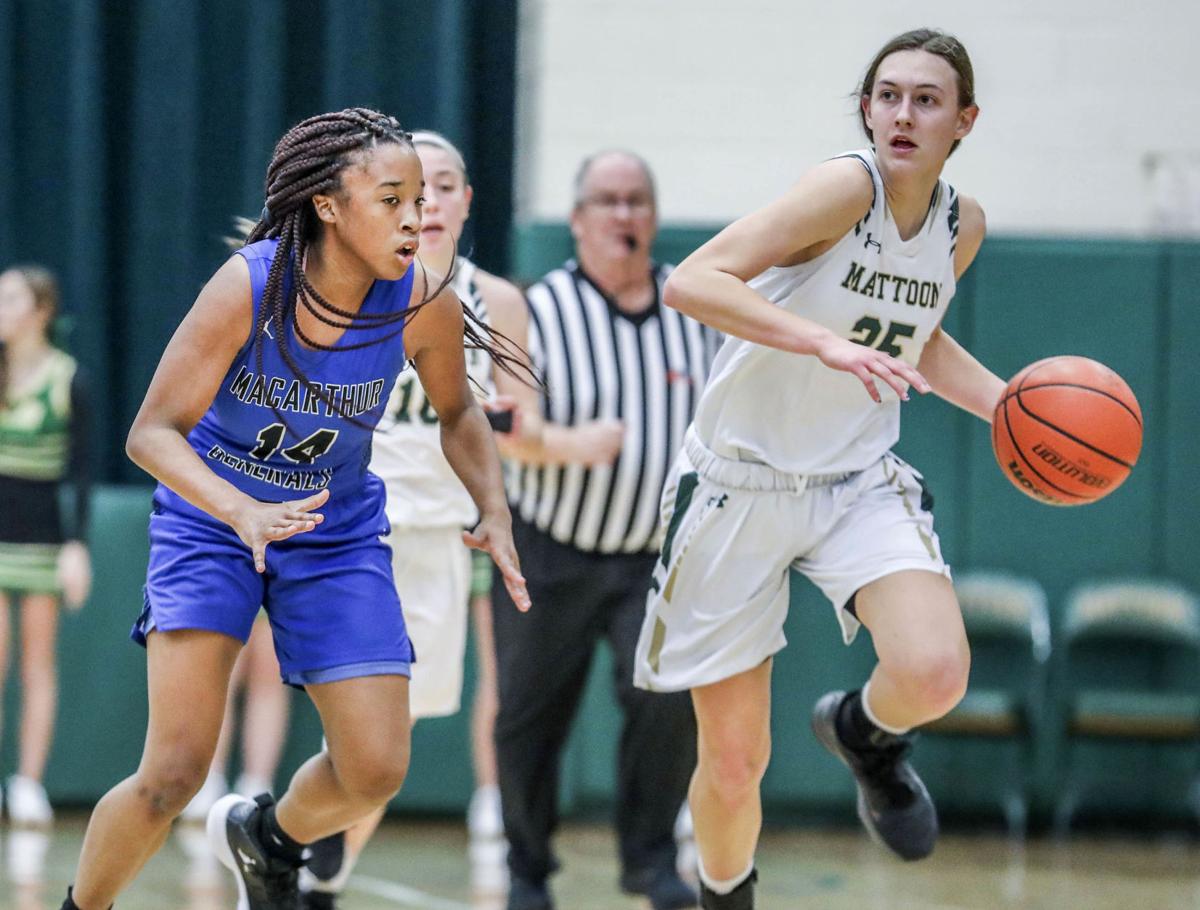 MATTOON — Mattoon's Mallory Ramage found the perfect way to celebrate her birthday this year — verbally committing to play Division I basketball with Loyola University Chicago. 
Before blowing out the candles on her cake, the Green Wave junior made some phone calls to the Ramblers coaching staff as well as the other schools that had made Ramage offers. 
"My dad brought home a cake and and my parents were making dinner, and I set up a call with (Loyola's) head coach," Ramage said. "I talked to her for a little bit and I called the assistant coach and talked to him for a little bit, then I called all the other schools that I got offers from to let them know.
"I really didn't know what was going to happen with COVID (and the upcoming basketball season) and Loyola has always been my top pick and I really love them. It was the best choice for me and I think it was a great decision."
Ramage received offers from the Tennessee-Chattanooga, Indiana State, North Carolina-Wilmington, Indiana University-Purdue University Indianapolis, Eastern Illinois and Wofford, but it was her conversations with the coaching staff at Loyola that won her over. 
"I haven't been able to go up there yet because we can't really do visits right now, but I really love the staff and I was up there when I was younger," Ramage said. "I did a virtual tour with the head coach and the assistant coaches, and I got to talk to a couple of girls from the team, too. I really like the girls on the team that I talked to and they will be seniors when I come on and they made me feel very welcome. It is a great basketball program."
Loyola's men's program advanced to the NCAA tournament Final Four in 2018 and Ramage watched her future program in action that year.  
"I actually do remember watching those games from a while back. When I got my offer back in June, I thought it was really cool because I remember watching the guys play in the NCAA tournament," she said. 
"I love my coach Dan Gates and he has helped me through the recruiting process," Ramage said. "My teammates that I play with are really good and they challenge me a lot and I'm really glad to play for that organization. I've actually been doing some travel basketball practices right now and we have to have our masks on when we are practicing. I'm also just practicing on my own and doing some drills."
The Green Wave won their first girls basketball regional title since 2016-17 last season and Ramage hopes she can lead the team into the playoffs again with a clear mind after making her college decision. 
"I think we are going to look pretty good. We lost some seniors last year but I think we'll do well and I just hope we can get a chance to practice and play," she said. "I really did like (the recruiting process), but now I'm glad that I can just relax and I know where my future home is going to be and, if we get to have a season, that can be a nice and relaxed season."
---
Contact Matthew Flaten at (217) 421-6968. Follow him on Twitter: @MattFlaten
Get in the game with our Prep Sports Newsletter
Sent weekly directly to your inbox!