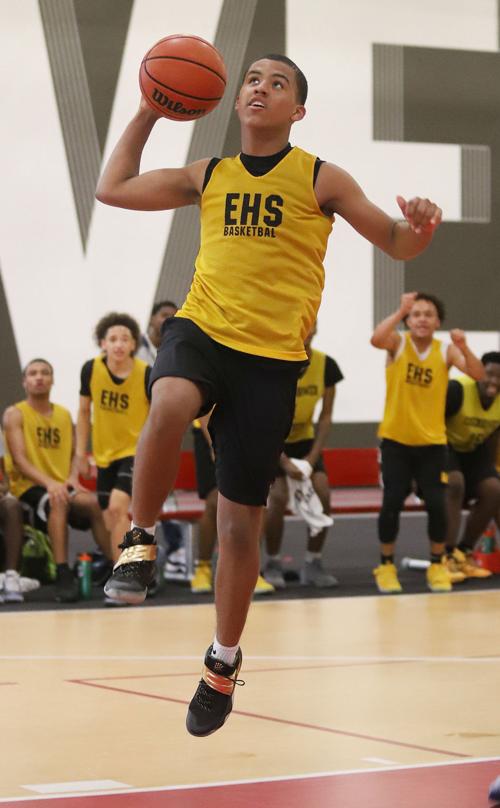 DECATUR — For years, Brylan Phillips has been lauded for his basketball abilities.
YouTube videos of Phillips, who will be a freshman at Eisenhower next season, surfaced in seventh grade, crossing up defenders to create room for fadeaway 3-pointers, or dribbling balls through the legs of defenders hoping to stay in front of him.
That same year, Phillips was on the 23-0 John's Hill eighth grade team that won a state championship, and as an eighth grader led the team to a 22-3 record.
Finally, on Monday at the Mount Zion Shootout, Phillips got to display his talent in a high school summer league game. He threaded passes in transition, blew past defenders with head fakes for easy layups and knocked down open jump shots.
He was handling the pressure that had been mounting for years.
But, he admitted, sometimes questions do sneak into his mind.
"It's wondering: How are you going to play every game? Because you have a lot on your shoulders. But it's just like playing any other basketball game," Phillips said.
Phillips' father, Eisenhower assistant boys basketball coach Michael Phillips, carries his own basketball legacy. Michael played at MacArthur and went on to play at Wichita State.
Brylan has gone to high school practices with Michael for years. He's seen the speed of the game and knows exactly what it takes to play on varsity and in Eisenhower coach Rodney Walker's system.
"He's embracing it," Michael said of the pressure on Brylan. "He's humble, but at the same time, he's been around it for so long. He's watched the (Stephon) Bobbits, he's watched the (Stefon) Jarretts, the (Brummett) twins. He's been around it a lot.
"He's a sponge. He soaks a lot of it up. Being around Rodney and myself, he's learning that the attention means nothing if you don't perform."
Brylan can shred opposing defenses with his ability to move the ball. When he was in junior high, he displayed his chemistry with Eisenhower now-sophomore R.J. Walker. 
Brylan passing to R.J. became a broken record on repeat.
"That's probably the best part of his game," Michael said. "He delivers the ball when it's supposed to be delivered. That's a hard trait to have as a young kid: To deliver the ball when it needs to be delivered, not necessarily when you're in trouble."
But passing wasn't always Brylan's skill calling card.
You have free articles remaining.
When he played in youth leagues at SkyWalker International, people told him he shot too much.
Brylan took exception. He wasn't mad, but the comments gave him motivation to prove people wrong.
"People used to tell me I ball hog a lot," Brylan said. "So I stopped shooting and started passing the ball and watching people pass in the NBA. Now it comes to me easy, so if somebody is open, I make the open pass."
Scoring? Brylan isn't worried about that.
When Rodney Walker's high-pressure, hyper-aggressive defense is working as it's designed, turnovers come in droves.
That's where Brylan knows the easy baskets will come.
"The scoring will come off defense and getting the ball back for my teammates," Brylan said. "The main thing I'm worried about is getting my teammates involved and getting them involved before I get my buckets."
Stretching the floor for 3-pointers is an added trait to his already loaded offensive arsenal.
On Monday, Brylan's hand shot up from the 3-point corners, and when his teammates whipped the ball across the court to him, he buried the shot.
His teammates trust him to take the right shot. It's a bond that's been forged through practices together and through years of Brylan being around bigger, older players.
"He's been around them since he was in fifth or sixth grade," Michael said. "Those guys grew up together. The trust also comes from them watching him and knowing what he's capable of."
Michael said he believes the Panthers would have been a better team with Brylan on the floor last year, but Eisenhower, under Rodney Walker, has strung together a collection of successful seasons.
After the city lost a successful senior class, a new, talented crop is coming up.
Brylan is right in the middle.
With Brylan and R.J. spearheading the youth movement at Eisenhower, it's hard to put a cap on the potential.
"We didn't ever think what school it would be at, but we've been waiting to get to high school and play together and try go to state," Brylan said of his relationship with R.J.
"The potential is very high these next couple years because a lot of teams don't expect us to be good because the past. But these next coming years, our youth will get it right."
Contact Joey Wagner at (217) 421-6970. Follow him on Twitter: @mrwagner25