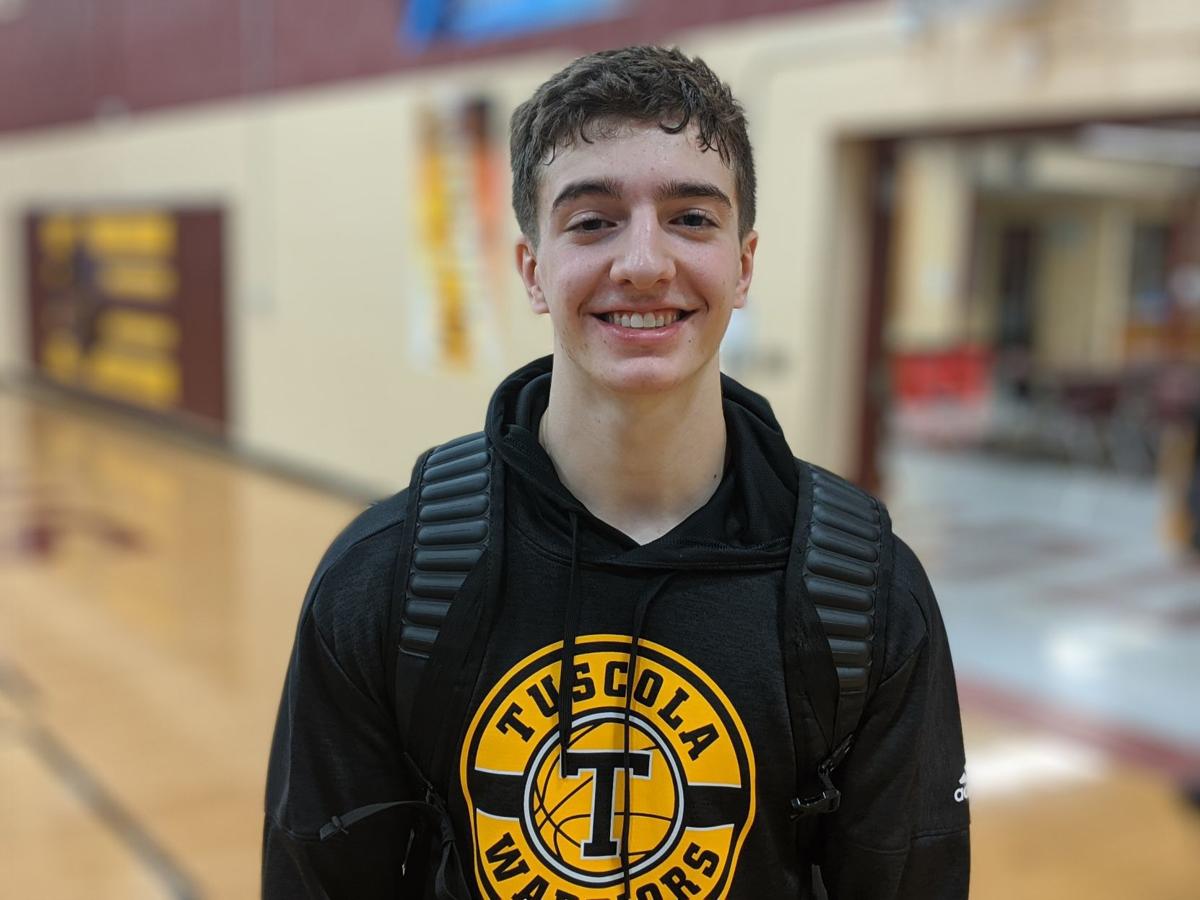 CLINTON — On the surface, Nick Williams' eight points on Friday night in Clinton were hardly enough to draw any attention — a couple of 3-pointers and a layup.
It was a solid, if ordinary, night in the world of high school basketball.
Williams' story isn't as much about how many points he scores, or how many players he locks up on defense. His story is the process — countless hours in the weight room reshaping his body into a ball of muscle, and years spent between the freshman/sophomore team and junior varsity before emerging into his role on varsity as a super sixth man on an undefeated Tuscola (14-0) team.
He went to the Carle Acceleration program in Champaign to work on his quickness and agility, then when his legs were dog tired from a workout, he found his way into the Tuscola gym to get shots up. If he could shoot when he was tired, he figured, he could shoot when he was rested. He'd work a detailed regimen in the weight room around his schedule. At the end of his junior season — of which he did not play a meaningful minute — he weighed 145 pounds and has since worked himself into a 163-pound force that instills hell on defense.
So how did he get here? How did he turn from a bench warmer and junior varsity player into a sixth man who would start on some other teams?
"A lot of hard work and just grinding," Williams said. "That's really it. ... It was hard, but I knew that I could get there. I knew if I kept going, I'd eventually be there where I wanted to be."
Tuscola head coach Justin Bozarth has seen the development from the start. In seventh grade, where Bozarth figures Williams fell in love with the game, he hardly found his way onto the court and didn't have the weight or body mass to be of much consequence. After his eighth grade season, Bozarth estimates that Williams was 5-9, 100 pounds and "couldn't punch his way out of a wet paper bag."
In fact, had someone pressed Bozarth six years ago when Williams was a non-factor on the junior high team, Bozarth wouldn't have expected much, if any, of a contribution from Williams in varsity basketball.
"He's just a guy that had you asked me in seventh grade: Six years from now, what do you expect from Nick Williams?' I honestly probably would have told you that he'd be one of the better guys in the Black Pack (student section) leading the charge," Bozarth said after the Warriors picked up a convincing road win at Clinton. "As a coach, you're just beaming with pride that someone is willing to put his nose to the grindstone and just work and not worry about results in the moment, but what's the long-term goal?"
Somewhere in those junior high seasons, Williams decided he wanted to be a part of the change of perception in town. Tuscola has been known as a football school, and that program has had the success to wear that crown. Thing was, Williams didn't play football. He's a basketball player. In lieu of walking away from basketball and finding a hobby that he could immediately excel at, he put in the work and waited his turn.
"Whenever we were in middle school, we were always known for a football town," Williams said. "I always wanted us to be a basketball town so I thought that I should work towards that. It turns out, we're kind of turning into a basketball town now."
Entering the season, Bozarth and his coaching staff figured they had six players who could reasonably start in the season opener against Okaw Valley. They wanted to get ahead of the curve. There shouldn't have been any surprises when the starting lineups came out. Williams was one of those six who could have started. He knew it, Bozarth knew it and the team knew it. So Williams went home and pondered his options.
In the interest of avoiding any problems that could slow down the season, he took matters into his own hands. He marched into Bozarth's office and offered himself as the sixth man on the team. 
"It wasn't really a tough decision," Williams said. "I just went home and I thought about it, and I came back the next day and thought it would be best for the team so that's why I picked it."
Bozarth was floored. How many programs in the state, he wondered, had a Nick Williams? Still, Bozarth wanted to get the seal of approval from the rest of the team. They had a meeting where it was announced that Williams would come off the bench voluntarily if it put the Warriors in a position to win another Class 2A regional championship and take a crack at a deeper advancement in the postseason.
"I honestly feel like we may be one of the few teams in the state of Illinois that has a guy who volunteered for the sixth man role, who thrives in that role and who looks forward to coming off the bench," Bozarth said. "In this day in age, nobody looks forward to coming off the bench, but Nick Williams is different; Nick does."
There's respect for Williams from the rest of the team. Surely they remember the scrawny seventh grader who put in the work to get his turn, who backed out of a chance to start if it meant that it would spark the team. Williams is most proud of his defense, and the energy he brings off the bench to pick up the pieces at the first hint of stagnation.
"A lot of people don't know much about Nick," sophomore standout Jalen Quinn said. "He doesn't get all the media and all the attention, but not a lot of teams have a player like Nick. He's very unselfish. He's willing to put others first and he's also putting the work in just like everybody else. He's putting overtime work. He's worked hard to be where he's at and in the position he's in."
When the team found out that Williams had volunteered to come off the bench, Bozarth said the team broke into an applause. That is the story of Nick Williams. His eight points on Friday were merely a footnote.
"If you would go around the room and ask our guys, no one roots harder for anyone on our team than what those guys root for Nick," Bozarth said. "He's earned the respect. He's a program guy."
---
Joey Wagner's favorite stories from 2019
Joey Wagner's favorite stories from 2019
Here are some of my favorite stories from 2019, most of which are about the successes of athletes through adversity. MacArthur's MyShaun Dozier got viral attention for his inspiring story; Pana receiver Wes Kile might be deaf, but that doesn't stop him on the football field or basketball court; Illinois running back Reggie Corbin, linebacker Dele Harding and tight end Justice Williams spent their time giving back and coaching youth football; Macon County boys basketball Player of the Year told us where he got his inspiration to play; and Portland Rosen got a special surprise at the final Forsyth Classic.
Contact Joey Wagner at (217) 421-6970. Follow him on Twitter: @mrwagner25
Get in the game with our Prep Sports Newsletter
Sent weekly directly to your inbox!