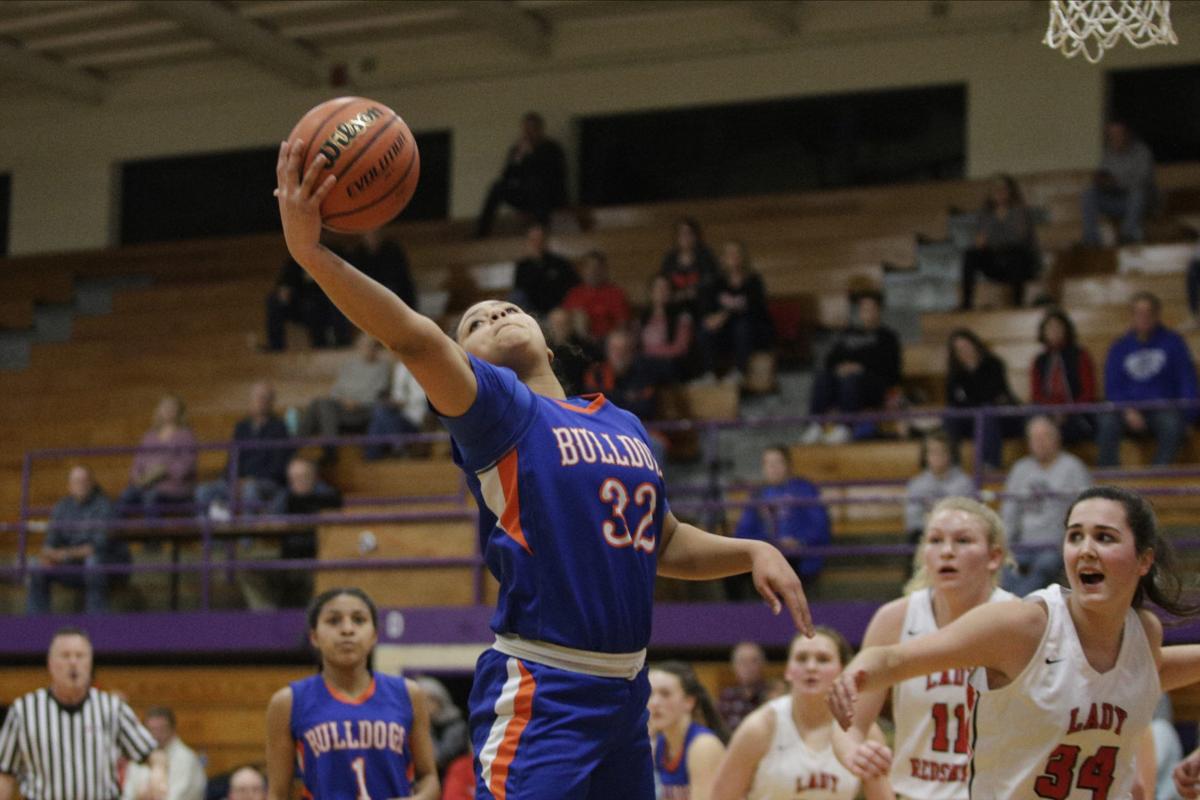 DECATUR — St. Teresa's girls basketball team was awarded the No. 1 seed in a Class 1A Champaign St. Thomas More subsectional this week and the team's potential path to a regional title could be a smooth one.
The Bulldogs (20-6, 5-0 CIC) will open their playoff schedule on Tuesday, Feb. 11 against the winner of Farmer City Blue Ridge (9-18) and Deland-Weldon. The likely regional finals contender for St. Teresa, which hosts its own regional, is No. 4-seeded Cerro Gordo-Bement (9-19), who the Bulldogs defeated 49-13 back on Nov. 23. The regional final game is scheduled for Thursday, Feb. 13 at 7 p.m.
In the Class 1A Casey-Westfield sectional, Altamont (22-5) received a No. 1 subsectional seed and could play No. 4-seeded Effingham St. Anthony (11-14) in the regional final, which is hosted at St. Anthony on Friday, Feb. 14 at 7 p.m.
Central A&M (21-8) received a No. 2 seed and could face No. 3-seeded Arthur-Lovington-Atwood-Hammond (15-12) in the regional final on Thursday, Feb. 13 at 7 p.m. at Arthur. The Raiders and Knights faced each other this past Saturday, with Central A&M winning 53-27. 
In the Class 2A Paris sectional bracket, local teams will compete at the Newton and Sullivan regionals. No. 2-seeded Teutopolis (20-7), looking to return to the state tournament, could face No. 3-seeded Pana (21-8) in the Newton Regional finals on Thursday, Feb. 13 at 7 p.m.
No. 4-seeded Sullivan (20-5) was stuck with the most difficult road of any of the area's elite teams. At the regional Sullivan is hosting, Class 2A No. 1 Paris (28-0) is waiting on the other side of the bracket.
Postseason brackets for Class 3A and 4A will be announced next Friday, Feb. 7.
BOYS BASKETBALL
Central A&M to face Meridian in CIC semis
MOWEAQUA — The championship semifinals for the Central Illinois Conference Boys Tournament have been set. Defending champions and No. 1-seeded Central A&M will face No. 4 seeded Meridian on Tuesday at 6 p.m. This will be the second meeting of the season between the Raiders and the Hawks as Central A&M blew out Meridian 96-60 on Jan. 10.
Raiders' senior Griffin Andricks had a career night against Meridian in the first meeting (37 points, 16 rebounds) and he nearly equaled that against Sullivan on Saturday, going 8-for-8 from 3-point range in a 31-point, 14-rebound performance.
You have free articles remaining.
Tuesday's other semifinal will feature St. Teresa (13-8) vs. Tuscola (19-2) in the first meeting between the two teams this season. Tip-off is at 7:30 pm. at Central A&M High School. 
TRACK AND FIELD
Seitz to replace Rork at Central A&M
MOWEAQUA — Central A&M's Board of Education recently approved Paige Seitz, a former Raiders state track qualifier, as Central A&M's new track coach, replacing Todd Rork, who resigned in August. 
Seitz, a 2015 graduate from Central A&M, was a member of the Raiders' Class 1A state championship teams in 2011-12 and 2012-2013. She qualified to the state tournament each of her four years with the Raiders, including a fifth-place finish as a member of the 4x400 relay team in 2014-15 and a fifth-place finish in the 4x800 relay in the 2013-14 meet. Rork coached Seitz during those state championship seasons. 
Raider Nation Class of 2015 Paige Seitz was approved as the new Central A&M High School Girls' Track Head Coach tonight at the School Board meeting.

Ms. Seitz is currently finishing her school term at Mortuary School, and, upon finishing, is excited to coach our Lady Raiders. pic.twitter.com/nYVmZIDmzH

— Central A&M HS Principal Brown (@CAMPrincipal) January 28, 2020
In a tweet from Central A&M principal Charlie Brown, he stated that Seitz was currently finishing her school term at mortuary school and is excited to coach the Raiders.
Rork resigned in August to spend more time with his family and continue to expand his barbecue business, Rork's Pork.
FOOTBALL
Eisenhower's Seider announces intentions
Seider, an H&R All-Macon County honorable mention pick, was an important team leader for the the Panthers and played multiple positions including linebacker, tight end and long snapper. 
Culver-Stockton competes in the Heart of America Conference in the NAIA and last season the Wildcats were 6-5.  
Contact Matthew Flaten at (217) 421-6968. Follow him on Twitter: @MattFlaten