Not many had heard of Findlay, the Illinois town of 300, before the early 1990s. 
Just off the west banks of Lake Shelbyville, the small town gained prominence around the state thanks to the boys basketball team. After a 26-4 year that ended in the super-sectionals in '89-'90, the Falcons returned to the supers the following year with an undefeated record and the No. 1 ranking in the state.
That much-hyped season fell just short of Champaign a second straight year.
The third time, though, was charming.
The school with an enrollment of 96 took home the 1992 Class A state championship with a pair of twin towers, 6-foot-6 Eric Smith and 6-7 Clayton Stivers, a sure-handed point guard in Jimmy Allen, sharp-shooter Joey Howell and the hard-nosed Tony Sparks to round out a potent starting lineup. Mike Reynolds, a veteran of the Findlay sideline for more than a decade, led as the coach.
It was, and still is to this day 25 years later, the smallest school to win a state basketball title.
Coming into the state championship year, Findlay made it to the super-sectional game in back-to-back seasons. Their undefeated season in '90-'91 was cut short after Williamsville, a team Findlay beat 77-57 earlier in the year, came back to beat them 62-55. Findlay averaged 90.4 points per game in '90-'91.
Stivers: Obviously, we were really good our junior years with Shannon Cloyd, Andy Scott and Robby Mowry the prior year -- that was a pretty disappointing year we came off of.
Allen: It was mixed feelings. I played a lot my sophomore year, so my junior year I kept in touch with everybody while I was in Kentucky. I was definitely wanting them to win it all and I was definitely just as disappointed as they were when they lost.
Smith: Williamsville ran the weave and ran the clock out. They tried to take as much time off the clock as they could.
We surely should not have lost to Williamsville, who we beat by 20 points earlier in the year. I think we just got outsmarted in our junior year.
I think it was good for us, unfortunately, for our senior year.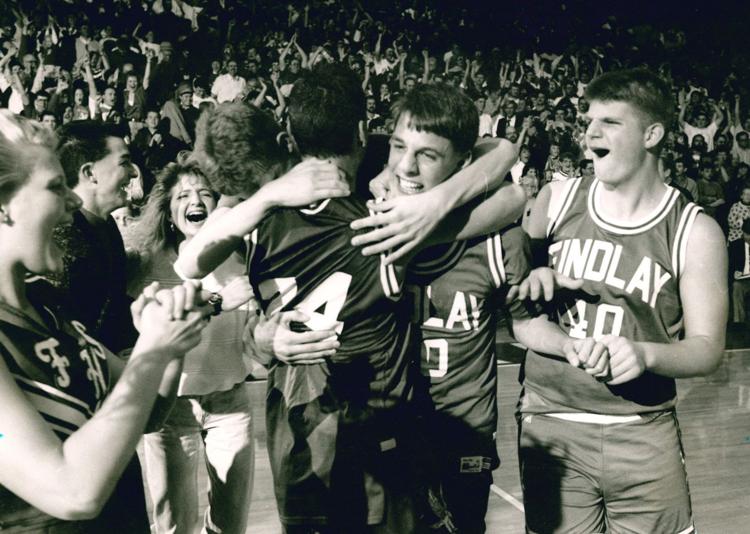 Having lost Shannon Cloyd and a number of other seniors, Findlay returned two big scorers in Stivers and Smith. Sparks and Howell joined the starting lineup and Allen, who had moved to Kentucky, came back to Findlay for his senior season to play point guard. Jeremy Chaney and Jason Tucker added support off the bench.
Sparks: I think the expectations were just as high as the year before. Really for us, coming back as all seniors and having a couple years before, it was a quiet confidence, honestly.
We caught a lot of flack the year before for the bravado, finger-waving stuff. We put it in a lot of opponents' faces and let them know. We kind of grew from that experience and had a lot more business-like approach.
Howell: We tried to tone it down a little bit. The year before, we thought we was unstoppable and we figured out we could be beat.
Reynolds: Here's what I've always said, and I'm not trying to upset a kid because those were three wonderful years to work with.
The first year, I think we actually overachieved because we weren't even picked to win the regional. The second year, they actually might have had more talent. But the third year, I thought they played a little better as a team.
Allen: I moved back in the summertime. What happened was, when I became of age, I moved back to Findlay and got to practice with them.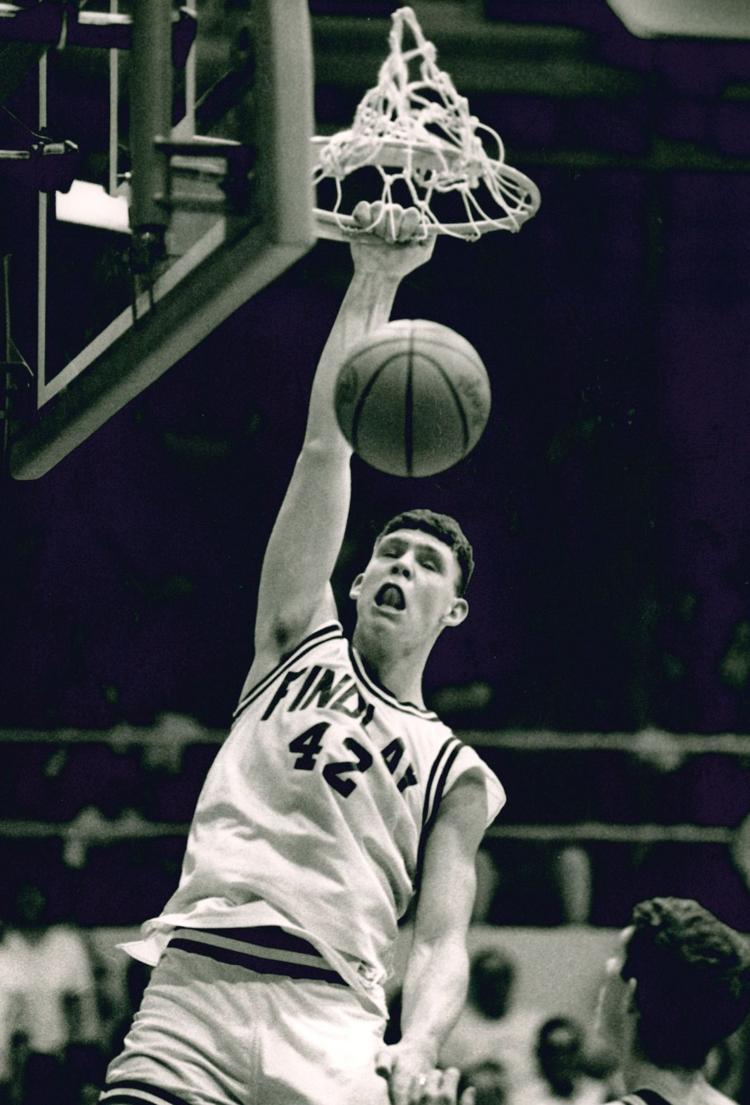 I had to go through the IHSA and everything and prove to play. That was an ordeal and there was probably three or four months I was trying to get it approved. I didn't even know if I was going to be able to play that year.
Smith: Jimmy's a phenomenal ball-handler and could see the floor. He is your prototypical point guard, selfless, knew what was best for the team. Jimmy was like a brother. He lived with me senior year, so for me and Jimmy -- I'm an only child -- since our senior year he has been and always will be like a brother to me.
Sparks: Between his sophomore and junior year, (Smith) grew into a man-child. You probably know about Eric if you've been around Decatur at all.  
Joey Howell was a good outside shooter -- the arc on his shot, people would always make comments on it. It was outstanding.
Reynolds: Tony just played hard. He gave 100 percent all the time, and knew what he needed to do and what to do with the ball.
Clayton, when he was a senior in high school, nobody knew the game better than him, I don't think. He understood, and he learned from his sophomore and junior years.
Smith: We were all very, very close and it was a bond and kinship that we had throughout high school. It's one of those things -- we don't see each other a lot, unfortunately. But when we do see each other, you don't miss a beat.
Reynolds had coached at Findlay for more than a decade with just one losing season.
Sparks: We'd come in and be up 40 at halftime and he'd be upset. Breaking chalk writing on the board. He never let us rest. A lot of people probably thought we ran up the score, but he let us play. He kept his guys in for three quarters -- it was kind of a different era back then. I think, probably, if you did that nowadays you'd take a lot more flack for it. But he's a good guy, a pastor here in town that I attend.
I learned a lot from him. He's a walking basketball encyclopedia, that's for sure.
Allen: He wanted it his way, and we busted our butts in practice for him because we respected him. But he gave us a lot of freedom on the court.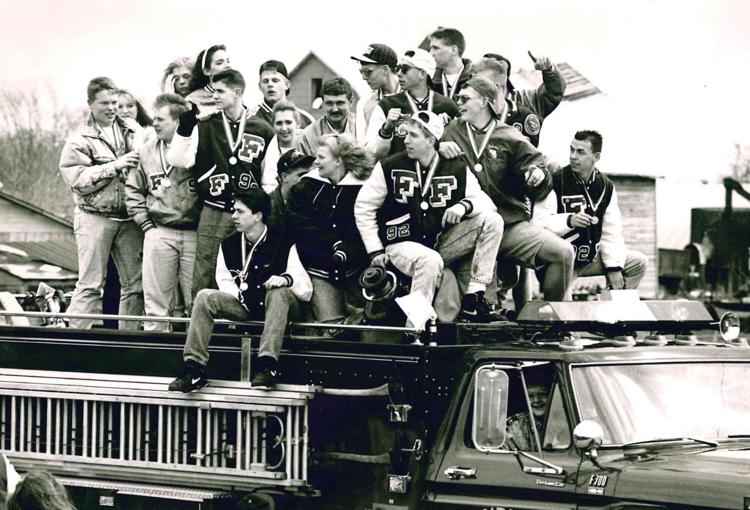 In an effort to toughen up the schedule, Reynolds booked a Christmas tournament at Breese Mater Dei. Findlay would lose its only two games of the season there, a 69-55 game to Okawville and then 60-48 to Springfield Calvary.
Allen: I remember the first game we lost, that was actually the first game my parents came up from Kentucky to watch. I was kind of hyped up for the game and wanted them to see how good of a team we were. I left home for my senior year, I wanted to show them why I left home. And we just played like crap.
Stivers: Okawville at the time was very good, and I think it was pretty much an even game at halftime. But nothing was really going right. And there was some tension, let's say, at halftime in the locker room.
Smith: Maybe some confusion of roles or responsibilities is the best way to say it, whether it was scoring or assists or who did what. It was a pretty heavy halftime.
That was probably the most heated we've been as a team that season or seasons before that.
Allen: We lost that third place game, but we really didn't care about that game. Whenever we got back from Christmas break, that's when we really had a talk. Hey, we're here for a state championship. I think that loss was probably the best thing that happened to us, now looking back at it.
Stivers: When you face a little adversity like we did, spilling over from the year before losing that game -- that seemed to have an effect.
Obviously, you get to that point and you realize this is your last game in high school and your last opportunity. I think that was pretty much the driver in getting us all to sit down and figure out, how is this going to happen?
Reynolds: There were some things that needed to be ironed out there, but the kids pretty much took care of that themselves.
Stivers: That was the turning point, though. We sat down after that and said, OK, what are we going to do here? Are we going to let this continue or sit down and try to figure this out?
It's funny, and it's a cliche, but it's funny how those things bring you closer together.
The Breese tournament was part of a tougher schedule Findlay had. The Falcons also added games in shootouts in Springfield against Springfield Calvary and in Shelbyville against the Rams.
You have free articles remaining.
Sparks: We played the summer circuit and we beat teams like MacArthur and Eisenhower. And we played Rockford Boylan, and we beat them at Eastern for a team title and they got fourth place in AA. We were the only team to beat a Chicago team that year. We didn't feel like a small school.
Howell: Most definitely it was a better schedule. Coach, have to give him credit for that. He made it tougher, and that's what he wanted.
Reynolds: We had some close games. We wanted to play at least as good, and opponents' ambition was to beat us. There was definitely a bulls eye on us a little bit.
The closest game of the playoffs came against Chrisman in the sectional semifinals. Findlay edged out a 62-59 win.
Allen: To me, that felt like the championship game. They were tough. Out of all the games in the state tournament, that was the one I was most nervous about.
Reynolds: They had the ball down three and took a 22-, 23-footer and almost banked it in. It rimmed out and we got the rebound. It was our hardest game in the tournament.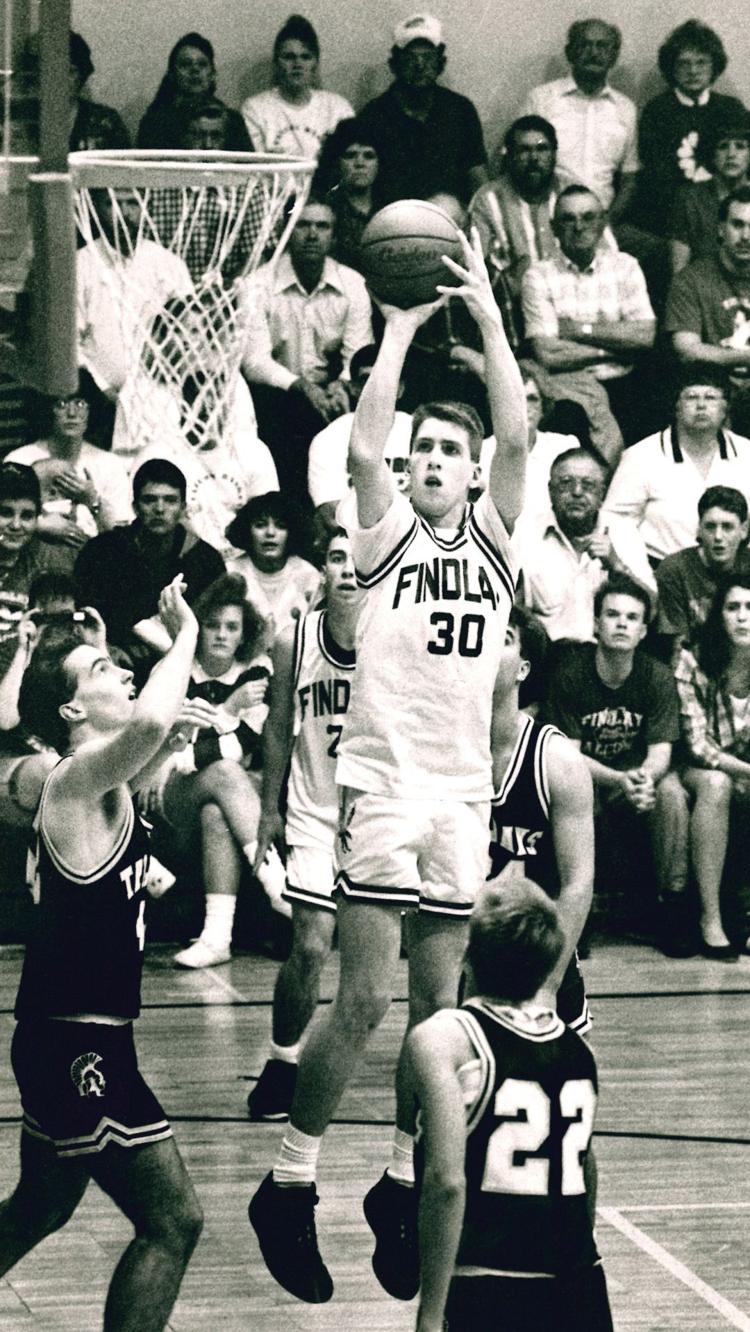 Sparks: That was the third year in a row we had played Chrisman in sectionals and they had a kid, Chad Beals, an all-state guard who was an unreal player.
That's the only high school basketball game I threw up before.
A week later, Findlay had a rematch against Springfield Calvary. Monty Wilson had 26 points for Calvary, but all five of Findlay's starters had double-digit scoring to power a 62-55 win.
Sparks: Me, Clayton Stivers and Joey Howell, we used to play at Salvation Army under Phil Banks in the summer, so we actually grew up playing with Monty up there. We knew his game, but we weren't intimidated. He was a hell of a player, and then a college career.
Allen: They gave us some firepower too, because I remember their coach saying our guards can't match their guards. And me, Joey and Tony weren't too happy about that. It gave us a little spark.
Howell: That's when I felt like we came together -- we came together all year, but we really came together at that game.
Finally breaking through to the state tournament, Findlay fulfilled some dreams by going to the University of Illinois and playing on Assembly Hall's floor.
Howell: Oh my gosh, it's hard to describe. Growing up, you go to the state tournament every year as a spectator and it's unreal. There's nothing like it.
Allen: That was a blast. Walking in for the first time in practice, it was more of a shootaround. Other teams were actually having a full practice.
Smith: I remember even our assistant coach, Brett Chaney, who was Jeremy Chaney's older brother, suited up and came out to practice with us. It wasn't a day for Brett to coach.
We were doing fast break drills and dunking and having a good time. It was more like recess for us.
Allen: I remember Smitty was on the microphone at one point just messing around.
Smith: He's making stories up. (laughter) I wouldn't admit to it anyway.
In the quarterfinal and semifinal games, Findlay matched up with a teams who had outside shooters who weren't afraid to take shots. In the quarterfinals, Elgin St. Edward's Chris Payne went 8-of-34 for 22 points, and Benton's JoJo Johnson shot 15-of-42 for 41 points in the semifinals.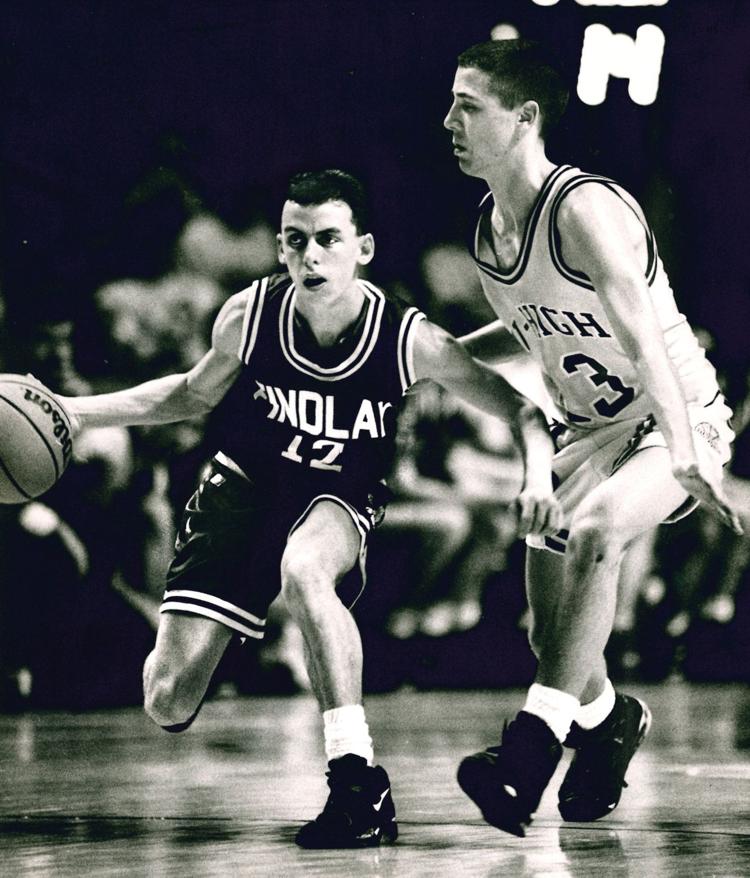 Findlay needed a 21-point second half comeback to beat St. Edward 74-60 before rolling past Benton 83-74.
Stivers: You got to play three games in 24 hours. On our end, we played the last quarterfinal game and I don't believe we started until probably after 9 o'clock.
Smith: We were down 15 or 17 points (to St. Edward). I probably sat half of the first half -- I had three fouls at the end of the first quarter. There was definitely a recalibration, a check for a pulse, are we still alive moment. It woke us up, I think.
Reynolds: (Stivers) was the one that said, 'Hey we got time, we can get this together.' And he got everyone settled down, and I didn't have to say a whole lot there.
In the second half, we put on a press about half, two-thirds up the court and it turned the game around. Stivers, 6-7 at the top of that press made a big difference.
Allen: We worked on that 3-2 zone all year, I remember in practice. And we never ran a 3-2 zone, ever in any of games until the state tournament. That really threw off a lot of those heaters, they weren't expecting it. It worked like a charm.
Stivers: With JoJo, I guarded him in the first half, and I think I did a pretty good job getting in his face. He was in double digits by halftime, but he had already threw up 25 to 30 shots.
Smith: He would step over half court and launch it. If he didn't make it, they'd throw it back to him and he'd chuck it up again from the same spot.
Reynolds: I think the first game, (Payne) set a record and then the next game, JoJo broke the record for shots attempted. I think it was because we were so big inside that, other than the championship game, teams didn't try to get the ball inside too much.
Findlay found a match in their size and height in Normal U-High for the Class A title. But the Falcons never trailed in a 61-45 win for the state championship.
Reynolds: Joey Howell hit a 3 to start the game and got us going, and then he hit a 3 in the second half that got us going. We hit a couple outside shots, which helped us because they matched up with us well size-wise.
Allen: I remember smiling at each other on the court, like we got this. It was kind of surreal, two minutes into the game we were so relaxed out there. We just played our game.
Howell: We were ahead by 12 points, and we kind of knew we had it and worked the clock some.
Sparks: Surreal. I go back and watch the game tape from time to time. It's a surreal experience to watch again.
Reynolds: It didn't take long to sink in, because of the year before. And I still feel bad for those kids, because in my heart, the year before was the best team in the state.
Stivers: It's a culmination of those three or four years we were there. And it's kind of a story -- it was a family. Small town, 300 people, 96 kids.
Allen: At the time, it was everything. We'd go to away games and we'd have twice as many people at our away games. Our whole town would travel. I think the first game of the new year, there was probably six inches of snow on the ground and we had twice as many fans.
At state tournament, I don't think anyone was left in town. It was pretty cool.
Sparks: I was on vacation in Gatlinburg, in the hills of Tennessee in some small cemetery, standing next to a guy. He asked where I was from and I said Findlay, and he said, 'Oh, state championship! 1992!'
Smith: It floors me to this day. For me, it surprises me to this day, that once a week or once every two weeks somebody talks to me about that, about winning state. At that time, I never would have thought it's this big a deal.
And everybody said it's a big deal if you win state, but I would have never thought 25 years later people would still recognize me and say, 'Didn't you play on that ballclub in that one state?' or 'Aren't you from Findlay?'
It's just, it's humbling to say the least.