DECATUR — Marv Dampeer finds himself going back to the opening verse of Rudyard Kipling's poem "If."
"If you can keep your head when all about you 
are losing theirs and blaming it on you ..."
That verse helps Dampeer, a 33-year veteran Illinois High School Association official, when fan criticism gets particularly hot. Dampeer passes that same advice to young officials breaking into the field as they adjust to the highly scrutinized profession.
The problem is, not all officials share Dampeer's ability to tune out the noise — the shouts, the expletives, the verbal abuse. 
Fan criticism coupled with age, retention rates, and lifestyle changes like marriage, new jobs, moving and children have contributed to a nationwide shortage of high school officials, a problem Illinois is facing. The National Federation of State High School Associations estimates 80 percent of those who begin officiating quit before their third year. Some schools across the country have had to cancel games because there aren't enough referees.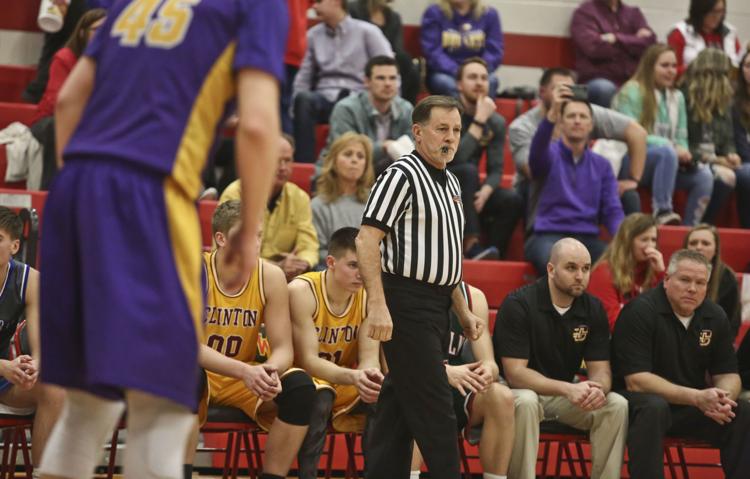 YouTube is full of cellphone videos with umpires and referees being screamed at during youth and prep sports.
"A lot of people get into it and get turned off, or don't even get into it, because of their concern for sportsmanship from coaches, from players, from fans," said Sam Knox, the IHSA assistant executive director in charge of officials," and some people simply don't want to deal with it." 
From the 2012-13 season to the 2016-17 season, the number of IHSA officials has dropped by 11 percent. And it's still sinking. In just the last year, the IHSA reported the number of officials in Illinois dropped from 12,198 to 11,981.
To officiate a sport, refs pay $50 to be licensed in a specific sport — it's $15 for a license in each additional sport. To obtain the license, an official must pass an open book test for each sport. Licenses must be renewed every year.
From 2012-13 to 2016-17 there's been a 9 percent decline in licenses issued. The trend continued to fall for 2017-18. Licenses dropped from 19,072 in 2016-17 to 18,958 in 2017-18.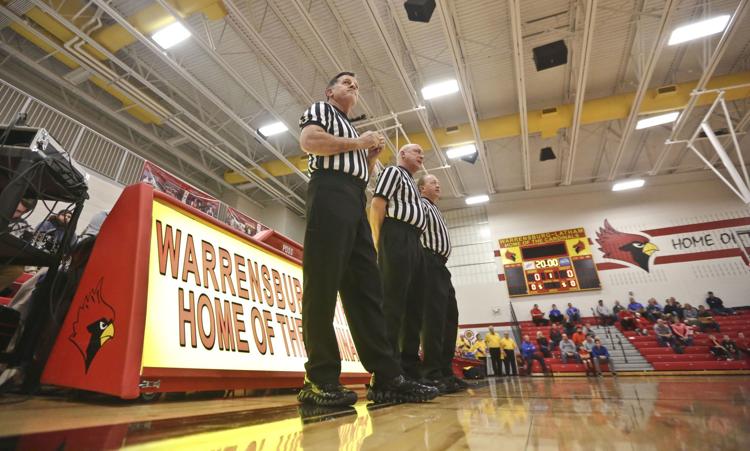 "Primarily, guys can't take it," said Dampeer, who is licensed to officiate football and basketball. "They can't take getting yelled at. As far as the pay that you get, do you want to go out and work on basketball games for $45 and get yelled at? A lot of guys don't want to do that."
Though the shortage of officials is felt statewide, Knox said some areas have been hit harder than others.
"It's more toward the rural areas of the state," Knox said. "That southeastern corner of Illinois and certainly way down south, and even over in the western part of the state towards Quincy, there aren't as many officials."
St. Teresa High School Athletic Director Todd Vohland said the effect of the officials shortage hasn't been dramatic, so far, but said it's a worsening problem. He said he has varsity schedules made for two years out, with the exception of one game, but scheduling junior varsity games becomes problematic.
Knox circled soccer and wrestling as sports most affected. IHSA data for the 2017-18 season shows 1,155 licensed soccer officials and 584 licensed wrestling officials.
"In those areas, there just aren't many officials," Knox said. "The good news for officials there is they can take the games they want and probably officiate a game every day of the week and probably on Saturdays, too.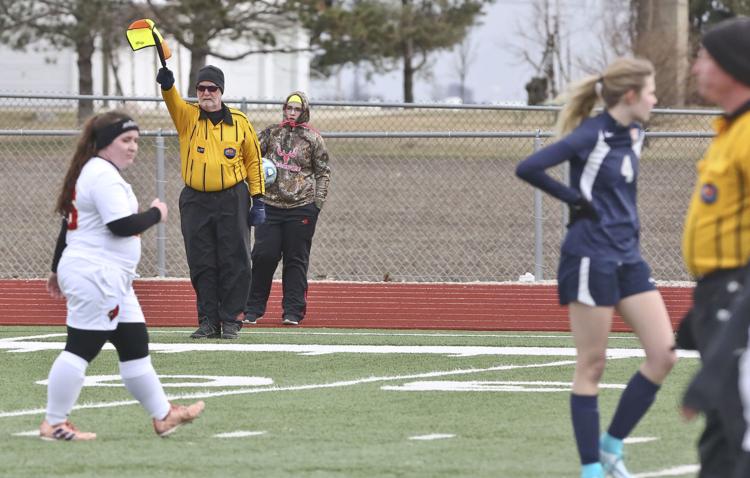 "But we don't want to wear those folks down where there's burnout and they're saying, 'I can't do this six nights a week anymore. I need some help, or I'm going to have to get out.' But there are some officials out there who love it, and they go six nights a week and they don't mind."
Vohland said he ran into a problem for soccer in the fall when he had to recruit officials from Champaign, Springfield and Bloomington because of low numbers in Decatur.
"This problem isn't going to get better," Vohland said. "It's only going to get worse."
Heavy criticism
Knox said the IHSA relies on help from site supervisors — athletic directors, principals and superintendents — to keep atmospheres healthy.
But some criticism is part of the job.
"I hope officials don't think they're going to go in the local gyms or field or court and not hear any feedback from fans because being a fan and being a parent and supporting your team, sometimes you disagree with those calls," Knox said. "There's a way to voice your disagreement in a sportsmanlike way. That's part of it. But you've got to learn to get a thick skin and deal with that situation."
Vohland said fan behavior is a problem that needs to be attacked by schools collectively.
"We've got to make sure our fans and such are behaving better, and I think that's a problem wherever you go," Vohland said. "It's not like every school has a ton of bad fans, but it doesn't take many to keep you from saying, 'Why do I want to have my judgment questioned for 60 or 65 bucks?'"
Dampeer has been at it for a long time and said he accepts that harsh criticism is part of the job. He said officials are the last line of defense. Fans don't want to yell at players, coaches or other fans. That leaves officials.
"I tell the young guys, 'Stick with it. Give it the best you got and consider the reason they're yelling at you is because they have no one else to yell at,' " Dampeer said.
Martin Leathers, whose junior son Mitchell Leathers is a three-sport athlete at Warrensburg-Latham High School, admitted he may be hard on officials at times, but thinks there is room for improvement from refs.
You have free articles remaining.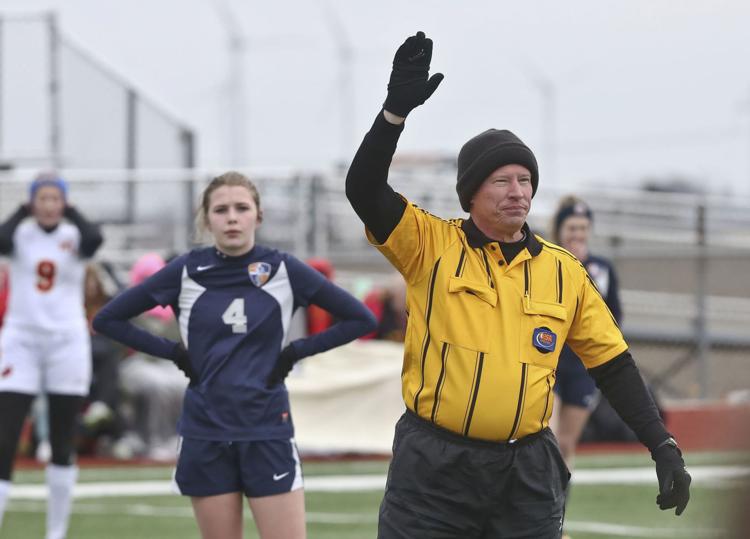 "If they would call more and call the games a little closer and a little tighter, it would keep the fans out of the game a little bit," he said during the Heart of Illinois All-Star game on Wednesday in Warrensburg. "Junior high levels, girls stuff, is really bad. In high school it's bad, too. They let things get out of hand, and the fans get involved with it. If they called things a little tighter, it would keep the fans out of it."
All told, though, Leathers said wouldn't want to be in their shoes.
"I can see what they're saying, hearing people hollering at you all the time," Leathers said. "If you think you're doing right, you need to block the fans out of it."
Life happens
While there are plenty of officials who don't like the heckling from fans, many have circumstances that take away the time they can spend doing the job.
Jordan Sieger is a 2017 Shelbyville High School graduate and has been an official since he was 17 years old, the youngest age to sign up to be an official with the IHSA. Sieger said most students don't know officiating is an option.
"The IHSA does advertise it on their website and at local meets, especially the state finals in every sport, but most people just don't know about officiating," Sieger said.
Sieger said he would have remained an official had he stayed in Illinois after graduating from Shelbyville. Instead, his journey took him to the Navy and out of the state.
"Honestly, it's life," said Sieger, who was licensed in track and field, basketball and volleyball. "Life tends to get in the way. Officiating at the high school level isn't a real sustainable job. That's why I think people get out of it, especially the young people."
Statistics show that young officials simply aren't staying around.
In football, the state's most popular sport, the average age of an official is 50, and 9 percent of the 2,502 licensed football officials in 2017-18 were younger than 30. A total of 385 officials didn't renew their football licenses in 2017-18, and 156 (41 percent) of them bowed out after the first year.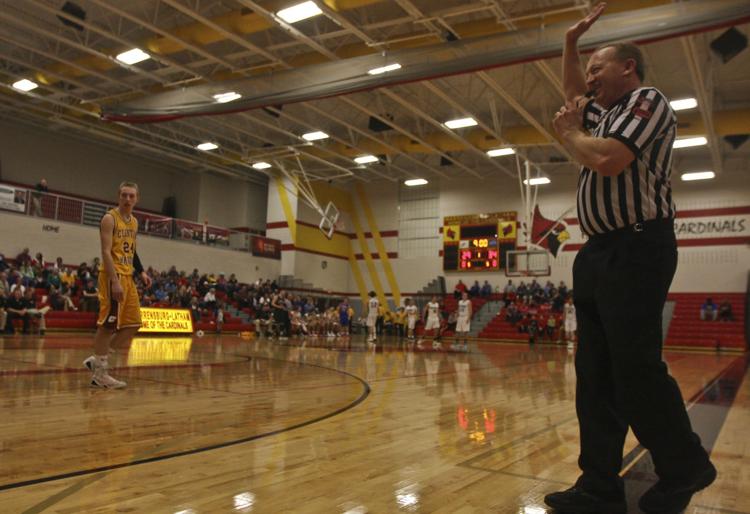 Basketball isn't much better. The average age is 48.6, and 14 percent of the 5,498 officials are 30 or younger. There were 1,105 non-renewed basketball licenses and 46 percent didn't renew after just one year of work. 
"Our numbers are pretty small when it comes to younger people," said Lyle Meador, president of the Decatur Area Officials Association. "We're always trying to recruit people, but it's tough in this day and age. I don't know how many times we've said to each other, 'I wonder what high school sports are going to look like in 10 years.' If you go to any ball game, you don't see any young people."
While people are leaving early to start a family or relocate, Knox has seen an interesting trend burgeoning for officials later in life.
After their kids graduate high school, the parents aren't ready to stop being involved.
"That's a positive thing to see," Knox said. "I've heard many officials say they got into this when they were 48 years old because their children played volleyball or ran track or they wrestled or played basketball. They wanted to stay around because they enjoyed going to their games and this was a chance to stay involved in sports."
Prospective officiating applicants can apply for licenses at ihsa.org. After filling out an application, applicants receive a book to study for an open book examination. Following that, first-year officials are required to attend a clinic, then attend again every three years.
Meador said he encourages Decatur-area officials to join the DAOA after registering with the IHSA to be included in mass emails for local jobs.
Knox will also be visiting four schools with a focus on retention. At 6 p.m. on Monday, April 23, Knox will be at Springfield Sacred Heart-Griffin with veteran officials to answer questions or hear concerns.
He said the next step is reaching out to more high school kids like Sieger.
"Maybe they just aren't aware of the shortage and we can make a better effort to contact high school kids through our high schools, through their coaches, through their principals and athletic directors to let them know this opportunity exists," Knox said.
The future
It's hard to pinpoint exactly what the answer will be when Meador and his colleagues ask what the field will look like in 10 years.
"I hope we have older guys who are going to be willing to stick with it, because we don't have younger people," Meador said. "I'm guessing the schools are going to be paying a premium for officials because they're not going to be able to get anybody. If they think the fees are high now, they're going to think they're outrageous in 10 years."
The job is tough, and often thankless, but little moments, like the random, "I love you Mr. Ref," comment Dampeer heard earlier this month at Lutheran School Association remind him why he sticks around.
There are also the faces. Dampeer said when local coaches like Tom Saunches, Derek Spates, Mark Ramsey, Scott Davis and the late Ida Brooks knew his name, it was endearing.
Dampeer was ready to take the baton when veteran officials before him stepped down. Now, he hopes someone will remember the verse from Kipling's "If" he showed them. But he's worried.
"When my grandchildren come along and want to play a sport and I'm sitting there watching it, I don't know if the ones coming after me … I don't know if they'll care about it the way that we do," Dampeer said. "That's the problem — you're not leaving it in capable hands.
"My biggest worry is I just don't know if who I'm leaving it to is going to have the same passion and consideration for my grandchildren that I did for the babies that came along when I was officiating."