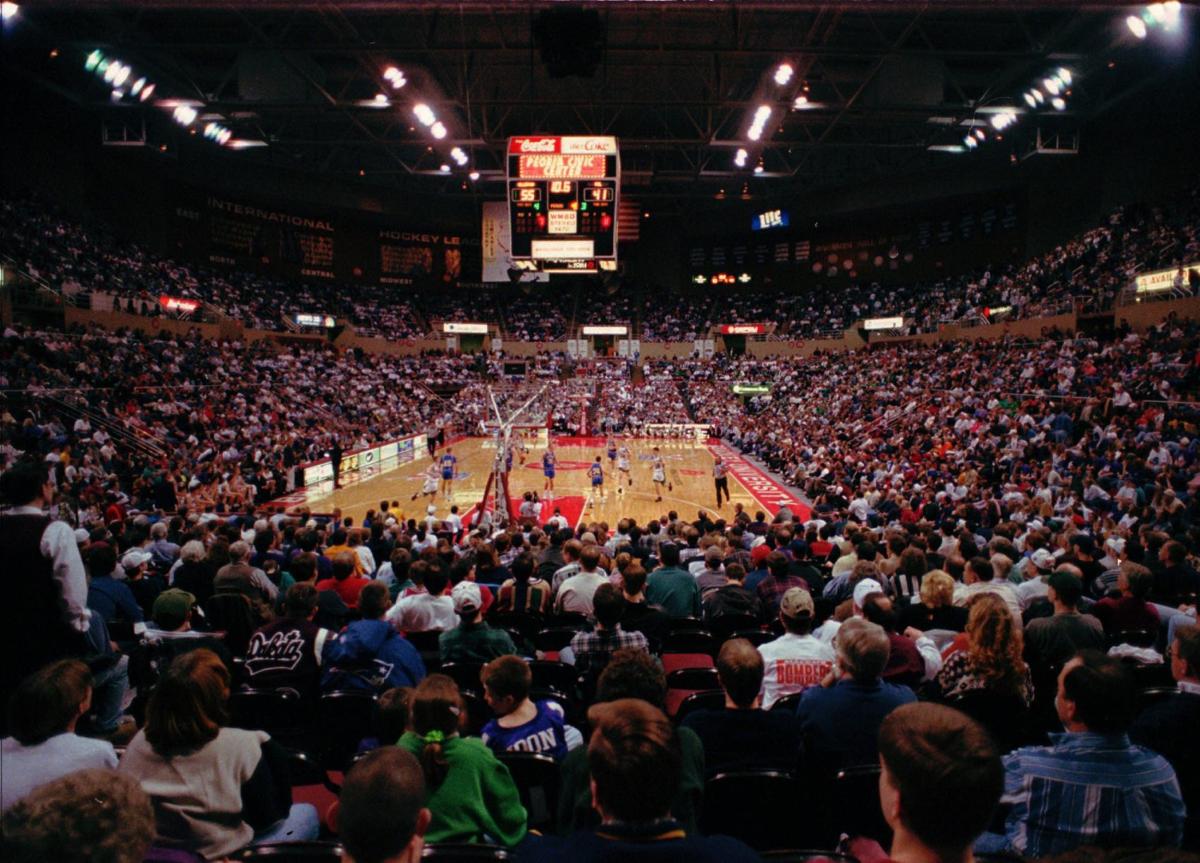 BLOOMINGTON — A drop in attendance at the Illinois High School Association's crown jewel — the state boys basketball tournament — has the organization considering the first major change to the tournament in more than a decade.
The plan, which was discussed by the IHSA's basketball advisory committee on Tuesday, would consolidate the big and small school tournaments into one three-day tournament in both girls and boys basketball.  
"This is a big decision," said Okaw Valley High School Principal Matt Shoaff, a member of the IHSA's basketball advisory committee. "The state tournament is supposed to be the one that really draws fans and makes money. The big thing is, how?"
To understand how big the IHSA's boys state basketball tournament used to be, consider the Loyola Ramblers' 2018 Final Four run in the NCAA Tournament. The Cinderella story captivated the country, and in Decatur and all over the state, sports fans packed bars to watch the first team from Illinois to make a significant NCAA Tournament run in more than a decade.
But in 1963, when Loyola beat the University of Cincinnati 60-58 for the only NCAA Tournament title an Illinois school has ever won, Vic Rouse's overtime tip-in at the buzzer wasn't seen live on TVs around the state. It was preempted on local affiliates — for high school basketball.
But this wasn't just any high school basketball. This was: the "Original March Madness," as the IHSA loves to tout it. Established in 1908, the IHSA boys state tournament was the first state high school basketball tournament in the country.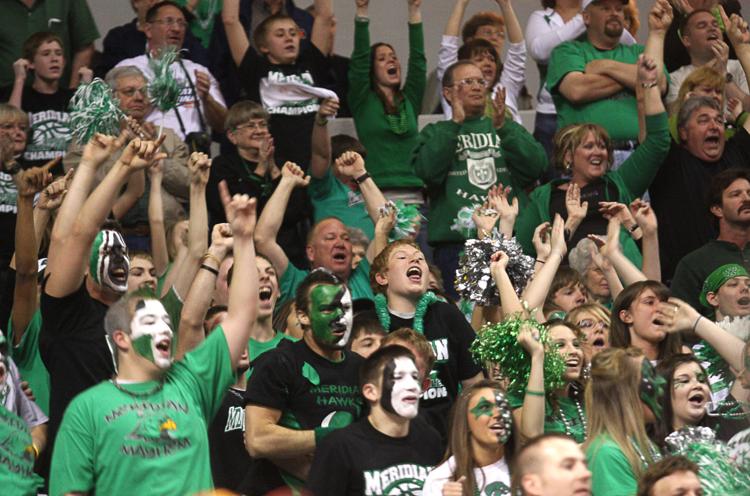 By 1963, the IHSA boys basketball state tournament had outgrown the University of Illinois' 7,000-seat Huff Gym and moved into Assembly Hall — now the State Farm Center — where more than 16,000 fans and many more watching on television saw Chicago Carver's Anthony Smedley sink the game-winning shot to beat Centralia in the final seconds.
But much has changed in 56 years. The NCAA Tournament is now a cultural phenomenon that transcends sports — it's likely that your wife or your friend who isn't into sports still filled out a tournament bracket or bought a square.
The state boys high school basketball tournament, meanwhile, has quietly faded into the background — still a celebration for those small towns or school communities in cities, but without the statewide interest it used to command.
"It used to be the school was the focal point of the town, and it's still important, but now there's just so darn much to do ... attendance is down at most live sporting events, and people in general just aren't as into the school sports," said retired basketball coach Jack Blickensderfer. He took Cerro Gordo to state in 1973 and '74, then Meridian in 2009, and hasn't missed many state tournaments even when he wasn't coaching there.
IHSA Assistant Executive Director Matt Troha said his organization has noticed the growing number of empty seats at Peoria's 11,000-seat Carver Arena, too, which led to discussions of how to rejuvenate the tournament.
In the plan, Class 1A through 4A girls would play on a Thursday through Saturday — if the plan debuted in 2021, it would be March 4-6 — and Class 1A through 4A boys would play the following weekend. 
Currently, the tournament takes up four weekends, beginning with Class 1A/2A girls (Feb. 22-23 this year) and Class 3A/4A girls (March 1-2) at Redbird Arena in Normal, then Class 1A/2A boys (March 8-9) and Class 3A/4A boys (March 15-16) at Carver Arena.
The IHSA Board of Directors will look at the recommendations from the advisory committee and make a decision at their June meeting. If approved, the plan would: Move the tournaments a week earlier, therefore avoiding the sports behemoth that is the NCAA Tournament; save on the number of weekends the IHSA has to rent facilities and hire staff and volunteers; and potentially open the door for a return to Champaign for the boys tournament.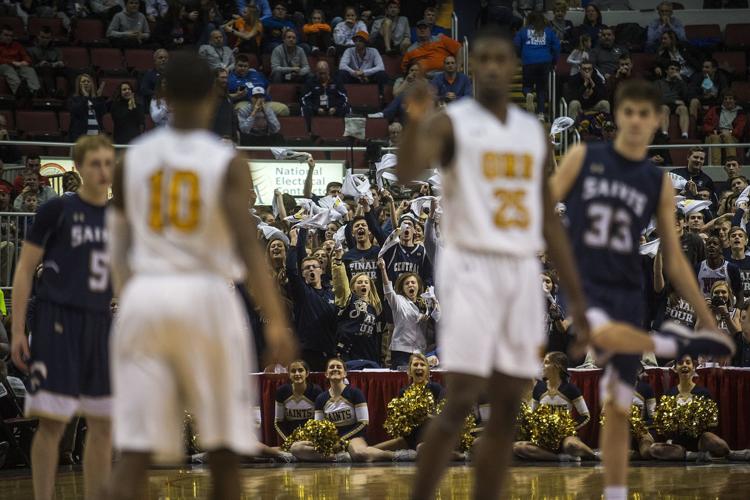 What happened?
When Cerro Gordo team to state in the two-class system in back-to-back years, 1973 and '74, the tournament was still in its golden age at 16,000-seat Assembly Hall in Champaign.
"The crowds were huge — much bigger than when we made it in Peoria (with Meridian in 2009)," Blickensderfer said. "There wasn't an empty seat."
Attendance at high school basketball games statewide began to decline as far back as the late 1980s. Girls sports were part of it — girls were no longer just spectators — but cable television and video game consoles were also emerging, opening up entertainment options that exploded in the 2000s with the internet and iPhones.
In 1996, the IHSA moved the tournament from Champaign to the Peoria Civic Center's Carver Arena to give the tournament a more centralized base. The move coincided with a run of four straight state titles by Peoria Manual and, for the first decade-plus, attendance in the 11,000 seat Carver Arena was robust.
But when IHSA membership voted to make boys and girls basketball four classes in 2007, it split the tournaments into two weekends — one for Class 1A and 2A, one for Class 3A and 4A. The IHSA released to the Herald & Review its attendance numbers from 2012 to 2017, which show attendance has been steady at just over 6,200 per session in Class 1A/2A and 6,500 per session in Class 3A/4A — just over half of Carver's capacity.
That's a significant drop from filling the arena, but whether the expansion to four classes was the cause, at least a factor or coincidence, remains up for debate.
"We have eight classes in football," Blickensderfer said. "I know it's a different sport, but a lot of sports have gone to more classes, and other states have, too. I don't think that's it.
"I think it's just that things are different now. and people are different now than they were 40, 50 years ago, or even 15 years ago. And TVs are go good now — you can see the game better on TV than if you're there," he continued. "I don't think it's that the product is bad, I just think more people are indifferent to it because there are so many more options."
Even if the four-class system was the issue, it isn't changing. Shoaff and Blickensderfer both said they prefer four classes, particularly for the small schools, and Troha said there's been no push from IHSA membership for a return to two classes.
"I haven't heard any conversations about that in my 12 years here," Troha said. "I hear support for it, especially from our smaller schools. I've heard it from a coach here and there, but the majority I hear from are pretty content with the four-class system."
There is another hotly debated theory for the dip in interest that Blickensderfer does buy — the NCAA Tournament takes away attention from the Class 3A/4A boys tournament when they coincide. He's not alone with that observation.
"We heard from a lot of coaches that we need to get off that NCAA Tournament weekend," Troha said. "A lot of high school coaches would rather be somewhere watching that. We'd hear that there were coaches in Peoria for IBCA (Illinois Basketball Coaches Association) events, and they wouldn't even come to the tournament — they'd be somewhere watching the NCAA games."
You have free articles remaining.
Shoaff said no matter what is eventually done with the state tournament plans, getting the big-school boys tournament off the first weekend of the NCAA Tournament is a priority for the IHSA.
"It's absolutely a huge factor," Shoaff said. "It hurts having games on that Friday and Saturday trying to compete with that event. I know they're looking at getting off that weekend."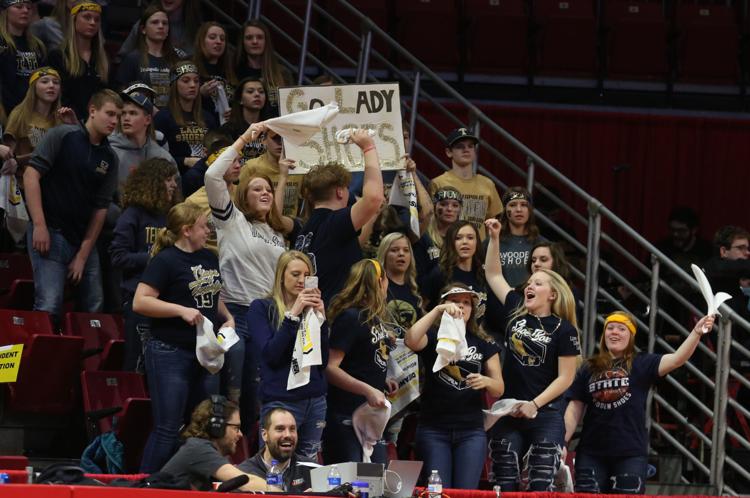 The plan
Troha said breathing life into the state basketball tournaments was a topic of discussion at an IHSA Board of Directors staff retreat in June, during which the plan to change the state tournament was hatched. Other plans were discussed — making it Class 1A/2A boys and girls, then 3A/4A boys and girls, and also moving the big-school tournaments to Chicago. The consensus was that keeping the girls tournament separate from the boys and keeping the big- and small-school tournaments together made the most sense.
An official plan was presented to the board earlier this school year, and then began to gather feedback from coaches and administrators.
Shoaff said that at Tuesday's annual basketball advisory board meeting, criticism was expressed, but reaction to the plan was mostly positive — particularly the thought of playing all four championship games in one day on Saturday.
"There are a lot of moving parts to this," Shoaff said. "But the possibility of a championship Saturday is exciting to me. Getting more people there is the main goal. Indiana does something similar, and they get a ton of people there."
Taylorville boys basketball coach Ryan Brown coached Annawan to the Class 1A state tournament in 2009 and has been a coach at Class 3A schools since 2012. He said the change is overdue and could bring people back who now only take in tournaments on TV, if at all.
"I think you will have more people at the 1A/2A games that will stick around for the 3A/4A games," Brown said. "Before they adopted the four-class system, a part of the allure was watching the bigger classes if you were from a small school."
Central A&M girls basketball coach Tom Dooley, who has taken three teams to the state tournament, including the 2014-15 Class 1A state championship, said he saw potential financial upside to the changes.
"The changes sound good to me," Dooley said. "I don't know the IHSA's (financial) books, but they are renting Redbird from ISU, so it makes sense to do it in less time and it can save on expenses and also have a larger crowd."
Blickensderfer said trying something was better than doing nothing.
"You don't know unless you try sometimes," Blickensderfer said. "If it helps the overall cause, great. And if it doesn't work, you can always go back."
What's next?
Many of the plan's specifics — how it would change the regular season, how it would change regionals and sectionals, and what exactly the three days would look like (see breakout) — are still to be determined. Third-place games would definitely be played.
"Our coaches were unanimous in the value and benefit of playing a third-place game," Troha said.
Switching each tournament to one weekend could also potentially make it more attractive to other venues. The current contracts to host the girls tournaments at Redbird Arena and the boys tournaments at Carver Arena expire after the 2020 season. Troha said, ideally, contracts are done a year in advance.
"Once they decide on the format, they will put out the request and different venues will let us know if they are interested," Troha said.
The boys tournament has been played at Carver Arena since moving from Champaign in 1996; the girls tournament has been at Redbird Arena since 1992.
Shoaff said he has heard plenty of support for moving the tournament back to Champaign.
"That could make it more attractive as a spectator being at the University of Illinois' home floor," Shoaff said. "But Champaign would have to bid on it. They'd have to want it."
Blickensderfer said he's not sure moving is the right decision.
"The kids love playing on the Assembly Hall floor, but from a player, coaching and fan perspective, Peoria is a wonderful venue," he said. "You can walk a block-and-a-half to your hotel and restaurants and not have to get in a school bus like in Champaign. And with everything else they have at the Civic Center, with the IHSA Experience ... Peoria has done a wonderful job with it.
"I'm sure (Illini coach Brad) Underwood would like to have it back in Champaign, but Peoria gets an A-plus from me."
Brown said he wouldn't be opposed to moving the boys tournament back to Champaign, or even to a large venue in the Chicago area.
"The IHSA has tried several things to make Peoria better, and it just isn't working," Brown said. "I think it would be amazing to play in Chicago if I was a downstate kid from a rural area. You get to go to the big city and play at the United Center or Northwestern or DePaul. I think that would be pretty cool too but I'm not sure if that translates to more people going."
Dooley said while the right venue is important, improving the experience between the team and fans might be another way to increase attendance.
"My thoughts from being a coach at the state finals is that the feeling is sometimes rushed," Dooley said. "I think if they can do it in a matter that isn't rushed, I think that is a good thing.
"They should recognize these teams that participate in this, and I would suggest letting the community interact with the team somehow, instead of it being segregated so much."
Contact Matthew Flaten at (217) 421-6968. Follow him on Twitter: @MattFlaten