MOWEAQUA — Tony Nika knew that points would be few and far between on Thursday in the Macon County Tournament semifinals.
The Tri-City/Sangamon Valley girls basketball coach knows Central A&M coach Tom Dooley too well to think otherwise. Nika was right. TCSV had to use defense to stay in the game around the offense of senior guard Ashlyn Sturdy and freshman post Sarah Finley.
Those two combined to score 36 of TCSV's 41 points in a 41-31 win over Central A&M Thursday at Central A&M High School. The win puts the Tornadoes (16-3) in the tournament championship game against St. Teresa for the second straight season. Sturdy scored 24 points with eight rebounds and seven steals and Finley had 12 points and five rebounds.
"They do a great job on defense and they put you in awkward defense," Nika said of Central A&M. "Dooley, let's be real, he's the GOAT (greatest of all time) as far as coaches go, if we're being honest. He knew how to defend us better than anybody. They put us in awkward positions, but overtime we were able to adjust and get more comfortable with it."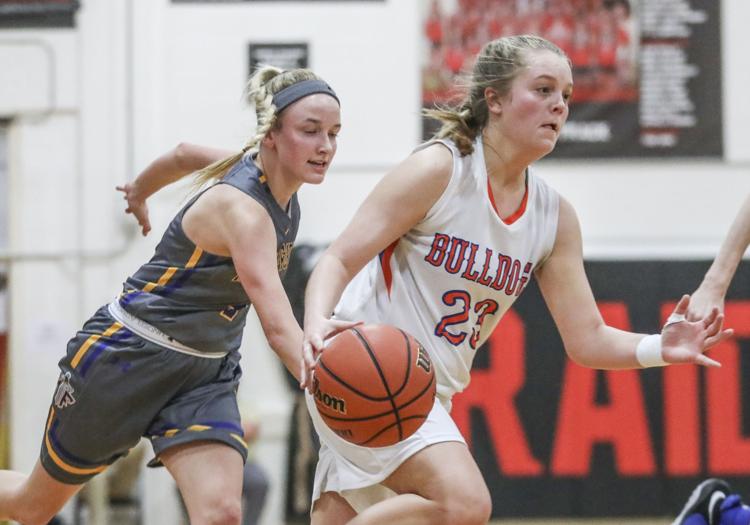 A&M (14-5) stayed within six points until the fourth quarter, where TCSV opened an eight-point lead at one point before a 6-0 A&M run got the game within three points, 28-25, with 3:17 left in the game. Finley answered with four straight points and Sturdy hit eight free throws down the stretch to close out the game.
The Tornadoes were 1-of-13 on 3-pointers, which is uncharacteristic for them.
"It was just defense, really," Sturdy said of the key to breaking away. "We had one three and usually we're shooting eight or nine 3s a game. It was just defense because we knew they were really good in the post, they were kick-out and really coached well. Our mentality was just go in there, keep them from scoring and we're just going to do what we do."
Mikayla Denton led A&M with 11 points and Channing Reed scored eight points.
St. Teresa 53, Maroa-Forsyth 21
There wasn't an inch of the floor that the St. Teresa girls basketball team didn't have covered in their semifinal win against Maroa-Forsyth.
You have free articles remaining.
They had their arms in all the passing lands, pressed in the full-court, contested shots in the half court and used that pressure to turn around and run on offense.
The combination of Addie Fyke (14 points) and Addison Newbon (17 points, eight rebounds) led the offense with 3-pointers from Paige Ford and Sade Oladipupo sprinkled throughout. Oladipupo finished with eight points and Ford added six of her own.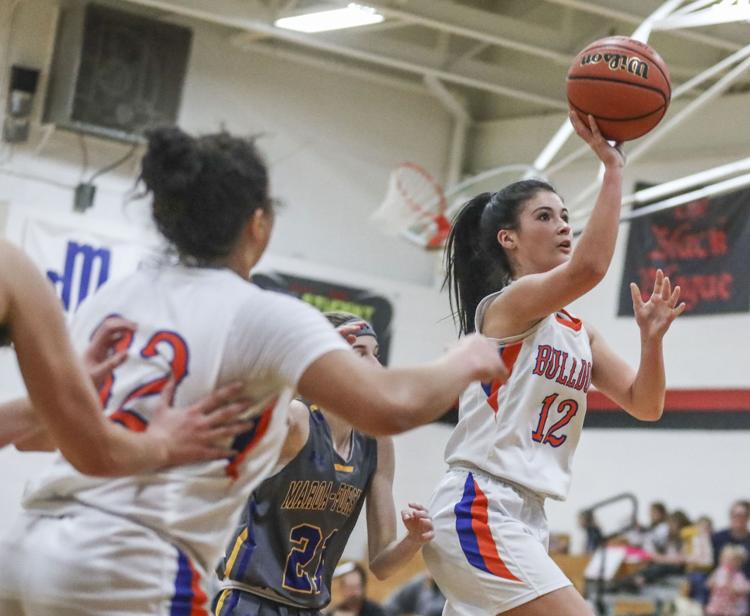 "I think whenever we have offensive production that's spread across the team, always we're going to be more effective," St. Teresa coach Andrea Dorsey said. "I want everyone to be an offensive threat and everyone to be aggressive and not look towards Fyke or towards Addison. I think that's what we did. ... When everybody is attacking and being aggressive it opens the floor for everybody to create more opportunities for themselves and each other. Ultimately, that's what sparked the run we got there and pulled away with."
Newbon and Fyke are still working on reading the defense and doing exactly what Dorsey wants to do within the framework of the offense. On Thursday, they had it down pat.
"When they're on a roll and they're reading the defense properly, they're pretty hard to stop," Dorsey said.
The Bulldogs (13-4) forced seven first-quarter turnovers but couldn't find any separation against the Trojans, and led by just one point, 10-9, early in the second quarter.
Then the run happened. The Bulldogs went on an 18-0 run that spanned most of the second quarter, and by the end of it had a 28-9 lead that was enough to keep a steady separation throughout. In the third quarter, they added another 19-0 run to lead 51-12 entering the fourth quarter. 
"I think our team did great this game playing all together," Newbon said, "and everybody working hard."
With the win, St. Teresa clinches a spot in the Macon County Tournament championship game for the third straight season and fourth time in five seasons. 
"It's fun," Newbon said of the third straight year in the championship game. "Last year was kind of crazy. I hope we can win this time, I feel like we can win this time."
Haille Mitchell led Maroa-Forsyth with eight points.
Contact Joey Wagner at (217) 421-6970. Follow him on Twitter: @mrwagner25