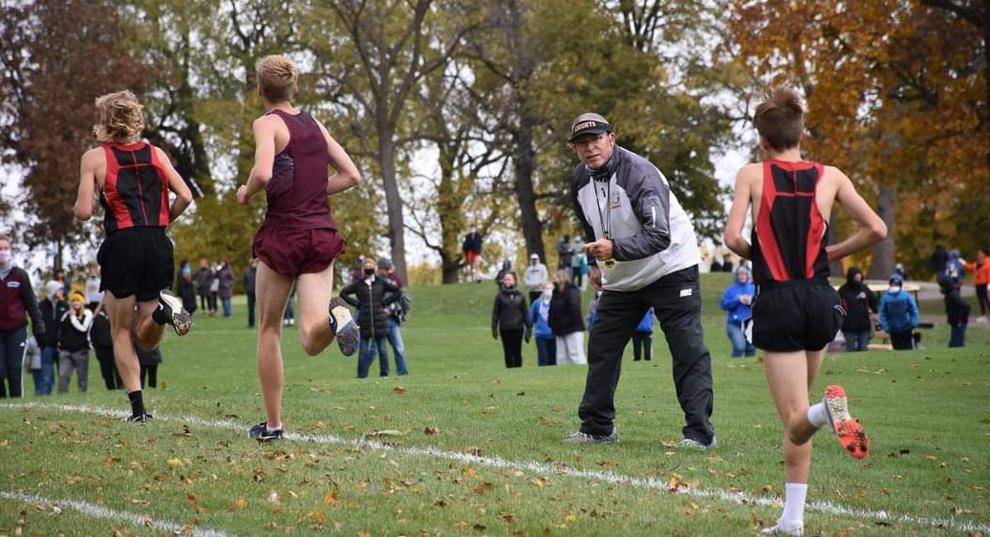 Dorjahn, the H&R 2020 Cross Country Coach of the Year, wears a sprinting medal his father, Norman Dorjahn, won when he attended Atwood High School in the 1950s. Norman died on June 10.
"Several years ago he gave me a medal that he won in the 100-yard dash in the old Okaw Valley Conference in 1951," Dorjahn said. "So that was 70 years ago and I wear that to all the meets. (He) was kind of with us every step of the way this year."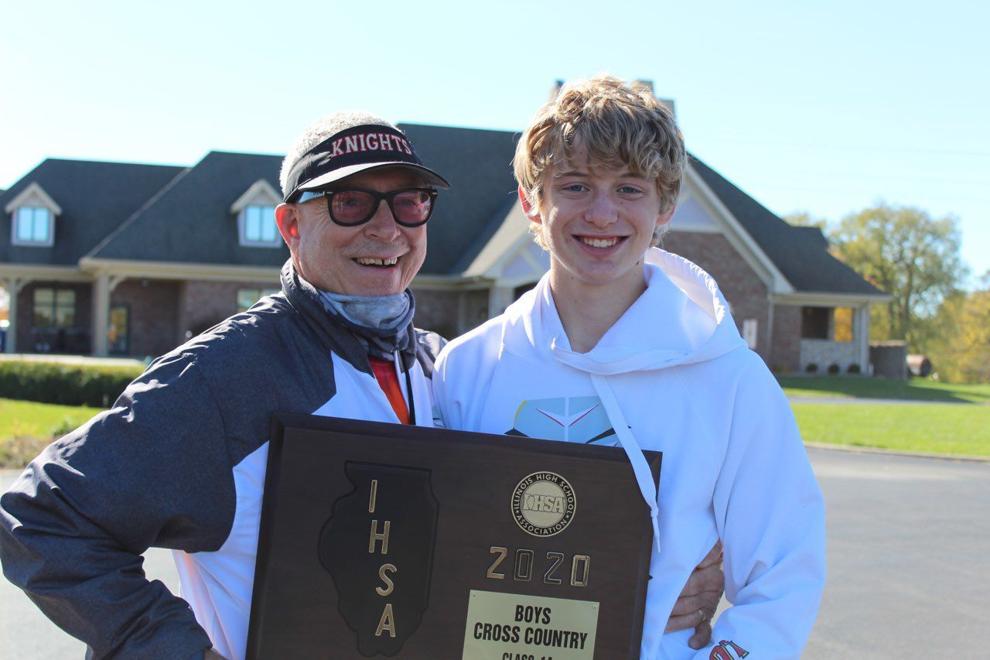 "It has been a joy to be able to coach (Logan) and he's a lot like Layton in that he's got a work ethic and he grinds away at workouts and about 95% of the time leads the group in workouts," Dorjahn said. "Logan has always been chasing Layton and we kind of expect (Logan) to lead by example next year the same way that Layton has the last two years."
"I had never coached before. For the last 30 years, I've been in agricultural pursuits either in livestock production or livestock nutrition," Dorjahn said. "I ran in high school at Atwood-Hammond and a little bit at Eastern Illinois University and I was a pretty decent quarter-miler about 45 years ago.[
"At Eastern, I got introduced to cross country and I've always been one of those guys that a follows track and field and cross country. I got involved a little bit with the (ALAH) program when (Layton Hall's brother) Logan Hall was running."
When cross country coach Derek Eaton resigned before the 2019 season, Dorjahn took over and guided the program to its first regional title.
"There were some parents who thought it would be a good fit because I was going to the meets anyway, and with (Beckmier) being a freshman it kind of made sense," Dorjahn said. "As fate would have it, Logan had some great classmates that came along and really it was just putting together workouts and getting those guys a little better. It really has just fallen together at the right place at the right time."
The team of Hall, Beckmier, Jacob and Lyle Adcock and Jace Green came together and improved, even when the season and the possibility of a playoffs was up in the air. 
"One thing I tried to do was be open and honest with them and treat them like adults, and in late August I was really worried that we weren't going to have a season," Dorjahn said. "I told him we're going to keep working but it looks pretty dicey.
"I told the guys, believe it or not, there was a time when we didn't have state football playoffs and we picked our state champions with an unofficial poll. So how you do at these meets is important. Let's just call it 'building the resume,' and these invitationals are going to mean a lot next year."
Although Dorjahn couldn't coach the team at the unsanctioned state meet, the team's second-place finish was a testament to the work they put in under Dorjahn's watch. 
"I told them I knew what to expect out of Layton and I knew what Logan was going to do, and I needed everyone else to step up. I felt that if they did the work we could get better and, son of a gun, it happened," Dorjahn said. "Jace Green ran the race of his life at state and won his flight. That got everyone's attention. Jake Adcock was third in that flight. It kind of fell together and I don't think we're going to be able to sneak up on them next year."
"There will be some that will say that Layton's not there it won't be as good, but somebody is going to step up and we will be OK next year and the year after that," he said. "We are in for a good run. We just need to keep building the culture. The successful programs around the state have got a culture and they have participation. You know who to look out for and I hope that's what we're able to do here."
---
Matthew Flaten's 5 memorable stories from 2020
From the path of five wrestlers to sectionals, the legacy of a Decatur business gutted by fire, a look at private schools' recruitment challenges and more, take a look back at sports reporter Matthew Flaten's favorite stories from 2020. 
Contact Matthew Flaten at (217) 421-6968. Follow him on Twitter: @MattFlaten